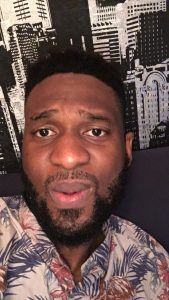 Today we'd like to introduce you to Dolapo Olisa.
Hi Dolapo, thanks for joining us today. We'd love for you to start by introducing yourself.
I left Nigeria when I was 18, 2009. When I left, I vowed to never forget the people, problems and opportunities that I grew up wondering why no one was coming back to solve.
I started my professional career in 2013, and I remember vividly being shocked and surprised why anyone would pay for my time. My first month on the job, I couldn't believe that my paycheck cleared. Really? They are going to pay me to test software?!
These two distinct experiences intersected in 2015. After a few years on the job, I started to wrestle with my purpose; what is it, how do I live it out, etc. I had frictions at work because my work gave me a sense of purpose but my purpose didn't have room to thrive and be fully explored within the confines of work.
I decided to step out and express myself and explore the beyond the limits and constraints I felt at work by starting a business. The intersection with Nigeria came in the design of the organization. I wanted a business that empowered skilled individuals in Nigeria in a meaningful and significant way. I wanted to provide distinct, fitting, and purposeful aligning opportunities to talents that I grew up observing in close proximity, struggling to connect their honed skills to real-life opportunities with potential to make the world a better place without leaving them desolate in the process.
The catch? Being based in the US, it was important to me that it did not become a zero sum game where the equation negatively impacts the country that has opened my eyes to the value I can bring and the tangible way I can impact the world.
Charisol was born, initially a software development shop with talents based in Nigeria, helping early stage entrepreneurs and start-ups take their ideas in whatever stage it is into becoming a scaled sustainable and thriving business.
The long-term vision was always taking ideas through an evolving blueprint till it matures into a full-blown adult business. The how has evolved over time. At first, the only people willing to take a chance on us were co-workers that knew my work ethic and commitment to excellence. However, because we were new and unknown, the pricing had to be low to derisk their bet on me and the team.
Today, we have a blueprint that is stable with core building blocks in UX Design, MVP development, and Post MVP Iterations based retainer. Its been a beautiful journey for me personally from many weeks when we were trying to install an agile scrum culture; and I would start my day at 1 AM (9AM Nigerian time) to institute and shepherd stand-ups, be available to answer any questions and provide direction as we build the foundations of our blueprint. Meetings will go on till about 7 am when I then I had to get ready for my job. Clock in at 9 and be fully present and engaged to solve the problems of the day but also let these be opportunities to refine and hone my craft.
After 10-15 clients that we unsuccessfully moved to retainers. We now have two core clients that have been with us from idea and are very well beyond the post MVP stage and most definitely infact businesses. Its been a beautiful journey of transformation for me, transformation for my team, the business and most importantly evolution of ideas we have been entrusted with.
The one thing that has stuck with me and I continue to teach, evaluate in new businesses that reach out to us, and make a core attribute is persistence. Not just ability to not give up even though that is a key part of it; but ability to persistently evolve towards a healthy marriage between the problems one sees and the resources available to converge after multiple versions of solutions that solve it. I am a firm believer now that there are no bad ideas because bad ideas at worst are like starting a marathon in California with an official starting point somewhere in NY, you can still finish the race but the cost, resources, and time may not be ideal.
In summary, this 18 years old Nigerian kid (actually writing this from Nigeria, my first time being back since I left 13 years ago) continues to be amazed at the reality that one person can change the world if we choose to stay persistent and humble. Also if I recognize that living in purpose isn't always about achieving a goal but contributing towards the world that one wants to see.
In the case of starting the marathon based in NY from California, I may not cross over the finish line but I can hand my notes to someone who comes after me to start closer. In the end, the legacy of impact has many ancestors, making a difference is about being in the family tree of change.
We all face challenges, but looking back would you describe it as a relatively smooth road?
It definitely has not been a smooth road. Here are some now funny but then very painful lessons.
The first model of the business as a dev agency, I staffed with up to 6 developers full time earning industry-standard salary. We didn't have any paying clients yet but I was afraid that if a potential client came to us and we were staffed and ready to go, they would walk away. Even more scared that we would close a deal say on Friday and we would be unable to begin work on Monday.
I have my streak of perfectionism which was made worse because I was selling my name and reputation as a solutions provider because the business did not have a brand yet. So for me, speed and quality were core values.
This model very obviously now looking back had no real chance of working but I carried the salary for almost a year and burned through all my savings and ran up credit card debt in the process.
In the end, we quickly learnt that no one cared if projects started on Monday if it was closed no Friday. People mostly care that you set a schedule that indicates when you will begin and end; and as long as you stick to that schedule you set, everyone is happy. We still hire developers but now we do it after we secure long-term contracts their work will contribute directly to.
Another interesting struggle, we were competing against the folks we set out to help without even realizing it. As a development team, we essentially were taking jobs away from freelance developers and other development agencies. We quickly realized that there are a lot of development agencies but the real problem was building the bridge to connect businesses, entrepreneurs, etc. based outside of Nigeria to trust their work to be done by talents based in Nigeria.
The struggle to differentiate ourselves ended up becoming the light at the end of the tunnel. Now instead of taking jobs away from talents in Nigeria, we are truly connecting them to it.
Thanks for sharing that. So, maybe next you can tell us a bit more about your business?
Well, you can find us at www.charisol.io; we are a product design and software agency. We apply design thinking as a foundational element of designing websites, applications, and software solutions in general. More than just designing solutions that are aesthetically pleasing and highly functional with strong human-centered and empathy-driven focus; we help develop these solutions as well as form teams to iterate them from pre-revenue to post revenue. We know we have done a good job when the application begins to generate enough revenue to pay for all the expenses needed to run it.
My role in the business changes based on where the gaps in the team is. I fill roles we don't have skills for by learning and evolving myself to at least be able to determine what we need in who we must hire. Currently, I wear the Product Owner and Sales/Business Development hats. In addition to the services we offer in UX design, MVP development, and Product Management Retainer; we are choosing to eat our own dog food as they say by applying our blueprint to a red ocean space (highly competitive space) in order to validate and iterate on the blueprint we offer our client. www.maildrip.io (app.maildrip.io) is an email marketing platform – specifically, drip sequence messaging.
This product encapsulates everything about the business. We are proud of it because it deepens our belief that great products can be conceived and executed with simplicity and elegance. We are proud of it because it will be a huge moment when we can tell our clients, we haven't just helped other clients take their ideas to a scaled business but we have done it for ourselves and the things we learn from maintaining our product goes into how we design and build theirs.
A product with a world-class user-centric experience in a competitive space, thriving and navigating the field successfully would be a great reinforcement of our belief that impacting this world we live in is possible if we are persistent.
Lastly, I want your readers to know that
– We are open for business.
– Doing business with us is not business as usual; but provides sustainable yet mutually beneficial development of Africa (a formula that is growing in adoption)
– Grace is our northstar; we want to give more than any user or client can ever pay.
– Its often said in software you can only have two between – cheap, fast, and speed; we have a great blend of the three.
What does success mean to you?
Success is knowing why I exist on this earth and contributing to it daily no matter what the outcome of the day is. Success is seeing people develop and in turn pour into other people to empower them.
Success is seeing an idea launch and delight users who are happy they found the solutions.
Success is seeing my home country embrace technology and being a small part of the next wave of economic liberation for my people.
Success is reflecting and having more reasons to be grateful because I gave back even if there is more to give.
Success is unearthing new ways of doing things, new problems, new solutions that make solutions more accessible to people previously excluded from 'better'.
Pricing:
1-5 page Website: $1500
MVP Setup: $4500
MVP Development: From $5000
Full Application Retainer: From $1000/month
Contact Info:
Image Credits
Yewanke Akerele Jude Agboola
Suggest a Story:
 VoyageLA is built on recommendations from the community; it's how we uncover hidden gems, so if you or someone you know deserves recognition please let us know 
here.