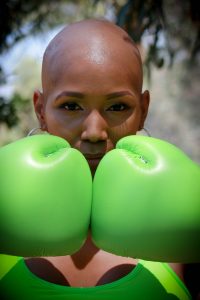 Today we'd like to introduce you to Shanee' Wilson.
Alright, so thank you so much for sharing your story and insight with our readers. To kick things off, can you tell us a bit about how you got started?
I am a 34 years old mom, wife, business owner and stage four lymphoma cancer survivor. I was diagnosed with stage 4 Non-Hodgkin's lymphoma cancer only six-months after getting married to the love of my life. So it was safe to say it wasn't the honeymoon phase I imagined. We traded in vacations and date nights for hospital gowns and early bedtimes. Let me just say that 2017 was what I often refer to as the dark year because boy oh boy, little did I know what fighting for my life really meant. My chemotherapy treatment was so aggressive that I had to leave my family to check into the hospital every two weeks for six days around the clock treatment. So while my world had completely shut down and came to a halt with being the strong woman that I am, the amazing employee that I was and the boss that I was used to being, I realized that the world around me was still fully moving forward per usual, which was a hard pill to swallow within itself. Cancer tested every ounce of life that I had in me. It tested my strength, my dignity, my agility, my sanity, my relationships with so many and my faith. It was the ultimate test of a lifetime.
While I did not understand why God allowed me to go through such a rough time in life at the time, I knew I would someday find understanding in my journey and be able to push forward accordingly. Many nights I sat in the hospital crying, praying and begging for God to save me not knowing when this part of my life would be a thing of the past. However, in the midst of it all, I found something. I discovered an appreciation for life that I most certainly took for granted. I found time to find myself in ways that I never imagined I would. I found a much more purposeful perspective on life and exactly what God wanted me to accomplish. I was given a clearly defined purpose being in the hospital and that purpose was my newfound business, Fighting & Fabulous. God assigned me such a strenuous task such as cancer to help others find faith in their fight, to find a better perspective during their path and to keep their head held high during the darkest moments one would ever experience. So while I was fighting for my life, God was fulfilling the missing piece of my life that I never knew existed.
Can you talk to us a bit about the challenges and lessons you've learned along the way. Looking back would you say it's been easy or smooth in retrospect?
My life has been far from easy but I am very appreciative for every bump in the road because these bumps have made me into the person I am today. Growing up, I realized that my lack of having nice cars, homes and things made me desire to reach for the stars to give myself everything my heart desired. Therefore, I pushed through my education of getting a bachelor's degree and two master's degrees to set a foundation that I felt would put me on an equal playing field to find my way in life. Having lost my father in college, lost some very valuable friendships along the way, having some of my own family members turn on me during my dark year are just a few bumps in the road that I was able to overcome. However, when someone has something as life-threatening as stage four cancer and feels like they are lying on their death bed waiting to see God's plan through, you then realize that none of your "problems" were ever really problems. They were simply situations that were preparing me to fight through what was to come.
Alright, so let's switch gears a bit and talk business. What should we know?
I spent most of my life thus far obtaining an amazing education and working full time for organizations. I was a great corporate Project Manager before getting ill but have always known that I wanted much more in life, I just couldn't quite pinpoint what more was for me. I've always known that working for someone was a stepping stone to something great, I just had no idea of what that greatness entailed. When I was blessed with my second chance of life after cancer, God revealed that being a business owner was my a part of my DNA but Fighting & Fabulous was my true purpose in life. While I own two additional business (Your Day Your Way Coordinators, a wedding planning business) and (Your Yard Cinema, an outdoor movie rental business), Fighting & Fabulous quickly became my driving factor for life, as I know how much my cancer community needs me. Fighting & Fabulous is an organization that provides my fellow fighters, survivors and supporters the secret weapon to cancers journey.
We are an organization built upon faith, purpose and hope to help upplight those affected by cancer. We offer a very informative blog to help the community understand the very transparent behind the scenes details that many cancer fighters will not ever discuss. I have created Journey Boxes for my fighters as mementos for the fight. Items that will help them grow remember, fight, and feel fabulous while doing so. I found power in these items myself and I have provided them in each journey box. Each box being different from the last, I hope to empower my community and strengthen their faith. I want my fighters to know this simple fact. If no one else believes in you, I Shanee' Wilson believe in you. The thoughtfulness of each journey box truly sets my brand apart from all others because each box was carefully designed for my fellow fighters throughout different points of their journey. If you have just been given the news of cancer, if you are in the midst of things and simply need a mental break or if you are fighting with every ounce of energy that your mind, body and soul has, I have carefully designed a box to meet you at your point within the journey.
From the enclosed personal messages to the stylish items within the journey box to the box itself which is meant to be a keepsake and reminder to help you make it through the tough days, my product is very intentional and very powerful. While I am proud of Fighting & Fabulous, I am most proud of executing the vision that God assigned me with to carefully relay such meaningful messages to those who need it most. The thing about my business is that everyone knows someone who has been affected by cancer because unfortunately, cancer is a very prominent disease. Therefore, I wanted to eliminate the guess work for those supporters who have no idea of what to say to someone with cancer and for those who have no idea of how to support someone with cancer. My journey boxes are everything someone with cancer desires. They are answers to confusion, strength to get one through and a constant reminder that God can and God will.
Where we are in life is often partly because of others. Who/what else deserves credit for how your story turned out?
My close family and friends were hands down the backbone to not only my survival but also my companies success. My husband showed me that he was willing and able to live up to his vows and go above and beyond to make me feel beautiful when life got the best of me and I did not even recognize myself. My daughter was such a major role in the reason for me fighting through because on all of the days I was ready to throw the towel in and told myself that I could not take it anymore, I always thought of her face and the fact that she needed her mommy in her life as long as possible. My family truly came together in my darkest hours to help raise my child, care for me when I could not care for myself and who pushed me to fight through. I will forever be thankful for each and every individual that has been there for me. No amount of words or gestures can ever repay them for being my reason.
Contact Info:

Image Credits:
Michelle Dudley Colleen Redding Maxwell Xavier
Suggest a Story:
 VoyageLA is built on recommendations from the community; it's how we uncover hidden gems, so if you or someone you know deserves recognition please let us know 
here.