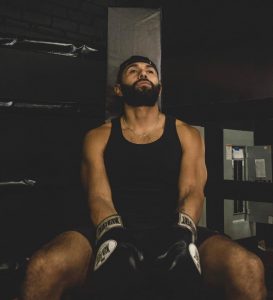 Today we'd like to introduce you to Santiago Cisneros.
Hi Santiago, so excited to have you on the platform. So before we get into questions about your work-life, maybe you can bring our readers up to speed on your story and how you got to where you are today?
I was born and raised in San Jose, CA. Son to Santiago Cisneros and Teresa Trujillo. I have three sisters and one brother. My mother raised all of us on her own but I was raised as an only child. My father was arrested when I was four years old for selling drugs thus leaving my mother on her own in a country that she was unfamiliar with. While my dad was in prison she had to step out her comfort zone and survive. As a kid, I remember running to the bus stops with my mom so she can take me to school and then she would catch the bus again so she can go to work. She would send money back to Mexico where my brother and sisters were at. She couldn't bring them over to the United States because she didn't have the resources and funds to bring them over. So, my grandmother raised them and my mother and I stayed in the U.S. We lived in the east side of San Jose which is considered a troubled area. We rented a room in a house where there was constant chaos. I would see things a child shouldn't be seeing and would constantly get visits from the police. I would spend most of my time in my room for my safety. The times I would be able to get out, I would peak at the living room to see what was going on. It wasn't always pleasant. My mother knew this wasn't a place for a child to be raised. Being in my room while waiting for my mom to come from work, I watched every 90's action movie. Jean Claude Van Damme, Arnold Schwarzenneger and Sylvester Stallone were my first male role models. The movie Rocky was favorite, I would watch it so much that I seriously thought Sylvester Stallone and I were the same person. I would imagine fighting and winning the belt and being able to buy my mother a home. As a kid, I knew we were poor and that people like us can't have fancy things. One night I saw my mom crying because I had broken someone's windows while playing with kids outside. She couldn't afford to repair the damage and I felt her pain. That night I slept with her in the bed, I normally would sleep on the floor because I didn't want the kids to know I slept in the bed with my mom. That night I held her hand and I started to envision myself as a grown man. A man that would one day take care of his mother and show her the world! I never wanted to see her cry again because of me.
I also envisioned myself loving my wife and always being there for her. I didn't want to leave like my father did. My father spend five years in prison and was deported back to Mexico. After being released, he never did his part as a father to me. Not even to my brother and sisters in Mexico which he had access too because they lived in the same area. My mom still provided for all of us. She always sacrificed for her children and put herself last. I grew to be a teen I was still driven to be someone so one day so I can be successful and take care of my mother. I was so obsessed with the idea of being someone that I also never wanted to be like father. I blamed him for the position we were in. I became bitter and resentful teen. I would see other teens with their family and I would hate them because I deserved that. I would ask myself "Why me?!" "Why I'm I suffering?!" "What did I do to deserve this!?" During my freshmen year in High School was mother was diagnosed with breast cancer. My mother is everything to me and when I saw her in that hospital I couldn't feel my legs! I was so scared that I was going to be in a foster home! MY mom is strongest person I know! When the doctors asked her to fill out the form where it states who I would go too if you passed, she tore the piece of paper in half and said, "I'm not going to die and I'm not leaving my child with anyone!" She was in remission and was at home while recovering. At this time, we had moved from that chaotic home into another home where we rented a studio. We didn't have family that was closed to us so the owners of the home would tend to my mother's needs. I try to do my part too, during lunchtime I would run home and check on my mom and then run back to school just in time for class. My mother beat cancer and she started to invest more into her health and well-being. She started to go to the YMCA and I followed her. This is where I started to fall in love with fitness. I started to participate in sports and felt good but still wasn't happy with my life. My mom wouldn't come to see my games because she was too busy working two jobs back to back.
Again, I started to resent the kids whose families came to support them. I just wanted to quit because I believed I would never be anything. I started to get in trouble and even spent a night in jail. I had shoplifted and was caught. I didn't even need the piece of clothing I was stealing. I was just so angry that I could never own something like that. I just wanted to steal it and toss it. That night in jail I didn't sleep, I was just observing the people around me. I saw a man who was cussing at the wall and another who just staring outside of his window. Then there was a man who was speaking about beating up some rivals gang member as he got out. I saw myself in this man and I told myself I didn't want to be like him or sound like him. That night I was also thinking about a teammate who I had trained with in one mma class I was attending. This teammate was a professional fighter and had just won his pro debut by knockout. When asked how he did it he responded, "God!" As I was sitting in my cell, I could stop replying to his response because at first, I thought it was a stupid response but then I keep thinking about his character. I admire his character because he was so polite to everyone around him and so encouraging. You would never guess he was a pro fighter who could potentially kill you. I left the next morning to my home and decided I need help. I confronted my mom and I told her everything! Not just that I spend a night in jail but how I been feeling my whole life. How I was just so angry and tired of struggling. I was tired that money was always an issue! I was tired that we were always asking for money and I couldn't even concentrate on myself because I knew I needed to start to work and college was out of the question. I wanted to chase my dreams, I wanted to be a fighter like Rocky and just train. I wanted to take care of my mom and let her see her children in Mexico. I started to go to church and started to look for mentors.
I also applied for the military but I couldn't get in because now I had a record. I started to feel like this is it, this is who I am a broke man whose dreams don't come true. I became a personal trainer at the YMCA where my mom had first taken me when she beat cancer. I loved being there and loved the community. I love everything they stand for, I love that it is not only gym but a place where people can find other resources. Here I started to understand what community means. In church, I started to learn about unconditional love. It took a while for me to heal and to accept everything that I been through. The more I spoke and shared with people the more I understood that everyone is going through their own journey in life. I wanted to help them! How could I? I don't have a degree and accolades, I'm just a personal trainer. I soon met a girl who also had dreams and aspirations as I do. We both have similar upbringing and we both want to accomplish our dreams. Together we decided that we need to leave our home and start over. We moved to Socal and found a home in Long Beach, CA. It was time to start over and begin our new chapters in life. It was hard our first year here because we didn't know anyone and couldn't find a job. At times I felt that maybe this was mistake to leave our homes. I wanted to give up so many times! I understood that every great successful person was in this position too so I kept trying. I was doing uber for over a year here in Long Beach, CA until I found something better. I started a free fitness class at the beach so I could meet people and also, it was my of serving my community. I always believed that everyone should share their talents. Through my free classes, I was constantly being asked if I would train them one on one but I would refuse because I did uber and I needed the money. One day I was fed up with uber and quit and decided to go back into personal training. Then Covid-19 hit us and shocked the world. We were told stay inside and keep away from everyone.
During this time, the gyms were closed and wanted to give people a healthy distraction so with my wife we started to do free online classes. This motivated to keep going and to keep investing in my training. I soon started to feel that through fitness, we can change the world. I started to get really serious about starting a fitness business. My neighbor shared with me that there was gym that was going to open up soon and they let trainers operate their business from there. I met the owners and I fell in love with the gym. I signed up and started to promote myself. I invested in educational tools and started to promote on Instagram. My goal is to serve people and help them be the best version of themselves. I believe through my talents I can help people reach their dreams thus making this is a better world. I want anyone who works to feel they are loved and supported. Fitness is a metaphor to life, whatever you accomplish in the gym you can apply it o your daily life. Everything I been through has brought me to this moment in my life. I am grateful for all the experiences I have been through because I can relate to someone who is going through tough times. I want to share my experiences and inspire. I want to succeed so a kid who is in his/her room can see someone who looks them and say, "I can do it too!' I currently teach boxing and weight lifting classes, I also do online training. I still teach free classes at the beach every Saturday where we take people's unwanted clothes and create care packages for the homeless. I host a podcast three times a week where we share our experiences and hope people get value and inspiration from it. My ultimate dream is to one day have a community center where people can come workout and also find resources on mental health, finances, legal advice, real estate and business. This year I truly believe everything I ever thought of is going to come true. I am a married man and I have a son on the way and I can't help but to be thankful because that kid that was holding his mother's hand and dreaming of being a good man to his wife became real. I know I will take care of my mother and get her house and the rest she deserves. I'll spoil her and show her the world. Well, bring everyone with us too!
Can you talk to us a bit about the challenges and lessons you've learned along the way. Looking back would you say it's been easy or smooth in retrospect?
No, it hasn't. There was a lot of times I wanted to give up! I thought about suicide a few times and saw a therapist that prescribed me anti-depressants. I still see a therapist once a week but now I don't see it as a bad thing. It's part of my well-being and investment in myself. I encourage people to see therapist or a counselor. You don't need to be depressed to see one. I feel therapy sessions should be as normal as someone who hires a personal trainer at the gym. There's nothing wrong with it and doesn't mean that you are going crazy.
Thanks – so what else should our readers know about Bfitt?
I currently operate out Self Made Training facilities in Long Beach, CA. My business name is Bfitt. I chose the name Bfitt because I want people to feel fit for life. For example, be fit to be a husband/wife, a teacher, son/daughter, employee, mother/father, etc. I'm proud of my brand because it's more than just fitness, it's a lifestyle. I genuinely want to help you be the best version of yourself. I want you to go and accomplish your dreams and take risks. I wish for you to enjoy life and yourself. I currently teach boxing and weight lifting classes. I teach classes up to four people max. I enjoy the small group atmosphere because I believe in community. I love seeing my clients acknowledge each other's hard work. I also love seeing them be part of each other's lives outside of the gym. This is more than just abs and muscles, we are building healthy habits that will help be successful in life.
Any big plans?
I want to be able to make enough where I can share with my community. I want to provide for a community center where people can train in boxing for free because growing up, I didn't start my training till I had a job because it was too expensive. I want to be able to have a boxing programs for teens to train for free and give them a healthy distraction. I also wish for this community center to offer resources that will help them succeed in life, For example, teach people about finances. I feel finances is something that we are not taught early on in life thus making it a problem when we become adults. I want to be able to offer educational classes on business and real estate so we can pass down something to our kids. I want to have legal advice undocumented people who like my mom were left behind and unable to see her children.
Contact Info:
Email: scisneros05@gmail.com
Instagram: Santiago.bfitt
Suggest a Story:
 VoyageLA is built on recommendations from the community; it's how we uncover hidden gems, so if you or someone you know deserves recognition please let us know 
here.