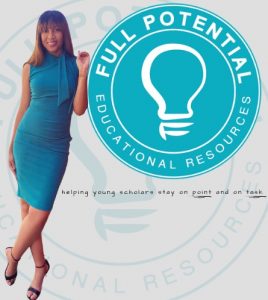 Today we'd like to introduce you to LaTonya Reliford.
Hi LaTonya, thanks for sharing your story with us. To start, maybe you can tell our readers some of your backstory.
I am the proud founder and CEO of Full Potential Educational Resources, LLC. As a young black girl, I recognized early on that there were inequalities in our education system amongst African American students. I experienced it first hand as I went from a predominately black elementary school to a predominately white middle and high school.
Although my elementary school did its best to provide a well-balanced educational experience, due to lack of funding, the differences in the facilities and resources made it difficult. When I became a teacher, I tried my best to provide my scholars with an equitable and quality educational experience. Often times that meant coming out of my own pockets to purchase resources and supplies. That became too expensive and so I had to get creative. Throughout my career in education, I noticed that teachers began to value my style of teaching, how I implemented and designed my lesson plans, the types of resources I utilized, and the overall culture I created in my classroom. That began the conversation with my family regarding possibly taking my love for helping scholars learn and turning that into my own educational resource company. It took me about five years to feel confident enough to step out on faith and do just that. After many sleepless nights, I officially opened Full Potential Educational Resources in November of 2020.
Would you say it's been a smooth road, and if not what are some of the biggest challenges you've faced along the way?
Life is full of challenges…the key is how you work through them. I lost my mother suddenly when I was 19. It was three months before my wedding, I was a sophomore in college and it was a couple of weeks before finals. That was one of the hardest moments of my life but being the oldest of four, I knew that I had to set the example for my younger siblings. Giving up was not an option. A year later, my husband and I found out we were expecting twins when we were juniors in college. It was a very hard pregnancy and I was on bed rest in the hospital at 28 weeks. I ended up having an emergency c-section at 32 weeks and our twins were in the incubator for 21 days. Due to me going into labor early, I was not able to complete my fall semester courses and was told that I was not going to receive incompletes and had to retake those courses. Here I was with twins, still grieving over my mother's passing, a new wife, and trying to graduate college on time.
Although it was a lot, I knew giving up was not an option. Fast forward to senior year, my husband received a job offer upon graduation to be an engineer with Goodyear in Denver and I was still a semester behind. There was a choice I had to make. Move to Denver without graduating and hope that one day I can go back to school and finish or do everything I could to graduate with my husband. After much prayer and consulting with my husband, I decided to do my best to graduate with him. After a meeting with my counselor, we were able to add all the courses I would need to graduate in the spring. This meant taking at least 21 units. Saying it was hard is an understatement. My twins often ask me questions about their first steps or first words and honestly everything that year is a blur. My husband and I would meet in the school parking lot to exchange the twins so that I can go to my night classes. If both of us had class at the same time, I would take my twins to my classes with me and sit in the back.
Again, giving up was not an option. The proudest moment was graduating with my husband and taking a picture with one twin on each hip in my cap and gown. I persevered and that same tenacity towards the importance of education has stuck with me over these last 20 years. Now, my twins are sophomores in college and my youngest is a senior in high school who has been accepted to her college of choice. I have been an educator for over 16 years now with two masters and I am now the founder and CEO of my own educational resource company. No, the road has not been smooth but the bumps that I have come across has helped me to become the woman I am today.
As you know, we're big fans of Full Potential Educational Resources, LLC. For our readers who might not be as familiar what can you tell them about the brand?
The goal of Full Potential Educational Resources, LLC is to become the hub for everything education. We have a wide selection of educational games, toys, books, school/office supplies, and teacher resources. Our motto is "Helping Young Scholars Stay On Point And On Task" and we are committed to doing just that. We have a growing selection of free resources for educators and parents to download as well as Full Potential Teaches which is our new YouTube channel. On our channel, we plan to provide tutorials and lessons. We are also excited to announce that we've just launched our exclusive brand apparel clothing and accessories line, The Young Scholar Collection™. With its simple and classic look, our Young Scholar Collection provides an opportunity for scholars to show pride in their education without sacrificing style. As we expand, we have plans to offer virtual tutoring, consulting, and our own Full Potential Educational Resources curriculum. Our mission is to enhance the educational process for all students by providing quality yet affordable resources that are strategic and rigorous with the understanding that all scholars have the ability to thrive given the right tools to reach their full potential.
With that focus in mind, we have partnered with an amazing nonprofit, Project Educate. Project Educate's mission is to prevent the suffering and improve the quality of life for homeless men, women, and children by providing resources that offer temporary, yet immediate, relief and programs that assist with the transition to safe environments, healthy life choices, and a healthier way of living. Anytime you shop at our store, Full Potential Educational Resources, you are directly making a positive impact on the lives of the homeless through Project Educate's HOPE program (Homeless Opportunities to Pursue Education). Project HOPE provides workshops that teach sustainable skills (such as investing, cooking, how to make products for sale, etc.). Through our understanding that education is our key to success, together we have established a joint initiative called Project Scholar. Project Scholar's goal is to provide educational resources, supplies, clothing, and meals to our K-12 homeless and underserved population. Project Educate has created a Project Scholar wishlist to assist in their monthly giveaways to children on Skid Row that are available for purchase exclusively on our Full Potential Educational Resources website.
Can you talk to us about how you think about risk?
In my opinion, risk taking is an integral part in becoming successful. When I decided to start my own educational resource company I was terrified. First and foremost, we are in the middle of a pandemic. Second, I have two children in college and one attending college next year. And my last concern is the risk of competing with big businesses who have dominated the market. If you look at those factors, starting a business doesn't make sense, it's too risky. But then I remind myself of my passion for education and why I am doing this…for all scholars to be able to reach their full potential. When I do that, then the reward outweighs the risk. I am so blessed to be able to start my company and I thank God for this opportunity everyday.
In just a few months of being open, I am seeing the positive impact Full Potential Educational Resources is having…especially in our community through our partnership with the nonprofit Project Educate. As I take time to reflect on my why, helping to bring education in any form to our K-12 homeless and underserved children is not a risk but a responsibility. When I became an educator over 16 years ago, I was committed to the concept that all scholars can thrive given the right tools to reach their full potential and over the years I have seen the results of my efforts. My company, Full Potential Educational Resources, is allowing me the opportunity to expand my efforts not only inside of the classroom but outside of the classroom as well.
Contact Info:

Image Credits:
Full Potential Educational Resources, LLC
Suggest a Story:
 VoyageLA is built on recommendations from the community; it's how we uncover hidden gems, so if you or someone you know deserves recognition please let us know 
here.