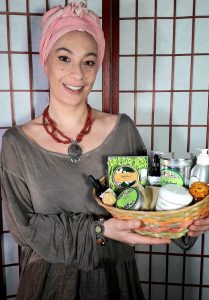 Today we'd like to introduce you to Ingrid Pagliarulo.
Hi Ingrid, please kick things off for us with an introduction to yourself and your story.
Since I was a child I have always been fascinated by any phenomenon of nature. This feeling is fueled by the fact that I am a very sensitive person and because I was educated in 'beauty'. I am from Napoli or 'Partenope', in Southern Italy, a city rich in beauty, history and art and protected by the sleeping sacred Vesuvius.
For work I spent a few years between Southern Italy and California working earlier as an artist then as a manager in the entertainment and guest service industry until I finally moved to Los Angeles about ten years ago. Today I am a writer and journalist. However, the powerful effect that nature has on me is certainly in the genetic code of the family and it remains rooted in me. I used to experiment with anything. Together with my younger brother as children we messed with soaps, with cooking recipes and, as we called with 'magical potions' made with water, sugar, seeds…
Beside my parents' guidance and that is through my mother's methods and my father's tips, my paternal grandmother, in her youth, had worked for an ancient established pharmaceutical laboratory . She was involved in the preparation of herbal compounds, talc, herbal remedies, and other natural products.
When I was a child, she still prepared many things with natural products. I was fascinated by her methods, her explanations, her care and the resulting magic. I followed her when at home she prepared, for example, limoncello or liqueurs with fennel, or with walnuts, or chocolate or also five fruits (5 citrus), it was necessary to wait weeks for the infusion. It was so romantic! She used to do this at least once a year. I saw her alchemy with kilos and kilos of fresh citrus, sugar, alcohol. While she was preparing the liqueur, I assisted her and I remember that she invited me to smell the citrus fruit. And what a perfume! She used to make at least 15 bottles and gave them to her relatives and friends. My maternal grandmother, on the other hand, had not worked in a pharmacy but, by culture, by tradition, she lived, in daily life, in a very simple way, perhaps today some would say primitive, I say natural. I remember that the spasmotic tummy pains sometimes I had as a child simply disappeared with a massage she gave me with extra virgin olive oil. If the pain persisted, she made me an infusion of bay leaves and all the bad was gone! She never ate processed food, she ate little and she lived to be 85.
As a child, we are certainly more in connection with nature because we are still "carte blanche" and with little information not yet elaborated. Then we grow up and we forget everything. The contact with the earth, however, helps to reconnect and tune into nature with the whole universe. As Mama tierra daughter I lived the most beautiful time of my life on the sea, in an uncontaminated place where time, at least until recently, flowed slowly and the rules were established by nature, certainly not by the web or television. In that place, I lived in tune with everything and felt part of the whole universe. I led a simple and healthy life. Without shopping malls, traffic, or automata on the street. I woke up with the sun inside myself and in the sky and I lived the time fully, listening to the sea and dancing on the beach. At sunset, I filled my eyes and spirit with beauty and I was grateful to the universe for this Mediterranean wonder. In that place, I deepened the knowledge of those "fascinating alchemies" that create wonders in accordance with nature that only need to be listened to and not misunderstood. Then I moved. At the beginning of my stay here, I started having problems with the dry climate. I had to adapt to a different climate and I solved it by drinking more and helping myself with coconut oil. I later had skin allergies. So I eliminated those few supermarket products that I kept using, like the household detergents that I started making myself using natural ingredients like lemon, lavender, baking soda, tea tree oil. Working as a journalist, I was exposed to the antennas of television broadcasters and so my thyroid gland made itself felt, causing anxiety and tachycardia problems. Not using medicines, I was forced to find a remedy.
Otherwise, they would have taken it from me. I dusted off the "primitive" teachings of my paternal grandmother and grandmothers from the South, and I changed my lifestyle, starting with food. I lived in the Hollywood hills on the property of a wonderful person who allowed me to use the garden and with whom we exchanged herbal experiences. In that garden, I had the opportunity to continue experimenting, obtaining immensely rewarding results and more. I went further by obtaining a diploma from the herbal academy and, subsequently, even starting a business… if you want to call it like that. Thus was born "Parvafolium" which in Latin means "small leaf" and deals with natural skincare (soap, moisturizer, body water, perfumes) and herbal remedies (tinctures, herbal compounds, tablets, teas). All products are prepared personally by me, in the kitchen, not in the laboratory, with natural ingredients without any chemical additives. They are prepared with the hand of the heart according to the teachings of Mother Tierra. Personally, I consider mankind to be inferior to that of plants which are by far more intelligent than us because they do not need a smartphone to survive. I consult with them and walk with them with the sun and the moon and so I am able to keep to survive in balance with nature.
Would you say it's been a smooth road, and if not what are some of the biggest challenges you've faced along the way?
The beginning has been quite smooth because I have been supported by my main job and I could invest in material to start this project. I make everything with my own hands, from the product to the package and when I lived in Los Feliz I used to grow some herbs in the garden that has also been helpful to amortize the first expenses. I have started to sell to friends of friends who started commissioning me gift boxes of natural products. After I moved from Los Feliz I started to sell my products on ebay.
The way of Mother Nature is simple if you follow her. Following the world of men is more complicated and the A.I. … even worse. The web is a challenge because you need to get to people that are 'actually' accounts and this sounds quite weird don't you think? I believe that the web will never be enough to let you know a product in all its aspects before buying it. Getting in touch with real people is fundamental to me and to what I do.
Consequently, my challenge is to be able to survive by continuing to follow Mother Nature and perhaps in a healthier environment.
We've been impressed with Parvafolium, but for folks who might not be as familiar, what can you share with them about what you do and what sets you apart from others?
I make natural skincare products and herbal remedies. From personal hygiene: soap, moisturizers, bodywash, beauty to herbal remedies such as tinctures syrups and herbal compounds, Bach's Flowers, massage oil, balms. I make every product with natural ingredients, without any preservatives, additives or dyes. I prepare them personally, after a reiki treatment, following ancient rituals; and traditional recipes of the Mediterranean herbalism. Regarding the choice of raw materials, I let myself be guided by nature itself, based on the quality of the ingredients. Furthermore, being all natural products, chemicals free, the freshness of raw materials is essential. Every single product is prepared with the hand of the heart following the lunar cycle and the flow of the universe. All my preparations are intended for those who lead or intend to lead, a simple and healthy lifestyle rich in the energy of nature and love. I do make custom preparations, vegan, vegetarian, regular and also baby skincare.
What sets me apart from the other? My clients are always very satisfied and surprised by the care I put into doing things. Some of them claim that I always manage to center the problem because I am very sensitive. Sensitivity definitely has something to do with it but I believe it is because I just dedicate time and listen to people. I love listening to people and this surely helps me to center their exact needs. I also make custom gift sets that are having a great response since the beginning. So, just before the pandemic, I decided to sell them on etsy.com where I got a 5 star and Top shop for gifts. Two of the luxury gift sets I have created have been brought for two doctors who have distinguished themselves for their particularly hard work in the worst period of the emergency. The products more requested are gift sets, vegan gift sets, luxury gift sets, goat milk soaps and antiage facial cream, baby soap. I am currently working on a new product according to the moon cycles and soon, I will publish a new catalog of products at parvafolium.com. Email for free consultation.
What sort of changes are you expecting over the next 5-10 years?
Years ago, there was the custom of taking care of yourself every day. Today, however, we begin to take care of ourselves when problems arise. So we get in a rush. In that case dealing with plants and herbs is hard because it takes time and care and everyone is always in a rush. However, some studies seem to support that recently the common form for the treatment of ailments and/or diseases are traditional plant-based drugs. And it looks like this use could spread to the benefit of industry by 2026. I hope to be at least in balance! 🙂
Contact Info:

Image Credits:
Parvafolium
Suggest a Story:
 VoyageLA is built on recommendations from the community; it's how we uncover hidden gems, so if you or someone you know deserves recognition please let us know 
here.