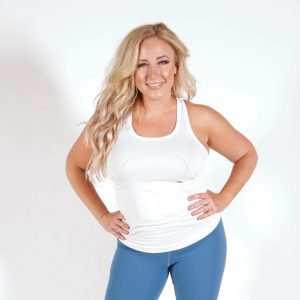 Today we'd like to introduce you to Crystal El Amin.
Foxy and Fierce is an LA based martial art training facility located in the heart of Hollywood. Established in 2010 by husband and wife duo Crystal and Rashad El Amin. It is a family-owned business that treats its clients just like that, family! Crystal Greene- El Amin co-owner of Los Angeles based Foxy and Fierce Kickboxing Boot Camp, creator of Foxy and Fierce Simple Self Defense Workshops and Foxy Fierce Extreme Bikini Boot Camp. Mother of two (4 and 7-year-olds) Holds the rank of 3rd-degree black belt in the World Seido Karate Organization. Senpai Crystal born and raised in Los Angeles has been studying Seido Karate since she was four years old. Her family originated from the East Coast, where they trained under Grandmaster Tadashi Nakamura. Her father: Sei Shihan John Greene is a 7th-degree black belt. Her mother: Jun Shihan Veronica Greene is a 6th-degree black belt. The family runs the Seido Karate Hollywood Dojo. A non-profit organization where Crystal has been an instructor for adults and children since she was 16 years old. Crystal is an accomplished martial artist having competed in tournaments worldwide including Australia, Japan, and New York. She holds a Bachelor's of Science from California State University of Northridge with focus in Family Environmental Sciences. She is a certified Kickboxing Instructor through The Aerobic and Fitness Association of America and has a fitness background in Muay Thai (Thai Boxing), Krav Maga (Military Self Defense), Matt Pilates and Yoga. When Crystal met Rashad El Amin in 2007, they both shared a similar interest in martial arts which then sparked a relationship.
As a teen Rashad trained Hapkido and Karate under former Black Panther and Community Organizer Aquil Basheer and trained Boxing under World Champion Trainer Shadeed Suluki. He holds a Bachelor of Fine Arts from UC Santa Barbara and was a collegiate athlete on the track team competed in the 100meter, 200meter and was the anchor of the 4x100meter sprint team. To stay active as a couple they would train in Karate and Muay Thai together even traveling to Thailand to work on their skills. In 2010 Crystal's best friend who was an athlete herself, an Iron Man competitor witnessed Rashad and Crystal training and made a comment that Crystal had heard throughout her life that would spark an idea. She said she would love to learn how to do that- Muay Thai/ Kickboxing and it made her realize that there were a lot of people like her who would train Muay thai/kickboxing if there was a more approachable and inclusive environment to do so. At the time, training Muay Thai was not as wide stream for women as it is today. So Crystal took that idea and launched a Women's only program that would incorporate full-body toning and teach real Muay Thai training techniques and drills. Rashad being a supportive partner taught classes and worked on the behind the scenes of the program building the website, filming videos and helping with all events that were hosted. Three years in Foxy and Fierce was building traction as a premier location to train. In 2013 Crystal and Rashad were married and quickly after had their first child. Rashad took on the role as the head trainer at the studio and Crystal took a behind the scenes role of running the business and staying home with the baby. They had their second child in 2016 and by then Rashad had established an elite group of clients and a cult-like following of members. His charisma and ability to motivate was undenying. He had a strong presence turning clients into athletes and fight choreography superstars.
A few of Rashad's clients are Kristen Stewart, Ana De Armas and Crystal Minkoff (Newest cast member of the Real Housewives of Beverly Hills). Together they have worked with thousands of women to help them achieve their fitness goals. Crystal's Foxy and Fierce Bikini Bootcamp is a total Lifestyle Transformation Program that teaches clients how to meal prep, train and build mental strength through goal setting. Her trainings have been featured internationally on Germany's Shape Magazine, Germany's Next Top Model and numerous entertainment shows across the globe. Her Vision Board workshops and Goal Coaching were featured in the Los Angeles Times. Additionally, they have been active in the Los Angeles community bringing Foxy and Fierce Simple Self Defense Workshops to non-profit organizations, schools, corporations and private events for the past ten years. The workshops are designed for people who have no martial arts experience. They teach basic, easy to remember escape and defensive tactics that help empower women. In 2019 they launched their first Foxy and Fierce Summer Fit Games where members can put their training to the test and earn the coveted Foxy and Fierce Championship Belt. Back in March of 2020, like most boutique fitness studios, they were forced to close their doors and stop in person training. They immediately launched the Foxy and Fierce Virtual Gym where they offer Live Stream Classes and On Demand Workouts. The Virtual Gym has become a blessing in disguise as the time and effort to build it has been tremendous; it has opened up the doors for people all over the world the opportunity to train with the duo.
We all face challenges, but looking back would you describe it as a relatively smooth road?
When I first started Foxy and Fierce, I was not an entrepreneur. I just knew that I had a skill and knowledge that I wanted to share with other people. I didn't have investors or any money. I started small, I taught all the classes, I charged less than everyone in Hollywood to give me a competitive edge all while delivering an excellent experience for my clients. I began to educate myself on successful entrepreneurs and I decided my brand would have to build over time not from paying for marketing and advertising but by word of mouth, referrals and satisfied customers. This would take time. Three years in, with an unplanned pregnancy, I was burnt out. My husband, Rashad El Amin, stepped up when I needed him most and continued to build the brand and make it more successful than I could have ever done alone.
In 2019 we had our most successful year; things were looking up and I was starting to really see the fruits of our labor. Then March 2020 Coronavirus hit. No one could have foreseen being shut down for nearly 12 months, but that became our reality. Having witnessed firsthand what a natural disaster can do to a business and the time it takes to rebuild, I knew that if we could be quick and strategic by moving our entire program online, we could maybe weather the storm. We know that the majority of people are in the same boat as us. We will be trying to survive and catch up financially with what 2020 has done to our business. We are focusing our energy on our Foxy and Fierce community, delivering our program to as many people virtually and opening our doors in March 2021. We know this will be a long year but we are optimistic and hope to be able to thrive in 2022.
Thanks for sharing that. So, maybe next you can tell us a bit more about your business?
Foxy and Fierce is a Kickboxing Bootcamp located in Hollywood, CA specializing in full-body toning and real Muay Thai / Kickboxing techniques. We consider ourselves a stepping stone into the world of martial arts for those who have always wanted to try it but didn't know where to start by bringing a non-intimidating and welcoming environment to everyone. We offer group fitness classes that incorporate toning exercises and kickboxing drills in an upbeat high calorie burning class. Our private training sessions give clients the opportunity to work on their craft whether it be for building muscle, fat loss, personal hobby or for an audition or film. We cater your session to your specific needs. We travel to you or you can train at our studio. Bikini Bootcamp is our lifestyle transformation program that offers one on one coaching, mindset training, meal prep and nutrition planning, and specialized workouts that help you achieve your desired physique in a small group setting. Simple Self Defense Workshops are done exclusively for outreach to anyone who is interested in learning how to defend themselves with no martial arts training. We teach easy to remember escape and defensive tactics. We offer this program to non-profit organizations, homeless youth shelters, schools, corporations, or anyone who wants to bring their friends or family together in a private setting. The Foxy and Fierce Summer Fit Games was put on hold in 2020. We hope to bring it back in 2021.
Similar to the Crossfit Games we put our members training to the test with an extensive fit challenge that incorporates speed, power, body weight exercises and kickboxing. The winner earns the coveted championship belt! The Foxy and Fierce Virtual Gym offers Live Stream Classes and On Demand Workouts that you can do from the comfort of your home with minimal or no equipment. It also incorporates heavy bag workouts that teaches basic to advanced combinations. Live Stream Classes are offered weekly where you can interact and chat with your instructor and if you can't make the Live Class you can jump in on one of the recommend workouts of the day. In addition, you have access to hundreds of classes in our extensive library. Currently, the Virtual Gym is free for 14 days and only $19.99 per month. We offer free monthly community events to keep our members engaged and connected. You can check out our website for our next upcoming event. Foxy and Fierce offer a unique community of people who are like-minded and what to lift each other up. Empowering our members is our goal and our name and brand reflect that.
What makes you happy?
This quarantine has given me the opportunity to reflect on what really makes me happy. The number one thing that brings me the most joy in my life is my family. They are my reason for everything I do. Although this year has been tragic for so many, I try to focus my thoughts and energy on the things that I can control. I have been given a year of spending almost every day and hour with my children and husband. I feel like I've lived a lifetime with them and I'm grateful for everyday I've been able to share with them. It has also given me time to rest. Prior to the quarantine, I felt like I hadn't had a good night sleep in almost six years. Moms in general know what I'm talking about. I love resting when my body needs it and since we have been home together, if I need to take time to rest, I allow it. Being of service has always been in my nature. The work I do with the Foxy and Fierce community brings me a feeling of fulfillment and happiness. I get to connect with amazing people every day who inspire and push me to always strive to be the best I can be. Also, when I am moving my body and eating right, I feel better and treat others better. So, knowing that "my work" encourages me to have a healthy lifestyle brings me happiness. Design and decor have always been an interest of mine. Having a degree in Interior Design it's funny how I've taken my schooling and made that a hobby and what I considered my hobby, of martial arts, my work.
This past summer I adopted five fluffy Silkie chickens and I can't even begin to tell you the joy they bring me on daily basis. I can sit and watch them shuffle around my backyard looking for treats on the ground all day. It really is an amazing stress release to watch chickens. Who knew! I highly recommend it! They also produce fresh eggs that I can eat or gift to my neighbors and friends. I hope to eventually take my very amateur green thumb and design a sustainable garden this spring. But like many things I do, I know the seeds I plant now will take time to flourish. Picking some fresh vegetables and herbs from my backyard garden and preparing a meal for my family will really bring me joy. Preparing a meal and watching someone enjoy it really lights up my world. I'm more a savory cook. I like rich delicious foods that I can manipulate the ingredients to fit into a healthy eating lifestyle. Eventually, I will be turning these recipes into a cookbook to share. Last but not least traveling, meeting new people and experiencing new cultures brings me so much happiness. Whether it be day trip or a two weeks' vacation, I do my best to plan small trips monthly into my schedule. No matter how busy I am, I'll pack up the family and hit the road. The two weeks' vacation might happen once a year!
Pricing:
Virtual Gym 14 day free Trial. $19.99 per month
Virtual Private Training $100 p/hr
In Person Training Group Class $35 or $85 per month (4 classes p/month)
Private In Person Training on location or at the Studio $350 p/hr
Bikini Bootcamp 6 week session $250
Contact Info:

Image Credits:
The first photo of Crystal white top blue pants, Katie Walker – Photographer
Suggest a Story:
 VoyageLA is built on recommendations from the community; it's how we uncover hidden gems, so if you or someone you know deserves recognition please let us know 
here.