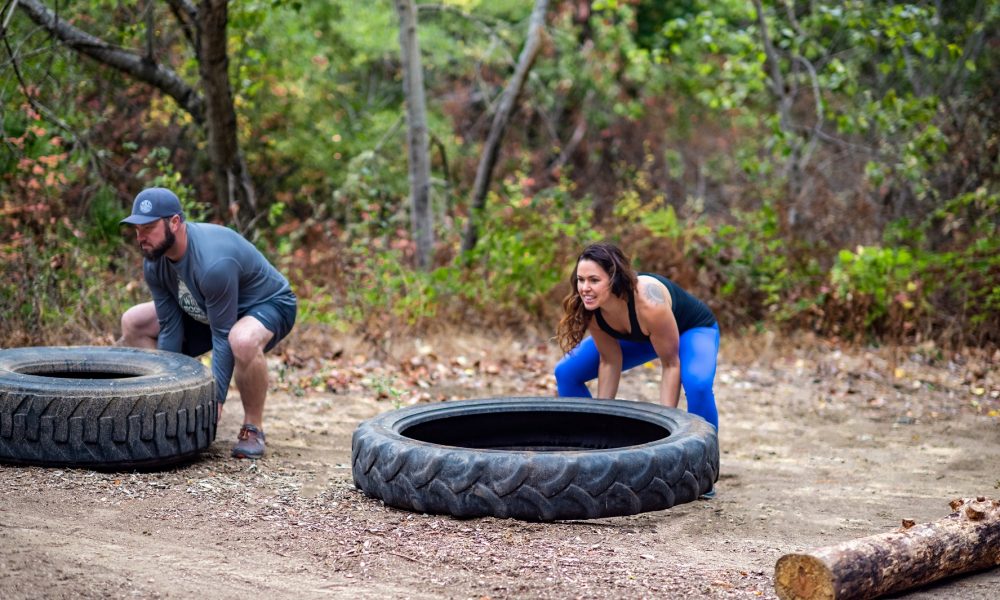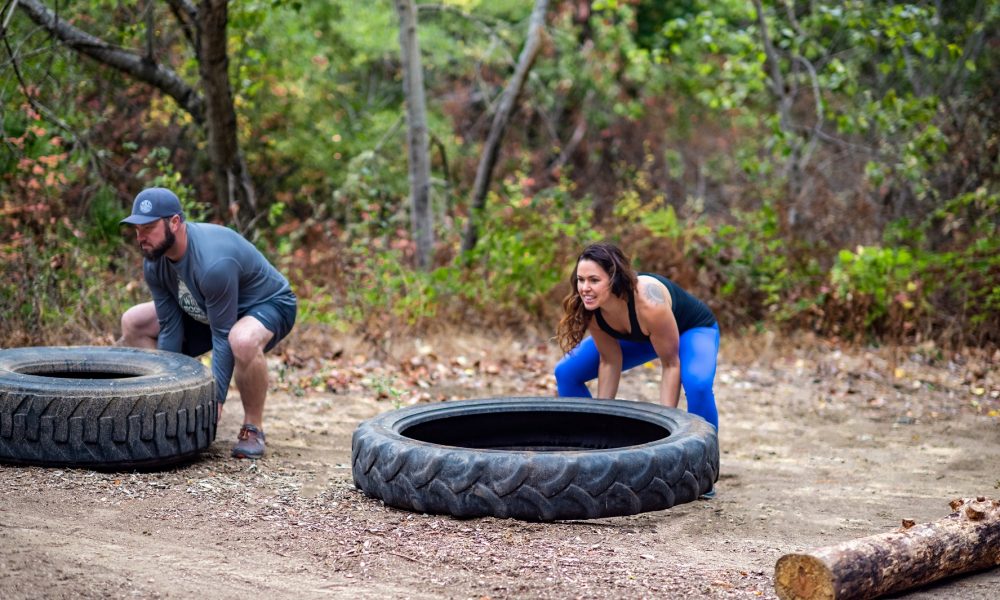 Today we'd like to introduce you to Shay Magditch co-owner of Wild Roots Fitness.
Shay Magditch and Greg Deaton are a husband-and-wife team who find themselves outdoors most of the day, who love creating fun and unique workouts, and who have personally seen the change in their bodies and minds after adopting a healthy homestead-inspired lifestyle. They have spent the last fourteen years living off-grid on a rustic homestead at the end of a long and bumpy dirt road with the nearest town a 90-minute drive away. Daily chores to maintain the property have kept them busy and active since there were always leaves to rake, wood to split and stack, trails and gardens to maintain, cabins to clean, beds to make, floors to wash, road work, animals to feed… the list is endless. They grow fruits and vegetables, canning the extra to enjoy later in the year, raise chickens for eggs (all nine chickens have names), and keep bees for honey and beeswax. Eating mostly fresh, wholesome foods fuels their long days full of activities to keep the homestead running smoothly. Going to bed each night physically drained but feeling accomplished is a way of life they came to love, and they watched their health flourish.
They were often times blind to the uniqueness of their lifestyle and only after sharing stories with others did they realize how many people wished for the simplicity of this type of life. This is where the vision of Wild Roots Fitness began taking shape. There was an obvious interest in the "old fashion" way of life where living was not easy or necessarily comfortable, but the satisfaction felt at the end of a hard day made it all worthwhile. This vision, coupled with their love for teaching, inspired them to become Certified Personal Trainers and set them on the path to share their knowledge and encourage others to make positive lifestyle changes.
In 2019 they were introduced to Jim Flagg, who had just become co-owner of The Douglas Ranch on the outskirts of Carmel Valley Village on the Monterey Peninsula of California. The Douglas Ranch had its start as a summer camp in 1925. The camp's founder, Mrs. Douglas, felt that boys had a plethora of opportunities and that it was time for young girls to learn life skills and participate in outdoor activities. Over the course of decades, the camp became integrated and welcomed girls and boys each summer and continued for about 75 years. Flagg wanted to keep the heart of the ranch the same and promote a unique, rustic summer camp experience for adults and families. The ranch was renovated and rebranded as The Camp at Carmel Valley and had a successful first year of business in 2020.
Starting in April of 2021, Wild Roots Fitness will be offering their services a la carte to guests of The Camp at Carmel Valley. Guests can elect to participate in fitness classes or hands-on homesteading workshops such as a pickling and canning class, DIY beauty product creation, or introduction to artistic blacksmithing. Wild Roots will also offer fully immersive 3-night Health & Homesteading Retreats which bundle all their services including fitness, homesteading workshops, nutritional education, and wellness coaching while also including food and lodging. Guests will undergo a "digital detox" by surrendering their cell phones at the beginning of camp and will focus on being in the present moment without the distractions of technology.
Alright, so let's dig a little deeper into the story – has it been an easy path overall and if not, what were the challenges you've had to overcome?
Our plan was to launch our Health & Homesteading Retreats in the spring of 2020, but, of course, a global pandemic quickly foiled that plan! We pivoted and by mid-summer began offering outdoor fitness classes (TRX suspension training, circuit training boot camps, and mat Pilates) and scenic guided hikes for guests of The Camp at Carmel Valley. If we learned anything from Covid-19, it would be the recognition that there is a huge benefit in being self-reliant. And we are not the only ones who picked up on that. There is a resurgence of interest in the "homestead arts"- growing your own food and preserving excess, raising animals, making your own soaps, lotions and beauty products, knowing how to fix things instead of throwing them away. Covid-19 screeched the brakes on our ability to run out and buy something the second our hearts desired. We also brought our workouts home. Those of us with home gyms rejoiced while others scrambled for supplies while depleting the world of kettlebells and resistance bands. In many ways, a reason to slow down may have been just what we needed. If we were faced with another pandemic of this nature, we want people to feel more prepared. During our retreats, we teach guests how to have fun and effective home workouts, learn basic homesteading skills, and cultivate mindfulness while changing the way they approach each day.
Thanks – so what else should our readers know about Wild Roots Fitness?
Our mission is to help busy, stressed adults hit pause and take control of their health using rustic homesteading techniques. In an era of automations and increasingly progressive technology, we want people to step back and consider the contrary. It has been coined the "slow food" movement- growing some of your own food, preparing it at home, taking your time and enjoying the process. Baking breads, fermenting and pickling, making jams and jellies. There can be incredible amounts of self-satisfaction in being able to step back and admire and savor the food that you just created with your bare hands. The same methodology can be applied to fitness. Instead of pounding out mind-dulling hours on the treadmill while immersed in a TV show, we want people to get outdoors and do something different that presents a new set of challenges. Use rocks or logs if you do not have weights. Hike up a mountain and relish the view from the top. In essence, we want people to "break the script" and try new things. In practicing physical hardships, you will also cultivate mental strength and endurance which will help you in all avenues of life. Something beautiful happens once you learn how to be comfortable with the uncomfortable. Do things that are hard or things you never thought you could accomplish and get ready to be amazed.
We educate clients on how and why to incorporate healthy habits into their lives, empower them to understand that they do not need access to a fancy gym or an expensive meal plan to get in shape. We motivate people to stick to their plan by offering support and guidance to keep them accountable. We, as trainers, are full of energy and gratitude. We are hardworking, disciplined, and motivated to endure mentally and/or physically challenging tasks. But we also love to laugh and have fun as we build rapport with our clients.
Greg and I come from different backgrounds… He was raised in Oregon and grew up playing sports, exploring the backwoods, four wheeling, hunting and fishing. His interests include functional fitness, obstacle course training, fostering mental toughness, and identification and uses for native plants and herbs. He is a skilled artistic blacksmith and a passionate adventure motorcycle enthusiast. His childhood dream was to become a mountain man, living off the land in a small cabin in the wilderness and he achieved it! I was born and raised in suburban Pennsylvania where my early passion was animals and horseback riding. I spent 15 years working as an Equine Veterinary Nurse and my knowledge of biology and mammalian body systems is universally applicable to humans, not just animals. When I met Greg in 2005, I was fascinated by his way of life and, after college graduation, joined him on the rustic homestead where we still reside. I was frequently humbled by the off-grid lifestyle and endless challenges we seemed to face but instead of defeat I rose to the challenges and watched my life transform. I am level two qualified as a TRX Trainer and have completed two certifications in The Pilates Suspension Method. My specialties include kettlebells, bodyweight strength and mobility, and creating balance in the body to decrease injury and move with ease. As a health coach I support clients with motivation and life improvement using positive behavior change, and I have become an expert in rebuilding GI health and the critical importance of the microbiome. I hold two certifications with the American Council on Exercise: Personal Trainer and Health & Wellness Coach.
An increasing number of people are looking for alternative vacations where they can return feeling healthier and rejuvenated instead of a typical vacation of overeating, over consuming alcohol and coming home feeling fat and fatigued. While there are numerous fitness retreats in the country, our camp is uniquely located in a rustic country setting with a summer camp feel. After attending our retreat guests will feel that they have the foundation of knowledge and skill to move and feed their bodies, better control and understanding of their thoughts and motives and, in return, the ability to live a healthier life. The Camp at Carmel Valley is located on 115 acres in a unique area nestled 12 miles inland from the Pacific Ocean and surrounded by the Santa Lucia Highlands and Ventana Wilderness. Carmel Valley is known for its scenic beauty and abundant sunshine in an area where coastal fog is prevalent.
What matters most to you?
Our fundamental beliefs are to: Do the right thing, say yes more, leave something better than you found it, do things that scare you, look for the positive in a bad situation, and express gratitude often. We feel passionately about the environment, animal rights, sustainability, fair pay and working conditions, ethical treatment of people and animals, and supporting companies with ethical practices. We believe that it is our duty to break people out of their comfort bubble and let them see that there are other ways to live. When our clients add even one or two homestead lifestyle strategies into their daily routine, they will see incredible health improvements.
Contact Info:

Image Credits:
Brian Mack Alicia Arcidiacono
Suggest a Story:
 VoyageLA is built on recommendations from the community; it's how we uncover hidden gems, so if you or someone you know deserves recognition please let us know 
here.