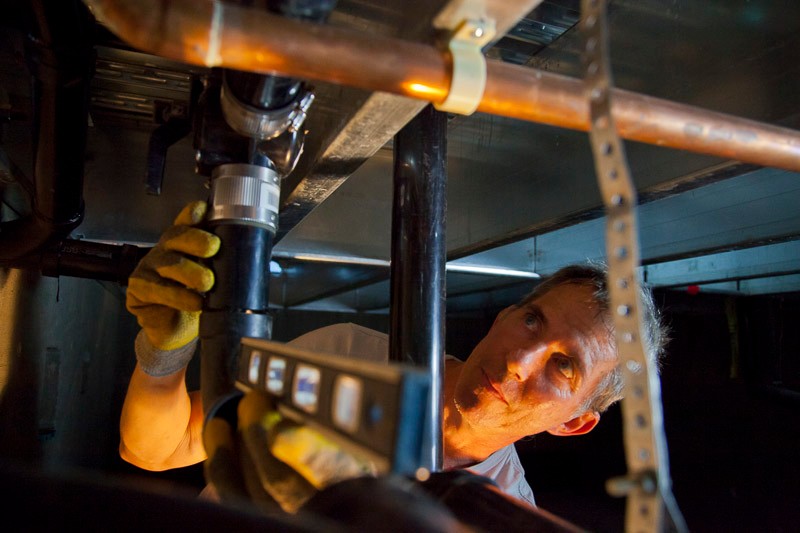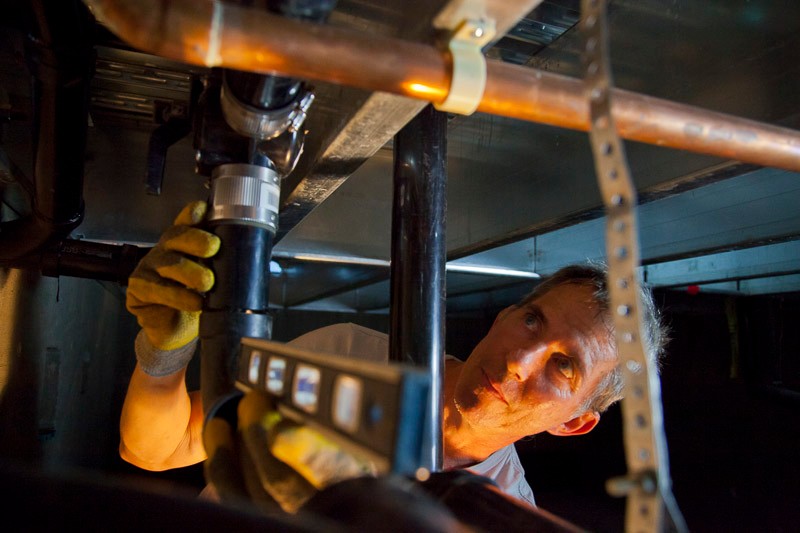 Today we'd like to introduce you to Leigh Jerrard.
Leigh, we appreciate you taking the time to share your story with us today. Where does your story begin?
I'm from the Midwest – Central Illinois. They say the land there is so flat if you stand on a six-pack you can see for miles, but there wasn't much else going on there. I ended up in LA in the 90s, working as a furniture-maker, woodworker and movie-set carpenter and then went back to school to study architecture. My first job out of school was at Frank Gehry's office. I started in the model shop and six years later was managing a $20 million winery project. I loved that job but I also started to question the environmental impact of some of those projects, which were clad in things like titanium and melted glass. That led me to start an architecture studio with a partner in Echo Park. We did smaller, more human-scaled projects – residential and retail, with an eye towards low-cost housing and socially beneficial works.
My wife and I had just bought a ramshackle house in Glassell Park when the 2008 recession hit. Work was slow and I spent a lot of time in the garden with our son Niko, who was three at the time. We planted a lot of fruit trees, and we'd get muddy watering them with maybe 50 gallons of water. Then we'd go inside and I'd give him a bath, and when I pulled the plug I'd watch 50 gallons swirl down the drain, never to be seen again. I was struck by this and started to play around with ways to recapture that water and use it again, irrigating our thirsty plants: greywater systems. This appealed to my thrifty midwestern sensibilities – I hate waste of any kind. I read everything I could about greywater, this valuable resource that most Angelenos simply let go down the drain. In fact, greywater is rich in phosphorus and nitrogen and many plants love it. The micro-nutrients that cause problems in the ocean – red tides and algae blooms – are perfect for your garden! I ended up taking a five-day intensive class from Greywater Action – the same class I help teach now. I printed up some postcards and put them out in coffee shops and garden stores and started to get a few calls.
Soon architecture took a backseat to this new project. I loved being out in the field, solving real-world problems with a tote full of plumbing parts and buckets full of mulch. I loved our clients, who cared deeply about the environment and were putting their money where their mouth was to do something about it. And I loved our collaborators, garden designers, landscape architects and water activists who made sustainability central to their practices.
Alright, so let's dig a little deeper into the story – has it been an easy path overall and if not, what were the challenges you've had to overcome?
It hasn't always been easy! For the first few years, I was doing it all – I'd spend the day in a crawl-space replumbing someone's drain lines, then the evening writing proposals and managing the business. The drought of 2015-16 marked a turning point – the phone was ringing off the hook. People were trying to figure out ways to conserve water, and they realized that using it twice was a no-brainer. We now have a full-time office manager and seven employees, designing, installing, and maintaining systems. I've been blessed with an amazing staff.
We've had to be creative about ways to generate income — things like teaching gigs and lectures and expanding into rainwater harvesting and Low Impact Development, projects that keep rainwater off the street and back into the land. We partner with nonprofits and chase grants and recently finished a project with PWP to install free laundry-to-landscape systems for qualifying Pasadena residents. One of my favorite things to do is community workshops, teaching people how to install their own simple greywater systems, but we've had to stop those during COVID.
Getting people to accept greywater has been a hurdle. Americans can be squeamish about reusing their shower water, even if it's perfectly safe. It's like recycling – when I was a kid everything went to the landfill, but now most people separate out the aluminum and glass, the valuable parts. But it's the same with water! It doesn't have to all go to the sewer; it's easy to separate out the valuable part and use it in your garden.
Thanks – so what else should our readers know about Greywater Corps?
We do two main things; Greywater and Rainwater. Greywater is gently-used water from bathtubs, showers, sinks and laundry that can be recaptured and used for landscape irrigation. Don't let it go down the drain! Greywater systems save water, save money, protect the Santa Monica Bay, and replenish the aquifer under our city. They reduce loads on septic systems and municipal sewer treatment facilities, lowering your carbon footprint. They protect the remote rivers and lakes where our water comes from. And they provide irrigation security for your plants in times of drought, allowing you to grow a beautiful and bountiful garden while feeling less guilty about consuming water in the home. Think about it: your garden hose draws from the municipal water supply, so everyone is irrigating their plants with drinking water – while letting perfectly good water go down the drain!
We also do Rainwater Harvesting projects, some of them pretty big. When the rains come, you may get thousands of gallons off a roof because the surfaces are so large. We like to start with 500 gallons and have installed systems as big as a 10,000 gallon underground rainwater cistern. Rainwater is perfect for native plants and vegetable gardens and can be a source of emergency water in the event of an earthquake.
I'm really proud to have built this company from scratch. I believe we've installed more greywater systems than anyone else in the world – around 600 systems throughout L.A. County. A lot of it we've had to learn or invent along the way since this is a pretty young field. I'm proud of our approach: simple, low-tech systems that will quietly recycle water for decades with a minimum of maintenance. In addition to designing and installing these systems, we also maintain them, but that's usually just one visit a year.
We're one of the few companies specializing in greywater that's fully above-board: licensed contractors, bonded, insured. I'm also proud to say that we pay our workers a living wage.
Is there something surprising that you feel even people who know you might not know about?
Most people don't know I'm a licensed architect. They see a rugged contractor with extensive knowledge of construction techniques, but I've also designed some beautiful houses back in the day. I've always loved art and artists and have a sensitive side – I can be moved to tears by a beautiful building. Someday I'd love to get back into that, but for now, I'm happy to be part of this movement, in the trenches fighting for California's water future.
Contact Info:

Image Credits:
Debra Morrison Peter Bennett
Suggest a Story:
 VoyageLA is built on recommendations from the community; it's how we uncover hidden gems, so if you or someone you know deserves recognition please let us know 
here.