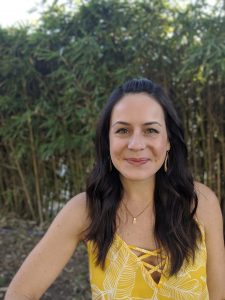 Today we'd like to introduce you to Kirsten Parker.
Alright, so thank you so much for sharing your story and insight with our readers. To kick things off, can you tell us a bit about how you got started?
A concoction of rational optimism and a totally stubborn commitment to being deep down happy – THAT'S how I got where I am today! I landed in my current role of Mindset & Action Coach by walking a path a lot of us do – and then being brave-slash-nuts enough to deviate from it. By my early thirties, I was in a job I was good at but didn't LOVE anymore, I didn't make the money I wanted to, and I didn't have an exciting, purpose-filled idea about my future. I was semi-unhappy, but not so "unsuccessful" that I HAD to change. That's where a lot of us get stuck and stay, I think. When we could imagine things being better, but they're not SO bad that the insanity of "changing habits & thinking bigger" seems appealing. But I eventually embraced that insanity!
After ten+ years in theater stage management (and a whole Master's from Yale to boot), I really did get sick of hearing myself talk about doing other things and never following through on it. So I hired a coach. I needed expert advice on how to make good decisions that would REALLY move me forward, without completely spinning out every time I felt a feeling like "scared" or "uncertain." The experience was revolutionary. I learned how to manage my mindset (heck, I learned what a "mindset" even was, let's be honest – I had no idea how our thinking impacts our experience…turns out, it does – but only 100%!).
I also learned how much I was AMPLIFYING the stress & overwhelm in my life, just from my inability to understand and regulate emotions. When I got a handle on all that, I could calm the eff down enough to tune into what I wanted and NOT talk myself out of it from fear. Clearly, that feeling was addictive enough that I never looked back. All I want to do in the world now is help people feel this sense of freedom and agency that was so life-changing for me. 'Cause if I can do a 180 in my career AND entire self-concept, to the point of building a six-figure business from scratch, creating my dream relationship & feeling more confident & purposeful than ever, ANYONE can. Promise.
We all face challenges, but looking back would you describe it as a relatively smooth road?
Helllll no! There is so much. MIND DRAMA. that happens when we try to deviate from our defaults. Usually because we don't realize we're actually changing our relationships with ourselves in that process. You can't simply *make more money* or *change the world with your ideas* or whatever it is you've been holding back on doing. You have to BECOME THE PERSON who does those kinds of things. We go about it backwards: We want to DO all the things first, THEN we think we'll have the evidence to believe we're actually capable of it. So this is exactly what happened for me. I constantly questioned if I was being "realistic," and if I hadn't just "missed out" on the life I really wanted, and maybe there were just "special unicorns" in the world who got to love their jobs and make real money and create positive impact.
LUCKILY, I had coaching all the way through those shenanigans. So even though my brain wanted to panic and flee half the time, I kept getting more skilled at dealing with the drama. Coaching helped me not only take strategic action in building my new business, but it helped me guide myself into this new identity. Which isn't SUPPOSED to be a comfortable process. But at the end of the day, if you have to choose between discomfort from *staying unhappy 'cause you know you're not thriving* and discomfort from *literally leaving your Comfort Zone to pursue your growth* I'll take Door #2 any day.
Thanks for sharing that. So, maybe next you can tell us a bit more about your business?
What you should know is that the "crazy ideas" you have in your head about what you're capable of are only CRAZY if you deem them so. You get to believe that whatever the hell you want is possible (and you get to let other people be wrong if they disagree with you). This is what I coach people on. I do Mindset & Action Coaching for people whose lives don't meet their expectations, and they're ready (if not *also* a wee bit scared) to change that. All the ways we hold ourselves back are SOLVABLE PROBLEMS: we just need to be more strategic about it than trying to *willpower* our way through or change things we can't control. So I walk people through this process of really doing the things they've been talking about (making more money, feeling more purposeful in their work, being more excited about their futures).
But we don't just help you "achieve a goal" – we look at how you work and what you think along the way, so you change fundamental habits (like procrastination, self-doubt, people-pleasing) that are rooted in your mindset and show up in your behaviors. We work on ALLLL a' that so you get to keep evolving yourself and really enjoy your life along the way. What I'm proudest of is that the more I step into fully being my weird, enthusiastic, still-sometimes-doubty-scared self and let that be OK, the more I invite clients to do the same thing. I think we all have this deep down fear that in order to get what we REALLY want, we'll have to compromise on who we really are. I'm an avid flier of a different flag. The one where you don't have to "fix" anything about who you are in order to live the ambitious, successful, impactful life you want to. You may just have to change a habit or two, which is uncomfortable as heck AND totally doable.
Alright so before we go can you talk to us a bit about how people can work with you, collaborate with you or support you?
Set up a call! Consults are a full hour and free – it's the best way for us to break down what you're actually experiencing and get clear on what you can expect from coaching. We also get a feel for each other – if you're bringing someone onto your support team, you want to be on the same wavelength. You want to make sure they understand your problems and have real solutions that'll work for you, in all your uniqueness. We cover all a' this in the consult.
Contact Info:
Suggest a Story:
 VoyageLA is built on recommendations from the community; it's how we uncover hidden gems, so if you or someone you know deserves recognition please let us know 
here.