Today we'd like to introduce you to David Gnozzi.
Hi David, thanks for sharing your story with us. To start, maybe you can tell our readers some of your backstory.
I started my journey in the music industry as a professional musician, I was signed with a major label with the band I founded in the early 2000s, that relationship didn't go that well. We released another album later on but at that point, it was clear to me the musician life wasn't for me. Between the problems with the label and the lifestyle – I was never a party person – I knew the studio was much more my environment. Fortunately, I was already mixing and mastering back then even if I wasn't promoting myself as an engineer, and I was the songwriter in the band. I started producing and engineering for others and landed two big remixes early on for Ladytron and Felix Da Housecat.
From there, it was a lot of years of paying my dues with local acts and slowing going up the ranks. I opened my youtube channel, MixbusTv – not at over 120K subscribers – to help people out, and a little bit out of frustration seeing so much bad information about mixing and mastering. The channel became quite popular relatively fast and shortly after it had life on its own and became a serious business.
I started collaborating with the biggest pro audio companies in the world that wanted to work with me and the channel is now recognized as one of the best and most trustworthy sources of information for mix and mastering. My client list expanded exponentially, I got to work with musicians and artists that I really admire. In 2018, I mixed McSolaar album "Geopoetique" that went double platinum and won album of the year at the French Music Award. But that is just one of the many artists I worked with. Ryan Shuck (Orgy, Adema, Julian K), Nolan Neal (The Voice, AGT), Daniel Graves (Aesthetic Perfection), Hu3m3n (Wes Geer), Mike Ranson, Amir Derak, Mad Gallica, Danny Blu, Ty Oliver (Powerman 5000), System Syn, Street Sects, Lizzy Jeff and many more.
In 2019, I moved back to LA, where my mix and mastering studio is located now.
LA always felt like home for me so it was natural for me to end up moving back. Here not only my professional life blossomed but I was also lucky enough to find my soulmate and soon-to-be wife Bella Kelly, which is also my artist because she happens to be an incredibly talented singer and songwriter.
That's how we met. At an event, she was switching from acting to her real passion, music, and they were looking for a producer who would develop her. A common friend introduced us and while I never thought I would go into artist development (one of the hardest things you can do in the business) the moment she said "Hi" to me was a life-changing moment both professionally and personally.
Our relationship didn't start until later, at first we had a strictly professional relationship, but I guess we both kinds of fell in love right there and then.
My schedule is pretty crazy these days, between mixing and mastering and the channel I don't have much time left but the time I have, and make, is definitely for her and her career. That's definitely my focus.
She [Bella Kelly] has enormous potential and the voice of a fairy. We released her first single/video "Throat" in 2020 and it was a success, over 750K views on Youtube, a lot of attention from magazines and various outlets and in 2021 we released the second single "Heartbreak Motel" which passed one million views just a few months ago.
Things are going well, she's now in the run for the Audacy contest, to perform at the Hollywood Bowl with Doja Cat and Coldplay among others, we'll see how that goes but regardless, we have a full EP ready and we'll be releasing that in the next 4-5 months along with three new videos. As for the wedding, we'll let you know when we have a date 🙂
We all face challenges, but looking back would you describe it as a relatively smooth road?
The opposite of smooth would still be an understatement. First off, moving to another country like I did, is always a big decision, and even tho' it went well and I didn't really "sprayed and prayed", you never know how it's gonna go. And when I left Europe, well you basically leave everything behind so it was a big risk and of course, it was hard at first when I got to LA. No matter how many problems and difficulties you account for, there's always about 5 times what you thought, that's what I now know about moving your life and business to the other side of the world. But it hasn't been easy especially at the beginning, because this time for me is definitely the happiest I've ever been. Life as a musician or in the arts, in general, is usually never easy unless you're born in the business or you're an industry plant.
I'm sure many artists before me described the struggles in these pages. The stories are all very similar.
For me, I almost lost interest in music altogether after I quit the band. The record "deal" we had was really bad but we didn't know at the time, we were young and naive. But I think everything happens for a reason and that, among other things, happened to me so I can now protect Bella and I know how to navigate the often shady and unfair music business.
But yeah, it wasn't a smooth road by any stretch of the imagination, it was instead years of really hard work, not much reward, but you keep doing it if you believe you can rise and eventually, I think talent, work ethic and just being a good person, get recognized, maybe that's the long hard road and it takes longer but it's also a lot more satisfying and based on something solid that hopefully will last and keep growing.
As you know, we're big fans of MixbusTv. For our readers who might not be as familiar what can you tell them about the brand?
MixbusTv is the name of my Youtube Channel where I teach mixing, mastering and music production. It sits now at over 120K subscribers and while it was never my intention for it to become a business, well it kinda did. What I'm most proud of is first that I know my videos helped thousands of people, either releasing their music, improving their skills or actually finding a job or opening their own studio. That's priceless. I'm proud because the top pro audio companies in the world choose my channel to present their product, they choose and trust me to showcase their product and teach people how to use them, many of them work exclusively with me and for many, I actually do consultations on software and hardware products. This is definitely an achievement for me.
What sets my channel apart from others, according to what people say, is that I seem to know what I'm doing 😀 and my "no BS approach" to teaching and mixing.
I think part of it is easy to explain: I'm a mix and mastering engineer, that's my job. I happen to have a Youtube Channel. While many others are YouTubers, that's what they do. That doesn't want to be a stab or anything, but with me, you don't really have the entertainment element when you watch my videos, I'm not funny, I'm not pretty, I am professional showing things that's it.
Right now is a big moment for MixbusTv as a brand because for the first time, there will be a line of signature products (I wish I could say more!) that will be launched in the next few months. Years and years of experience, work, and research done by me and an absolutely amazing team has finally reached the goal and we'll be releasing incredible tools for engineers and producers around the world.
As for my other "brand", my mix and mastering, I'm not sure I'm the one who should say what sets me apart, maybe we should ask my clients? But I think I'm known for a few things, my clear and loud masters (one of my most popular videos is about that), my taste for vocal production and effects (everyone liked Bella's productions) and some other very technical things that are of no interest for the audience I'm sure 😀
But I'm blessed to have the chance to work with amazing artists and I think that says everything.
Before we go, is there anything else you can share with us?
Me and Bella have a bunny, a cat and a bearded dragon, a weird collection but they all get along and love each other. I've been strength training for over 20 years, it's my stress release.
Contact Info: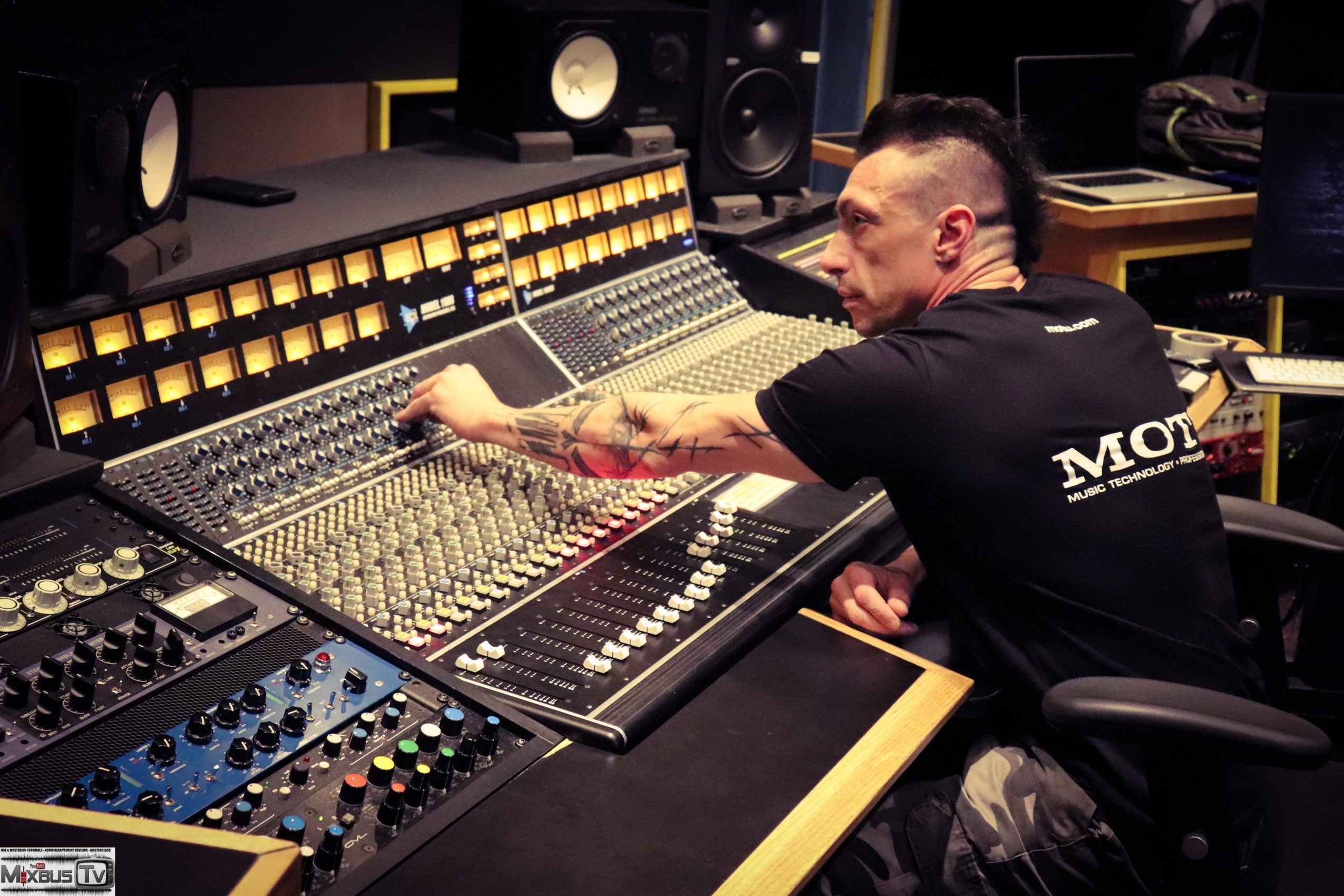 Image Credits
Anabel Dflux JC Olivera / Getty Images Paul Achulets
Suggest a Story: VoyageLA is built on recommendations from the community; it's how we uncover hidden gems, so if you or someone you know deserves recognition please let us know here.