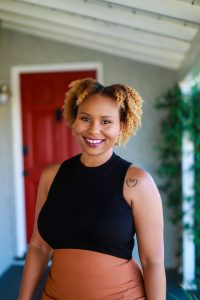 Today we'd like to introduce you to Channing Smith, Esq.
Hi Channing, it's an honor to have you on the platform. Thanks for taking the time to share your story with us – to start maybe you can share some of your backstory with our readers?
My story begins with a pivot. My husband, Derek, a New Orleans native, made the most amazing pralines passed down by his grandmother and mother. They were always requested by family and friends and we knew it was a prime opportunity for us to turn this into a business. From there, we dreamed up Ann's Creole Candies, a nod to his mother, and we were excited to launch in March 2020. However, just one day after securing our final operating permit, the pandemic shuttered most businesses and our dreams were dashed.
Though we were both fortunate to work from home, the stressors of having to now integrate our work life into our home life on top of caring for and homeschooling our two young children proved to be too much for me. I found myself dealing with a lot of anxiety and stress and my usual self-care practice of getting a massage was out of the question. But it was in this time that I turned to CBD following a suggestion from one of my doctors and a few friends. I ordered a tincture from my doctor's office, immediately began using it, and realized that it was perfect for keeping me calm and productive. Since then, I've never looked back.
Being a "day at the spa" kinda girl, I was very intrigued by CBD bath bombs, lotions, and scrubs and found myself buying nearly everything I saw. I'm still not exactly sure when the idea popped into my head, but one day I decided to look into starting my own cannabis business. I remember telling my husband what I was thinking and the look on his face was one for the books! But, he knew that once my mind focused in on something, there was no way I was going to let up and he encouraged me to go after it. And with that, 51st Place was born.
We all face challenges, but looking back would you describe it as a relatively smooth road?
One of the biggest obstacles was fear. I was starting a new venture at a time when people weren't just losing their livelihoods but their lives. On top of that, I was entering a heavily regulated industry. And though I am an attorney, the fear of getting it wrong or messing up was always in the back of my mind. But fear is just a feeling that we have and it has no bearing on our ability to be or do something great. So I pushed through that fear, knowing that what I was creating could bring relief to so many people.
Another challenge has been educating people about what CBD is and isn't and providing historical context along the way. There is a lot of misinformation surrounding cannabis, mostly driven by our own government, and that has caused it to be a polarizing topic. For example, not many people know that following the end of alcohol prohibition, Harry J. Anslinger, the head of the Federal Narcotics Bureau, turned his sights to cannabis prohibition primarily because focusing solely on heroin and cocaine alone wasn't going to keep his department afloat. Coupled with his own racist views about Black and Brown people, we now have the laws and negative sentiments surrounding cannabis today. On the other hand, it is also not widely known that our bodies have an Endogenous Cannabinoid System (ECS), which is made up of receptors throughout our bodies that respond in certain ways when we consumer cannabis, such as promoting pain and stress relief, reducing inflammation, and encouraging homeostasis, or balance within the body. If you use cannabis, whether hemp or marijuana, you likely already understand its benefits and probably knew the facts above. But if you're not a consumer, it's likely because you've associated it with some negative and blatantly false stereotype, courtesy of Harry J. Anslinger. Thus, educating anyone, especially those people that are "canna-curious", is really important for my brand.
Lastly, a personal challenge that I've had along the way is reconciling my past with my present. Like so many people, I was taught that cannabis was the gateway drug that would lead you down a path of negativity. As a child with an incarcerated father and growing up in South Central LA, I was already very aware of what negativity looked like. So, it was important for me to always do the right thing and to stay away from any type of activity that could derail me from my plans. At the time, I believed that using cannabis was one of those things. I did try marijuana a handful of times in college and afterwards and would sometimes feel guilty about it because of what I'd been taught growing up. Yet, it was in my own time of need that I found a place for cannabis, via hemp CBD, for my own wellness and, in doing so, I realized just how wrong I had been about this plant and I wanted to do my part to help change its narrative to something positive.
Great, so let's talk business. Can you tell our readers more about what you do and what you think sets you apart from others?
51st Place is an elevated bath and body care brand harnessing the power of plants for everyday wellness. Our products help busy women create wellness routines that reduce their stress by prioritizing self-care through the daily tasks of bathing and body care. We further aim to destigmatize cannabis use by offering its benefits through a luxurious, self-care experience utilizing hemp CBD. We offer an array of bath bombs, soaps, lotion and body oil, and candles. Our hemp-CBD products are made with USA-grown hemp and are third-party lab tested for quality assurance. While CBD is, naturally, non-intoxicating, our products are also THC-free so they will not produce a "high", however, you may feel relaxed when using them.
The company name pays homage to the street that I grew up on in South Central LA. Growing up, there was so much that I was exposed to, both good and bad, however, what centered me most was my family and they were all located on 51st Place. When I thought about what I wanted this brand to embody, themes of love, integrity, and community stood out to me the most. These themes were all represented in the memories that I had of growing up on that street and that was how I decided upon the name.
What sets our brand apart from everyone else's is that 51st Place is a glimpse into my life and it's very intentional and personal. All of the product names where inspired by a few of my favorite songs. 51st Place also offers organic soaps and bath bombs that are CBD-free and family-friendly. This was important to me because as a mother it was a way to get my children to learn about the importance of self-care as well. Adding candles helped create a unique and indulgent experience that replicated my time spent at day spas. Lastly, I am also a believer in the benefits of using essential oils and other scents for aromatherapy and these elements are present throughout the brand. At the end of the day, I really wanted the brand to offer pieces of who I am and to help our customers connect with us through my story.
What are your plans for the future?
Since our launch in March 2021, we've received an enormous amount of support and the feedback regarding our products has been very positive. Over the next few months, the goal is to continue to build brand awareness by being front and center at local pop-up shops and marketplaces. When locals think of the #1 CBD brand in South Los Angeles, I want them to think of 51st Place.
Ultimately, I would love to have our products sold in retail stores throughout the U.S., however, for now we are very happy being a direct-to-consumer brand. Building relationships with our customers is our main priority because we want to ensure that they have an amazing experience with our products each time. Wellness is something that is also very personal and I want our customers to know that they aren't on their journeys alone. As a wife, mom, full-time employee, and entrepreneur, I'm right there with them doing my best to get it all done and still make time for myself. That was one of the reasons why I wanted to create a bath and body care business because bath time was a moment each day that I carved out specifically for myself. Plus, what I love the most about hemp CBD is that is it non-intoxicating, allowing it to be used at any time of day to provide the benefits I needed, whether relaxation, focus, or rest. Thus, if other women use our products to provide a sense of calm and relaxation so that they can center and care for themselves, then we are accomplishing our main goal.
Contact Info:

Image Credits:
Headshot by Ann Marie Clark; product photos courtesy of 51st Place
Suggest a Story:
 VoyageLA is built on recommendations from the community; it's how we uncover hidden gems, so if you or someone you know deserves recognition please let us know 
here.