Today we'd like to introduce you to Restaurant: IRVINE (opening in July) – Food Truck: Rolls around OC/LA's THE CUT Handcrafted Burgers.
Every restaurant has its own history, backstory, etc. We'd love to hear yours.
We're three partners: Steve Kim (Executive Manager), Charlie Burnette (Operations Manager) and Andres Dangond (Executive Chef).
Steve always envisioned owning a restaurant. In 2012 he decided to follow his vision and give it a go. He thought, "every body loves a good burger, but how could I create the best burger?" He thought back to a time when people would walk into their local bakery for some fresh rolls, into their local butcher for some freshly ground, unadulterated, beef, to go home and make, what could be, an amazing burger. That's what was missing from today's market, traditional principles. Pair the artisanal approach with from-scratch cooking, with some modern flavors! Through the principles of tradition, quality and freshness, we could create the ultimate burger experience. "By using all natural, free of any hormones, antibiotics, or additives, higher end cuts of beef, we would have levels of quality a cut above the competition. By grinding in house, we would deliver levels of freshness only matched by the butcher's cutting block. Where others fell short, we would make the cut." That's exactly how Steve pitched it to his good friend and business partner, Charlie Burnette. He loved the idea and asked, "What will we call it?" Through the pitch itself, "The Cut" became apparent.
Steve and Charlie began seeking retail space. Through much searching, they consistently encountered the same question, "how many locations do you have?" and found that landlords weren't keen on new concepts and preferred proven track records with extensive experience, which was completely understandable.
On the brink of wrapping up the idea entirely, Charlie suggested, "how about a food truck?" They did their due diligence and decided to start with a Food Truck. Neither of them being Chefs or cooks, they sought some assistance with further developing The Cut's menu. They teamed up with Chef Andres Dangond, as a consultant. Andres, who had experience cooking at several Michelin starred restaurants in Chicago, aided Steve and Charlie with recipe creation, processes, operation and training. In 2014, they launched The Cut food truck and became recognized, fairly quickly, with some media mentions and accolades along the way. "In 2015, OC Weekly did an editorial. The Cut was named OC Register's critic's choice award – Best Food Truck." At that point, they started searching, once again, for a brick and mortar space. In 2016, they officially partnered with consulting Chef, and now friend, Andres Dangond. With Michelin training under world-renowned Chefs like Grant Achatz (Alinea) and Laurent Gras (L2O), Andres brought new ideas and flavors to The Cut. Albeit, operating solely a food truck at the time, The Cut went on to be nominated for OC Register's OC's Best – Best Burger in OC. Before year's end, they negotiated and engaged a lease with the Irvine Company for the space they are now establishing as The Cut's first brick and mortar location in Irvine, opening July 2017.
At The Cut, in addition to what many call, "The best Burger they've ever had" you will be able to enjoy really unique cocktails, a great selection of beer and wines, sandwiches, salads and shareable plates like Honey Sriracha Chicken Wings, Serrano Ham Croquettes, Smoked Mac & Cheese, desserts like our phenomenal Bread Pudding and an amazing Brunch menu on the weekends.
Tell us about the challenges of running a food service / restaurant business.
Honestly, we were all new to the food truck business and weren't expecting one of the hardest parts of it being, getting booked. We can have the best food and a great team to run our kitchen, but getting a food truck out there and booked is where the hard work is, since we can't just park the truck anywhere we want.
As far as the restaurant goes, one of the hardest challenges was actually getting the space for it. Unless you have several successful locations already, landlords won't be very motivated to lease their space to you. We were lucky after 2 years of looking to get a great space in Irvine at Westpark Plaza. I think our reputation with the quality and taste of our food helped us secure a space for our restaurant and we can't wait to open this July!
What separates THE CUT Handcrafted Burgers from the other similar spots?
Probably the most important characteristic of our food, is that we don't make it 'gimmicky'. As we have written on our truck,'Intricately Simple'; we strive to make simple food, simply amazing. You won't find cheetos-breaded beef patties at The Cut, or a Fruity Pebbles-sprinkled cocktail. We take pride at making amazing no-nonsense food and we firmly believe that's why people call our burgers 'the best burger they've ever had'.
Our restaurant will be a great hang-out spot, we worked hard on the design of our space and made sure it's a place you want to come and have a few bites and drinks and feel right at home; wether it's brunch, lunch, dinner or just a cocktail, or three.
Again, we try to be no-nonsense in every way, so we don't envision 'secret menus' but Andres likes to play with new dishes and cocktails to keep our menu fresh and active.
Most Popular Items
Fries


It might seem odd to include our fries as one of our most popular menu items, but if you haven't had our fries yet, you'll be surprised by how good they are!
We did so much research and tests on our fries that we came up with the most perfect procedure to have great crispy and fresh fries. It's a two-day process and its worth every single minute of the wait.
Dietary: Vegetarian Vegan Gluten-free
Original Cut


Pickles, Cheese and our Cut Sauce with our signature patty and our glorious buns. It won't get any simpler than this, but yet, it is our best-seller!
Savory Cut


This one is a special one: Swiss cheese, 3,000 island sauce, Aioli and our famous Bacon Relish: Bacon, Onions, Cranberries and Capers! Yes, capers and cranberries. It just works.. and it's just so damn delicious.
Parking Advice:
We'll tons of parking space at our restaurant. No need to worry about it
Happy Hour:
Average Entre Cost:Our burgers range from $9 to $12
Address: Restaurant will be at: 3831 C Alton Parkway, Irvine, CA 92606
For Truck Schedule, please visit www.thecuthcb.com or visit our truck's instagram: @thecutmobile
Phone:949 877 4707
Website: www.thecuthcb.com
Social Media links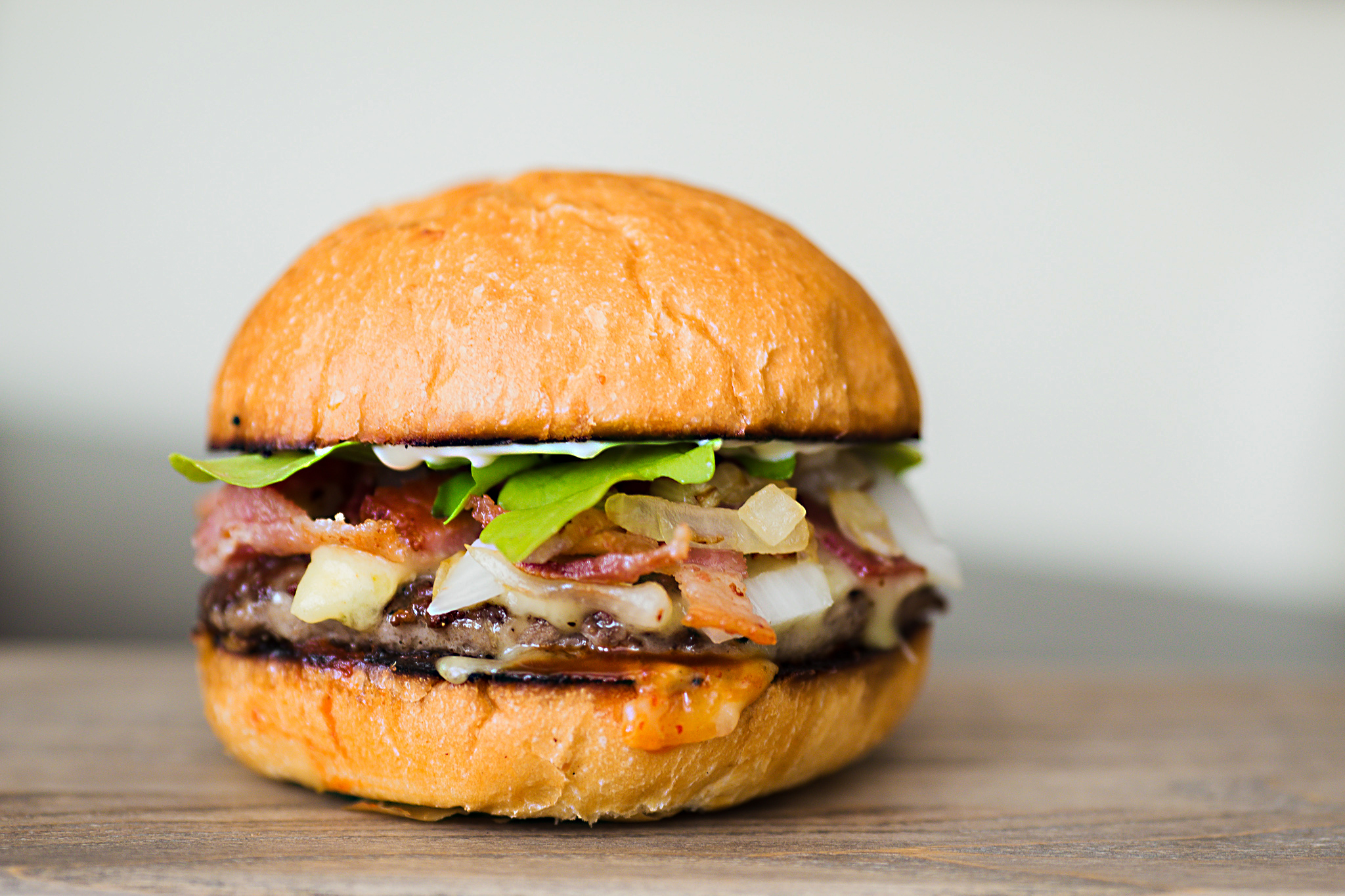 Image credits:
The Cut Handcrafted Burgers