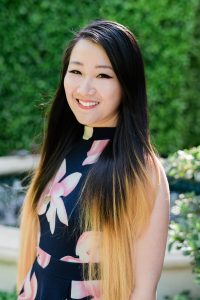 Today we'd like to introduce you to Sarah Wang.
Hi Sarah, it's an honor to have you on the platform. Thanks for taking the time to share your story with us – to start maybe you can share some of your backstory with our readers?
My journey actually started on one sleepless night, where I was praying and meditating on His Words. I was pondering on the parable of the talents in Matthew 25. The story talks about this rich master gave his three servants each a few talents. When the master returned, two of the three servants traded the talents to gain double of the amount of what they originally had. The third servant hid the talent in the ground and returned the exact amount back to the master. The master was furious that the third servant didn't do anything with the money and so he took his talents and gave them to the two servants who were smart about their portion.
The last two verses said, "29 For whoever has will be given more, and they will have an abundance. Whoever does not have, even what they have will be taken from them. 30 And throw that worthless servant outside, into the darkness, where there will be weeping and gnashing of teeth." Talent means bags of gold, it could also mean whatever God entrusted you with. I asked God, "What are the talents You've given me? I want to make sure I don't just bury it like the third servant." I was reminded of all the singing gigs I've been doing recently for my friends' weddings and that's where the idea of bringing God's Kingdom into the wedding industry with my songs and my voice. Right there and then, the company name "My Wedding Songbird" popped up in my head, and I quickly checked the domain availability for myweddingsongbird.com, and it was available! I bought it right away, signed up for a Gmail account as well. That was how this company was birthed. Throughout this journey, God has brought me many amazing people whom I'm forever grateful for. It would be tough for me to list everyone, but I would like to a special shout out to Sherrien Shui, the godmother of wedding in the Chinese community.
To be honest, I was still working a full-time job when I had the epiphany I shared earlier. When I shared about starting a wedding/event company to my former boss, he told me I have to meet Sherrien because she's the most well-known and most experienced wedding planner in the Chinese community. I asked him if he could introduce us, he said he doesn't really know her either. Somehow, a miracle happened, Sherrien saw my wechat out of nowhere and reached out to me because I mentioned something about wedding/event services in my wechat name. We ended up meeting up for lunch and chatted for 3 hours straight. This was a very clear sign to me from God that He has opened this door for me and even prepared a personal guide for me. She was seriously a God sent, like literally. She started guiding me and mentoring me in wedding planning and also hired me to be her assistant to get more hands-on experiences. I am forever grateful to your generosity and kindness and friendship. Thank you so much for everything! Thank You Lord, I am very blessed and loved.
We all face challenges, but looking back would you describe it as a relatively smooth road?
I think most entrepreneurs would say, "no, it definitely hasn't been a smooth road". For me, I definitely had my share of obstacles and challenges in starting my own business. One of the biggest obstacles was my Chinese parents showing their disapproval of my decision to start a business from scratch. They kept trying to tell me to get a full-time job with secure paychecks and benefits. At first, I thought my father would be supportive of my decision because he was also a businessman. But maybe because he's experienced great success that followed by great failure, he didn't want me to go through the same. I totally understood where my parents were coming from, that they just wanted to protect me. However, because I have made the decision and I wanted to prove to them that I could do it, I moved out with a little bit of savings during the first year I started my business. During this year, I did not have any other income source and solely relied on income from events and gigs.
This is also the year that I experienced God's faithful and miraculous provision. I would wake up and receive phone calls and messages from strangers inquiring for event services when I wasn't even spending money on marketing. Also, since it was my first year, I didn't dare to charge too much but still had clients bargaining on my low price. I remember for my very first wedding planning job, I only charged them $300! Even with these low ticketed bookings, somehow, I could still manage to pay my monthly rent, bills, gas, food and other things. God is so faithful! This is also a sign to me that God is keeping the door open for my wedding business. It's been five years since then, and even though I've been increasing my prices annually, I'm booking more clients each year! I remember only the second year, my annual income had already matched my full-time job income that I had before. Praise the Lord! I believe that God gives and takes away, so if one day He closes this door, I would be ok with it, knowing that I've given my all when I had the privilege to serve all my clients when the door was open.
Alright, so let's switch gears a bit and talk business. What should we know?
My Wedding Songbird is a wedding planning company that specializes in Chinese American weddings. We also provide bilingual Mandarin and English officiant and MC services for our clients. What I'm most proud of would be our passion and determination to always go above and beyond for our clients. It is such a privilege and honor to be able to be a part of one of the most important days of our client's lives. What we do as wedding professionals is not just providing some event services but creating a truly special and memorable experience for all our couples and their guests. We help incorporate Chinese cultural wedding traditions, such as the tea ceremony, door games, double happiness decors, qipao or cheongsam… etc. In recent years, we've created unique ceremonies that incorporated the traditional tea ceremony in replacement of the parent appreciation bouquet presentation. We've also had couples wearing the traditional Chinese wedding outfit instead of the white gown or suits during the wedding ceremony. We are currently planning a wedding that the entire wedding party would be in traditional outfits. I am really excited about it!
Is there a quality that you most attribute to your success?
Persistence is key to success. As long as you don't quit and keep taking steps toward your goal, you will get there one day. It is also important to set new goals to push yourself and your company to grow. Personally, I like to set long-term goals and break them down into short-term goals, and then break them into smaller, actionable bite-sized tasks. This works very well to help me stay on track because I tend to get sidetracked very easily. I just might have the shiny object syndrome. It is also important to write down very specific goals instead of something general like "I want to be healthier this year". A specific goal would be "I want to lose 20 lbs by July". Examples to break it down into actionable tasks could be "workout for 45min to 1 hour per day", "no eating after 9pm", "eat 2 types of fruits and 2 types of veggies per day"… etc. Another very important quality that I've learned to adapt throughout the years is not to beat yourself up when you failed to complete your tasks or reach your goals by the deadline.
I am someone who's usually pretty hard on herself, so this definitely took some time for me to get to where I could give myself more grace than blame. Remember, you are running your own race, not someone else's race. Of course, it is crucial to be on top of things and responsive when dealing with clients or vendors, I don't mean it's ok to slack off from your duty. What I'm talking about is the bigger goals such as owning a house or making xyz dollar or starting a family or losing weight. Use social media for inspiration and community, but don't get sucked into the comparison game. That's a black hole. Lastly, I would say the most important quality for my success today would be my trust in the Lord. Honestly, looking back at my bank accounts statements, I'm always in awe of how God has faithfully provided financially for all my needs and beyond every single month. I am not discounting my own efforts, but I know I couldn't be where I am right now without Him. All glory to God!
Contact Info:

Image Credits:
Photographer Credits: Peony Park Photography (Bio portrait) https://www.peonyparkphotography.com/ https://www.instagram.com/peonyparkphotography/
Alex Mo Photography (#5 & #6) http://www.alexandermo.com/ https://www.instagram.com/alex_mo_photography_video/
J-Arts Production (#4 & #7) https://www.jartsproduction.com/ https://www.instagram.com/jarts_production/
Wiki Lee (#2) https://www.instagram.com/wikilee/
Lin & Jirsa (#1 & #8) https://www.linandjirsa.com/ https://www.instagram.com/linandjirsa/
The Light and Glass (#3) https://www.thelightandglass.com/ https://www.instagram.com/thelightandglass/
Suggest a Story:
 VoyageLA is built on recommendations from the community; it's how we uncover hidden gems, so if you or someone you know deserves recognition please let us know 
here.