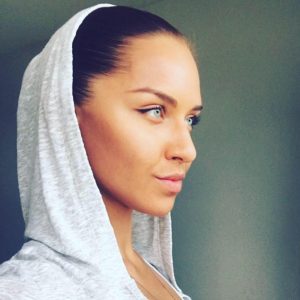 Today we'd like to introduce you to Nika Sazonova.
Hi Nika, so excited to have you on the platform. So before we get into questions about your work-life, maybe you can bring our readers up to speed on your story and how you got to where you are today?
I was a very little girl when the first time I realized that something is wrong with the system we live in. I think the biggest impact on me had my granma's garden that fed us all in the times of crisis in Russia, when my dad couldn't get his salary for years, working on a factory 10-12 hours per day. So we didn't have money at all at some point, but we were never hungry or anyhow unhappy. As I said grandparents' were providing us with food, and our entertainment was simply nature – we would go for a walk in the forest each Sunday and this was free and always my favorite. At the same time, I saw people on the streets begging for money to buy food, being so lost and unhappy, and this bothered me so much that I knew already then – it will be my mission to do something about it. I had two businesses that allowed me to support myself and my family, and once I felt more or less confident in my own self-sufficiency, I decided to act towards my biggest dream, providing it for others. I remember coming to the States for the first time. I just landed in LA and a few hours later, I see people on the streets, obviously in need of medical help, asking for money or food. For me, it was shocking.
And the worst part that, probably, had the biggest impression on me is that it looked like that all the people who were passing by used to this picture so much that all this suffering became a kind of invisible. It was the moment when I realized that this is the place I need to start my work. As it always happens, once U find your mission and make a commitment to stick with that, no matter what, the Universe provides the rest. So I find myself in a community of people who cares about our planet, nature, and people as a part of nature as much as myself. And that was so inspiring that I registered THE Home (501c3). We went a long way since then. Started with Homies Jams where we were jamming together with folks who live on the streets of Santa Monica, Venice and even Skidrow, now we are an organization that has several departments, each working on a holistic solution in their area of responsibility. But the main focus is still the same – to provide people with infrastructure that will allow them to not only sustain themselves but by doing so, to be a contributor to a collective and environmental well-being as well.
Can you talk to us a bit about the challenges and lessons you've learned along the way. Looking back would you say it's been easy or smooth in retrospect?
The way was pretty far from a smooth one. As much as the Universe was helping us in each step, our concept was too.. let's say out of the existing system. Moreover, it's being led by a young woman and later a team of women what is also unusual in a patriarch society. I remember meeting with a person who is in a position to support such nonprofit initiatives, where he said me straight away that I'm not trustworthy. And when I dared to ask why he couldn't manage to bring any explanations, just keep saying that I'm a girl. Well, for me it was just some extra motivation to make it happen. Another challenge was that English (as U, probably, guessed already) is my second language and casual mistakes in someone's speech also don't add up to the credibility. And probably the main obstacle was that we all were growing up with the belief that what called "symptomatic solutions" are the only logical ones. And anything that requires a more deep and complicated approach is just irrational in this fast-changing world. And this works on many levels – from a farmer who in order to get rid of insects use chemicals or to increase the fertility of degraded land put some chemical fertilizer, or when we see a homeless person, the first thing we think of is some affordable housing program; to communities all over the world that if there is a systematic issue, no one agrees with, we would go and protest against it. Same with our health, when instead of looking into the roots of why our body or mental state gives us all these symptoms, we would hurry up to get rid of those.
And yes, the application of the symptomatic solution reduces the problem symptom but dissolves the necessity of pursuing the fundamental solution, always failing to provide the permanent change we all seek. And I got this. Self-sufficiency, meaning independence from solution-providers' products, is not very economically beneficial for such. But what we have as a result? People are forced to do the same things, over and over again, and even though it takes after all much more time and provides less impact on a global scale, it seems reasonable because in a particular segment of life, it would take less effort than if we would start working on a fundamental solution. And as most of these efforts don't bring much of result, people pay less and less attention to potential solutions out there, unless U have a huge budget to scream about it from the central channels. So not having this, it took about two years for us to see that people are actually interested in the solution we offer. At the same time, because we offer ONLY holistic, fundamental solutions, for many of those who hear about us, this is still something too radical. The funniest thing that because our concept just mimicking nature's symbiotic relationship between all the parts of the eco-system without segregating it on problems and solutions, for others it is "too good to be true".
Thanks for sharing that. So, maybe next you can tell us a bit more about your business?
THE Home aims to reverse climate change and restore lands globally by helping local communities on their way to self-sufficiency through regenerative agriculture. We are establishing a network of regenerative farms and permaculture gardens to serve as healing and educational centers for people in need. With a focus on displaced and underrepresented populations, we will provide all residents with holistic health care and the necessary knowledge and skills to spread regenerative practices and restore lands around the world. The biggest thing that I'm proud of, as much as I don't like this word, but this is important, I believe, is that even though we've been offered investments in the early stages, with a few concept changes that would make a proper business out of THE Home, we would have to sacrifice important parts from our healing programs to be presented as something less radical. But we never been for sale and always stick to the initial purpose of THE Home – to heal people through healing the land and to heal the land through healing people. At the same time, sometimes I have to change the way I talk about the concept in order to not trigger unwanted reactions in a listener. Like, for instance, if I knew for sure someone listens to me with a pure open mind, I would say the previous sentence as "To heal people through healing the Earth, and to heal the Earth by healing people". And if u think about this – it has all the logic. What is Earth? Look at this word. It is earth. And our disconnection from it – that's exactly the root of all the problems we have. As simple as that. Once we reconnect with earth, we reconnect with the Earth, with our planet. When we embrace again that we are not only connected, but we are part of it, only that's when we will live in harmony with it. But until then, we will still "hack at the leaves".
Risk taking is a topic that people have widely differing views on – we'd love to hear your thoughts.
Interesting question. My friend is actually writing a book on this topic. And I believe that to take risks is the only way to achieve a fundamental change, to be true. So on December 1, despite all the challenges we are going through now, THE Home project is finally launching, and to celebrate it, we are throwing the #TogetherWeCan🙌 inclusivity celebration, where we invite representatives from different communities, including BIPOC, LGBTQ, Youth, People with disabilities and our formerly homeless friends to share their stories and the amazing work they are doing toward a better world for all of us, despite all the obstacles. And we'd love to invite VoyageLA readers to join this event. More info here: TogetherWeCan.live
What is taking risks? It's when U dare to do something that is out of the usual patterns that we all were taught. Ok, but who teaches us these patterns and why? And here is a good story I can share with U, to let all the conclusions to be done by yourself. For my 29th birthday this year, I took a two weeks trip to the Siberian mountains. Before getting to the mountains, I decided to visit a place wherein 1926 a very famous Russian painter, writer, archaeologist, theosophist, philosopher, and mysticist Nicholas Roerich was staying. If U never heard about him and his family, I would encourage U to check out his works as this is the person who always was advocating for global unity across religions and cultures in general and even came up with the Peace Pact that was signed by representatives from 37 countries. But the story is not about him. It was pretty late when I arrived in this village. And it is not like U can rent a hotel anywhere there or something, all the rural territory still, thankfully, haven't experienced this modern infrastructure intervention, so I put my tent in a field nearby where there were caws and horses grazing before getting back to the stall. At the time I finished with my tent, the animals already got back to the place where they spend nights normally. The next morning I found them coming back to the same place we met yesterday. They were very curious and friendly, so we played a bit and then while I was cooking myself a breakfast, they moved further to the next parcel.
Then, when I prepared to leave already and put all of my stuff in the bag, I spotted that they are even further now, moving according to an arch-shaped trajectory. And even though there wasn't any cowherd with them, they seemed to know when and where to move. And this really made me think of how it was achieved. Perhaps, at first, there was a person, a cowherd, who was showing them the way. Directing their moves day by day. Then, when the first generation learned it, they would teach the youth how it should be done, and those would take it as the only available option. And then with the next generation, no one would even think that there are different ways – like if U want to graze – graze, but U don't have to stick with this only field. Or if U don't want to come back and be slaughtered – don't. There is everything U need to live and enjoy your life that nature provides. But no one takes these risks because no one takes these risks. So yes, I do believe that it takes one bold team of risk-takers and some extra amount of persistence and belief to get through all the skepticism and taunts.
Contact Info:
Suggest a Story:
 VoyageLA is built on recommendations from the community; it's how we uncover hidden gems, so if you or someone you know deserves recognition please let us know 
here.