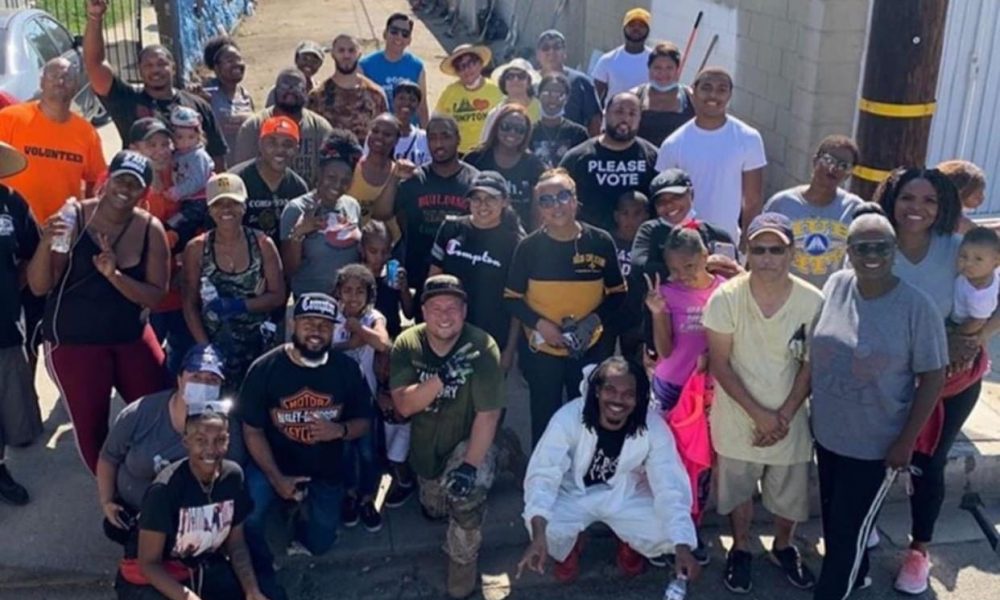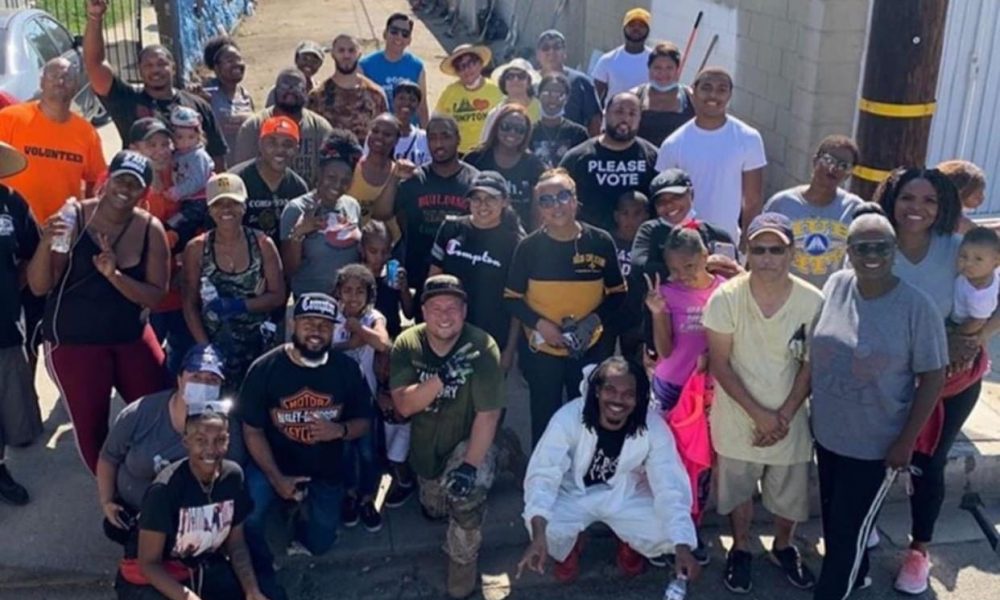 Today we'd like to introduce you to Miguel Vazquez and Sherman Watson.
Compton Veterans started as a concept in Fallujah, Iraq in 2004. As combat operations within the city slowed down Sherman Watson and Miguel Vazquez were able to spend countless hours getting to know what each wanted to do if and when they left the Marine Corps. Upon their return to the United States after their second combat deployment together with 3rd Battalion 5th Marines, 1st Marine Division both Miguel and Sherman started making the plans to get to work on forming an idea into an entity. Due to the shortage of combat veterans and the excess of new Marines getting ready to deploy to Iraq with their unit, Sherman and Miguel's commanding officer personally asked them both if they would volunteer to return to Iraq for a third time. Sherman would ultimately return with the unit and would be awarded his 3rd Purple Heart and Navel Achievement Medal with Valor.
Sherman would return to the US to recuperate from his wound and would eventually be retired from the Marine Corps. Miguel on the other hand would not return to Iraq since his mother who was a retired Marine herself, not being well enough for him to leave home. Instead, Miguel would go on to start building a family investment advisory business and starting his work with communities in need in Los Angeles. Both Sherman and Miguel would work with national veteran organizations like the Wounded Warrior Project, the Iraq and Afghanistan Veterans of America, The Mission Continues and the Veterans of Foreign Wars which help give both of them a well-rounded sense of many of the benefits, services and resources available to veterans.
In 2009, Miguel and Sherman formally launched Compton Veterans when Sherman bought his home in the city of Compton. Up until that point, their work with fellow veterans and youth was spread out all over Southern California. It was then both of them agreed that they would center their work from the garage office established at the new family home. What would follow over the next few years would evolve to become an organization that focused assisting fellow veterans in their transition out of service, focusing efforts to support and host community service projects and also formalizing a program to mentor youth. Over the last couple of years, the organization has grown to the point of becoming a second full-time job for both of them and an organization continuing to make a difference in improving the quality of life for those they serve.
Would you say it's been a smooth road, and if not what are some of the biggest challenges you've faced along the way?
The hardest part of the process to form our organization was being able to survive multiple tours of combat to be here today to do what Compton Veteran's do best for our community. On Sherman's third combat deployment, he was involved in a large explosion from a bomb that hit his Humvee. At the time of the explosion Sherman was finishing up his third tour in Iraq and was training the Marines that would replace him since the Marine Corps had extended his contract as far as they could, and he was due to return home. The initial assessment of his wounds at the time of being evacuated had his status listed as killed in action. Sherman was unconscious after sustaining a large explosion and all combat aid training taught to Marines taught us that once a wounded Marine lost consciousness from an explosion, it was too late. The brain naturally was a sensitive part of the body and once it began to swell, it was key to find a way to sustain a conscious comrade.
Sherman would come back to consciousness in a hospital north of Baghdad and over the course of a few months was flown back home to recover from his wounds. He was not able to be sent home immediately after the explosion since the simple change in cabin pressure within an airplane being a fatal threat to his now recovering brain. Miguel would learn of his brother being wounded over an AOL Instant Message while watching the stock market one afternoon back in California. The perspective taken by Miguel gave him an idea of what loved one's back home experience when they were both deployed overseas. Over time and many therapies Sherman would be to bounce back stronger than ever. Outside this moment in the Compton Veteran's leaderships history together, every day they are able to help those in need is a day they are doing their part to pay back the fellow Marines, soldiers, and sailors that did not come back from combat.
As you know, we're big fans of Compton Veterans. For our readers who might not be as familiar what can you tell them about the brand?
We're a Group of Community Warriors. We Focus on uniting Veterans with Citizen Community Leaders in a continued effort in Revitalizing Underserved Communities and its surroundings. by directly Engaging in Beautification Projects and Providing much needed programs to bring positive change to Our Community. Compton Veterans at its heart is much more than just a veteran's service organization. Compton Veterans is a tight-knit unit whose mission revolves around improving the quality of life for fellow veterans, their families and our neighbors in the community. Our work focuses on assisting the reintegration of military members who are returning to their community after their tour of duty. By helping these veterans build upon the skills and experiences before, during and after their military service we empower them and help position them as a community resource.
The organization is Founded by two Marines who served together during multiple combat deployments and returned home sharing the same vision of uniting Veterans with their surrounding communities and in turn ushering in a new generation of Veterans that are not afraid to face the obstacles faced during the transition from military warrior to community warrior. By doing so, veterans will bring a positive and much needed change to their own lives while providing them an opportunity to help improve their immediate community and its surroundings. Veterans Reintegration Services Our work in assisting veterans in their reintegration post service is led by Certified Peer Support Specialists (PSS). These specialists are often found in local VA hospitals or Vet Centers as the approach of helping guide a veteran in a non-clinical environment is crucial to a veteran's successful reintegration into their communities. As peer support specialists, our work is dedicated to promoting empowerment and self-determination of our veterans in order to ensure they own their lives after the military. PSS's serve as role models by providing encouragement towards wellness, instilling a sense of hope and teaching life skills to Veterans. Resources provided are focused on improving the quality of life for a veteran and their family.
Our outreach and InReach to veterans have an overall goal of helping familiarize fellow veterans with any and all available mental/physical health, housing, employment, education, fellow veterans service organizations (VSO's), and volunteer opportunities. These resources are provided in order to help a veteran's transition back into their community post time in service. Benefits information for veterans and military personnel in the process of exiting the military or have been discharged from the military no matter the character of discharge. Upon exiting active or reserve duty, it is essential for veterans to be connected with all federal, state, and county benefits in order to make sure a veteran has every benefit they qualify for. Veterans are connected with their local VA hospital, county veterans service office, local military disability claims officers, and any other veteran service organizations that may fit their needs or create comradery per having common military service. Services provided directly for the benefit of veterans and their families are focused on making a veteran's reintegration as smooth as possible.
Meaningful Employment takes more than just a resource list, it starts with relationships with employers who are seeking to hire veterans from various industries. Homeless veterans' outreach is focused on providing information and a warm connection to resources focused on providing housing options for veterans residing in the streets of Los Angeles County and Orange County. Examples of the type of referrals we provide are referrals to (GPD's) Grant Per Diems housing facilities as well as transitional housing facilities where a homeless veteran can reside for a short time until permanent housing is obtained. Once permanent housing is an option for a veteran in need of housing our services include assisting move in services along with assisting in the logistics associated with creating along with providing the essential tools for starting a successful household. This includes rental truck assistance, obtaining essential furniture and household appliances as well as food assistance.
Beautification Examples of our Community Engagement Events: Beatification projects focused on building and renovating spaces for the benefit of local school district partnerships, city government and community centers. Organizing and supporting neighborhood block clubs and the beautification of local streets as well as neighborhood outdoor parks. Operation Nourish is the name of our local food distribution efforts geared to combating food insecurity. Our signature weekly food distribution is an example of our collaboration done with local community organizations, our local Compton VFW Post 5394, and those in need of receiving fresh produce, dairy, and other food products of sustenance. The cultivation of partnerships with local nonprofits who share the some of the same visions for community service projects in order to ensure we are supporting equitable local efforts to improve our community.
Advocating to ensure we have the lines of communication with those in public office in order to advocate for our community and our veterans alike. Homeless outreach focused on distributing food, supplies and resources specifically for homeless veterans. Collaboration between fellow Veteran Service organizations (VSO's) in order to offer fellow veterans an avenue to serve their community via Operation Still Serving. Hosting resource classes where veterans and their civilian counterparts can volunteer their time to giving instruction in their perspective fields of expertise or life experiences. An example of this type of interaction would be having a community member or veteran giving a class on their expertise learned while in the military as well the general hardships many experiences in and out of the military. Youth Leadership Program Is to provide a safe haven for all youth, mentor both academic and career choices, and to give youth the opportunity to experience different cultures and environments outside of their immediate surroundings in order to help influence a more well-rounded individual.
What matters most to you?
Serving our community as we have our country since this has been a priority for us from day one.
Contact Info:
Suggest a Story:
 VoyageLA is built on recommendations from the community; it's how we uncover hidden gems, so if you or someone you know deserves recognition please let us know 
here.