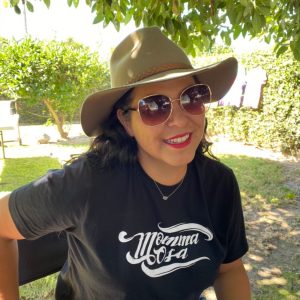 Today we'd like to introduce you to Jen Cox.
Today we'd like to introduce you to Jen Cox.
Alright, so thank you so much for sharing your story and insight with our readers. To kick things off, can you tell us a bit about how you got started?
So my story begins on deserted island in the South of France… yeah right, I grew up on a really wonderful little Street in Bellflower CA, surrounded by my family and friends. My name is Jen Cox, and I currently live 10 feet away aka next door to my dad, in the house I grew up in. And if you would have told me this is where I would be living 20 years ago, I would have told you, You were INSANE! But in that, I could not be more grateful or thankful to live next door to my parents. Especially during Covid. I am a Single Mom, 3rd generation Mexican American, Female small business owner. Started my first clothing company named Montoya, with my Best Friend making snowboard clothing, and after our first million, we shut it down after four years. It was a hard lesson but one that I value as it taught me a lot about what kind of company I would like to have again someday. I decided to go back to art and design school. I graduated from Otis College of Art and Design in 2002 with my BFA in Fashion Design. After leaving art school, I worked for Abercrombie and Fitch as head designer and was sent all over the world to work on garment washing and tie dye techniques. We made different types of garments ranging from shorts, skirts, pants, cargos, jackets, etc. I am what you would call a "Wash Specialist" now and self-proclaimed "Tie Dye Ninja," as I can create most washes and tie-dye for companies and design and merchandise lines around them. I consider Abercrombie and Fitch my graduate school of design as I was surrounded by some of the most talented designers from around the world, and also introduced me to some of my best friends.
A & F was a really great time of my life, living in Ohio but it was really hard to be away from my family so I moved back to Los Angeles and headed up Mossimo Supply Co at Target. So much fun designing for and guiding a brand on that level of trend. Super rewarding to make fast fashion affordable for so many people. The challenge of trying to make things that are super expensive and bring them to masses is what I love to do.
Target is a great company to work with. They are super smart about their business strategy and I have learned so much. Soon after leaving Mossimo, I went to work with a private label company and was the Design Director overall denim where we've designed for every major retailer across America. I really learned so much about the industry, myself and big business in that time which really gave me you know created me into the person I am today.
Would you say it's been a smooth road, and if not what are some of the biggest challenges you've faced along the way?
Just before getting laid off last Jan. 2020, I had the opportunity to move into the men's department and learn about our Online men's business. This really was the best gift. I learned about the world of ecommerce. This shift afforded me the knowledge and courage to have my own online business. I had never done menswear but took it as an opportunity to learn not only a new aspect of design but really understand the ecomm business that is so important to learn in today's economy. I started thinking about starting my own business as an extra sort of income but also felt really strongly about my new company being rooted in my core beliefs and values of giving back. Giving back is something I love to do. I have been blessed by some many incredible opportunities in my life and so many extraordinary mentors and guides I would love to share with other people. So I created Momma Osa to be a business that also gives back. We started as a one for one business model, so for every pair of sock sold, we also donated a pair of socks. I am also mentoring a young homeless young man in an effort to help him get on his feet. Maybe one day I will have a larger impact on the world, but for now, I am doing what I can to make a difference while also growing my company. If we all just did a little more to help one another, the world would be such a better place. So just trying to do my part.
We launched our website on January 1st at 12:01am of 2020 but our Launch party was January 10th of 2020. The kickoff party it was very successful! We made it a tie dye pop up shop and a sock art show. We had tie dye sock art on the walls and messages about our giving back to Youth Homeless and Foster Families educating our guests about our mission. After the launch party our tie dye adds business started booking tie dye popups across the city we partnered with mom groups, cities and individuals to create Pop Up Tie Dye parties all around. Our calendar was booked for the next few months…. AND THEN THE COVID SHUT DOWN HIT!
I remember thinking and having a complete panic attack that was fear-based… It was a moment.. ok ok.. more like a 20 minute all out ugly crying session of emotion. I allowed myself to have the moment. My liquid savings was running low a few of the deals that I had working had come to a pause due to covid and I was really trying to figure out how to make ends meet.. and at that moment, it felt very scary… I was looking around my house with all the Tie dye Supplies I had invested in and what I thought was going to be my future…and now, my calendar was wiped clean. And then, it happened, I looked down saw a box that my kids had received from a cooking kit in the mail. It was at that point that the Momma Osa activity kit was born. I started picking up all the supplies I developed as giveaways. I started playing with it all, and placing and folding, making color combos w the Tie dye…. and VOILA!! The cutest Tie dye party in a box was born.. put it on my site and in a few days, it came straight to your doorstep.
I really love the idea of people being able to do this in their home and you know inspiring creativity and change because we still wanted to do our good deeds in the world so that was really the biggest moment of this tie dye activity kit. This is the birth story of the tie dye activity kit.
On the flip side to that when governor Newsome made his announcement about everyone needing to wear a mask, I decided to take a position on 20k masks and import them to have ready for sale. (PS. I am not inheriently wealthy. I have worked hard everyday to earn which I make). I have overseas relationships with factories and we had been talking about the covid climate in the US. I decided to roll the dice, took out some of my long-term savings and decided to invest it in myself and in Momma Osa. I didn't have a Rep or a team. It was basically just me at the time. I imported 20,000 masks and I just kept calling people and calling people and calling people. Lots of people said that they did not have a need, others said they would help and did not, and other people just said NO. But One person…just one person I asked, connected me to another person who landed me my first Rep, who got me into The Buckle, Tillys some of these other stores nationwide. And then, one of the reps that passed on my masks due to a conflict of interest with another brand called me back about to hear about our activity kits. They wanted to take them to Market. My Tie dye Activity Kits were not made for wholesaling at first because everything was sourced domestically in the U.S., but I took the first 1000 kits at 0 Margin.. aka, I MADE NO MONEY, and may have even took a loss to get our foot in the door with retailers. But it was worth the investment to get going in my business and shortly after landed accounts like Saks Fifth Avenue, Nordstrom, Landsend, Von Maur, Denny's, Kidbox and many more specialty stores across America. I took a position on 10k tie dye activity kits and with this risk brought us the opportunity to be able to drop ship for some of these stores and be featured on a National broadcast TV show, call GOOD MORNING AMERICA on March 13th.
As I think one of the most important things to acknowledge is just that the first year of a startup is really challenging. The kids being home distance learning and launching my company in the first year of a pandemic was beyond anything I could have imagined. I am sure so many people can relate to all these things that you know are thrown at you on a daily basis and it really gives you an opportunity to see what you're made of to see you know all those life skills that you've used your entire life is really put into action. Also, really important to add, I'm not a one woman show, my 81 years old dad helps me a lot. He lives next door to me. He helps me pack and wrap and do all kinds of things and I have one other helper who's a consistent helper and the wind beneath my wings to make the packing and shipping happen. She really helped me with the workload of it all. I focus on the front side of the business, sales, creativity, tie dyeing. But you name it, I do it. Logistics, EDI, data entry, contracts, product design, sales, sales team communication, when you are a small business owner, you wear every hat imaginable. I can see how the business will scale and how we will be growing in the next few years. Focusing on Wholesaling and ecommerce. We also offer Virtual Tie dye parties and will be offering in person Tie dye parties once things open back up. We also make one of a kind, Upcycyled amazing signature hoodies and garments.
Another obstacle to mention is the cash flow aspect of my small business. When you are working with larger companies, they ask for terms. Which means you send the product to them, and they get 30, 60, 90 days to repay… This past year has been really challenging for retailers as well, so some of the accounts are running super late to pay us small businesses which makes keeping cash positive very challenging. Especially when a store goes 160 days out from shipping date. It cripples small businesses like myself. This is where Bootstrapping comes in. I have taken a few loans from people and paid them back with with a percentage added for their time and trouble.
Alright, so let's switch gears a bit and talk business. What should we know?
Momma Osa inspires change through creativity. We help make memories and we just happen to make all kinds of Tie dye kits. By making Original Tie dye garments with our Tie dye Activity Kits, we bring families and friends together. Our kits include all you need to have a tie dye party all in one box. Just add water and you could have your own new Tee shirt, socks, pajamas, or accessories in less than 12 hours. Garments that YOU design and that YOU created yourself. Imagine at Christmas, your whole family being able to custom make their own Momma Osa Christmas Tie dye Pajamas for your holiday photo!!
For every kit you purchase, a portion of the proceeds gets donated to Homeless Youth and/or Foster families. We started by selling Tie dye socks and for every sock sold, we donated a pair of socks to homeless youth. We sold masks during the beginning of covid and for every mask sold, we donated one to at risk communities. We have donated over 10k masks and 5k pairs of socks to date. Part of our mission at Momma Osa is to give back and inspire change through creativity. Our Mission is growing more and more in the wholesale and ecommerce market to provide Tie dye Kits to Companies. Bringing memory making and creative experiences to you in a box!
I think the WHY is probably one of the most important things to speak about and why Momma Osa exists. I have been volunteering and raising money for two causes that I'm really passionate about for the last seven years and even though I've never been faced with being homeless or a foster child, I am called to help my two favorite Non-Profit organizations. We donate Socks and a percentage of every sale to The Covenant House in Hollywood that offers a safe haven and opportunity for homeless youth to have a second chance at life. Along with Olive Crest that focuses on Foster families transforming the lives of at-risk children through the healing power of family. I have had the privilege to meet some of the youth and hear their stories about overcoming. I am humbled by their perseverance and dedication to having a second chance at life.
You can find us on www.mommaosa.com, www.nordstrom.com, www.landsend.com, www. saksfifthave.com, and other speciality stores in America. Now that Los Angeles is opening back up, we will be coming to street fairs and markets near you. Or if you think of a place you would like to see us, Please reach out and let us know. Maybe there is an event near you we don't know about and would be happy to come to a location near you.
Alright so before we go can you talk to us a bit about how people can work with you, collaborate with you or support you?
Currently working with companies like Landsend on their collaboration to work on tie dye washes and conceptual development along with consulting denim companies. Also working with another Premium Retailers on custom- making their own Tie dye kits for their own stores.
We work with corporate event companies to host Virtual Tie dye parties and can also work with families to do a virtual tie dye party or baby shower.
We also manufacture overseas for larger companies if the numbers are big enough. Like I said, I have been in this industry for many years and have a factory base in other countries. We have also made custom made socks domestically. So anything that requires special washes and dye, WE ARE YOUR COMPANY.
Pricing:
$15 – Mini tie dye kits
$28 – Accessory Tie dye Mini Kits
$40 – Tee and sock Tie dye Activity Kits
$50 – Pajama Tie dye Activity Kits
$65 – Upcycled One of a Kind, Signature Hoodies
Contact Info:
Email: info@mommaosa.com
Website: www.mommaosa.com
Instagram: @momma.osa
Facebook: Momma Osa
Toll free #: 1-888-315-8730; text # 323-705-3379
Suggest a Story:
 VoyageLA is built on recommendations from the community; it's how we uncover hidden gems, so if you or someone you know deserves recognition please let us know 
here.