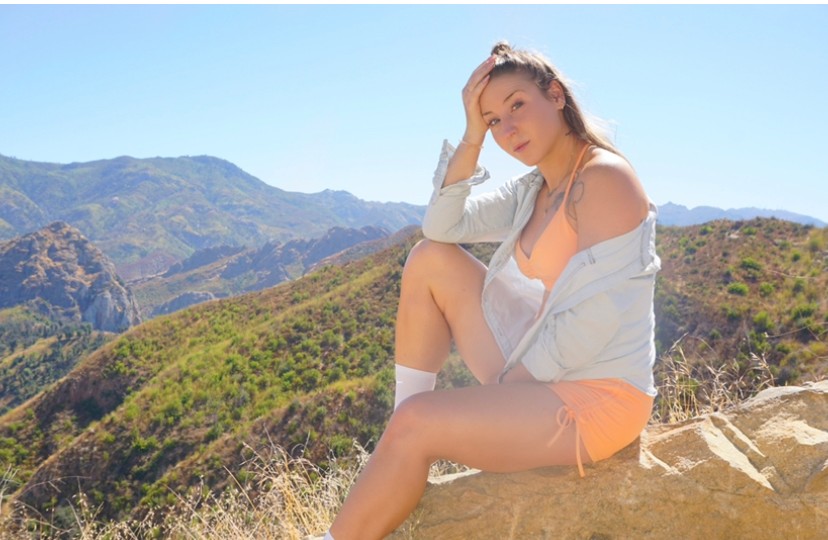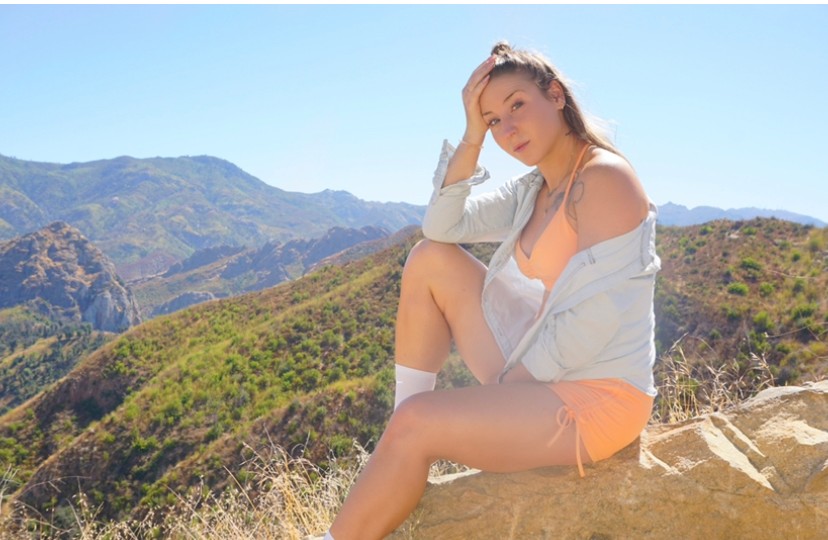 Today we'd like to introduce you to Emily Meisner.
Hi Emily, thanks for sharing your story with us. To start, maybe you can tell our readers some of your backstory.
My journey started all the way back to Canada, age nine, standing at the start line in my very first cross-country race wearing my mom's flowered track shorts, with nervous sweaty palms, and one goal…. to win. I remember every thought running through the woods and that it was how I could keep going faster and faster. When I got tired, I remember thinking, "but what if I don't stop? I could win!". My deep curiosity of how far could I push myself and how far could I could forever set the pace (pun intended) of how I have approached the rest of my life. When I have Q&A's on Instagram one of my top asked questions is, what motivates you? My answer is still "I want to see what happens if I don't stop, I don't give up, and I do go after everything in this life." My running career carried into university where I studied Kinesiology and even extended as far as Kenya. My fascination with movement and the body had me obsessed with my physiology and anatomy textbooks, but it wasn't until a series of career ending injuries that I actually realized what I wanted to do.
Through doing my own post-injury rehabilitation and imbalance correction, I realized helping people rebuild their bodies, become stronger, and reconnect with themselves was exactly what I needed to do. I became a personal trainer, moved to Toronto where a friend and I created a fitness studio and my entrepreneurial journey began. I moved to LA seven years ago and have been extremely grateful to have built a successful fitness business which has now expanded into several businesses surrounding wellness and improving the quality of others' lives. I have a fitness app with my business partner and former Super Bowl Champ Omar Bolden, I am an author of a book about my methodology on eating called Un-Diet, I own a private fitness studio called Body By Me Method Studio, I have a blog that talks about everything that is good energy and an online store called Body By Me Method. I have so many post-covid plans on how to continue to reach the world and leave my energy everywhere I go!
Would you say it's been a smooth road, and if not what are some of the biggest challenges you've faced along the way?
Far from smooth. My family actually makes a joke with me and says that when I come to a fork in the road, I always pick the "more twists and turns" direction. Every single part of my journey has been the difficult road, the bumpy one, the one with giant pot-holes. But, now looking back at each challenge I see why I had to face them. In fact, it has made me so much better at what I do because I can practice what I preach in the realm of patience, consistency, and determination. It translates into every aspect of the mind & body transformation that I take my clients on, I have had more times than I can count on my hand that I thought I "finally had my big break", and it turned into a big breakdown. Or times where I lost absolutely everything I had built. I have been negative in my bank account trying to figure out how to get gas to get to my next client. I have been through trials and tribulations of trying to create a life in a society that penalizes you for being from another country. In fact, it felt as though it would happen so often I started to find part of my identity in the failures. I was so convinced to never set up home in victim-ville and create something positive from these moments. If I knew that all of these things that happened to me didn't break me, then think about all the things in life I would overcome. I coined a word when faced in a less than desirable situation… I always say to myself "this is figureoutable". Because every challenge has taught me that life quite literally perspective and how you decide to deal with things. As they say… they either happen to you or through you.
Alright, so let's switch gears a bit and talk business. What should we know?
Body By Me Method: Blog/Store The whole ethos behind my brand is that everything is energy. It is every single part of our existence… Energy is contagious and the more responsible we are of our own energy, the better this world will be. I love writing and sharing through my pieces on the blog. I talk about any and everything that could help elevate the reader's vibration. The store is my creative child. Fashion and our living spaces are extensions of us and can help make us feel good…. and that's exactly how I curated my store. You can read the blog and shop at the store by going to: www.bodybymemethod.com Body By Me Method Studio I started my very own fitness studio during the pandemic because I wanted to develop a space that was dedicated to the mind body and soul of each person that enters. Body By Me Method means; your body if the vehicle in which you get to experience your life. It holds your mind and soul. Your life and all that is YOU is created by YOU, absolutely no one else. No one else can make you, break you, or create you. The definition of Method is a procedure for accomplishing or approaching something. Our whole life is systematic as such. From our sleep schedules to our work schedules to eating times. We celebrate holidays on the same calendar days, we know to drive on a particular side of the road. All systems. In fact, our body functions as smoothly as it does because of all the complex systems working together inside of you. Our method is simple. We are energy. That energy flows from our mind to our body to our soul. No one can exist in its highest potential without the other. Much like a circuit board, it must be connected to flow. You are a result of your flow of energy. The procedure of thoughts, actions, and consumption is what can connect that flow. Align it.

Right now, I am taking on virtual clients from this space until we get through this pandemic! X2 Workouts: Omar Bolden and I wanted to join forces and develop a training system that could be done by anyone, at any fitness level, anywhere, at any time, with whatever they have access to. We actually developed the company before the pandemic hit, then further developed our technology to reach globally this past summer. All our workouts are made specifically for the individual and they can do it at home with what they have! We also give our clients meal plans and a community of accountability and access to us, their trainers! You can learn more by visiting: www.x2workouts.com Un-Diet: This book I wrote about how to un-learn and un-process both your way of thinking food and the actual food you eat. This real food approach is one that I developed through a combination of my education and personal experience of using food/holistic approaches to heal sickness I had experienced. It is a very easy to digest read and will change the way you view the food you eat for a life-long & healthy change in your eating. You can get the book at: www.undietsystem.com.
Do you have recommendations for books, apps, blogs, etc?
My top 3 apps: 1. Calm 2. Insight Timer 3. Apple Music My top 3 books: 1. The Power of Now 2. The 10x Rule 3. The Secret
Pricing:
X2: Under 2 dollars a day
Blog: FREE
Contact Info:
Suggest a Story:
 VoyageLA is built on recommendations from the community; it's how we uncover hidden gems, so if you or someone you know deserves recognition please let us know 
here.