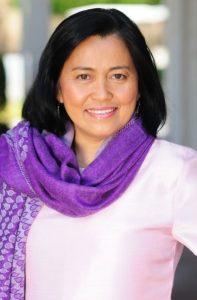 Today we'd like to introduce you to Ellen Morano.
Hi Ellen, so excited to have you with us today. What can you tell us about your story?
My body had asthma growing up so I took a lot of medication and it temporarily went away when I was 11 years old. The asthma returned when I was working in an animation production company where the stress level really took a toll on my body. We had very good health insurance so I was able to visit three pulmonary doctors but they all prescribed inhalers. I was really desperate for an alternative approach because my biggest dream was to travel. My health condition was a major barrier to my mobility. I grew up in a catholic school so I started attending mass every day, hoping to get a sign that would lead me to a holistic approach. One day, my Priest called me out of nowhere. He informed me that he had learned Pranic Healing and that I should consider it for my own health concerns!! What a blessing!!! I went to the bookstore and luckily, there was a book available.
As I flipped through the pages, it talked about how to maintain good health using Prana. I felt my prayers had been answered as I discovered page after page of alternative healing protocols that could address my asthma and many other things. Initially, my concept of alternative is something that I can ingest, a topical application of an herb, or something similar. My excitement kept me browsing hoping for a specific answer, instead I found an office address which was just walking distance from where I was standing! I walked to the office and was told there's an upcoming class taught by the Grand Master Choa Kok Sui, founder of Pranic Healing and Arhatic Yoga. I automatically signed up for the class without even consulting my husband. In our Philippine Tradition, wives usually ask husband's permission for this type of thing. That never occurred to me due to the extreme enthusiasm that I could potentially be just a few steps away from full recovery. Luckily, he didn't object to my decision even though it was a 2-day stay in a Retreat House of Nuns. On the lunch break of the first day, Master Choa announced that he would offer healing to whoever needed it. I ran over to him right away! I didn't even bother to take lunch first.
Here's how the session was done: I sat down and he asked me a few questions. While he was talking to me, I was surprised that he was not making eye contact but was instead looking around me. Then I realized he was checking the condition of my aura and chakras, which was the topic on that morning session before the break. Before he started the session, he told me to close my eyes and put my tongue on the roof of my mouth during the healing. Just as he started, I felt some movement in my body and felt as if I was moving horizontally. As a child, I grew up with so much fear so this unexpected movement triggered some emotions. But I forced myself to stay calm because I was really confident a good thing is about to happen. Nonetheless, that mixed emotion is quite unsettling. After a few minutes, I felt calm and receptive to the healing energies. Considering we were still on our lunch break, I decided to take a nap. When I woke up after the healing: It felt like it was a brand new ME! I was able to breathe deeply! I said to myself: "YES, THIS IS IT!!!!! I CAN BREATHE!!!! I WILL KNOCK ON ALL MY NEIGHBORS DOORS WHO HAD DIFFICULTY BREATHING SO I CAN HELP THEM!!!" I was so full of gratitude!!! After the 2-day class, I had so much clarity. So many visions came to me which was not typical of my experience! I never entertained those "daydreaming" thoughts! But this time, I was absolutely clear on what I should do next!
From then on, I started to practice the healing techniques on my family. I noticed I became intuitive and was able to see streaks of color like a rainbow! I had no clue what it was. It even scared me to see the grayish energy coming out of the person I was doing healing on. I have an accounting background so those new feelings and sights were very alien to me. I just held on to the belief that it must be good and related to the healing. The fact is that I got healed and my subject felt relief. Another profound effect of the healing was the skyrocketing effect on my career! From being a payroll clerk to an Overseas Production Coordinator where the Producer hired me directly to oversee their project. Sure enough, the wish of traveling overseas materialized! Seven years after I learned Pranic Healing and enjoyed the health benefits as well as successes in my career, I migrated to California. One day, as I worked in a printing shop in Northridge, I received a brochure printing order from a customer in Chino Hills. The company standard operating procedure was to check the digital file and to my surprise, it was a Pranic Healing Brochure for Master Co (The Pranic Healing Master in the USA). Their office is 60 miles away from Northridge and to have that order land on my desk felt like more than just coincidence!! The first thought that came to me was that it is time to give back because I found all my wishes granted through this work. Sure enough, that was the introduction to meet my new mentor Master Co. I drove to his office as soon as possible and met him personally.
From then on, I attended his classes and volunteered on events. I then opened 6 Free Pranic Healing clinics here in The Valley from Studio City to Thousand Oaks as my community service. It helped build my clientele and my confidence. Master Co invited me to be a Pranic Healing Instructor which I went into the process to be certified. On my first Pranic Healing Level 1 class, a student asked me to do healing on her family remotely during their travel. In less than a week, she sent me a check for $5000.00! From then on, I declared: "Pranic Healing WILL BE MY FULL TIME CAREER". Sure enough, I slowly transitioned to a part-time job in the corporate world then a Full Time Pranic Healer! It's been ten years now doing my private practice under the umbrella of the US Pranic Healing Center.
Alright, so let's dig a little deeper into the story – has it been an easy path overall and if not, what were the challenges you've had to overcome?
It is a journey because Pranic Healing is still new to most people. Most of my clientele comes from referrals. Even though we offer free introduction classes, we still don't have more than five people in a physical office setting. Personally, I feel I have to reach out to more people. Before the lockdown, I was thinking of getting in touch with various Human Resource departments so I can offer a short meditation for productivity. But when the Pandemic/Lockdown started, I was forced to rethink my strategy. We were authorized to host an online Meditation and Introduction to Pranic Healing via zoom. The first few months from March 2020 to May 2020, we had an average of 30 attendees. From June 2020 up to today, we still have an average attendance of 20-25 attendees. Today, April 23rd, marks the 396th day of the daily 10am PST – Learn to Meditate for Stress Relief and Emotional Healing. The attendees give us feedback that it has really helped them to be productive, calmer, and more focused.
Thanks – so what else should our readers know about Clean Prana LLC?
Clean Prana LLC is about Energy Medicine using Pranic Healing®. MCKS Pranic Healing® is a no-touch bio-energy healing art modality created by Master Choa Kok Sui. Pranic healing® is an ancient science and art of healing that utilizes prana or ki or life energy to heal the whole physical body. It also involves the manipulation of ki and bioplasmic matter of the patient's body. It has also been called medical qigong (ki kung or ki healing), psychic healing, vitalic healing, therapeutic touch, laying of the hand, magnetic healing, faith healing, and charismatic healing. Pranic Healing® is based on the overall structure of the human body. Man's whole physical body is actually composed of two parts: the visible physical body and the invisible energy body called the bioplasmic body. The visible physical body is that part of the human body that we see, touch, and are most acquainted with. The bioplasmic body is that invisible luminous energy body which interpenetrates the visible physical body and extends beyond it by four or five inches. Traditionally, clairvoyants call this energy body the etheric body or etheric double. I am a Certified Pranic Healing® Instructor and an Associate Certified Pranic Healer.
I teach Pranic Healing® Level 1 Class and I give Introduction Classes via Zoom. I offer private healing sessions in my office and remote healing for clients from different cities, states and countries. I'm known as a Healer's Healer because even other healers have sought my services. I specialize in Emotional and Breathing issues which affect their sleep. Pranic Healing® is best to complement western medicine. Therefore, I have helped people with serious conditions undergoing procedures like chemotherapy, dialysis, and surgeries. My clients find the combination of their medication and regular Pranic Healing sessions very helpful. What sets me apart from others is my experience. I learned Pranic Healing in 1993 and have fully embraced the teachings as a way of life. I have been dedicated to my Teachers work especially since I made this a full-time career. What has made me proud brand-wise? I have been an instrument to have successfully helped people recover from serious illnesses which seemed impossible. A few woke up from coma, stage 4 cancer recovered with a combination of chemo, subdural hematoma without surgery (blood clot dissolved), a stroke that the doctor declared 3 hours to live made it to 11 years and many more. There were also many cases dealing with childbirth.
As I always say, I only have one biological child but I actually have 25 children. I've helped 22 mothers during their birthing process (one had twins!) and even helped one mother from conception to birth. I've worked with children experiencing ADD and ADHD. Some of them cannot sleep well or have nightmares. Now, they can sleep on their own through the night. Pets are also regular clients from cats, dogs, and horses. I want my readers to know that I can teach them simple techniques like meditation, self-healing and character building to enjoy life to the fullest and not easily get sick. I also teach them how to handle their emotional struggles like anger, trauma, anxiety, stress, resentment and others because this will eventually lead to a serious physical illness. I coach and assist them in their journey to make this a way of life – health and wellness. I also teach them to be healers at least to start on their own family and friends. My Teacher advocates teaching people how to empower themselves and not be dependent on healers. I incorporate Essential Oils in my practice. This combination with Pranic Healing® is for me magical! I am a huge advocate and apply or ingest oils regularly. I often recommend oils to my clients as part of their healing journey.
I have recently expanded my services to include various workshops and coaching. Within these areas, I include offerings for stress relief, advice for healers starting their own business, and techniques that can be used by any entrepreneur to ease the pain points often associated with that type of role. Additionally, I focus on reminding my clients to get adequate sleep and help them find ways to feel relaxed. I've found by focusing Pranic Healing on specific group needs through workshops or coaching, I am able to reach more people and help them clear any blockages that stand in their way!
Is there anyone you'd like to thank or give credit to?
1. The immense credit is to the Founder of Pranic Healing® and Arhatic Yoga – Master Choa Kok Sui. I took my first Pranic Healing® Level 1 class with 1993 in Tagaytay, Philippines. He gave me a miraculous healing while in that weekend class. He healed my Asthma and it opened so many great opportunities for my career and financial gains and travel (a dream come true)
2. Master Stephen Co – my mentor here in the Los Angeles, California and his Assistant Karla Alvarez. Karla was the person who placed the order of brochure printing of Master Co at the printing shop where I was working. Through her, I was able to connect to Master Co. They both were my guides in my Spiritual Journey to be a Pranic Healing® Instructor and An Associate Certified Healer.
3. Kei Okubo – my mentor on Essential Oils. She has worked at the Mental Health Industry for a while therefore she is my go to person in understanding mental issues with my clients. She is also a very knowledgeable person on healing.
4. Teammates – Suzy Gruzen, Dr. Ted Leonido-John (Psychiatrist), Dr. Nancy Gabaldon (PhD Pharmacy) – they gave me the opportunity to mentor them and I learned from our interaction.
5. My family Rey Morano – my husband (an artist) who helped me in my brochures, artwork and confidant, my son Marti Morano – my Tech Guru (he works in Film & Events Production) he takes care of all my gadgets – updates my computer, iPad and phone. He set me up with a full gear studio with lights, microphone, green screen and adaptors to my computer in my office and at home for my daily zoom Meditation Sessions.
6. To All my clients who have been with me for more than nine years. They gave me the opportunity to nurture them and helped them to live a happy life.
7. Suzy Gruzen for sharing my name with VoyageLA.
Contact Info:

Image Credits:
This is taken in my own office in Sherman Oaks. My client in this photo is Aiden Zea.
Suggest a Story:
 VoyageLA is built on recommendations from the community; it's how we uncover hidden gems, so if you or someone you know deserves recognition please let us know 
here.