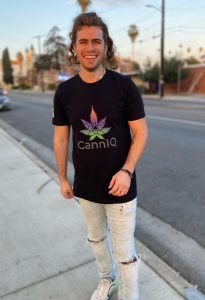 Today we'd like to introduce you to Alec Arce.
Hi Alec, thanks for joining us today. We'd love for you to start by introducing yourself.
Well before I got here, I moved from New Jersey to Los Angeles on New Years Eve 2017. I felt that it was symbolic for me to move specifically on that day so that I could wake up in my new home in the new year. Since then over the years, to say that it has been a walk in the park is far from the truth, but I cannot deny that it has been the biggest lesson I have ever experienced. The beauty of this lesson is that it is perpetual because this lesson is what we call life. My intention for this move wasn't only to continue my higher education but also to explore the vast opportunities that Los Angeles provides all who flock here. Such opportunities involved acting, modeling, and unexpectedly, cannabis. While pursuing acting and modeling, aside from being an accomplishment in my eyes, I quickly discovered that it wasn't providing the financially security I needed to further explore my life and what it can offer. This is when a friend of mine offered to put a referral into their job at a well-known dispensary on my behalf. It proved to be a pivotal moment in my California experience because little did I know that this offer would transform into the beginning of my passion–educating people on the myriad of bio-therapeutic benefits derived from the cannabis plant. This passion blossomed into the start of entrepreneurship, and my current endeavor, CannIQ.
I started CannIQ because throughout my experience at different dispensaries, I noticed some deleterious tendencies amongst them. Primarily, the commonality between them all is that the service indirectly obligated by consumers needed to credibly and effectively recommend cannabis products did not equate to the level of service provided to them. I discovered first hand that the majority of workers not only lacked any form of technical training but more importantly, did not represent the best interests of the consumers at hand because the knowledge they provided them appeared to lack any credibility. This lack of credibility ultimately affects the faith that these consumers have while shopping for products they need for medicinal relief. Without this credibility, how could they know that the products being recommended to them were actually the best products suited for their individual needs and not just in the best interest of that budtender or the dispensary itself? The goal of CannIQ is to address this problem head on because I believe that if the nation is going to repeal the stereotypes and stigmas associated within the cannabis industry, it will do so off the backs of the cannabis workers including "budtenders," and thus the quality of information they are able to deliver to consumers on a consistent basis. The only way that this will happen is with adequate training and subsequently the standardization of educational requirements needed to work in the cannabis industry and in dispensaries.
With a standard in place, speaking on a macro scale and considering the approach towards inevitable legalization of cannabis on the federal level, this allows consumers and patients alike to have the ability to acquire the exact same information regardless of which shop they choose to go to or where it is located. Currently, this is regrettably not the case, as information is not standardized nor is it incentivized for workers to acquire said information. Experiencing this problem first hard was what inspired me to create CannIQ because my meticulous research regarding the botany, chemistry, and biology of cannabis allowed me to become the top "budtender" at multiple dispensaries, and I solely credit the information I obtained for those results. People are willing to spend more and listen to what you have to say ten-fold if they feel that you, their budtender or worker in general, have a firm understanding on the topics being discussed. While I believe this goes without say, many workers adopt a "fake it till you make it" style approach, which only negatively affects the consumer. The way CannIQ is tackling this is with our online course that is designed to be implemented into dispensaries across the nation. It is a thorough curriculum which focuses on the botany, chemistry, biology, and current affairs of cannabis. Currently, this is my main focus because this is my passion. To help, educate, and heal with cannabis.
Can you talk to us a bit about the challenges and lessons you've learned along the way. Looking back would you say it's been easy or smooth in retrospect?
As much as I would like to say it has been a smooth road, it certainly hasn't, but I suppose anyone with a life filled with substance and meaning wouldn't be able to say otherwise. My biggest struggle was when I was so physically and financially invested in CannIQ that I poured every cent I had into its formation and thus had no money left over to my name. This resulted in me having to live in my car for three months on the side of PCH while I saved up enough money to get myself into an apartment again. As grueling, degrading, and at times embarrassing it was, it reinforced my tenacity and ambition towards my goals and looking back now, I can only say this as I couldn't back then. I can look at my goals and know deep down that I will not give up no matter what. I refused to forfeit by moving back to New Jersey while I continued to build CannIQ, and this is something I will live with proudly for my entire life. One day in the near future, I will drive past the spot on PCH in Malibu that I camped out in my car at while on my way to my actual house and truly recollect on how far I have come since that time. Until that time though, there is still far more work to be completed.
Alright, so let's switch gears a bit and talk business. What should we know?
What sets CannIQ apart from the competition is that it is one of the only entities tackling the issue of cannabis worker education. Among those select few, CannIQ is the only one with real hands-on experience pertaining to cannabis work. The competition is just merely business suits trying to capitalize on what they believe the real issues are, which unfortunately dont align with what the actual issues are. This is due to their lack of hands-on experience in dispensaries, where the chance to interact with customers on a daily basis is obtained. CannIQ has this experience and years of it. The beauty of our course is that while its focus is for the cannabis workers, the information entirely applies to those in general with an aptitude for learning about the science of cannabis, including medicinal patients who want to better understand the medicine they are putting into their bodies. Something that also sets us apart from the competition is what happens after completion of our course. Upon completion, unlike the competitors who get paid and then nothing more, we enroll our students into our exclusive CannIQ Budtender Association, which is primarily designed to allow our students the opportunity to advance their careers from employees into cannabis consultants. Our students also receive CannIQ merch which connects directly to our online directory of CannIQ members through a QR code printed directly on them. Upon scanning, consumers can review, tip, and inquire further information from the budtender who helped them initially, subsequently increasing the credibility of that worker and increasing their chances to work independently for themselves outside of the dispensary walls. None of our competitors offer this, which is what allows CannIQ to stand out exclusively.
We're always looking for the lessons that can be learned in any situation, including tragic ones like the Covid-19 crisis. Are there any lessons you've learned that you can share?
With the craziness of the last year, I have primarily realized that people have an ever growing need to obtain truthful and factual information, regardless of the context. There is too much misleading and contradicting information, and this crisis epitomizes this fact, which also correlates to the fact people also are demanding increased quality and credibility from those recommending things to them. Also pertaining to the cannabis industry, we have discovered that cannabis work is "pandemic-proof" and is entirely resilient to external circumstances since dispensaries were classified as essential businesses. In a time of great uncertainty pertaining to the workforce, I can confidently say that cannabis work has never had such a high appeal as it does currently. The Covid crisis proved that working in the industry is safe, rewarding, and lucrative for all who get involved.
Contact Info:
Suggest a Story:
 VoyageLA is built on recommendations from the community; it's how we uncover hidden gems, so if you or someone you know deserves recognition please let us know 
here.