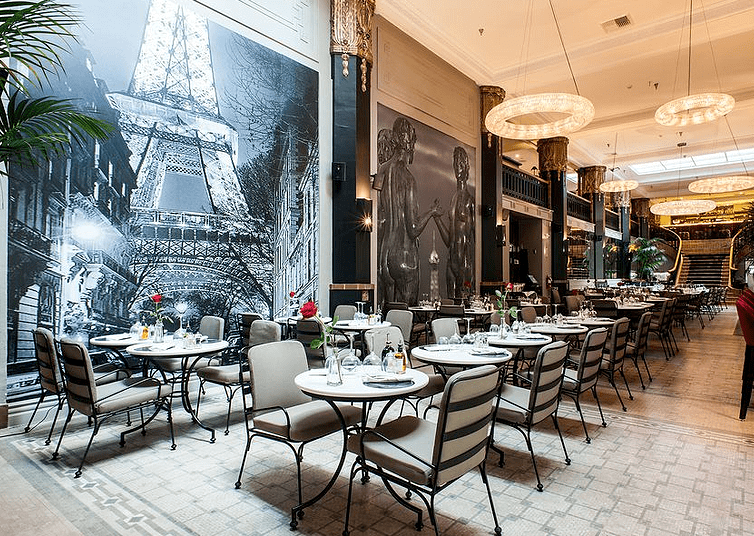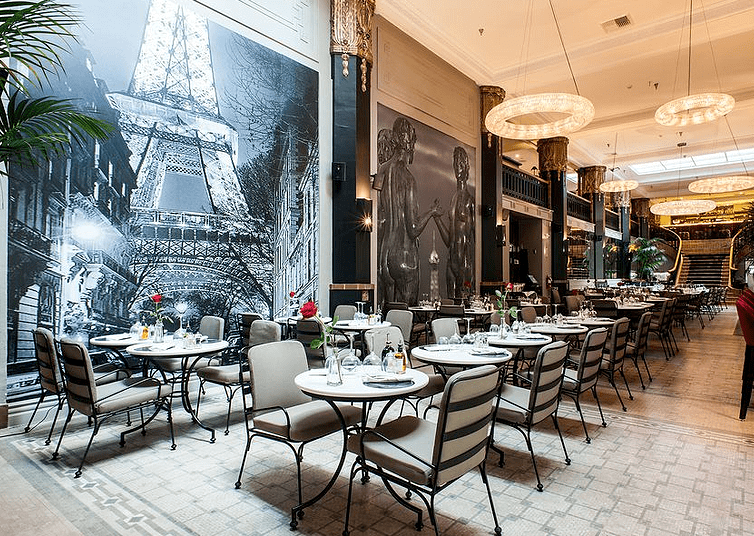 Today we'd like to introduce you to Downtown's Le Petit Paris.
Adorned in glittering opulence, Le Petit Paris brings authentic Parisian brasserie cuisine, wine, and ambiance to the historic 1913 El Dorado building in the heart of Downtown Los Angeles. From Cannes-based restaurateurs David and Fanny Roland, the classically elegant space immerses guests in French culture throughout multiple distinct spaces, including a swanky lounge, expansive mezzanine, and multiple private event spaces. Executive Chefs Grellier Baptiste and Jeremie Cazes craft an upscale all-day menu of French classics accompanied by European and Californian wines from an extensive lists as well as signature cocktails boasting luxurious liquors in intrepid combinations. Brunch and lunch guests enjoy a bright, tranquil environment, which transforms into a bustling upscale brasserie at night, complete with resident French DJ spinning nightly and live jazz on Wednesdays. The restaurant also proudly supports the Downtown Concierge Shuttle, providing complimentary transportation throughout Downtown L.A., to Le Petit Paris and other nearby bars, restaurants, and hotels.
Riding their wave of restaurant success from the French Riviera all the way to America's West Coast, husband and wife ownership team David and Fanny Rolland create the essential French environment at Le Petit Paris in the heart of Downtown Los Angeles. The restaurant and brasserie glitters in 1920s glamor across the expansive, two-story dining space and mezzanine, multiple bars and lounges, a dog-friendly patio, and the adjacent La Boutique, stocked with French imports from fragrances to foie gras. The entire menu calls on fresh, seasonal products and classic French technique, and the restaurant's French chefs strive to make every component in-house.
Tell us about the challenges of running a food service / restaurant business.
The original Le Petit Paris restaurant and wine bar debuted in 2001, culminating David and Fanny's expertise to create a community environment focused on exceptional food and wine. The eatery took off, thanks in part to Danny's affinity for forging meaningful relationships with his guests, and inspired the family to open a second concept. In 2006, Miramar Plage debuted along Promenade de la Croisette during the annual Cannes Film Festival. Situated directly on the plage (beach), the restaurant allows guests to dine seaside, lounge on beach sofas, and take a dip between meals.
David and Fanny fell in love with Downtown's 1913 El Dorado building—a former hotel frequented by Charlie Chaplin—and turned the old lobby into the main dining room for Le Petit Paris, which made its U.S. debut in September 2015. The restaurant expanded throughout the expansive, majestic space, all the while preserving its nostalgic grandeur and re-igniting its vivacious past energies through a quintessentially French lens.
What separates Le Petit Paris from the other similar spots?
LA BOUTIQUE
The restaurant continues its Parisian immersion through the adjacent La Boutique, an upscale retail shop offering culinary, beauty, specialty, and other products imported from France. Throughout the lavishly decorated space, guests peruse artisanal olive oils, luxurious confections and chocolates, teas stored in elegant wooden boxes, and specialty items such as salts, spices, and preserves, as well as items from the restaurant's kitchen including housemade pastries and foie gras. The Parisian selection continues with legendary fragrances, handcrafted jewelry, custom creations, and books about Paris and its cuisine. La Boutique's staff remains on hand to provide insights and recommendations, as well as to design custom gift baskets.
MENU
Direct from Cannes, Executive Chefs Grellier Baptiste and Jeremie Cazes helm Le Petit Paris's kitchen, which turns out quintessentially authentic French fare all day, from brunch to dinner. Crafting nearly every component in-house from seasonal, market-fresh ingredients, the chefs respect French traditions and adhere strictly to French technique, though they often allow their creativity to flourish. The extensive menu, which changes twice a year, features something for everyone including French salads, sandwiches, fish and meat dishes, and regional specialties, as well as desserts made by a dedicated team of pastry chefs. In addition, Baptiste and Cazes look toward ingredients at their seasonal peak to create daily specials. Sample dishes include:
• Salade "Le Petit Paris" with frisee, potatoes, bacon, poached egg, and smoked duck breast
• Croque Madame with jambon de Paris (Parisian ham), crème fraiche, gruyere, egg sunny-side-up, and a mixed greens salad
• Risotta De Noix De St Jacques Asperges Et Truffe, a scallop risotto with black truffle and green asparagus
• Linguine Au Homard Et Sa Crème De Homard, a fresh lobster linguini with artichokes, tomato confit, and lobster cream
• Fraise Melba with vanilla ice cream, fresh strawberry, and raspberry sauce Chantilly
BAR
Composing more than two-thirds of the stock, European wines dominate the cellar at Le Petit Paris, though a collection of Californian varietals also make the cut. By the glass or bottle, the restaurant's carefully curated list of red, white, and rosé wines complements the chefs' classically flavorful French cuisine. Multiple bars situated throughout the opulent space serve signature cocktails, creatively combining housemade syrups and juices with luxurious international spirits. The restaurant's dessert menu also features a hearty selection of artisanal coffee drinks, digestifs, and sweet wines. Once a month, Le Petit Paris invites guests for a wine dinner to sample various bottles alongside paired dishes. Sample drinks include:
• Le Petit Paris with Bombay gin, cucumber, fresh mint, and Champagne
• Le Balsamique with vodka, fresh strawberries, white balsamic vinegar, and fresh lemon juice
• Le Provençal with Bacardi rum, fresh lavender, fresh lime juice, and egg white
• Tequila Old Fashioned with Herradura Anejo tequila, bitters, sugar, and fresh orange
• L'Apértif with Grey Goose le Citron, mezcal, fresh mint, fresh basil, and fresh lemon juice
DESIGN AND DÉCOR
David and Fanny Rolland unleashed their luxe creativity to design a space within the 1913 El Dorado building that matched the provenance and elegance of their concept's cuisine and service. The resulting expanse of European opulence stretches across the main dining room, distinct mezzanine levels, two bars, and a grand, dog-friendly patio. Various skylights drench the restaurant in natural light during the day and numerous grandiose, circular crystal chandeliers illuminate at night, while gold-leafed columns lining the walls cast a glitter throughout that dances upon plush, vibrantly red carpets, elegant wood floors, and richly appointed furnishings, from tufted banquettes to modern brasserie seats and vintage wingback chairs. A grand staircase ascends to the lounge, where a candle-filled fireplace, velvet furniture, and hand-painted tiles create an undeniably romantic ambiance.
PRIVATE EVENTS
Multiple distinct spaces throughout Le Petit Paris offer sophisticated settings for parties, receptions, weddings, and more, including the intimate Private Dining Room and the sizable Main Dining Room. The glamorous Mezzanine and Right Bank Mezzanine offer a taste of exclusivity while overlooking the dignified space below, while the Wine Room impresses guests with a glass-front wine wall, and the DJ Room provides a bit of seclusion among the large, grandiose restaurant. Groups may choose from various prix fixe, brunch, wine-pairing, and buffet menus, as well as open bar packages, hors d'oeuvres service, and products from the adjacent La Boutique.
Most Popular Items
Scallop risotto with black truffle and green asparagus


Cognac flambeed whole roasted lobster


Raspberry Macaron with raspberry coulis and fresh raspberries

Parking Advice: Valet parking available for dinner starting at 6 p.m. Additional parking is available in garages and lots along Spring Street.
Average Entre Cost: MENU PRICING Brunch: $3.50-45 Lunch: $11-29 Appetizers: $11-36 Entrées: $18-38 Specialties: $42-79 Desserts: $10-15 Cocktails: $12-16 Wine by the glass: $12-25
Address: 418-420 Spring St., Los Angeles, CA 90013
Phone: 213.217.4445
Website: http://lepetitparisla.com
Social Media links
Image credits:
Photo Credit: Ryan Tanaka