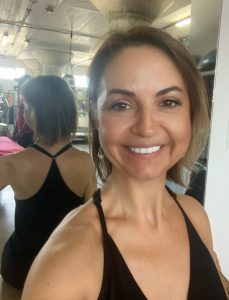 Today we'd like to introduce you to Virginie Drouot.
Hi Virginie, we'd love for you to start by introducing yourself.
I moved to LA in 2001 from France where I studied film production in Paris. I've been working in film production for over 20years and the amount of waste the film industry generated is truly insane, not matter if it's for a 30 seconds spots, a feature film or a TV show, the sustainability on sets is very little if not totally inexistant.
In April 2018, I got really sick, I was overworked, and although I thought I was healthy, I had to drive myself to the closest urgent after wrapping on of my shoot and being sick non-stop for 48 hours. It was a wake-up call from the Universe that something in my life had to change. So I read this book who changed my life: You're a badass my Jen Sincero. And I started meditating, even though I thought it never had time to and never will, but I'm so glad I did! I slowed down and took 15 mins a day to meditate. And on social media, I kept seeing these images with tons of plastic in the ocean, and I love Hawaii and it broke my heart to see such a disaster happening, And the more I look at these the more I was so ashamed of myself, and I had to look at my eight years daughter at the time and tell her: I'm sorry, there's nothing I can do about it? Well that answer didn't sit with me long. And one night, I realized if I wasn't the change, that no one else was going to change how much we trashed on my set! But what can I do? And through meditation, the idea of EcoMind Set came to me and little by little I took action and design my vision and things started happening. I applied different things on my own set and saw how much love and gratitude it was bringing onto my set that I knew it was worth pursuing. We were making a difference at our level and that was huge, people were waiting for it and were willing to participate.
In our first week of the shoot, we saved more than 1200 water bottles from being used and replace plastic with compostable items, and also found the only recycled 33Gallon trash liner that would survive on set, and that was huge because we use at least 10-15 bags of trash a day on a small set, so at the end of a year, knowing than LA in 2018 had 38,000 shoot day, that's over 400,000 trash bag a year minimum just for our industry, just in LA! And so little by little, we offered compostable supplies to sets and trash bags… And I really liked the entrepreneurial side of things, although didn't know much but love learning more and more about it. And then in Sept 2019, I submitted an application to The Torrey Project, an incubator in San Diego for your entrepreneur following the stakeholder policy vs. shareholders, and to my amazement I was accepted, a $25K value for free thanks to all the generous donators who put this incubator together. I learned a lot, it was a month long, and I met amazing people to join forces with and try to educate crew more.
And during Covid, I had to pivot my business into sanitizing set, environmentally friendly and trying to push the sustainability as it's of the essence to stay healthy now more than ever, but sustainability got to the back burner again… And during Covid, I realized that you can tell people or crew to be more sustainable all you want, but everything has to do with your mindset, a healthy mindset will get us to a healthy planet! I read a lot of personal growth development books, virtual seminars during Covid and just signed up for my Life Coach certification to help entrepreneurs willing to make a difference in the world but held back by doubts and insecurities and don't know where to start. I've been there pushing through thinking someone else was responsible but taking full responsibility for our actions is what is going to make us act and make us change the way we do things. There's nothing we can't do.
I'm sure you wouldn't say it's been obstacle free, but so far would you say the journey have been a fairly smooth road?
It wasn't always easy, administration was a big roadblock, learning what's needed to move forward was going fast enough to me, in production we move fast and this was a whole new beast! Definitely lack of knowledge in being an entrepreneur was one, the incubator helped a lot, direct you to the right books to read and the right questions to ask others but to ask yourself. Lack of funds, but money is everywhere, it's again a matter of mindset and how to harness and harvest it. The thing you say before you're an entrepreneur is "I can't afford it" and when you're an entrepreneur, you ask yourself "how can I afford it" Marketing and communicating the value I was adding to each production, it was hard and still is, I didn't even know what Branding was at the time, I learned about it early this year through a great class taught by Gerry Foster. Before his class, I thought Branding was the same as Marketing. Now I know and I was able to define my brand, design my website, etc.
Thanks – so what else should our readers know about your work and what you're currently focused on?
I've been a Line Production and Production Supervisor in the film industry for 20+ years, commercials, music videos, features and TV. But now I can say I'm a CEO 🙂 and pursuing. Known to run successful productions. Most proud of my daughter, Zoe, 13, she's my everything and amazed at our discussions and what she teaches me. What sets me apart is my energy and my perseverance, and my problem-solving ability. No is never is an answer and it makes you think outside the box, always, because to every problem there's a solution, I inspire people to see things another way and move forward. Sustainability is not an option, it's a must. I'm also working on my first book which I will release early this year, called Unhealthy is Unwealthy where I share how changing your mindset is essential to not only your health but your wealth. And when you're be kinder to yourself, healthier, your mind and body will be in better sync and you'll want to be kinder to your planet.
So maybe we end on discussing what matters most to you and why?
Planet Earth. It has so much beauty to offer, so much love. We're always amaze at a sunset or sunrise, all the colors the sky can make and every day it's different. If our reality is a reflection of who we are, I'd like to think wow we all have that much beauty inside each of us, if we could only let our sunshine, our light go through we would all be taking care of mother earth in so much more respect. But reality shows, and it shows we don't have much respect in ourselves, as a society, as a species, that we have a problem with the environment and other species, and that by killing our environment, we're killing ourselves and not a lot of people seem to be aware or care to be aware. Earth and the Universe is all we'll ever have to keep us alive. I want to be able to leave my daughter one day and know she's going to be ok and enjoy Earth as much as I did. Telling a story to entertainment millions should be done in a more sustainable way. Lots of efforts are made but nothing is mandatory yet and I fear it will keep going.
Pricing:
One hour coaching $77
3 months program, 2x session / month $333
6 months program $575
Sustainability Consulting, schedule a call.
Contact Info:
Email: info@ecomind-set.com
Website: ecomind-set.com
Instagram: @ecomindsetinc
Suggest a Story:
 VoyageLA is built on recommendations from the community; it's how we uncover hidden gems, so if you or someone you know deserves recognition please let us know 
here.