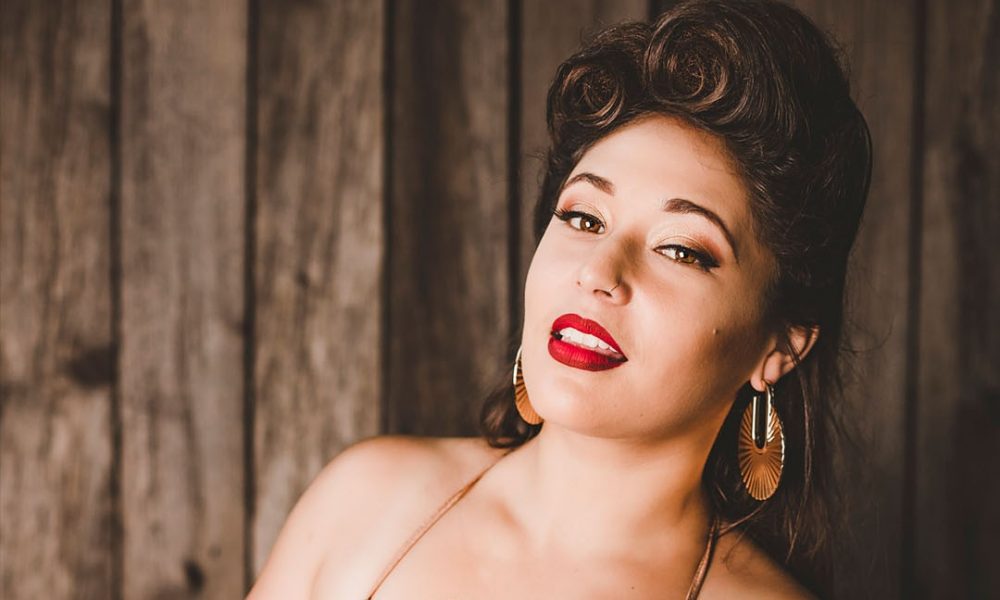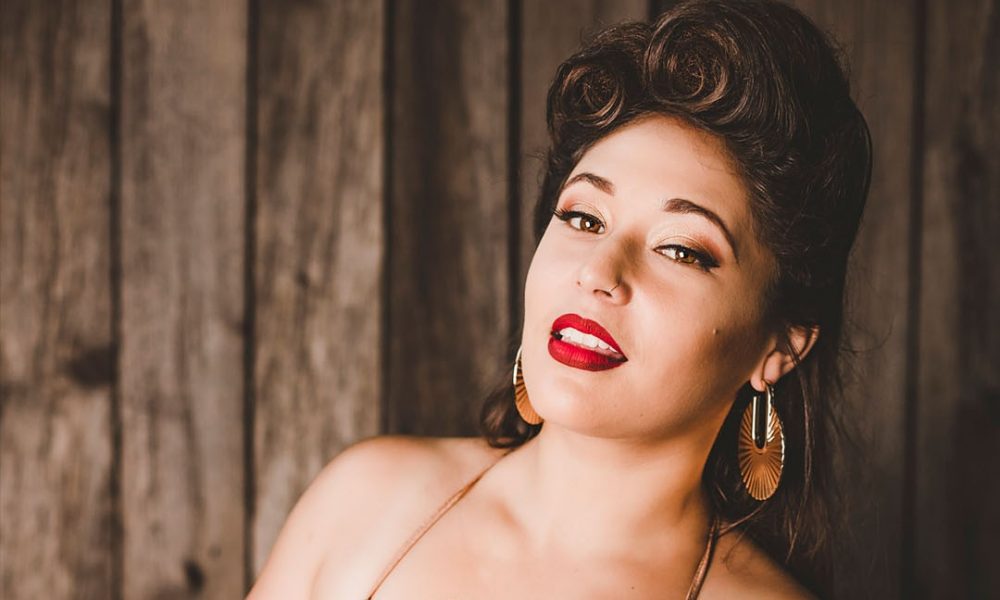 Today we'd like to introduce you to Stephani Candelaria.
Hi Stephani, thanks for joining us today. We'd love for you to start by introducing yourself.
I grew up in San Juan Bautista, California (831, presente!), surrounded by a family of artists — writers, actors, directors, and musicians– and most of my childhood was spent on the stage of the teatro. My love of music started at an early age, too. My mama, Leticia Candelaria, is also a vocalist, and we spent many car rides to and from school singing acapella (we didn't have a radio in the car) — everything from Cri Cri to Mariah Carey. That's actually how I learned harmony, my mama could never resist coming up with new harmonies for even the most popular songs! Around nine, my mom joined a local salsa band, and as a single mother, she had me with her at all of the rehearsals, studio sessions, and gigs for years. Her loyal fans were so sweet and patient with me once I was old enough to be interested in learning to dance salsa ("eres la hija de la cantante? quieres bailar?"). Total 90s though, right?? There I was at 12 in a full-on salsa club, dancing my lil' heart out!
I started making my own music around 17 and spent my first summer away from home busking in San Francisco. That was how I joined my first band — someone saw me singing in the 24th and Mission BART station (great acoustics, by the way) and asked me to go audition for a new cumbia group. At that time, I was all about rancheras and boleros and hadn't really explored cumbia. But after my first gig, I fell in love. The ambience — people dancing, laughing, singing — was just so different from my experience singing and playing ballads. The energy was incredible, and I've stayed within the Latinx dance genre ever since.
I sang with that Oakland-based cumbia group until 2015 and grew a lot as a musician and a performer. I also learned, through a combination of personal struggles and being burned, how to best protect my music. With a stronger sense of who I was as a musician and who I aspired to be, I made the difficult decision to leave my home and move to Los Angeles. It took me about a year to get my bearings within the music scene and another year to finalize the lineup and sound of La Mera Candelaria. But I was, and still am, blown away by the incredible support I received from day 1– folks like La Junta, who adopted me within weeks of my move, Enclave LA, and so many others who saw what I was trying to do and enthusiastically held me up!
Now that La Mera Candelaria has been together for five full years, I love to look back and see how much we've grown musically. When I formed the group, I specifically wanted to explore feminist and queer topics within a stripped-down, "throwback"-inspired interpretation of traditional Latinx dance genres, kind of a "challenge the system from within" kind of thing. As a survivor of both childhood sexual assault and gender-based violence, it was incredibly important to me that my continued platform as a musician be used as intentionally as possible to spark dialogue and thought around issues that tend to get dismissed in machista Latinx spaces. And while I never doubted that intention, at first my releases were more tongue-in-cheek or relied heavily on humor to get more serious points across (for example, the song "Presentame a tu hermana" which broaches the subject of hypersexualization of queer Latina femmes). I figured I'd "hook 'em in" first before getting all seria on 'em! But over the years, as we've established our fanbase thanks to things like song placement on the TV show "Vida" on Starz, as well as great gigs like Viva Los Dodgers, El Grito at City Hall, and the LA County Fair, we've been able to explore and grow into a more direct, serious approach to our content. In 2021 we released a 3-song EP, "Florecer," the title track of which was produced in collaboration with the Violence Intervention Program, which provides crucial services to survivors and their communities in the Lincoln Heights area. The content of that EP included a celebration of survivors and their (our) ability to thrive despite everything, as well as a song, "Sonrisa," about the often-dismissed dark nature of catcalling culture.
And we continue to build our branding and message as a group that speaks out. Right now, we're on the verge of putting out another album, "Di su nombre." As the title suggests, the larger theme of this album continues to honor survivors, explore topics of gender-based violence, and uplift women and femme-presenting folks. The entire band stands behind our message, and I'm so incredibly lucky to have players on my team who are just as driven and passionate about our subject matter as I am! As always, we are eager for new and evolving opportunities to use our platform to bring real change to the community– so if you know of any local organizations, artists, or other creatives who might want to work with LMC around issues of uplifting survivors / LGBTQ+ voices, send them this article!
Alright, so let's dig a little deeper into the story – has it been an easy path overall and if not, what were the challenges you've had to overcome?
Pshhhh, chale! Being a queer brown woman in a majority white, cis-het, male-dominated industry is no easy task. Even in the Latinx music industry, there is an overwhelming amount of misogyny at every turn, from fellow musicians to promoters and bookers, and all the way up to the top with producers, music supervisors, and managers. And it's not always, like, the "big things" people think about– assault, violence. It's those everyday microaggressions: "Oh, how's your little band going?" or "Oh, YOU, write the music/manage the band?" that really wear you down over time. That's not to say that "big things" don't happen, either. I've been physically restrained from going backstage because it's "musicians only" at my own gig, had my car broken into by venue employees, and been sexually harassed by prospective musicians (obviously, they didn't get the job). I've sent booking emails to promoters who never responded but then magically wrote back to book us after I re-sent an email with a man's name as the manager's signature. An old project of mine was completely just stolen, name, music, creative rights, everything– because I didn't know my rights as a writer/producer, and I was young and naïve. The list goes on, and any woman in this industry would have a very similar story.
But I am blessed to be a very resilient person. I've chosen, at each challenge, to be better, to do better, and to prove them wrong– the best revenge is success, right? These experiences didn't make me who I am– I made me who I am– but my choice to use them as a way to better myself, to get smarter, has proven crucial in my success as a musician activist. With this mentality, it is my hope to, within the next few years, expand my scope from performance and recording-based musicality to include a trauma-informed, support-based education platform for other Latinas in the music industry. Big things to come!
As you know, we're big fans of you and your work. For our readers who might not be as familiar what can you tell them about what you do?
La Mera Candelaria has made a name for ourselves in the LA Latinx music scene as one of the few traditionally instrumentated, feminist/queer-forward dance-genre groups. Musically, we feature a stripped-down lineup that boasts a standup bass, Cuban tres instead of guitar, congas, and timbales. This gives our group that "throwback"-style edge and a whole lot of room to explore Latinx dance music — with a heavily Caribbean-inspired sound thanks to the tres — in exciting ways that can transition seamlessly from the world of plugins, samples, and effects to the raw world of various Son genres as they were first played.
While this musical backbone sets our sound apart, the heart of La Mera Candelaria's music lies in our message and activism. Not only do our lyrics present very forward, thought-provoking considerations on sexuality, discrimination, and violence, but each song's genre is intentionally chosen to match the content in a way that flips it on its head. Let me explain with an example — our latest release, "Florecer," featured two songs that really exemplify my thought process. The title track, "Florecer," is grounded in the world of reggaeton rhythms, and the lyrics are a celebration and uplifting of the strength of survivors of sexual violence. I specifically wanted to use that genre, which has had its share of criticism in the way it has, at times, objectified women's bodies and even endorsed violent behaviors towards women, to sing a song about survivors. Another track, "Sonrisa," is about the dark reality of cat-calling and street harassment and is set within the bounds of a more traditional cha-cha-cha– a genre that includes a plethora of inspiraciones mimicking cat-calling within some of our most beloved classics. Don't get me wrong. I f***ing love reggaeton, cha-cha-cha, salsa, cumbia, all of it. Flaws and all. But we can't pretend that the content of our classics is not problematic in the way they discuss women/femme-presenting folks, our bodies and normalize violent behaviors. I choose to continue honoring the music itself while using it to call out the common issues inherent to it.
A lot of people ask me why I didn't just choose a genre that already has a history with this kind of content and message– think Amy Winehouse, or Cardi B, or Nikki Minaj. Pop music, while it still has faults, has presented a slightly more friendly environment for women wishing to write and sing outside of the norm. And it's true, it hasn't been easy making a name for ourselves as a Latinx dance-genre group with a message like ours. I guess I'm stubborn, sure, that's part of it. But I also truly love being Latina, I love my people and our cultura, and I consider it an honor to stay down here in the trenches, fighting to change this industry for the better, alongside heroes like Celia Cruz, Chavela Vargas, and Selena. They each played their part in opening doors for mujeres in music, broaching previously taboo topics for female singers, and proving time and again that mujeres have something valuable to offer the music industry. Each faced their challenges, too, as women in this scene. But that's why I've never strayed from my chosen genre, even though it's been challenging. This is one of the most meaningful parts of my life, and I intend to honor it.
All of this would not mean anything, however, without the activism component which really sets Mera apart. We are proud to make the music we are making with the message we are delivering. But we are also aware that action is a crucial piece of this struggle. In 2020, our album release for "Si reina" featured diverse groups from around LA that were either woman-led or woman-fronted, and we began developing an interactive, virtual platform for participating artists to speak to the challenges of being a woman in the music industry (which we hope to continue growing in the very near future!). In 2021, we utilized the publicity of our release of "Florecer" to raise awareness and funding for the Violence Intervention Program in Lincoln Heights, where survivors of sexual assault and/or domestic violence can receive medical treatment, mental health support, and basic necessities such as food, clothing, school supplies, and even tutoring. Our Spring 2023 release, "Di su nombre," will also include similar components of uplifting female and femme-presenting artists, as well as collaboration with local organizations that do the real work of caring for survivors while educating the community on how to prevent gender-based violence in the first place. We know very well that our role in that struggle is to start the dialogue, at our shows and in our spaces through our lyrics, delivered in a danceable, accessible format for everyone to enjoy and ponder– knowing, too, that we also owe it to the community to walk the walk.
If we knew you growing up, how would we have described you?
I was definitely really quiet and shy for most of my upbringing. Being the only child in the teatro and music scene for most of my childhood made me a bit awkward with kids my own age, as I was so used to being surrounded by adult artists. I remember our house always had music playing and people over because our house was kind of known as the party house for the teatro folks. So there'd always be these super cool, creative young 20-somethings sleeping over, reading books with me or playing dolls with me (probably hella high, lol). I was gifted a lot of books that were way beyond my comprehension at that time, like The Alchemist and Chicana Feminisms 101, but I really loved it, and I'm grateful now that I was surrounded by folks who wanted to expand my mind at an early age.
Because I was so shy with other kids at school, I usually found quiet corners of the campus to hide out with a book (I was always an avid reader and still love to read) or as I got older, with my journal. I preferred the backs of libraries, or out in the grass behind large buildings, to get away from the noise and read or write. But in high school, I started dancing folklorico Mexicano professionally, which really got me out of my shell since those kinds of groups really function as a team and spend so much time together in rehearsals and at performances. It was through my time dancing folklorico that I was introduced to the Bay Area cumbia/salsa and son jarocho scene. That quiet, shy kid had finally found her people, and I was sometimes so surprised to be going out dancing almost every weekend (I even skipped prom to go to the salsa club!).
Obviously, choosing to be a musician, especially a front person, has really honed my ability to "turn on" into a people person, and it's no longer as painful for me to meet new people or explore new spaces. But in my private life, I'm still very much that quiet kid who loves to read.
Contact Info: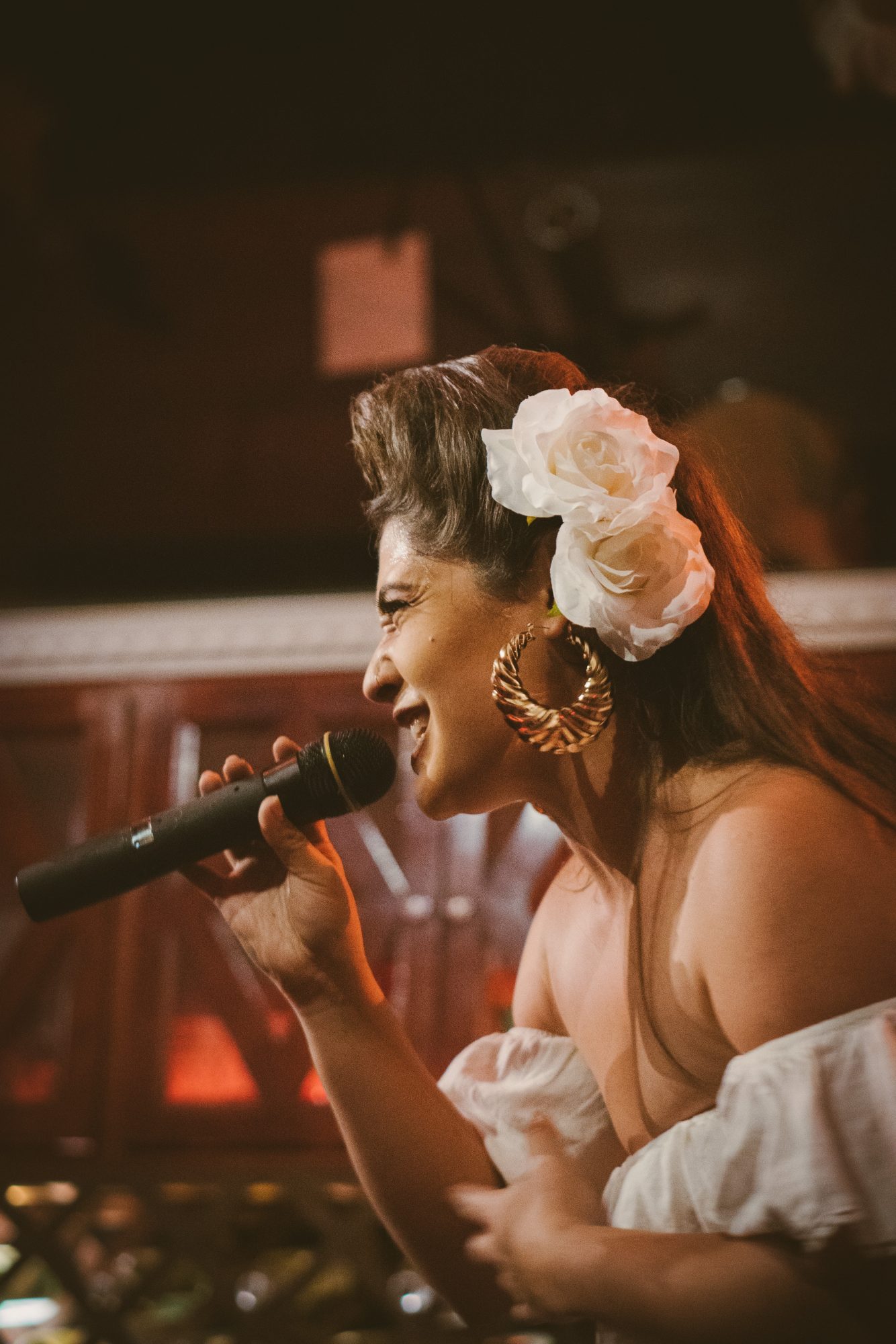 Image Credits
Daniel Mendez, Subculture Images Yesica Magaña, Red Heart Media David CIsneros, Redemption Photography Sandy Altamirano
Suggest a Story:
 VoyageLA is built on recommendations from the community; it's how we uncover hidden gems, so if you or someone you know deserves recognition please let us know 
here.