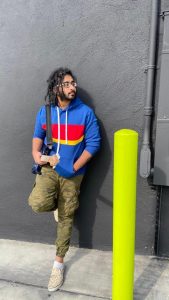 Today we'd like to introduce you to Shauvik Sharan aka Flyght Club.
Hi Shauvik, thanks for joining us today. We'd love for you to start by introducing yourself.
I grew up in a city called Pune in India around music and cultures of various kinds. I used to listen to a bunch of Indian music as a kid, watching a lot of bollywood movies. The way I got into western music was when my dad played me 'Smoke on the water' by Deep Purple and I was instantly hooked. The main riff had me in awe as I hadn't heard anything like that before and wanted to catch on to more of where that came from. My parents bought me a guitar when I was 14 and I started exploring the world of classic rock, staying up late and learning all the classics on the guitar, focusing more on what Robert Plant and David Gilmour had to say than my teachers in school. By the time high school approached, I knew I wanted to make music for a living and any possibility of a plan b seemed implausible. I started playing as a guitarist in multiple bands locally and won a few competitions while constantly strengthening my musical foundation.
By this time, the electronic music scene had grown immensely in my city and in order to try my hand at that, I got into electronic music production and started spending numerous hours each day, learning softwares and tools and applying musical concepts I had learnt to them. I started DJing a lot and won a bunch of DJ competitions locally too. I was getting really good feedback on the songs I was creating which made my future path pretty clear. I knew I was onto something with my songs and decided to move to LA in 2016 to pursue a career in music and to try my hand in the global music scene. It was here that I mastered my skills in audio engineering and production by getting production gigs and opportunities for other artists and even got to work at major label studios for huge artists such as Jason Derulo. At this point is when I started experimenting with singing and songwriting and turned out to be really good at it having been exposed to such a vast library of music throughout my life. I became obsessed with creating and writing songs and kept developing myself as a complete artist. I started playing my originals live for small sets of audiences and got really positive feedback which motivated me to keep improving. This is what gave birth to my music artist project 'Flyght Club'. Over the past five years of writing, releasing and performing my originals, I have successfully garnered a decent following on all of the music streaming and social media platforms and can see myself and my fan base grow everyday. All in all, I feel extremely blessed to get up every morning and just focus on creating music for a living and am extremely optimistic about what the future has to offer.
Alright, so let's dig a little deeper into the story – has it been an easy path overall and if not, what were the challenges you've had to overcome?
The road has definitely not been smooth but that's what's the most fun part of going in the direction of making it as a successful music artist. I love working hard, I love trying new things, I love failing at them and then coming back stronger. The obstacles are the best part of the journey. I love the concept of trying hard, giving your best and then eventually achieving the goal you set out for. It wouldn't be worth it and as satisfying if everything just came easy which is why I love the struggles that come with the ambition. In my case, moving to a whole different country with completely different cultures (since I grew up in India) at age 17, learning the ways, figuring out life on my own, networking and finding opportunities and making friends and finding ways to make enough of a living to survive while still keeping my headstrong, passion at its fullest and staying dedicated to achieving my dreams was extremely difficult, but the more I kept exploring and building motivation off of my small victories I kept getting stronger. I'm sure there's many more obstacles and struggles left to overcome in my journey that are gonna be way more difficult than the ones I've faced but I'm ready and excited for whatever is gonna be thrown my way.
As you know, we're big fans of you and your work. For our readers who might not be as familiar what can you tell them about what you do?
I'm a singer, songwriter, music producer, multi-instrumentalist, mix/ mastering engineer, composer and arranger. But essentially, I'm a music artist and occasional film composer. I go by 'Flyght Club' as my artist/ stage name and write, produce, perform, mix and master all my songs to ensure my vision of each of my songs is conveyed to the listeners exactly how I intend them to. These songs are then brought to life with a band when playing live with help of my incredibly talented musician friends. What sets me apart as an artist is how much I prioritize versatility in my music catalog. Every song I make is a different genre and caters to different listener moods and emotions. If I release a rock song, the next one might be a chill rnb bop, the one after might be a rap song and the one after might be a dance or a house song. I dive deep into different music styles with each song and bring forth all the essential intrinsic elements of that genre. My goal is to have at least one song in my catalogue that everyone could connect based on the kind of music they're into or what they're feeling. Also, my ability to use the influences of Indian music to come up with catchy melodies and parts in my songs, how I put in situations, stories and messages in my lyrics and the way I sing and articulate those lyrics makes me unique and different from everybody else thats creating music. I've also co-founded my band project with my homies called 'Circus Of Life' and given a shot at a more collaborative method of creating music. Having said that, I have a new single called 'Lead Me On' dropping on May 7th that I definitely recommend you guys to check out.
Are there any books, apps, podcasts or blogs that help you do your best?
I used to read a lot as a kid. My collection of books back home in India is massive and I'm certain that a lot of my ability to write lyrics stems from the amount of reading I did as a kid. I'm a huge Harry Potter fan and have read all those books way too many times. It just blows my mind how effectively J.K. Rowling creates a whole world and goes so well in depth into all the magical elements, also the character development is incredible. I also really appreciate Agatha Christie's murder mystery novels. Introducing the characters in a situation, developing them in under 200 pages while maintaining the level of suspense right till the end and making the end finale massive is very effectively done in those books. I also try implementing this when structuring songs by building energy, creating suspense and ending the song with a massive finale. In terms of apps, I guess the ones I use most are 'Instagram' to connect with my fans and 'Spotify for artists' to obsessively check my streaming stats, haha. I bet most music artists can relate to that. I've also recently gotten into TikTok. I love the concept of unlimited short video content that the app provides and the algorithm is fantastic in growing creators organically. I guess I gotta step my TikTok game up, lol.
Contact Info:
Suggest a Story:
 VoyageLA is built on recommendations from the community; it's how we uncover hidden gems, so if you or someone you know deserves recognition please let us know 
here.