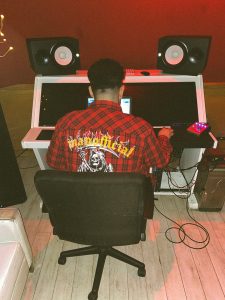 Today we'd like to introduce you to Richy Beats
Alright, so thank you so much for sharing your story and insight with our readers. To kick things off, can you tell us a bit about how you got started?
I was born in Inglewood, California. Raised in Lawndale. I've always loved music since I was a kid, maybe around five years old. I was always interested in music and I think one of the reasons why I have such a huge passion for it is because my dad would always have music playing around the house. Especially on Saturdays when he's cleaning.
The music would range from Dreams by Fleetwood Mac, The Eagles, Journey, to Rock en Español so he would have all kinds of music genres playing. Fast forward a couple of years later this video game called DJ Hero came out and this is gonna sound crazy but that game is what really made me want to do music. I was playing it one day and I told myself "you know what, I wanna get an actual turntable and do my own mixes. Sooner or later, I'm at BestBuy with my dad and we get a turntable. Nothing crazy just a basic one for like $100 bucks or something. Next thing you know, I'm just getting songs from YouTube and messing around with the knobs and stuff not knowing what I'm doing. So I was doing that for a couple of months, nothing serious and then I said "Alright, this is cool and all but now I wanna make my own beats". So fast forward a month later I was at my friend's house with a couple of other friends one day and we were talking about how I wanted to start making beats and one of my good friends recommended me FL Studio. So he helped me load it into my laptop and I started making beats. They were not the best at all. They were straight garbage actually. But I practiced every single day and watched tutorials on YouTube. Mind you, I was a Sophomore in 2014 so there wasn't a lot of producers making tutorials like nowadays.
After two years of practice, I got a little better in terms of using FL Studio and growing the skill as a producer. I still needed lots of improvement so I find this channel on YouTube called "Internet Money' with only one video on their channel and I remember it was a "How to make a Travis Scott Type Beat" tutorial. I clicked on it so fast and ever since then, I have been watching their videos till this day. After watching Internet Money tutorials, I quickly became better at making beats and I saw the progress grow fast. I never call myself an expert simply because I'm always learning something new. It's more about experience and I'm still not where I wanna be at. I am thankful on where I'm at right now though. I recently got into becoming an engineer so I could provide a mixing service for any artist and I produce songs with my friends. So that's pretty much how I got into music. Follow your dream and never let anyone tell you that you cant do something. Just do it. We really do only live once so just have fun with life. I really just wanna be able to support my family with this career. Being able to buy my family a house and make my parents quit their job so they could just enjoy their life. I'm super thankful I have supportive friends, family, and a wonderful girlfriend who has been right by my side on this journey.
Alright, so let's dig a little deeper into the story – has it been an easy path overall and if not, what were the challenges you've had to overcome?
Oh, most definitely not haha. There has been days where I'm making a beat and your brain just shuts off and can't come up with anything. (which is called beat block) It could get really frustrating but you just need to take little breaks and push through. Whenever I get beat block, I would just recreate famous songs like XO TOUR Llif3 and it would get me inspired. I also unfortunately dropped out of the 10th grade and my parents weren't too happy about it but they knew that school just wasn't for me. By that time though I already knew that I wanted to become a music producer, I just needed to work hard for it. But when you have Hispanic parents, it's a little hard trying to tell them that music is what you wanna do as a career. They wouldn't really believe it until they saw money coming in. But over time, they saw that this is what I wanted to do. They saw all the hours I put in, all the money invested into it and they said, "okay he wants to do this". So ever since then, they've been nothing but supportive about my career.
Thanks for sharing that. So, maybe next you can tell us a bit more about your work?
I'm a music producer and engineer. I'm pretty experienced with music production but as far as engineering, I have quite some learning to do still. I started engineering about two years ago because I got inspired by Alex Tumay. By listening to the songs, he's mixed like The London by J Cole and most of Young Thugs songs. You could tell he mixed the song because he has a unique way of mixing that you could just tell it's him. So that really inspired me to become an engineer, so I watched some of his live streams on YouTube and just studied them really. I have a couple of friends who make music as well and we would always just meet up at my house. I'd have them record in my garage and I'm really the only one who knows how to somewhat mix songs so I would just mix their vocals and upload songs on my SoundCloud and other major streaming services.
After months of practice, I think my mixes have improved a lot with lots of tutorials. I would say the thing that people recognize me for are my mixes in both my beats and songs I work on. I would say it sets me apart from others around my area. Not throwing shade or anything, everyone has their own sound but the way my beats are made and mixed just don't sound like the rest. Everyone is unique in their own way though of course. I'm experimenting everyday to try finding a new sound. I learn something new everyday and I look forward to learning new things in the future.
We'd be interested to hear your thoughts on luck and what role, if any, you feel it's played for you?
I think I have good luck and bad luck at the same time. Good luck being that I could make good sounding music for people to hear and being able to learn about music. My bad luck is that not a lot of people have discovered me yet, haha. But I mean I don't mind though, it's not all about the clout but I do wish I had a little following behind me sometimes. I've had a couple of people tell me "omg how are you not famous yet?". I never really know how to even respond to that so I always just say I have no idea, lol. I believe there's a time and place for everything though so I just wait for my turn. I just keep my head down and work until something happens.
Pricing:
Contact Info:
Suggest a Story:
 VoyageLA is built on recommendations from the community; it's how we uncover hidden gems, so if you or someone you know deserves recognition please let us know 
here.