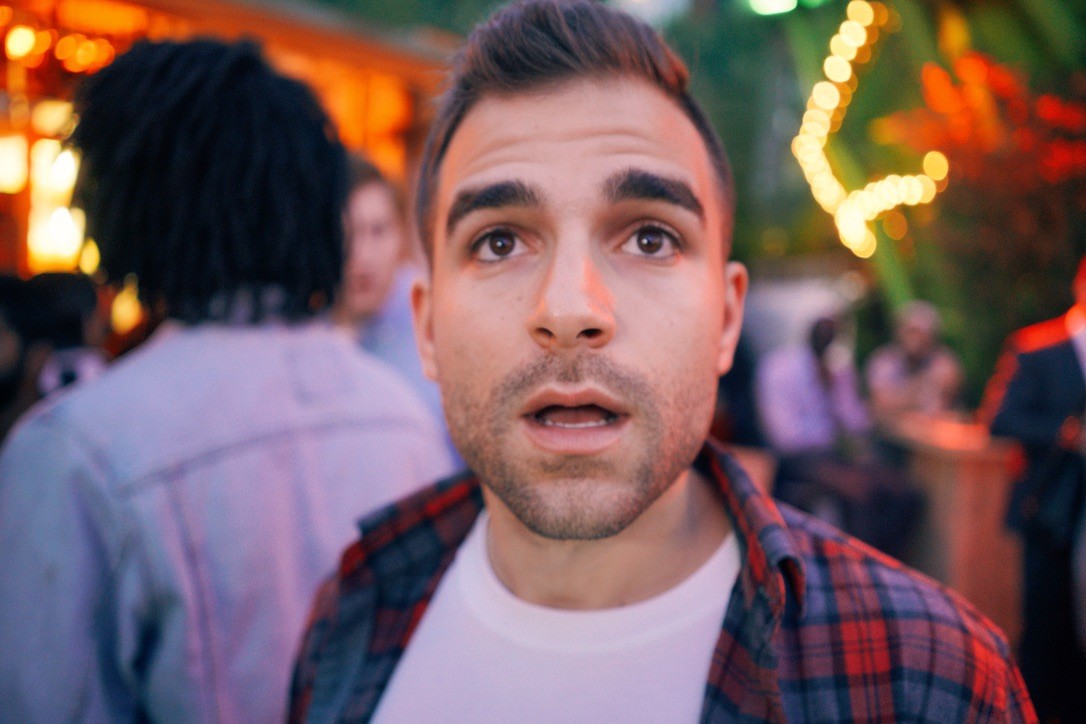 Today we'd like to introduce you to Peter Karl.
Hi Peter, we'd love for you to start by introducing yourself.
So my story started when I was handed a unicorn skull by a real-life Albus Dumbledore in 2011. I was 22 working as an editorial assistant for a news agency in West LA and we were doing a magazine feature on a guy in NorCal that started an online wizarding school. Dressed in full Hogwarts-esque garb, the unicorn, he said, was a goat whose two horns had been 'humanely' fused together at birth. After a long career in the Barnum & Bailey circus, the unicorn enjoyed a short retirement back with his owner and passed away a few years before. And here I was holding its skull… Before meeting our Dumbledore, my boss and mentor, Jeff Maysh, an LA-based British journalist, author and the best storyteller I'll ever know, had been training me to think how every story has layers to it. Something surface level like a Wizarding school & a unicorn skull may hook you, but the real story is much deeper than that. Our piece turned out to be an amazing profile of a man who'd dedicated his life to helping kids & adults imagine the unimaginable, gave them a community of like-minded free thinkers, and in the process, lived a one-of-a-kind life.
While I knew magazine features weren't my future, the experience, and Jeff, taught me that I wanted to be a storyteller. There's something unpredictably rewarding about taking someone's story, and shaping it, elevating it, and giving it a meaning beyond the ordinary. And that's not to say twist the truth, but use it to inform, inspire, and surprise an audience in the best way possible. After a couple of years at that news agency, I had an itch for adventure. I was an athlete in college so didn't have a chance to study abroad or travel much. I'd desperately wanted to learn Spanish, so I moved to Colombia for a year where I volunteered on a farm for a few months (shoutout WOOF), then got a job in Bogotá as an English translator/reporter in a newsroom. The whole experience was crazy and eye-opening. When you're that immersed in a foreign culture & language, it's like survival mode kicks in and you just find a way to keep up. The Spanish started clicking, and during a conversation with some friends in the US, we came up with an idea… We are all obsessed soccer fans who studied either Film, Journalism and Writing at Emerson College, and the World Cup was in Brazil the following summer…
So we decided to combine our strengths and raise money to shoot a documentary traveling from the US to Brazil for the World Cup, exploring different Latin American cultures through the lens of soccer along the way. And we did it. Through crowdfunding, sponsorships, and some generous donations, we raised enough to get us to Brazil. So we mapped out an itinerary, researched stories in each place, and off we went. Our approach was to have a plan but be open to spontaneity. We ended up meeting fútbol legends in remote villages in Ecuador, playing blind soccer in Colombia, and investigating supporter gangs in Argentina, and way more. It was the most fun and challenging experience of all our lives. And it cemented my desire to be a documentary filmmaker. Upon returning to the States, some short videos we'd produced on the road had caught some eyes at Major League Soccer in New York. I ended up freelance producing at MLS for a year and then took a full-time job as a Senior Producer at COPA90, a soccer-centric digital media company. It was a dream job. New York was home base, but we were flying all over the world – Belgium, Sweden, Peru, Mexico – producing & directing short soccer documentaries. I'd come to realize that yea, soccer is an amazing passport to see the world, but what I loved the most was capturing collective experiences. There's something about the culture and communities around sports, especially soccer, that create an energy and an escape unlike anything else.

And all during this time, we were finishing the documentary about our travels in 2014. American Fútbol first appeared on YouTube as a web series and is now on Amazon Prime as a feature documentary. We're immensely proud of it. But it was our first feature film. And we're determined to make more. Eventually, love and work brought me back to Los Angeles. I loved New York. But the work-life balance in LA is more my vibe. I now work as a freelance director & producer. I've produced doc series for the NFL Network, and in 2020 I directed a football documentary for Fox Sports called The Long Game. Also, some friends and I have recently decided to start our own production company, Goodform. We're a collection of producers, directors, and DPs who wanted to combine networks and resources and build something together. And that's where I'm at today. Not gonna lie, the pandemic has robbed me of my two loves, sports & travel, so it hasn't been easy. But it's been humbling and refreshing to step back and think about what's next. Hopefully, it doesn't involve another unicorn skull.
We all face challenges, but looking back would you describe it as a relatively smooth road?
The biggest struggle I've experienced is dealing with the unknown. Every step has involved some uncertainty and some blind faith. I first moved to LA after graduating without ever visiting. All my college friends had moved out here, so I said screw it and drove across the country. And I would've never met Jeff or Dumbledore. Moving to Colombia for a year? I didn't know what the hell would come from that. But it was an experience I'd trade for nothing. Deciding to travel 8,000 miles from the US to Brazil with three friends and shoot a film? That felt crazy at times. But it jumpstarted my whole career. Moving back home to Connecticut after that? That sucked. It felt like step backward. But it got me to New York. Then, coming back to LA and going freelance, that was some real uncertainty. But so far, it's working out. Today, we're all in a period of uncertainty. And as much as this pandemic sucks, a lot of positive is bound to come from it. But that doesn't make the other side any less frightening. I guess if I've learned anything from this, it's that if you can keep one foot in something you like doing and the other in something that scares the crap out of you, that's means you're on a decent path. And it's gonna keep you moving. Some people want to be comfortable and to each their own. But once I'm comfortable, I'm bored and need to find something scary to do.
As you know, we're big fans of you and your work. For our readers who might not be as familiar what can you tell them about what you do?
But I'm a director & producer who specializes in sports documentary & branded content. I'm known for making films about soccer. I'm most proud of the documentary three of my best friends and I made about our travels from the US to Brazil for the World Cup in 2014. It's called American Fútbol. And I think my biggest strength is disarming people. If I were on the other side of the camera and some strangers were filming me, I'd be skeptical & timid. So getting subjects, no matter who they are or where they're from, to be comfortable, natural, and open up is what I'm best at. I've never directed or produced any narrative films, but I guess a documentary subject wouldn't be too different than coaching an actor. A cagey or stiff performance isn't going to make for interesting viewing or reveal anything for the story. And it isn't just me who makes that happen, it's the entire crew. It's why I prefer to work with small crews of approachable people with warm energy, so we're the least invasive and intimidating we can be.
Before we let you go, we've got to ask if you have any advice for those who are just starting out?
My advice is to consider the road less traveled. I went to college for journalism, and I remember the most influential professors in the program would encourage us to choose one of a few paths to "certain success." They'd plug you into the school's network and then off you go, just follow the steps, work hard, and you'll be OK. That sounded awful to me. I was always into sports and grew up watching ESPN and wanted to be in sports media, but to move to Bristol, Connecticut and be in the PA program and work my way up the ladder? There was no adventure in that. Too much certainty. Now that path has probably paid off for a lot of people who've made more money or won more awards than I ever will. And for many people, that is how you rate success and they absolutely deserve it. But you can also rate success by the experiences you have, the places you go, and the people you meet. I wouldn't say I necessarily knew that when I was starting out, but looking back I don't think I would've chosen any other path.
Contact Info:
Suggest a Story:
 VoyageLA is built on recommendations from the community; it's how we uncover hidden gems, so if you or someone you know deserves recognition please let us know 
here.