Today we'd like to introduce you to Paulina Tobar.
Hi Paulina, please kick things off for us with an introduction to yourself and your story.
To put everything in context, I am a stage manager, singer, and actress but that was not what I expected to be doing, I was a competitive roller skater in Chile, and I thought/wanted to be doing that for the rest of my life.
For 13 years, since I was 4 years old, my life was roller skating. Training 5 days a week, and sometimes I would train every day because we had competitions every other weekend.
That was my life, plus middle/high school, doctors (to keep a healthy body and mind), and some family and friends time here and there. When I was 8 years old, I discovered that I could sing so I signed up for a singing academy, but it was just a hobby at that time.
After a couple of years, in 2008, I classified for the South American Championship of Roller Staking in Brazilia, Brasil, and when I was training day and night, every single day for it, I fell on my tailbone and I injured myself. The championship was in July, and I injured myself in March of the same year. My head physician told me I could not compete because my back injury was possibly going to get worse, but either way, I needed to stop skating for a long time.
That is when I decided that if I was going to stop skating, it was going to be with a South American Champion title under my name, and I insisted on competing. After a lot of therapy and training, and against all the odds (there is a lot more to this story), I went to the competition and I won the category I was competing in, Danza Creativa (Creative Dance).
After that triumph, I hung my skates. I did not know what to do with my life, and that is when I made the decision (all this with my parents' permission and support) of submitting to an Exchange Student Program through the Rotary Club and going to Pittsburgh, PA. I did my junior year of high school there, and it was one of the best and most life-changing experiences of my life!
This trip made me realize, that not everything was lost when I couldn't roller skate anymore, that I had more skills in me, and that I just needed to work hard towards them. But if roller skating taught me something, that is perseverance, hard work, and resilience.
When I went back to Chile, I started taking singing lessons with a vocal coach and started writing songs. Then, I participated in a Singer-Songwriter Festival called XII Festival de San Javier 2013, in Chile, with one of my own songs titled Tu Presente, and I won first place.
That same year I released my album titled Sueños, and I started presenting it here and there while going to the conservatory of music of Universidad Mayor, for popular singing with a major in Musical Theatre.
One of my biggest idols is Liza Minelli, I fell in love with her work ever since I was part of a group choreography on skates and we skated to Cabaret from the musical Cabaret. Between writing my songs and studying musical theatre, I started working in a musical theatre company called Teatro Petulante.
We did Little Shop of Horrors where I played Crystal, and then I played Magenta in the production of Rocky Horror Show in the same company (I had so much fun playing her!) I was also part of the ensemble of a production of Les Miserables, and of a show where we combined different songs from different musicals that we called Ticket to Broadway.
In 2016 I decided to audition for The American Musical and Dramatic Academy in NYC. I got in and moved to NYC the following year as an international student. (Wow, this is getting long) After doing the two-year conservatory, I started my OPT, an employment authorization that allows you to work within your field of studies while on your student visa.
One of my best friends, Christian, needed a Stage Manager for his play, ANN, which was part of the New York Theatre Festival at The Hudson Theatre. So I jumped right in to help him. And to my own surprise… I loved it! I enjoyed every single moment of working backstage, and that was when my career as a stage manager started. I started getting more gigs until I decided to get my BFA in Musical Theatre at The New School in January 2020.
After I graduated in May 2021, I started working as a Stage Manager non-stop until now. And I have been getting all the gigs by word of mouth, so that must mean something about my work.
Would you say it's been a smooth road, and if not what are some of the biggest challenges you've faced along the way?
It has not been a smooth road at all.
As I mentioned before, my career in the performing arts started because I could not roller skate anymore due to a back injury, and since I was already in a singing academy, I thought I could give it a try. Of course, it wasn't an easy decision to make and to accept because, back then, I thought roller skating was going to be my future. But the change of path I took has been the best ever.
Moving to the US was always a dream of mine ever since I did the exchange program in Pittsburgh, and being able to be here now with a BFA in Musical Theatre and working in the performing arts is still, sometimes, surreal.
It does come with some consequences though, including being away from my family and friends in Chile. It is still hard sometimes to not have my family physically close to me, or in the same house, especially when my brothers, my parents, and I have been always very close.
The culture is also different. Chilean traditions that barely exist here, the innate warmth of the Latin American people is something that sometimes is hard to find in the US. It is hard to get used to it, although not impossible. But also, I have created my own family here, my friends, they are the family I get to choose. And I wouldn't change them for anything in the world. I am thankful for them and everyone I cross paths with every day.
Lastly, one of the most complicated challenges I had was about a year ago when I realized I was a good Stage Manager, and that I am passionate about it and I love doing it. I mention this realization as a challenge because I was constantly judging myself because I didn't come to NYC to be a stage manager and that for me was like betraying the "Pau" from 5 years ago, I guess.
But after reflecting, being aware of, and accepting the intense passion I feel about stage managing, collaborating, and creating safe spaces for performers and creatives, I came to peace with myself and my mind, and started releasing and letting any judgment towards myself go.
Thanks – so what else should our readers know about your work and what you're currently focused on?
I am focusing on stage managing as many shows as I can to gather as much experience as possible.
Currently, I'm stage managing a new musical called Brilliance at the Players Theatre. I am very proud of my hard work, my attention to detail, and my optimism in what I do. And I can happily say that it doesn't go unseen because I have been told so, and I can sense it from how people treat me and how my colleagues refer me to directors, producers, and creatives that are looking for a stage manager for their projects.
One of the things that set me apart from other stage managers is that I am also a performer. I know how it feels to be on stage. I know how things work from their point of view. Of course, I don't know what is going on in their minds, because we are all different, but I know how to approach the performers when I think something is going on.
I am still working on being a better stage manager every day, learning from the actors, the crew, the creatives, and from my own mistakes, and as a performer, I have that sensibility and I try, every day, to be stage manager I would like to have as an actress.
Before we go, is there anything else you can share with us?
I just want to invite everyone to not be scared of the changes that they might experience in their paths in their careers. Embrace that change and reflect on why it is happening. We all have so many unknown talents, and we need to be open to discovering them. It may be scary because it can take you to places that you weren't expecting to be in.
That discomfort, that change, that… is growth, and you have to be proud of that. Growth happens every second of our lives, we just need to be open enough to see it and celebrate it.
A personal note from the director of Brilliance The Musical (off-Broadway): "Pau is stage managing our Players Theatre production of "Brilliance," and she's nothing short of phenomenal! She seems to be doing everything all at once and she is so detail-oriented that she can't possibly be getting any sleep. I've seen her act and I know she writes songs and produces and in short… she's a TheatreMaker! One of the very best I've ever seen! If you're making theatre and you have Pau on your team, you're going to be just fine. She's one of the very best production team members I've ever worked with in my entire career and if I could have her on every show I direct, I would!"
Contact Info: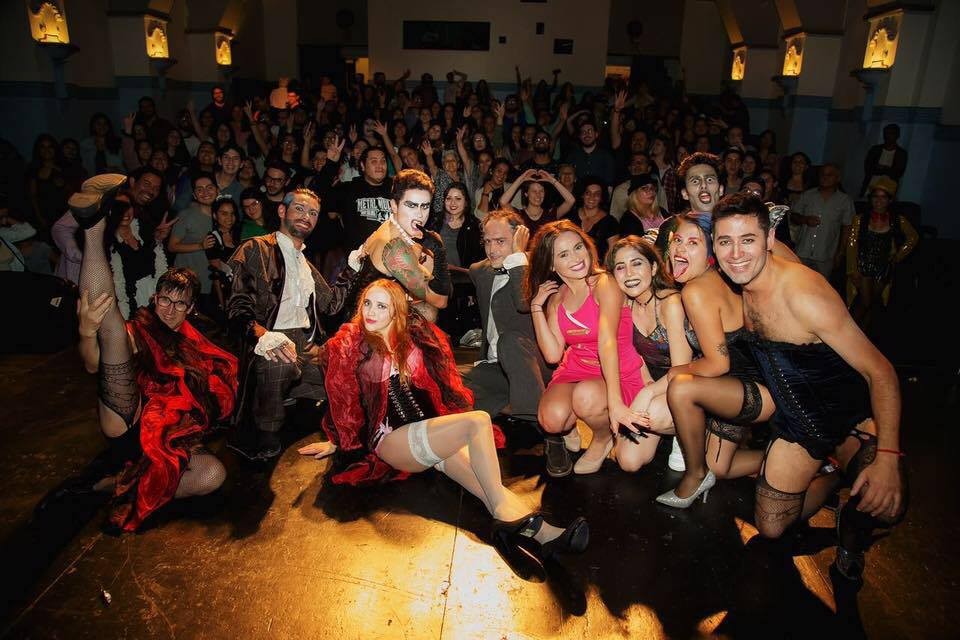 Image Credits
Davita Aundréa and Ben Kramer
Suggest a Story:
 VoyageLA is built on recommendations from the community; it's how we uncover hidden gems, so if you or someone you know deserves recognition please let us know 
here.