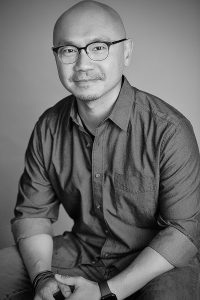 Today we'd like to introduce you to Pakk Hui.
Hi Pakk, we'd love for you to start by introducing yourself.
I was naturally drawn to music from an early age. Growing up partly in Hong Kong, I was exposed to Cantonese pop music, which was always playing in our house. It was sometime around 4 or 5, while at a family friend's house, I sat down at their upright piano and started playing both hands, melody and harmony. From that moment on, I was hooked. I remember asking for piano lessons, but my parents were not convinced that it was something I would stick with for the long haul. Let's face it, we were a working class family. Piano lessons seemed like an expense my parents were not able to afford. When I got to elementary school, there was a melodica ensemble, which I immediately joined. It was there that I started learning music. The melodica is a wind keyboard instrument that was very popular in Japan at the time. It has a similar timbre as the accordion.
Once I got my hands on the melodica, I was playing tunes, even the accompanying violin parts from pop songs. Our school ensemble would go on to win competitions around Hong Kong. While I was developing the love for music through the melodica, I was also immersed in Western cinema. My dad watched a lot of American films. I remember seeing ET in the movie theater. But my most memorable cinematic memories were from horror films, specifically The Omen and The Exorcist. I must have been not more than 5 or 6 when I saw these films. It was probably highly inappropriate, but these were the films I grew up watching. In addition, I remember watching Castle in the Sky (Miyazaki film, music by Joe Hisaishi), and that was my first time being aware of the score from a film. It had made such an impression that I would play the melodies from that film on my melodica from memory. Until one day, my brother brought home the CD soundtrack. I took that CD and put it on repeat. I explored music as much as I could with my melodica. Then in 1991, towards the end of my 7th grade school year, my family emigrated from Hong Kong to Middletown, New York. It wasn't until high school that I began formally studying music. I started taking piano lessons and I also got in the wind ensemble and jazz band playing the alto saxophone.
Up to this point, I was playing mostly by ear. But I was finally able to learn music in a formal way. During high school, I continue to immerse in movies. The one score that made an impression was Jurassic Park and Forrest Gump. And when I re-watched films like The Omen and The Exorcist, I realized finally how much of an impact the music had in the storytelling. These scores solidified my love for film music. But my road to film music wasn't quite a straight path. Ever since I was a child, my parents had pushed me to become a doctor because my uncle was a doctor. Since I did well enough in my sciences and math. so I went along. And truthfully, music was never really a possibility as a career path anyway because music was just so far removed from what was realistic and practical. Then I went to Union College (NY), majored in biology and minored in music. There I played in the jazz ensemble, sang in the men's a cappella group, and played a few percussion instruments in the orchestra a few times. While I was not actively pursuing the possibility of music as a career, music was still always in the periphery. In my senior year, as a music minor, I was given the opportunity to do a senior project. So I consulted with my advisor, Hilary Tann, and she encouraged me to write a piece for the college orchestra, and the piece would be performed in the spring trimester.
For a while, I couldn't come up with any themes. Then she asked me if I have anything in my life that was worth writing about. My father had passed away suddenly during my freshman year. I never quite really dealt with his passing. And to write my piece based on him would mean so much to me but at the same time force myself to face his passing and share something so private with the audience. With slight hesitation, I began writing theme about my dad. To my surprise, the music flew out of me. Within a couple of months, the piece was complete. I called it Beloved (for Chun Keung), which premiered in May 2000. It was an extremely surreal experience. I felt vulnerable, emotional, and thrilled all at the same time. This was my first taste of writing and sharing my music. Throughout this time, my love for film music continues to grow. When I finished my undergraduate degree, I continued at Union College in their MS (in Healthcare Management) and MBA (in Health Systems Administration) programs. I was also working at General Electric in their Health Care Delivery division, with the full intention to somehow get into med school or work in the health care field. In one of the management classes, we had to read a book called Who Moved My Cheese. And that was the turning point. The book illuminated to me to pursue what I love, which I always knew was music.
As my time in my graduate programs came to an end, I was trying to figure what would be my next step. Film music seemed like a daring next chapter. When I typed in film scoring school in google, Berklee College of Music was the first search result. I decided to apply, and if I get in, then I'd go. And I got in! I started at Berklee in 2002, majoring in film scoring and composition. Finally, I was able to dive in the kind of study that would cement my love for film music. In the summer of 2005, I moved to Los Angeles to begin to pursue a career in film music. Well, it wasn't that simple. To make ends meet, I taught piano for a few years. I also worked as a production assistant on a documentary. I participated in the Television Academy's summer internship in 2006 and the SCL mentor program in 2007. Also in 2007, I began working as the personal and studio assistant to composer Brian Tyler and Keith Power. I began doing orchestrations and ghostwriting for them. And in 2010, I left their studio to be on my own and do ghostwriting full time. Over the years, I've ghost-written and written additional music for several films in the Fast and Furious franchise, Power Rangers, Teenage Mutant Ninja Turtles, and TV shows like Hawaii Five-0, Magnum P.I., Warehouse 13, and What's My Name: Muhammad Ali. My journey in film scoring continues.
Can you talk to us a bit about the challenges and lessons you've learned along the way. Looking back would you say it's been easy or smooth in retrospect?
As a person of color who's gay in an industry of mostly cis white male composers, this road has not been easy. Here's one of many examples of just how much the people in the industry treat people of color. Over the years, I've had the opportunities to engage with several prominent film composers. They always offered me encouragement to follow my dream. However, one piece of advice I received early on had a profound impact on the way I perceived myself in this industry. "With a name like yours, you won't make it in the business. You should change it." This composer elaborated that no one would want to hear my demo because when they saw my name, they would immediately dismiss me. He insinuated that Asian composers simply couldn't write music for various genre films. Somehow, filmmakers and studios would only think I'd be a fit for kung fu movies. He made it abundantly clear that an Asian composer's place is in Asian cinema. In his opinion, if I had at least a Westernized first name, then I might have a chance in getting my demo heard. Regardless of my daily experience of micro-aggression, this one cut deep because it came from someone whose work I admired. Could this be true? Could the name that was given to me at birth somehow lead me to failure rather than success? Could the combination of letters, resulting in a sound that identifies me as me, automatically eliminate me from being considered for projects, despite my merit, talent and perseverance?
At the time, I believed this. I only knew of a handful of Asian composers who had become successful in their respective countries before gaining notoriety in the US. This weighed on me for some time. Did I really need to change my name to succeed? I've always given a different name to baristas. Maybe this wasn't so different from ordering coffee? As I drew from another life lesson of my own coming out as a gay man, I recognized that I have to lead a life that is authentically mine. My name is part of who I am. Then, it became clear to me, changing my name was not an option. It was precisely this piece of advice from all those years ago which made me realize I am not the one who needs to change my name. I am not the one who needs to be ashamed of my Chinese heritage and my unique experience as an immigrant. I am also not the one who needs to tiptoe around my sexuality. It was specifically this experience that made me understand, what needs to stop is the false notion that we as a people are somehow less talented. What needs to end is the industry's consistent belief that we are less deserving of opportunities. People from under-represented groups have interesting and meaningful stories that need to be told. We are worthy of a spot in the writer's room, behind the camera, at the editing bay, and certainly, at the podium in front of an orchestra. Exposure creates room for tolerance; tolerance leads to acceptance. Our shared human condition connects us. Our stories unite us. Therefore, inclusion is no longer an option; it's a requirement.
Can you tell our readers more about what you do and what you think sets you apart from others?
I write music for film and TV. A lot of my recent work has been as an additional music writer for high profile films and TV shows. I also write on indie short films. What I've been most proud of are scores I written for the recent short film Circuit and one from many years ago, called Tsuyako. I think what sets me apart from others is my unique journey to this point. I have a unique perspective of orchestral music with electronic elements rooting from a Western musical training and an Eastern upbringing.
How do you define success?
Success is different for everyone. For me, success would be to able to write music that I'm proud of and to be challenged artistically through the collaboration with other filmmakers.
Contact Info:

Image Credits:
Headshot: Marc Cartwright Recording Sessions: Mitsuyo Miyazaki
Suggest a Story:
 VoyageLA is built on recommendations from the community; it's how we uncover hidden gems, so if you or someone you know deserves recognition please let us know 
here.