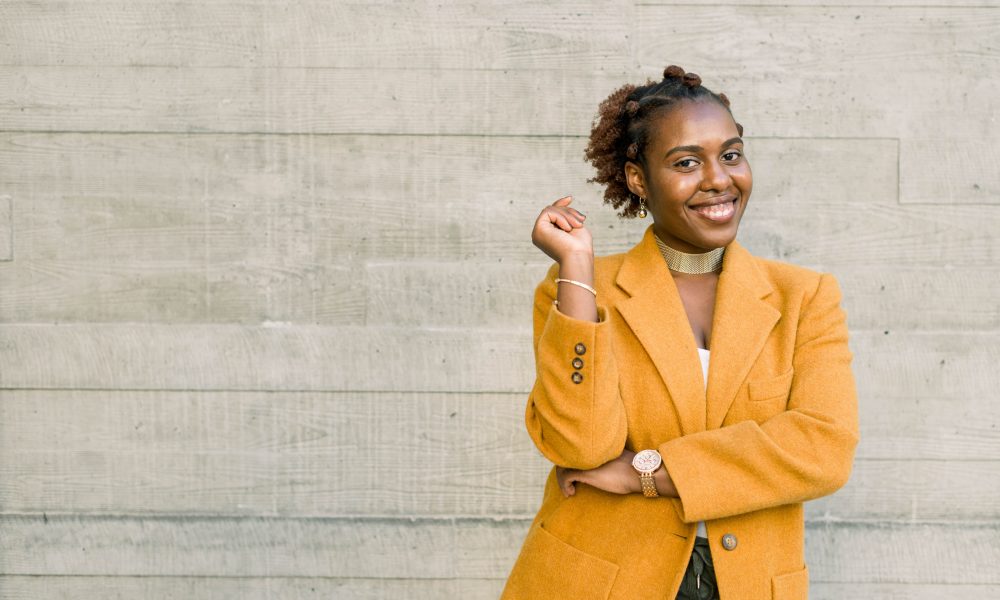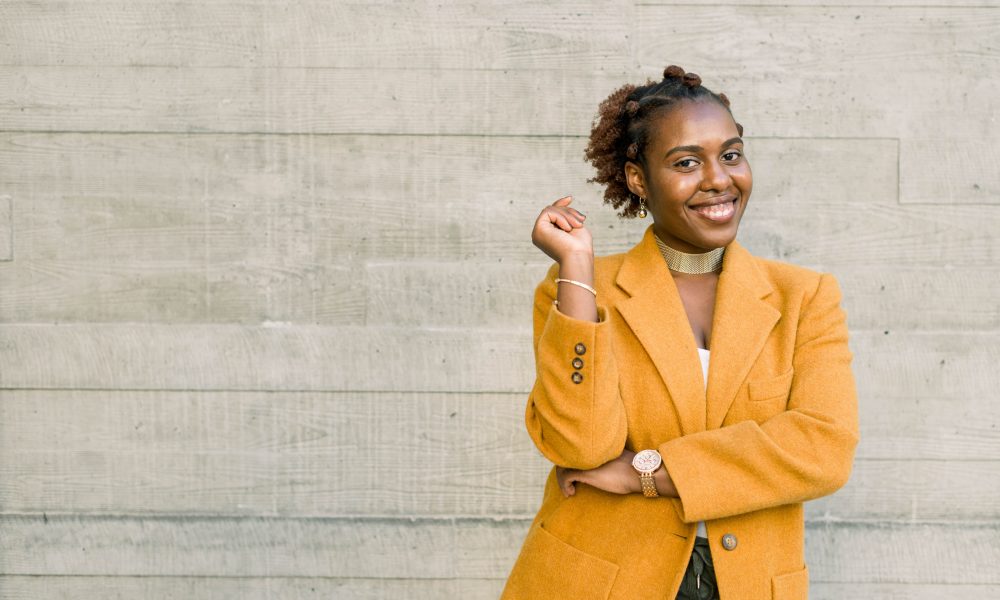 Today we'd like to introduce you to Opeyemi Famakinwa.
Hi Opeyemi, we'd love for you to start by introducing yourself.
I am a Jersey girl born and raised and attended Villanova University for college. As a PWI, Villanova was a 'this is what the real world looks like and figure out how to fit in' type of experience. I would say my college years helped to formulate who I am in terms of identity, passions, and the type of relationships I want to foster. I came into college studying chemistry so I could work in cosmetics. One summer, I had an internship at L'Oréal, which was such a phenomenal experience. I was able to orchestrate my own research project, which I had the opportunity to present to a panel of some of the company's VPS. While that was an exhilarating experience, I had an epiphany after the internship- "I don't want to be stuck in a lab all day!" So, coming back to campus, I told myself I needed to find something to balance out my time with Chem, and a little later, I declared communication as a minor. Communication was something I knew was important to have in any field of work- whether working with a team or doing presentations, it teaches you how to interact with people and build relations.
Since taking on the minor, my eyes opened up to a whole different world. In my first communication class, I remember talking about Super Bowl commercials and how everything felt so at ease and natural because it related to things we deal with daily. And so flash forward to one class in particular that I took, a social justice documentary "class" where a group of 18 students became our own production company. From picking our positions, coming up with a production name, and creating a story, we had to work together to produce a film that meant something to each of us while touching on an important social justice issue. I was a line producer, so my job was basically, "how do we get money to buy equipment, travel, film, and everything in between within ten months." And so for the next year, my life was transformed, and I was exposed to the world of film production. The experience had me challenge my thoughts and beliefs about race, the African diaspora, the Black Lives Matter movement, and just who I was as an individual. It was a very demanding yet worthwhile period in my life that brought out a film that to this day continues to make waves. Gaining more interest in film production, I devoted time to research and learn more about it. Growing up, I never saw or heard of a Nigerian, or African in general, around me working in entertainment. So it was almost like learning about a whole different world, learning and absorbing as much as possible.
A few months after graduating, I moved out to California. This was a decision that had been pulling on me for over a year, and I felt an inkling to challenge myself, something I've always done growing up. So as I was in this transitional period, I wanted to dare myself to be somewhere different, discover myself, trust in my faith, knowing I always have my family's support and love. My first job out here was still in STEM, which taught me about working in a business environment and incorporating interpersonal relations as I'm interacting with clients. I did that for some time, and then the pandemic happened. As we all know, it was just a lot going on in the world, and during this time, I knew I needed to switch directions, take care of myself in a way that I never did. And so I decided to pursue production and allow myself to break out of my comfort zone, build my tribe, and focus on living a life full of purpose.
We all face challenges, but looking back would you describe it as a relatively smooth road?
Mm – are any roads really smooth – haha. You know we're still on this road moving, but I can say there have been ups and downs. My journey is my own, which I am happy for because I am my unique self at the end of the day. But there have been times when you wish there was some rulebook or manual to help explain why I'm thinking some things and feeling a certain type of way and what's a solution to this and so on and so on. But looking back, I wouldn't trade the struggles for anything. To highlight some of them specifically, I'd say trust and confidence in myself, as well as building my faith. As a woman, a black woman, and 1st generation Nigerian American, there are so many unspoken expectations and pressures that sometimes it feels hard to keep up with. For me, I grew up with people seeing skills in me that sometimes I never saw in myself, and it's great that they see potential and greatness in me. However, the potential they see starts to become a pressure that I start to feel, and so here I am, trying to see what they see while also working to maintain and go beyond that- and that can be a lot. I think another thing for me is life has ups and downs, and things happen, and there's never a clear explanation for why. And so I've had to learn how to let go and not always need an answer which is where faith comes in.
Thanks for sharing that. So, maybe next you can tell us a bit more about your work?
I am a creative producer who specializes in films, with the hope to go into features, but for now working to explore and learn as much as I can about the industry, be that in Films and TV. While working in production, another aspect of my work is community engagement, specifically for women of color and the black community. I started an initiative last year to support black-owned businesses not just monetarily but also to understand their true needs and build relationships to provide them with the necessary resources and tools they need to survive and feel supported. While the two seem like different fields of work, I have been able to bring my creative background to highlight both- one being a docu-series that I've worked on that talks to black business owners about who they are, their journey and business, while just shining a light on the people behind the service/products.
I also utilize events and programming as another medium where I'm able to creatively display the services and product of the people that I've connected with, using the platform as a way to educate and share the specific resource with my community while also presenting it in a fashion that's informal, has great vibes and something to keep people entertained and lively, especially during this pandemic. Within my production work, I have to say one of the things I'm most proud of is the documentary I mentioned earlier, called Sankofa, which taught me more about production than I could have ever imagined. The film has been fortunate to receive accolades from festivals around the world and even had the privilege of winning a Student Academy Award in 2019. Sankofa has continued to touch the lives of so many people worldwide and really serves as an ignition for dialogue, especially since the topic of the film is so relevant to what's going on today in the world in terms of racial tension. This just continues to inspire me about the power of storytelling.
While I have the work that keeps me busy, I think something that sets me apart from others and I pride myself on is my intentionality to build and cultivate relationships with people. Whether that be with a production crew, business owners in my neighborhood, my girlfriends, or just people I'm networking and meeting in other ways, it is important for me to not only interact and hear their stories and the work they do, but I believe from those interactions you learn more about other experiences and backgrounds of people and sometimes even a little bit more about yourself. I think there comes a time when the thoughts and beliefs we grow up with can sometimes be challenged or just brought to light in a different way when talking to people. So for me, I really enjoy and appreciate building relationships with people in all areas and backgrounds because it's a chance for me to explore things that I may not have ever been exposed to.
Have you learned any interesting or important lessons due to the Covid-19 Crisis?
Oh, wow, I feel like how can you not learn anything from this past year and just experience as a whole. For me, something that was very interesting was the idea of not having control of things. There were times when it just felt like there were things out of my control, and of course, not being able to live life the way we're accustomed to adding to that, and it just really made me feel powerless. Looking back, I think that's a lesson in itself- not only not being able to do anything but being okay with that. COVID reminded me that life is so precious, and sometimes we always want to take it by the horn and move and run and do everything we want to do, but sometimes we can't. Sometimes we have to sit still and let God roll out His plan and not try to put our two cents in. A big lesson that I take away from the beginning of COVID, as we're still in it, of course, is nothing is in vain. God has a plan that I could never understand, and He brings us to situations that He will bring us through whether we see what the end of the tunnel looks like or not. And so, I definitely learned to stop trying to be in control and make things happen because as much as I'm working, it's not guaranteed I'm going to get there faster. Sometimes it just won't work out, and I have to be okay with that, and so that's definitely been my lesson from COVID: being okay with not being in control.
Contact Info:

Image Credits:
BrittneyJean Photography
Suggest a Story:
 VoyageLA is built on recommendations from the community; it's how we uncover hidden gems, so if you or someone you know deserves recognition please let us know 
here.
What to check out next:
Aleasha Bahr is a sales & marketing strategist known for showing introverts and ambiverts the Secret Art of Subtle Selling.  She personally sold millions in revenue while discovering introverts are usually top sales people – as soon as they stop trying to act like extroverts.  We've partnered with her to produce Introverted Entrepreneur Success Stories. Check out episode 1 below: