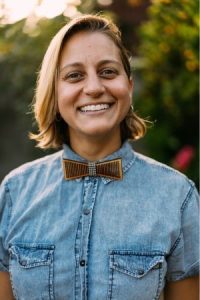 Today we'd like to introduce you to Melissa Minneci.
Hi Melissa, so excited to have you with us today. What can you tell us about your story?
Growing up, my parents who immigrated to the United States (my dad from Sicily and my mother from Venezuela) always had 2-3 jobs each, so hard work runs in my blood. With no immediate family around to help take care of my sister and I, they knew they needed to create their own opportunities by being creative, resourceful, and hard-working. That was through entrepreneurship. My father started a business hand-painting business signs while also working for Delta airlines and my mother owned a flower shop while also being a teacher's aide, waitressing, and catering. My sister and I basically grew up in the flower shop and what I learned from this upbringing are core values that I continue to live by today in my work ethic, even if that meant selling flowers on the corner street. I loved to make and break things and when limited on resources, creativity was essential so I learned how to create something out of nothing by envisioning the potential of it and turning into something else. That is at the core of my maker spirit and is foundational to Minneci Makers. Working in a maker space, I'm known to make custom gifts for people because of the access I had to laser cutters, 3D printers, CNC machined, lathes, table saws, sewing machines, sheet metal break and more.
One day, I found a small piece of wood in the trash and decided to make something of it – that something was a wooden bowtie. I needed to create the neckpiece that would stretch and easily expand and contract – this is where I had the idea to use bra straps since they have similar functionality. Yes, a bra strap – this is the power of innovation through cross-pollination of sources. So after years of creating custom gifts for friends and family members, or strangers I would meet, and with the unconditional support from my spouse who encouraged me to follow my dreams, I saved up enough to purchase my own laser cutter and 3D printer and other machinery to create my own maker shop. Typically, for anything I make, I start with designing and manufacturing for someone and then scaling it from there. An example of this is with my spouse being a hard-core LA Dodger fan, I made custom wooden stud LA earrings for her. Little did I know they would make it to the World Series in 2020 and they were a top hit on my Etsy page! Since then, I have made various wooden stud earrings including sunflowers, pineapples, butterflies, and many sports team logos.
To honor my Latinx community during Hispanic heritage month, I designed a Mexican/Spanish Talavera tile wooden bowtie for my Chicano friend and artist Raul Pizarro and made matching earrings. These creations have led to personalized bamboo cutting boards, custom dog treat jars with wooden veneer lids, photos engraved on live edge wood, leather patch hats, acrylic domino set, ornaments, and more. It usually starts when someone reaches out with an idea and I commit first and figure it out later because it challenges me to try new things and grow in my skillset. As you can imagine, business operations, logistics and efficiency is needed when running a small business and that's where my wife comes in as the boss lady. She and I divide and conquer business responsibilities by leveraging our strengths. We typically ideate on the concept together, where I will design and manufacture the item and she runs the assembly and operations of the business. We are always trying to be resourceful and use cardboard from shipping boxes for the earring holders and gift tags to ensure reusable solutions are part of the business. No matter what, we always have fun together, and  it is our dream to have a maker space that will teach youth similar core values of being creative, resourceful, and hard-working to achieve anything they dream of.
I'm sure you wouldn't say it's been obstacle free, but so far would you say the journey have been a fairly smooth road?
Machine failures, learning new tools, deciding what to outsource versus inhouse, establishing a brand presence, and running a smooth operation are amongst various types of challenges experienced in this small business journey. The majority of the time, I design and manufacture the first prototype, it needs to be iterated since something didn't come out as planned. That's why I tend to use cheaper material for test pieces until I am satisfied with the final version before making the final cuts and builds. "Measure twice cut once" is a famous proverb I tend to honor to prevent being wasteful of resources including my time. There are times I am in a rush and forget the proverb – it happens, we are human. When relying on technology, preparing for a back-up plan when it fails is important. My laser cutter machine was not performing as expected and thankfully, the manufacturer, Glowforge, was willing to send a refurbished machine in the interim so the business wouldn't be negatively impacted.
I have also had to learn new skillsets and in creating custom products for clients, I am often asked to do something I have never done before. That's where I lean on the counsel of my wife or Chief Operating Officer and decide whether or not to outsource a design in the interest of time depending on the backlog of orders, or if this is something I should take on to learn and grow my skillset that will come in handy for a similar future request. Building a brand presence is essential and takes a lot of time and energy to create something with intention that tells a story. This is where I tend to fail at making a decision to advertise because as an engineer, I tend to overthink things. This is where having a business partner who knows you well enough to identify when you are stuck and help you get unstuck and back on track to be productive and efficient. In a business, we will always face challenges, and it is more important to understand how you pick yourself up after the fall. I hope my bounce back time is short each time because these challenges keep me humble and growing.
As you know, we're big fans of you and your work. For our readers who might not be as familiar what can you tell them about what you do?
After graduating from college with degrees in mechanical engineering, physics, and math, I started my career as an aeronautical engineer. I was fortunate enough to experience various engineering disciplines working on different teams and programs but was never satisfied with the lack of diverse perspectives in these areas. There were times I was the only female engineer in a meeting. So after eight years, I left my successful engineering career to transition into the world of talent acquisition and recruiting. Even since I have been on a mission to diversify our tech talent pool by assessing what perspectives are missing and establishing relationships to source top talent from non-traditional channels. I do this by leaning in with empathy and "getting comfortable being uncomfortable" and meeting people in their communities to build trust first. There is so much untapped potential in the world, and I believe in creating processes that are built on equity and justice in order for equal opportunity to be a possibility for all. I have always been known for excelling technically and psychologically as a nerdy people person. I take pride in seeing what's possible with people's potential  in the creations I make. What sets me apart is my ability to connect with others and strong belief in them and their potential. Society overcomplicates STEM (Science, Technology, Engineering, and Math) disciplines and I have always believed that if we channel our inner child, who is intellectually curious, has a vast imagination, is resourceful, and can problem-solve, anyone can be an engineer. I love that the "A" for Arts has been added to STEM making it STEAM since it incorporates creative thinking and allows for people to use both sides of their brain – creative and analytical. The north star for me is to leverage my professional career in talent strategy and my maker platform to help demystify the complexity of STEAM and make it achievable for all.
Can you talk to us about how you think about risk?
If we aren't willing to take risks, we will never grow. Risks come in many forms: financial, reputation, operational, competition, and more. With Minneci Makers, I am taking many risks because being part of the maker community, one must be willing to fail in order to succeed. This means trying new innovations and expanding skillsets which can result in more capabilities, machinery, and tools. This is a financial risk each time I think about purchasing a new tool to figure out how to make something out of new material. As far as reputational risk, I take these often because I make things for all people and stand for social justice. For example, I have lost followers for posting a creation I made for clients of the LGBTQ+ community. That is something I am willing to accept because I stand behind equal rights. Being trilingual, I am starting to advertise some creations in Spanish and I recognize not everyone reading it will understand. In an effort to be more inclusive and reach more audiences, I need to be intentional with our business outreach. In the maker community, we tend to choose collaboration over competition and support crowdsourcing and sharing of ideas and strategies. This can pose a risk in a competitor doing something better, faster, and at a larger scale than I can, but guess what? That means more people are now positioned to be a receiver of the maker community so it is a win-win in my eyes. We have to be willing to take risks within whatever rationale is established between yourself and our team. 
Pricing:
LA wood stud earrings $19
Talavera tile wood earrings $14
Wooden bowties $44
Dog treat jars $38
Contact Info:

Image Credits:
DC Chavez Lana Minneci
Suggest a Story:
 VoyageLA is built on recommendations from the community; it's how we uncover hidden gems, so if you or someone you know deserves recognition please let us know 
here.