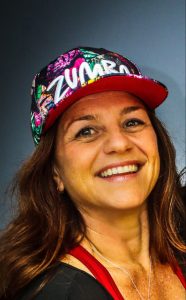 Today we'd like to introduce you to Meg Adams-Kraidman.
Hi Meg, please kick things off for us with an introduction to yourself and your story.
I feel like my career as a fitness instructor was a long time coming! Growing up in Northern Virginia, I was always athletic— I swam and took diving lessons, played field hockey and soccer, and even tried out for the rowing team one year. I never considered myself a dancer but I've always had music in my life. I have sung since I was little and have always been drawn to music and performing.
After college, I had a hard time finding workouts that I could stick to, and I struggled a lot with my weight. I also have ADD, so I get bored really quickly and I tried a lot of different formats of fitness classes. When I discovered dance fitness, I was so happy! I took a class called Spirit Groove once a week for many years at the Encinitas YMCA, and eventually Zumba came on the scene. When I took my first Zumba class, I was overweight and out of shape and spent about 1/3 of the class marching in place because I was so winded. It challenged me, but also tapped into my spirit, and I came home energized and high on endorphins! After a few more tries, that Zumba class became the highlight of my week, and I decided I needed to get more of it in my life. I took my Zumba certification in August 2009 and applied as a sub at the Y. A few months later, my instructor needed to take a break from teaching. I was asked to take over her class, and I've been a Zumba instructor ever since.
Over the last 12 years, I've taught all over San Diego County in different gyms, but like so many of us, the COVID shutdown forced me to figure out how to keep teaching and keep bringing fun fitness to my community. Three days after everything shut down here, I was up and running on Zoom, teaching virtually and keeping myself and many others sane through one of our most challenging times. As things started to re-open, I also began hosting outdoor classes on my own and the return to live classes has been so fulfilling! But so many people enjoyed the ease and flexibility of working out from home and wanted those to continue, so I launched my own website: megadanceandfitness.com.
Today, I have a great mix of in-person and virtual classes that keep me going, and challenges my crew.
Would you say it's been a smooth road, and if not what are some of the biggest challenges you've faced along the way?
It was a long and winding road to get me where I am today, and with quite a few big bumps along the way. I have battled numerous injuries—some of which I continued to work through and others that had me sidelined for months. But I keep coming back!
My biggest struggles came just a few years after I started teaching. My husband Rob was the one who encouraged me to go pursue my interest in teaching Zumba. He struggled for most of his life with anxiety and depression, but he was my biggest supporter and reveled in my successes. When things were really hard for him, it was a challenge to get out of bed some days. Sometimes I didn't want to leave the house, but I forced myself to put on a happy face and go teach my classes. Sadly, Rob ultimately lost his struggle with mental illness and he took his life in 2014. Losing a loved one to suicide is incredibly complicated and in the months and years after his death, life was very hard. But I shared my loss and pain very publicly, and my Zumba community, along with other family and friends, helped me through the darkest days. Even on days when I felt the worst, I could have an hour of freedom, getting lost in the music and focusing on something other than my grief. It is still my greatest therapy and I continue to use my experiences and my loss to connect with others and let them know they're not alone.
What do you do, what do you specialize in, what are you known for, etc. What are you most proud of?
One of the things I'm most proud of is that I've been teaching Zumba now for over 12 years. I had no idea when I tried my first class how much it would change my life! Zumba opened the door to fitness for me, and I will continue to teach for as long as I've got students 🙂 I am also proud that many of my students over the years have become fitness instructors themselves. It is so rewarding to be able to pass on my enthusiasm to others and to see them be successful.
I have gotten certified in several other formats and have taught a variety of classes over the years including Aqua Aerobics, Zumba in the Circuit, Kids Zumba, STRONG, and Senior Fitness classes. Today the formats I specialize in are Zumba, Zumba Toning, and Stretch. All three of these formats are offered through my website.
I am known for my contagious energy and laughter, my singing, and my musical variety. I regularly encourage my students to laugh at themselves, and if they can't do that, they are more than welcome to laugh at me. I love to ham it up and be ridiculous—singing at the top of my lungs. I've been told that by doing so, it gives permission to everyone else to be silly and carefree as well.
I work really hard to be inclusive and make sure that everyone feels seen. Some classes can feel clique-y with regulars, but I want people to feel welcome whether it's their 100th class or their first. And because I have very little dance experience myself, I make sure my routines are easy to follow even if you think you have two left feet! Zumba really helped me transform my body and helped me become fit and strong again, and I want to share that with others.
We'd love to hear about how you think about risk taking?
I enjoy taking risks, as long as there is little chance of physical injury – haha! "Risk" is different for everybody. For some, taking a risk might be bungee jumping off a cliff or investing your savings in pursuing your dream. For others, it might be showing up at a class for the first time or going to a party where you don't know anyone. For me, I took a risk when I moved out to California 20 years ago without a job or any friends and family here. It felt like a risk to start teaching Zumba ("What if no one likes me and no one comes to class????") Starting my website felt risky because I didn't know if I'd have enough people to keep it going but I did it anyway. I also took a huge risk when I fell in love again.
When thinking about doing something that feels like a risk, I always ask myself, "what's the worst thing that could happen?" When Rob died, I realized that the one thing I was most worried about came true and I was still going to be OK. There's very little else in life that could hurt me that way and I don't want to have regrets.
Contact Info:

Image Credits
Image 1-Ed Marsh Image 2-Jim Coit
Suggest a Story:
 VoyageLA is built on recommendations from the community; it's how we uncover hidden gems, so if you or someone you know deserves recognition please let us know 
here.