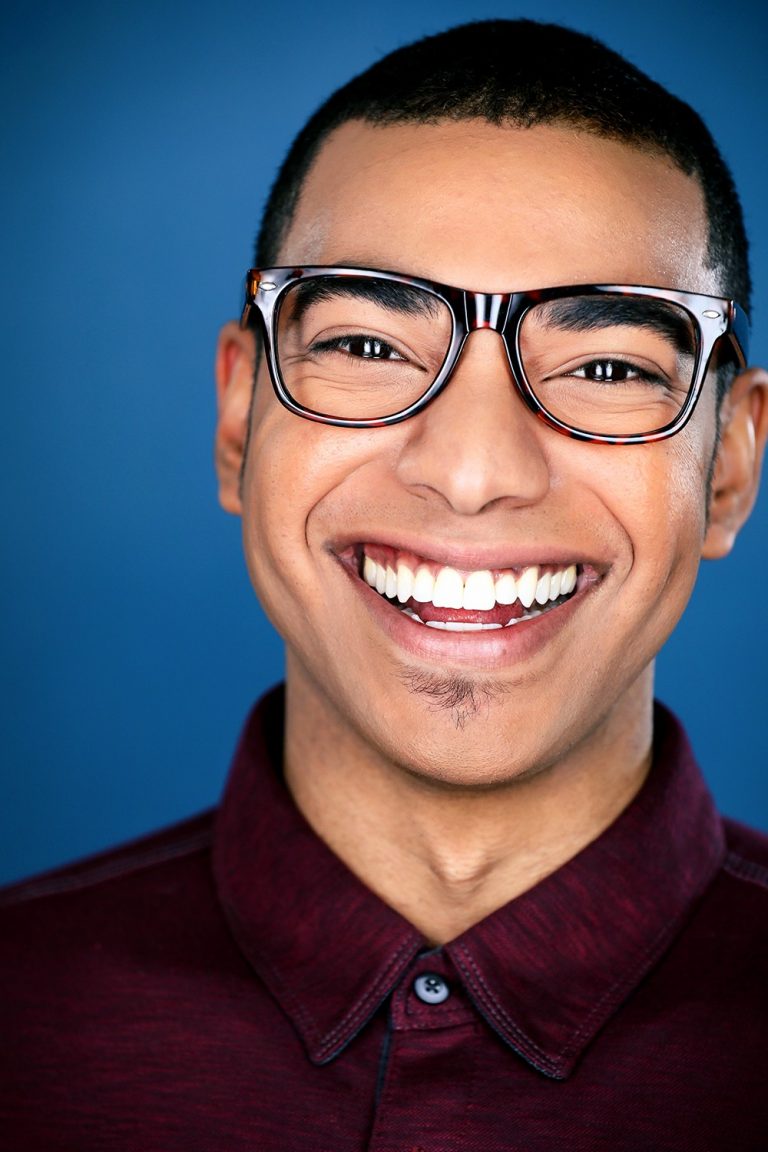 Today we'd like to introduce you to Marcus Rucks.
Hi Marcus, we'd love for you to start by introducing yourself.
From a very early age, there was no doubt in my Mom's mind that I was going to be some kind of artsy kid. She always lovingly teases me with tales of my living room concerts, singing Selena songs or inhabiting my favorite Disney villains. The "ah-ha" moment happened when second grade rolled around, and the class play (a spoof of Peter Pan called Neverland 11) was coming up. My Mom encouraged me to get out that creative energy. Not too long after that, my little eighth years old self looked up at my Mom, and definitively with conviction announced: "Mommy, I know what I want to be when I grow up. I want to be an actor." So began the journey! With the help of my incredibly supportive, smart, and resourceful Mom, I began pursuing this ignited spark. I always think how incredibly lucky I am. No one in my immediate family had ever been into any performance fields, and how often is a parent going to take their eight years old seriously when they decide they want to belt ballads from a stage for the rest of their life? But my Mom always pushed me towards what I was passionate about and did everything in her power to make that happen. This wasn't an easy task for a young, struggling single Mom in a new city. But my Mom made sure I had everything I needed and then some. When I got my first lead in an original production in Carson City that same year, she would drive me an hour from Reno to my rehearsals.
After she would take me to auditions happening in the area and that lead to me getting involved with several theater companies that I built strong relationships with growing up. I became engrained in the world of musical theater. I was mesmerized by the costumes, the vocals, the look of awe coming from the kids in the front row as we created these fantasy worlds right before their very eyes. Musical theater is challenging, exciting, and rewarding when all the pieces come together. We've all heard it before, but there has really been nothing truly as exhilarating as stepping out on that stage. Working with Tahoe Players, we put on productions such as Snow White and the Seven Dwarves, Seussical the Musical, and Willy Wonka and the Chocolate Factory for the public and all the elementary schools in Washoe County. We got to perform on one of the biggest stages in the world at the Grand Sierra Resort in Reno (there's literally an airplane backstage). Family members and mentors continued to help me forge this path. There is so much talent and seasoned experience in the Reno theater community. Tahoe Players, Reno Little Theater, Kidscape Productions, Bruka Theatre, and Good Luck Macbeth are just a few of MANY companies that constantly inspired me through their classes, internships and productions I was fortunate enough to participate in. The drama departments at Reno High School and Damonte Ranch High School taught me deeper elements of acting, as well as giving students writing, directing, and producing opportunities. My awesome drama instructors at these schools, Hannah Davey and Rod Hearn respectively, gave me confidence in my work and helped me produce and stage my first to original plays.
With the end of high school fast approaching, had I gotten over this widely proclaimed pipe dream? Of course not! The fire never died. My senior year included projects through the Performing Arts Center at Damonte Ranch, regional theater competitions, college auditions, shows, and continued coaching at Take 2 Performer's Studio. I finished off my final year in Reno with shows like Bye Bye Birdie and Rent. The precursor to the big City of Angels move was being accepted into the American Academy of Dramatic Arts Hollywood. My entire childhood, I had pictured myself heading to Broadway. But the thought of being so far away from my family was a little daunting, and I was quickly growing a fascination with the film industry. When the time came, my Mom and I packed up my whole life in her little RAV4 and road tripped down to LA to move me in and start conservatory. AADA was like acting boot camp, and when I say that I mean it is all acting, all the time, 24/7, with intense discipline and repetition. Though I had been acting my whole life, this school really taught me how to be an actor. They give you all these different tools to deepen your work, expose you to every different side of performance, and make you more well-rounded. The mentors I worked with there and the talented friends I made have had a lasting impact.

Since college, I continue to build myself creatively and enhance my acting business. I've worked on several different stage productions, including my first Hollywood Fringe show, various web series and sketches, short and feature film projects. I'm currently writing upcoming projects and creating a musical theater performance series while auditioning and scouting representation. I also started a dog sitting business during quarantine! Everyday, I am amazed and filled with gratitude that I still get to pursue what I love. I want to spend my life telling stories that move people. Stories people can relate to and see themselves in. That's one of the things that keeps me so glued to this art form. The only way my journey has even been possible is with the support I've had. My Mom and Grandparents who made it possible for me to move to LA. My Uncle who would get up early every day and drive me to my arts school. My coaches and teachers who pushed me and instilled all of their knowledge (I could go on but we'll be here for a while). I get a little emotional whenever I think about everyone in my life who has given me so much love and continues to support my hustle.
We all face challenges, but looking back would you describe it as a relatively smooth road?
It's been about as smooth as a gravel road. My mom and I have always kind of struggled. I sometimes forget how difficult things were. My mom had me at eighteen, and no child is prepared to have a child. Now luckily our family stuck together and helped out. When my mom moved us to Reno from Milpitas California, my great grandma (Nana to everyone) came with and basically raised me like she had my mom and my grandma. We shuffled through living situations. My mom worked various jobs trying to make ends meet. Not having money meant we couldn't always have the things we wanted. It meant we had to pinch pennies, be careful where we shopped, be resourceful in finding deals and bargain places. Stretching things out as much as possible to make them last. Getting stuff from thrift stores and garage sales. In fact, garage sales became a bonding pastime for me and my Nana. This upbringing gave me a sense of knowledge for how to navigate tough financial times. It taught me independence and finding alternative ways of getting what you want and need. People who grew up poor are the most resourceful hustlers and hard workers you'll ever meet cause we didn't have any other alternative. Besides the money problems, we also head some mental health obstacles to deal with. I was a…difficult child. To say the least. Quite frankly, I was a terror if we are being honest. Which I will be apologizing for till the end of time. Some things started to make sense later on. I was diagnosed with A.D.D. around ten years old.
Then around seventeen, I was diagnosed with chronic depression, bipolar disorder, and anxiety. For a long time, I tried to deny these obstacles and hide them from others. People look at you differently sometimes when you tell them of a disability (or in my case, a combination). Especially if it isn't one they can see physically. You start to fear what people are going to think of you. What category they're going to put you in. However, it's freeing to realize you don't have to be alone or bogged down. So many of us are going through stuff or face challenges in our daily lives. If we don't talk about them, how are we ever going to find common ground and lift each other up? Of course, dealing with these challenges can make the bad times almost debilitating. After a series of friend and family losses, the biggest blow came when my best friend Shelby (who was actually more of an adopted sister than a friend) passed away in June 2017. That was my worst nightmare coming true, and the loss derailed my life for a while. I lost direction and motivation. I stopped caring as much about the things I loved. But after some time and clarity, I knew that she would've wanted me to keep it pushing. To make the most out of life. I think of her face in the front row at some of my shows and how much I want to make her and everyone else in my life proud. I turn the struggles into strengths and let that fuel the passion that I have when it comes to the arts. Our struggles can really allow us to grow if we don't let them take us down.
Can you tell our readers more about what you do and what you think sets you apart from others?
My specialty and most of my experience is in musical theater! I loved singing from a very early age. I have a loud voice. Trust me…You'll hear me from down the block. I was cast in shows back to back growing up because of my enthusiasm and ability to immerse myself in all the aspects of the production (singing, acting, dancing). Music is such a big part of my life in so many ways. Singing to me is about as frequent and nonchalant as talking. Music conveys stories and emotions that we might not know how to verbalize ourselves. I love creating expression through musical theater songs. I've also found myself in a bit of a teaching lane here and there lately! I've been absolutely honored to have friends invite me to guest teach and give notes in their zoom courses, help shoot strong self-tapes for auditions, and coach scene work. I love helping people, so if I can provide any benefit of my experience and tools to someone in their creative work, my hands are ready and on deck!

One of the things I'm most proud of is an internship I did with Bruka Theatre as a teenager. It was a kids theater camp, where we put on our own adaptation of Alice in Wonderland. With guidance from interns and instructors, we empowered the kids to audition for their roles, write their own scripts, and create their own blocking for the show. We then put on an interactive walk-through library show for the public! I'm smiling just thinking about how rewarding it was helping these bright-eyed kids towards artistic expression and creative independence I'd say what sets me apart from others is my ability to shift into different roles when it comes to work. I've been in the positions of actor, director, writer, stage manager, teacher, etc. I find something important and valuable in any position and believe the more well-rounded you are, the better and more understanding human you'll be.
Are there any books, apps, podcasts or blogs that help you do your best?
I probably spend more time using Spotify than any other app on my phone. Creating different vibe playlists helps me with various tasks. As far as reading, I love reading plays from brilliant playwrights, such as August Wilson. If I stay is one of my favorite recent novel reads.
Contact Info:

Image Credits:
Headshot by Jeff Ellingson (www.jeffephoto.com)
Suggest a Story:
 VoyageLA is built on recommendations from the community; it's how we uncover hidden gems, so if you or someone you know deserves recognition please let us know 
here.
What to check out next:
Aleasha Bahr is a sales & marketing strategist known for showing introverts and ambiverts the Secret Art of Subtle Selling.  She personally sold millions in revenue while discovering introverts are usually top sales people – as soon as they stop trying to act like extroverts.  We've partnered with her to produce Introverted Entrepreneur Success Stories. Check out episode 1 below: