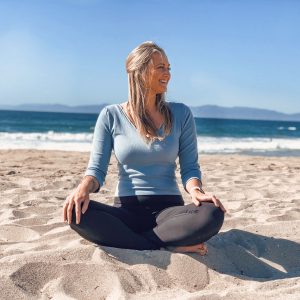 Today we'd like to introduce you to Kristin Huie.
Hi Kristin, please kick things off for us with an introduction to yourself and your story.
I started out as a Labor and Delivery nurse ten years ago in Connecticut at Yale New Haven Hospital. I was born and raised in Connecticut, attended college at Quinnipiac University, and began my career right after graduating with my BSN in 2011. I was SO stoked to get a job in L&D directly out of nursing school. Often times hospitals require a certain level of experience before starting in a specialty like L&D, but I was fortunate to be hired right away. I was drawn to the labor and birth specialty because I genuinely find birth to be one of the most fascinating and profound experiences that we can go through. The strength women display as they enter the process as themselves, go through arguably the most physically difficult process of their life, and come out on the other side as mothers, is incredible. Being by a woman's side as she goes through labor, helping her manage discomfort, and providing support to both her and her partner through the experience is truly an honor. It is my job to educate and support her, see her through labor and delivery, and keep her and her baby safe throughout.
Once I moved to the West Coast in 2015, I worked as a travel nurse in three different states in a total of 10 different hospitals. I worked three months contracts in a variety L&D settings ranging from the backcountry of Hawaii to a birth center in Washington, to the inner city of Los Angeles and in renowned teaching hospitals like Cedars Siani. Travel nursing allowed me to build on my skills as a nurse, work with some outstanding providers and nurses, have incredible birth experiences, and it really opened my eyes to how many different ways there are to birth and to support the birthing person. Having the opportunity to explore so many amazing places was incredible, too! I met a number of my closest friends through travel nursing and got to live in some of the most beautiful parts of our country.
Eventually in 2017, travel nursing brought me to Los Angeles where I reconnected with my college boyfriend, now husband. I took two months off of nursing when I arrived to pursue my other love, yoga. After seven years as a practicing yogi, I took a 200-hour yoga teacher training in Hermosa Beach and further deepened my practice during a trip to India.
In 2018 I became a Childbirth Educator, and in 2020 took an additional 85-hour yoga training and became a certified Prenatal Yoga instructor. After years of working at the bedside with birthing couples, teaching childbirth education, practicing and teaching yoga, I finally aligned all of my passions and created my business Brave New Birth where I teach both private and group Childbirth Education and Prenatal Yoga classes.
Can you talk to us a bit about the challenges and lessons you've learned along the way. Looking back would you say it's been easy or smooth in retrospect?
I am a believer in everything happening the way it is meant to. When making life choices, there are no mistakes, only lessons learned. I certainly faced bumps in the road throughout my career, but keeping the mindset of gratitude for the opportunities I had kept me going and allowed me to find solutions and weather the storms a bit easier. I was fortunate to even find a silver lining in changes that stemmed from the pandemic. As tragic and difficult as the Covid-19 pandemic has been, both from my perspective as a bedside nurse and from our shared experiences of change and loss, I am grateful to have had my stress outlet channeled towards studying prenatal yoga throughout my time in quarantine between my shifts at the hospital.
The Prenatal Yoga Teacher Training program of my dreams was located in New York City. Since I'd learned about this program, it had never been feasible for me to go there for an extended time to complete the training, but due to the Covid pandemic the entire training became virtual. After months of stressful and often overwhelming shifts at the hospital, I had a new outlet to focus on outside of nursing. There could not have been a better time in my life to have had this mental and physical outlet that I had been so passionate about having the chance to learn in-depth. It also allowed me to start teaching yoga classes virtually and foster connections with expectant women from all over who were craving this kind of class and connection.
Alright, so let's switch gears a bit and talk business. What should we know about your work?
There are two separate aspects of what I teach through Brave New Birth and I absolutely love to do both! Teaching Childbirth Education is so exciting to me, especially when I have the opportunity to teach couples one-on-one in person. Maybe it's the first time they've ever taken a course together, maybe they are nervous about all of the unknowns, maybe they really want to practice hands-on support measures, or maybe they've had a baby before and want to learn how to have a different experience this time.
No matter the situation, it's so gratifying to be able to put the power back into the expectant parents' hands and teach them about the pregnancy, labor, birth and postpartum experience at their pace and focus on the areas that they need the most. Giving birth in the hospital setting can be fast-paced and overwhelming, so my style of teaching childbirth education aims to take the fear and uncertainty out of what may be perceived as overwhelming and make it into an experience that is empowering. I want every couple that I teach to feel informed and confident in advocating for themselves and understanding what choices they have that pertain to their birth experience.
The other half of my teaching is yoga. I love yoga in general because it takes us out of our busy minds for that one hour (or even 15 minutes, however long your practice maybe) and inserts us into a state of connection to ourselves and our breath. Breathing is the foundation of yoga. That practice alone calms the nervous system and helps clear our minds.
What I love the most about prenatal yoga is that everything we practice- from pranayama breathing practices to hip opening labor positions and holds in various asanas (poses)- it all translates perfectly into coping with labor. Deep breathing also happens to also be the cornerstone of coping through labor contractions. We practice being uncomfortable on the mat and learning ways to manage discomfort in order to manage pain and discomfort later on.
Every class incorporates movement to address the common aches and pains in pregnancy like lower back pain, upper back and shoulder tension, pelvic discomfort, and so on. In addition to feeling better and increasing mobility in your changing pregnant body, yoga helps to find balance and support in the pelvis and core which can help the baby move into an optimal birthing position for a potentially speedier and more functional birth.
During each class, I introduce a theme or topic that ranges from birth plans to meditation and stress management to the beauty of doing less. The 75 minute class includes time at the beginning for each student to share how their body is feeling, a guided relaxation, about a 45 minute vinyasa-style pregnancy specific flow, followed by safe abdominal engagement and pelvic floor toning, and savasana.
Before we go, is there anything else you can share with us?
It is a pleasure and great joy to do what I do. From working at the bedside to in person teaching to virtual yoga. I'm so grateful to have found a way for all my passions to converge and prepare expectant women for birth and to have built an amazing network in this community in LA. If you are interested in Prenatal Yoga or Childbirth Education courses for you and your partner, I'd love to be there for you!
I have a promotion now on my website for discounted Yoga classes.
Pricing:
8 Prenatal Yoga classes $144.00
4 Prenatal Yoga classes $80.00
Drop in Prenatal Yoga class $22
Group 6 hour Childbirth Education $125
Private in- home 6 hour Childbirth Education $600
Contact Info:
Suggest a Story:
 VoyageLA is built on recommendations from the community; it's how we uncover hidden gems, so if you or someone you know deserves recognition please let us know 
here.