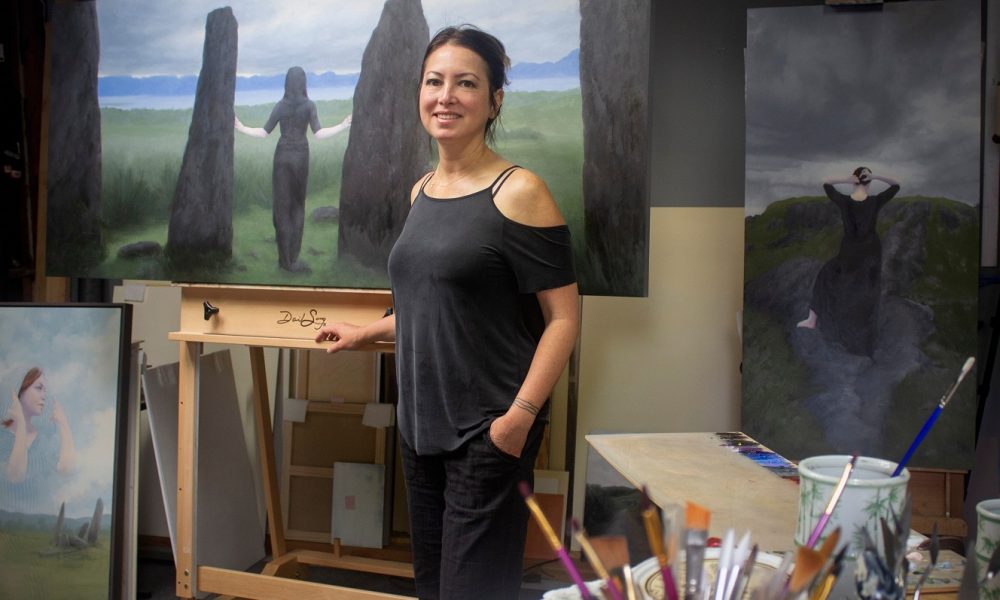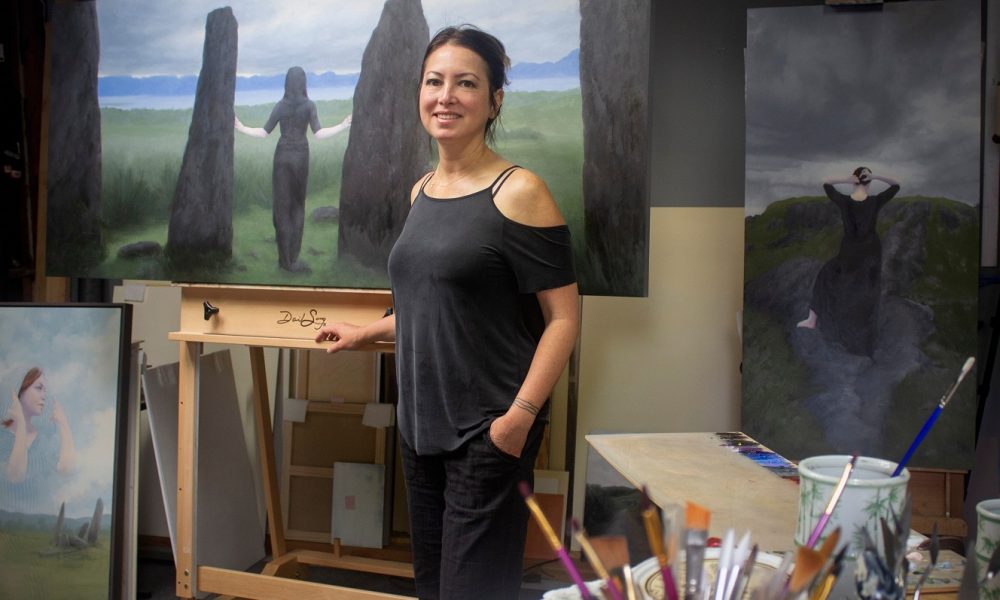 Today we'd like to introduce you to Judy Nimtz.
Judy, we appreciate you taking the time to share your story with us today. Where does your story begin?
Making art has been a part of my life for as long as I can remember. I fondly remember long hours spent copying favorite book illustrations, the elves of ElfQuest, whatever my sister and I were into, and my mom providing us an endless supply of paper and drawing tools. Our house was filled with art – Chinese silk scrolls of idyllic scenes and beautiful calligraphy, bookshelves filled with jade carvings and ceramic figurines. My mom practiced Chinese calligraphy herself and was a stickler for good penmanship. I bring this up because I think it was this attention to my writing skills that was my first training into noticing details and linework. Also, my exposure to Chinese art/scrolls greatly influenced my work, even though I wasn't aware of it at first. Many of my paintings are designed within an elongated vertical or horizontal composition, echoing the format of Chinese scrolls.
My art career didn't begin until I was in my 30s. I had an unorthodox education path, in the beginning working full-time and attending a community college. I gave myself the time to study various subject matter and gained an expansive education before focusing solely on art. The rest of my education involved moving from my home of Hawai'i to Southern California to: earn my BFA from Laguna College of Art + Design (LCAD), enroll in Cal State Fullerton's master's program, then withdraw from the program and a move back home. I say that "I went home to lick my wounds" because I had never quit at anything major before, certainly not my education. It took me a little while to understand that the experiences I had at Fullerton weren't a failure but something for me to learn from.
A few years later, I moved back to Southern California to complete my MFA at LCAD. The plan was to return home after earning my degree, but as the program wrapped up, I had an opportunity to participate in a group show at my dream gallery, Koplin Del Rio, in Los Angeles and I couldn't walk away from that. I made the hard decision to stay in California, move to LA from Orange County, and try to find a place near the water… I'm a water girl, it's hard to live far from the ocean.
I got a summer job as the studio assistant for one of my art teachers at the college. He lived and worked in Venice Beach and this would give me the opportunity to see the inner workings of a professional artist and get to know Venice better. Taking this chance on myself was the best thing I could have done—I've been showing at Koplin Del Rio Gallery ever since, as well as George Billis Gallery in LA. That former art teacher and I fell in love and got married. I have a steady art career filled with painting, traveling, and exhibiting; and I get to share these wonderful adventures with a partner who is an artist!
Can you talk to us a bit about the challenges and lessons you've learned along the way. Looking back would you say it's been easy or smooth in retrospect?
I wouldn't say the road to being an artist has been rocky, but it has been challenging. Some of these challenges were self-made and others just the nature of the business.
My dad died when I was eight – my sister and I raised by my single mom. Because of this, as I got older I was determined to pay for my own extra expenses and not burden my mom. I began working as soon as I could, my earliest job even requiring my mom to sign off on to make it legal! But because working and not being a burden was so ingrained in me it was really difficult to take the plunge and give up a regular job to prioritize making art over the regular paycheck. I found myself in a cycle of wanting to create my art career but not having the time to make enough work.
I'm half Chinese and the only artist in my family. Though my mom has always supported me, it wasn't like being an artist was part of our family tradition: I was in unknown territory and there was a fear that I'd become a starving artist. There were definitely a few gentle nudges to get an MBA instead of an MFA from the extended family.
It was only when I made the decision to give up a life in Hawai'i and stay in California that I allowed myself to take the leap. I switched my thinking of full-time job first and making art second to full-time artist first, and making just what I need to survive. And there was an immediate, noticeable difference. When asked, I'd proudly say I am an artist instead of mumbling something about wanting to be an artist. When I'd talk to gallerists or fellow artists, I felt a new level of confidence. And when the opportunity came to have my first solo show, I knew I could commit to it—I had paintings to show and knew I had the time to make more.
I won't say times don't get tough with prioritizing art over almost everything else. And one has to be good at budgeting because of an uncertain income stream—there can be months with no money coming in. But I would forgo a lot of mainstream trappings to be able to do what I love every day.
Appreciate you sharing that. What else should we know about what you do?
I'm a figurative painter, working in oils. I primarily paint solitary figures with minimal environments: women and dancers, often on rocks. I didn't set out to do this: it started with me missing Hawai'i and doing a photoshoot there of me walking along these large basalt boulders. I wanted to somehow convey in paint the nostalgia I felt for home while at the same time paint the volcanic rock of home. I also love anatomy and being able to sculpt the musculature and curves of the body with paint. I began shooting female dancers moving across large rocks, only now I am doing it here in LA, for instance the using the Venice Breakwater rocks. I think of this work as a type of collaboration, I don't tell the dancers how to move or what "pose" to strike, instead I ask them to move naturally however they feel as they move along the rocks and I take tons of photos. Being able to paint the female body in motion is endlessly interesting to me, and I'm always striving to capture the strength, grace and poetry of the female form. In my figure paintings, I veer from strict naturalism toward the poetic, emphasizing minimal environments, lost edges, and transparent passages. My flesh palette is purposefully high-key and desaturated giving my figures a marble-like sense of solidity while also embodying the ethereal.
My most recent work was inspired by a seven weeks painting trip to Ireland, where I hoped the environment would evoke the poetic and ethereal imagery I seek in my work. My hopes were realized in the megalithic sites and the vast landscape of West Cork—I saw sleeping dragons in the stony hillsides and felt I was straddling different ages when standing before the ancient stones. I returned with a bounty of references and studies from life to begin my work.
You can see my Artist Statement here: http://www.gbgla.com/judy-nimtz-about.html
What would you say have been one of the most important lessons you've learned?
If I'm interested, if I'm truly excited about what I'm doing, it will come across in my work. I believe this circles back to the idea of taking a chance on yourself. I've never thought of making art that I think "will sell", but I will occasionally have thoughts such as… will anyone like what I'm doing? Will people connect with my work? In the end, it comes down to how I feel about what I'm creating—my excitement and thoughtfulness will come through and connect with the viewer.
Contact Info:
Suggest a Story:
 VoyageLA is built on recommendations from the community; it's how we uncover hidden gems, so if you or someone you know deserves recognition please let us know 
here.