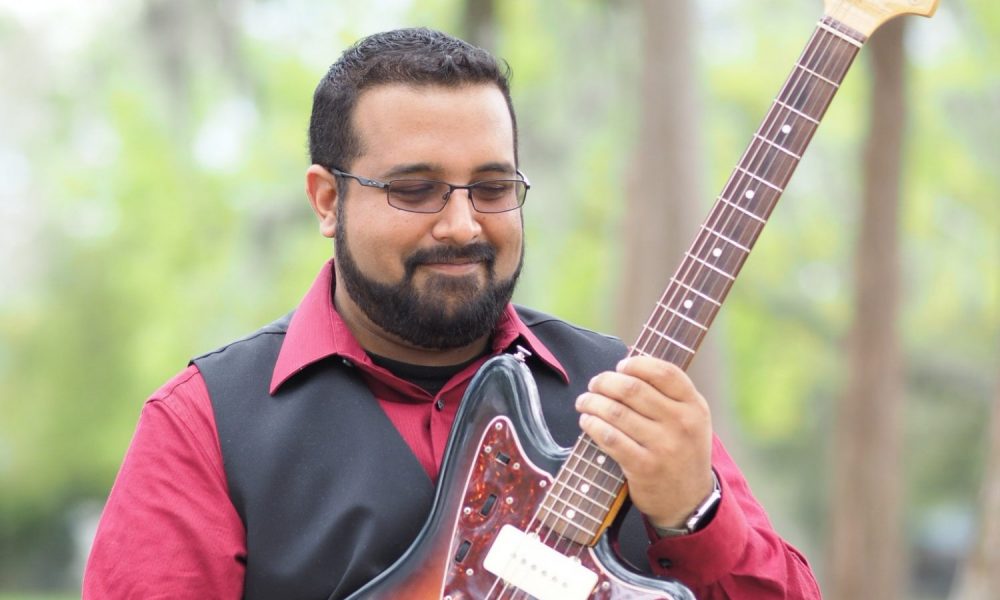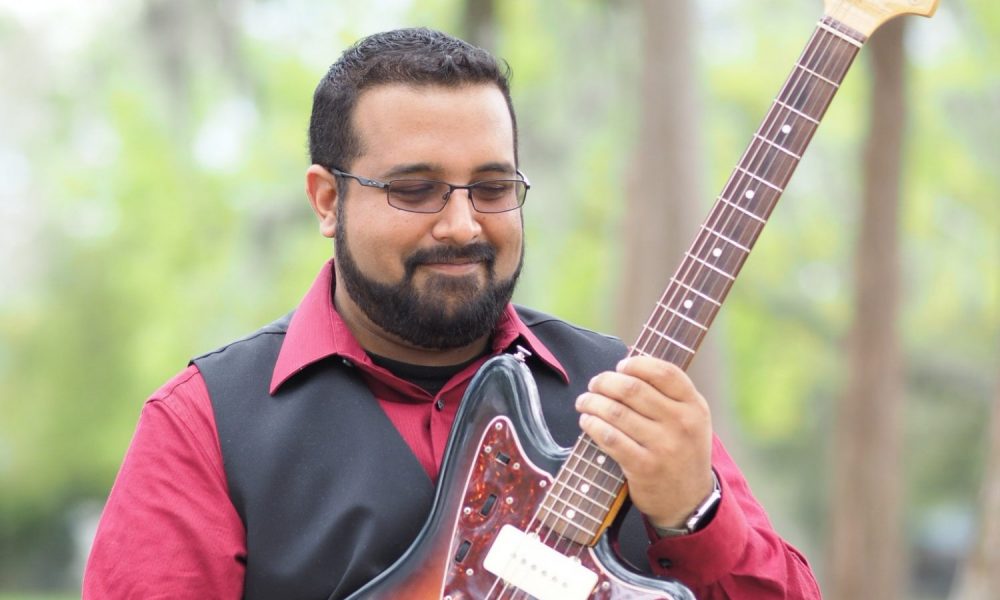 Today we'd like to introduce you to Jehad Choate.
Hi Jehad, we're thrilled to have a chance to learn your story today. So, before we get into specifics, maybe you can briefly walk us through how you got to where you are today?
I came kicking and screaming into this world in the mid-1980s as a first generation of immigrants from the Caribbean. My father is from Trinidad, and my mother is from St. Thomas (USVI). I have two older sisters: Penny and Jenny. I would say my genesis in music really started with my family. It was a different era, and music wasn't something we could easily attain. My mom's records were like goldmine and those special occasions when she would break them out (usually while cleaning or if we had company) I would be transported to an era of Connie Frances, Elvis, The Temptations, The Fourtops, and of course the Beatles. My dad would play Calypso from the Mighty Sparrow and Indian music from the likes of Mohammed Raffi and Anup Jalota when we would have long drives. My sister Penny showed me the magic of Michael and Janet Jackson, while my sister Jenny exposed me to Tool, Red Hot Chili Peppers, and Nine Inch Nails, along with the compositions of Mozart and Gustav Holst.
Listening and reacting to music was a big part of my childhood and brought so much joy that it padded the more dramatic parts one tends to experience while coming of age. We had a gnarly 70's family organ that I would goof on until I got to middle school and learned notation as I learned my first principle instrument: The Baritone. Those formidable years exposed me to both fantastic hiphop, but also punk and ska, which I would hear from my friends. My band director (Mr. Chris MacTavish) exposed me to jazz greats such as Wynton Marsalis, Louis Armstrong, and Buddy Rich. It's this amalgamation of influences and interests that led me to strange yet eclectic sound of Incubus, as well as the raw and powerful force of Rage Against the Machine that I decided I wanted to make music that satisfied an ever-changing palate. After watching my friend Stan play a bunch of punk tunes on stage for his birthday party, I was inspired to pick up my principle instrument: the electric guitar and try to imitate all the crazy sounds that have been collecting in my head since I was born. I wasn't formally educated in guitar, but I picked up every technique I could with every person I played with, guitarist and non. I tried to learn some of my favorite music and quickly realized every failed riff became a new song for me.
I'd start numerous bands and play with many gifted folks over the years until I moved to Boston for my undergrad at Berklee College of Music. I started there as a guitarist and I left there a writer. I quickly realized I didn't like performance feeling like a chore or homework, and I missed jumping around and hitting wrong notes but having fun doing it. I also realized a lot of folks were asking me to write pieces for them while I was in Berklee. It was just something that always came effortlessly, and now with the proper focus, there was nothing standing in my way from creating limitlessly. I got my Masters in Composition from the University of Central Florida while working hard to pay down my loans. I taught audio tech at a college level, sold cutting-edge products as an Apple Retail Specialist, found people a home away from home at Marriott Vacation Club properties, and still made time to solidify my old band's only published album. When everything was said and done, I moved to Long Beach, California, where I have been working on short films and features. I have been celebrating my fourth year as a Californian composing for film, as well as doing post-production sound by word of mouth.
I'm sure you wouldn't say it's been obstacle free, but so far would you say the journey have been a fairly smooth road?
The hardest part is the cost of living in Californian, especially rent and the competitive nature of my work. Post-shutdown, a lot of us filmmakers were in the dark on how to survive financially. Luckily, I surround myself with ambitious people. We found ways to make the art we wanted to make while avoiding the pandemic, which made life a bit less stressful during 2020-2021. But, it is a lesson that has made all the difference in the world. It maybe in your nature to go for the gold, but if you don't have the right kind of people to nurture your gifts and skills, you can easily get stuck in a rut. That is why I will always be grateful for Bron Theron of White Ninja Productions, Chad Newsome and Tanya O'quinn from Second Childhood Productions, and Mico Montes of Opening Image Productions, for relying on my skills in audio and composition even while the world was going crazy. They really helped, as well the many kind words and support from friends and family back home in Orlando. Surround yourself with the right people, and anywhere can feel like home.
As you know, we're big fans of you and your work. For our readers who might not be as familiar what can you tell them about what you do?
Currently, I just released new concert music on all available streaming/downloading platforms. This new piece is called "The Suite of a Thousand Faces," and its loosely based on the writings of Joseph Campbell who explains all the great stories of humanity follow a sort of cyclical pattern that involves a call to action, meeting a wise figure or a love interest, and even death and resurrection. My piece takes that concept and uses musical styles to express these motions, starting conventionally with a big Star Wars-like fanfare, introducing the main musical motives with typical tropes found in a variety of story genres. The twist of this entire 15-minute/3-movement piece is the hero begins to realize he is stuck in a cycle and desperately tries to break it by introducing non-traditionally western musical styles. The final movement should leave the audience wondering if it's even possible to break such a cycle, no matter how grandiose of changes the hero tries to introduce. A piece like this would take me over a year to write, orchestrate, and record. But, I managed to do all of this to completion in 2020 in under three months. I found it to be the most honest representation of how I have grown as a writer and artist. I held it for a couple of years in hopes of a live premiere, but the music was too good to hold onto for so long. So now, everyone can hear it in its entirety on platforms like Spotify, iTunes, Apple Music, YouTube, Tidal and more. I just humbly request that you like, follow, and of course… share it with your friends or even it use it on your Facebook or Instagram reels.
Aside from my compositions, The film "Half Dead Fred," that I am literally everything audio on has been completed and has already won a bunch of awards in the film festival circuit. This was a very special project that got me and the rest of the White Ninja Productions crew to do production in Flint, Michigan. Flint was awesome, and we were so enthusiastically received over there, it made our three weeks fly by fast. I managed to be production sound, edit the dialog, record and mix the sound effects, compose the music, assist in music supervision of the other beats being used, all on an out-of-date MacBook Pro with sticky keys and a slightly busted touchpad. But the story and direction by Bron Theron made the work fun and manageable. I am also on the verge of completing the first installment of a compilation feature called "Keepsake," written and directed by Tanya O'quinn from Second Childhood Productions. I am also a hat trick on this project of Production Audio, Post sound, and composition. Lastly, I am a hat trick on the last two installments of another feature based on trauma with supernatural consequences, written and directed by Mico Montes of Opening Image Productions.
Between the films and the concert music, I hope real album, sorta in the vernacular of Carlos Santana's Supernatural, where I write the music but invite guest vocalists and musicians on each song. I am still on the fence on whether I want to release a giant album or separate them into different related genres.
Are there any important lessons you've learned that you can share with us?
These are my personal 10 commandments that I try to live by every day to make every day seem like progressive:
1. GO AT YOUR OWN PACE:
I once worked with a guy who was celebrating his 29th birthday (while I was 34). He turns to me and he says, "I have got to finish this film by the time I hit thirty. Otherwise, I will feel like I accomplished nothing and want to kill myself."
Age is nothing but a human construct to try to quantify maturity. Stan Lee didn't start introducing his famous Marvel characters until his forties. Most of my favorite bands didn't experience success until being kicked off a label and recording what they wanted to play. You might be twenty-five and depressed about that seven years old kid on TikTok that can sweep pick better than you, but if you choose to give up because it seems too late, then you'll never really know what you are capable of. Stop looking at the calendar, and start looking at the work you gotta do, and just do it. There is no better time than the present.
2. YOU ARE NOT THE ONLY ONE IN THE WORLD THAT CAN DO WHAT YOU DO:
Show respect for your peers, celebrate their successes with them and learn from their failures, too. Recognize how they play the game, and don't be afraid to help when you can. You never know if that one moment you include someone you considered a rival might open a door of immense success.
3. WRITE OR RESEARCH EVERYDAY: Nobody puts you in the corner.
That little motif you wrote on Tuesday could become a sweet multi-movement symphonic piece. Or that catchy ostinato could be a sweet beat for a commercial. Archive everything because people pay you for how you listen and what you dream up. You never know if that little spark of madness could be just what the director ordered in your next film score. Also, don't lose track of where the trends are going. You don't necessarily have to follow, but you will always have a client who says, "I want it to sound like the opener to The Devil in Ohio," and you gotta allow some time to understand the nuance of that by watching the show.
4. MUSIC THEORY IS MEANT FOR COMMUNICATION NOT INTIMIDATION:
I cross paths with many gifted musicians who take one glimpse at my educational background and cringe that they won't be taken seriously because they don't have the years dedicated to music theory that my degrees have bestowed upon me. I always have to reassure them that if you want to make sense, talk and explain your music naturally. That means if you gotta sing it out or play it out, by all means if you wanna perform musical cartography and pinpoint the exact phrase and measure grouping… you can do that, too. If you only have the English language to describe your notes, then let us have a conversation thick with prosody. Whatever gets you working works for me. If it sounds good, your doing it right.
5. NEVER INTERRUPT A PERFORMANCE OF YOUR OWN MUSIC:
That goes for live and recording. When I used to be the editor for the Berklee Groove, people would come to my office asking me to review their new albums. With the exception of a few people, I always had a rule that you bring your album, you hit play and we sit there in silence and listen from track one to the end. If they even remotely said something like, "Oh, that's the first version of drums, we are going to replace it," or, "I hate my voice on this track," or, "I wish the levels were better on this one," or anything else that is critical to your own work, then I would immediately stop the album and refuse to review their work. Why? Because if they are not proud of the ends, then I don't care about the means.
6. AUTHENTICITY IS SUBJECTIVE:
I hate when people call artists sell-outs. Heck, I was an angsty teen who did it often. But the reality is if you can actually sell anything in this business, and maintain a life free from poverty, then by all means do whatever you need to do. If you find success performing pop, but your roots are in punk, then slap on those electric drum extensions and do what you gotta do. There is no shame in success unless it is at the expense of others. So when you decide to fire your brass section in favor a synthesizer, at least hire them back on as co-writers.
7. THERE IS NO SUCH THING AS A BAD GENRE:
There is a raw beauty that comes from human expression. There is also a lesson to be learned by the genres that you separate yourself from. Don't like country? That's fine. You are entitled to your opinion and your own private playlist. But, complete intolerance of a genre just because it doesn't ring your bell leaves you vulnerable to the kind of ignorance that paints you into a corner both creatively and socially. Plus, if a client wants a particular sound you either don't like or don't listen to, your opinions won't get you out of needing to listen to it to write properly.
8. NO MEANS NO:
There are a million of entrepreneurs out there that will say things like, "Never take no for an answer," or, "Success means not having to ask permission," and not only does that sound rapey, but this kind of tenacity is toxic in other kinds of fields. If a director has a specific musical need that you do not agree with and you mention it and even back it up with alternate ideas and they still say no. Then no means no. It's not in spite of you, it's just you gotta know your role is still in support of someone else's vision. On the flip side, If you are applying to a house composer position, and they respond to your application with they are not looking for what you do at this time. That doesn't mean no forever, but just not right now. So, you can proceed with a follow-up that shows alternate things you do in hopes to get the job. It's all about reading and comprehending your situation, whether to allow your tenacious side to take over and not look annoying or too pushy.
9. KNOW YOUR VALUE:
I know how much exactly I should charge per minute of music per film for where I stand in the business, Never put your worth in the hands of the other negotiating party because you will almost certainly be lowballed and disrespected. Also, before the topic comes up, try to find out what that music budget is so that way you can keep that compensation conversation acceptable.
10. JUST BECAUSE YOU ARE GOOD AT ONE THING, DOESN'T MEAN IT SHOULD BE ONLY YOU DO:
Take some time to understand stocks and investing. Remember: the people who put eight hours into each day to get cash is probably gonna be more stressed than those who make money while they sleep. Learn other instruments, Take a singing lesson. Shake things up for a change.
Contact Info: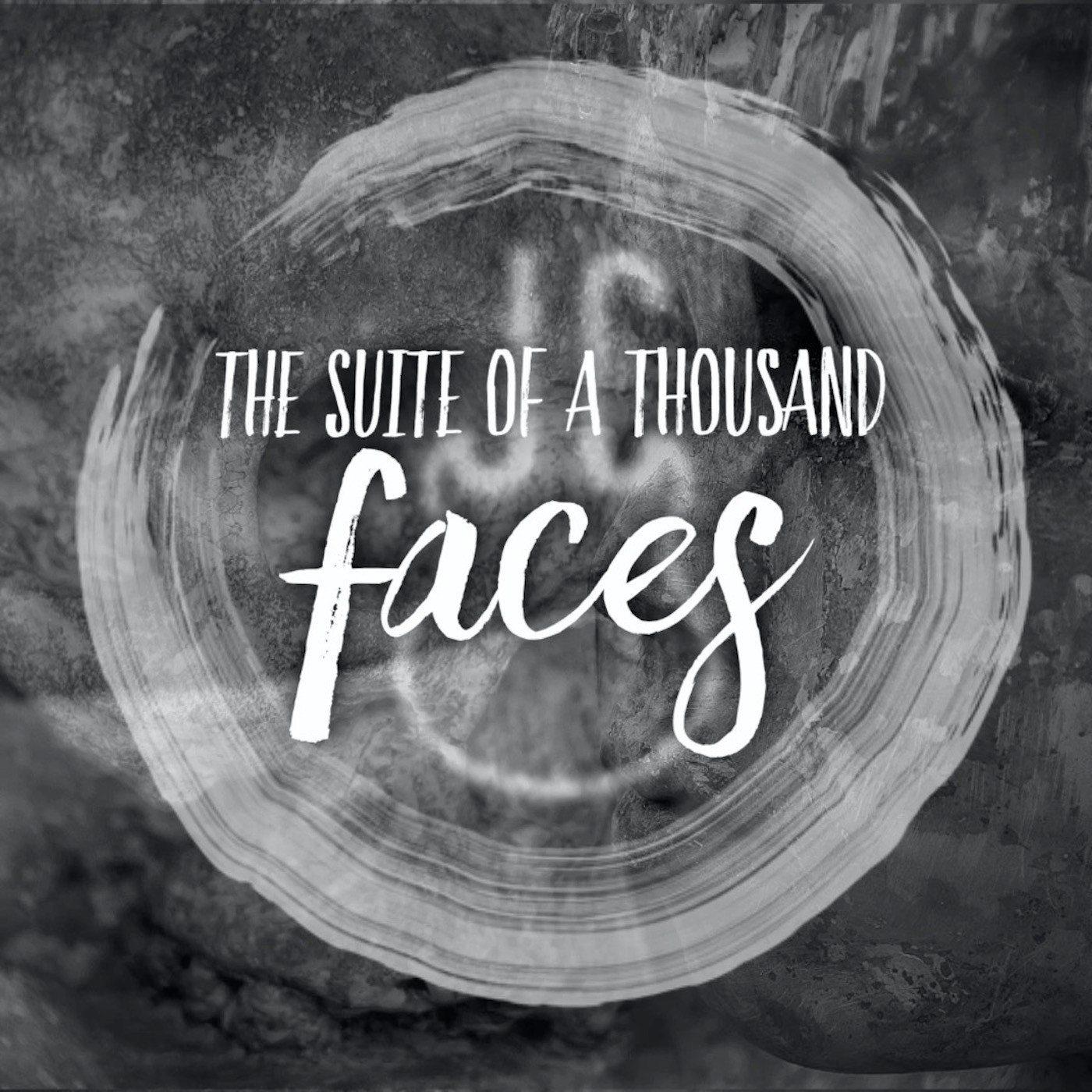 Image Credits
Main Image: Photography by Michael Barone. Mozart-me artwork: Lisa Hirata.
Suggest a Story:
 VoyageLA is built on recommendations from the community; it's how we uncover hidden gems, so if you or someone you know deserves recognition please let us know 
here.