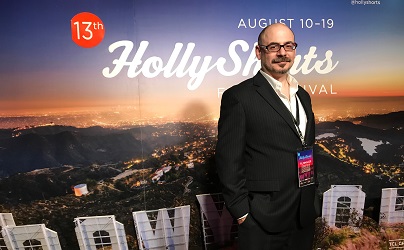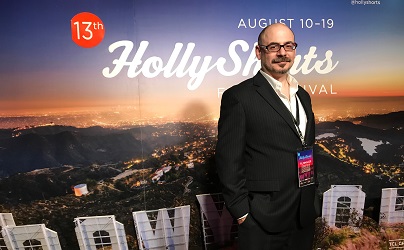 Today we'd like to introduce you to Jason Ragosta.
Hi Jason, we're thrilled to have a chance to learn your story today. So, before we get into specifics, maybe you can briefly walk us through how you got to where you are today?
I am a writer, director, and illustrator that started my career as a storyboard/concept artist and assistant cameraman at an east coast stop-motion animation studio called Wreckless Abandon Studios before moving to the west coast in 2003. I found my footing and got hired on to manage a sound stage for actress Diane Baker (Marnie, Silence of the Lambs) for several years, at the Academy of Art, University in San Francisco until 2009 when I served as a production assistant in the post-production office for Disney's John Carter for a year.
After that, I worked freelance for several years. During that time, I wrote, directed, animated, and shot stop-motion animation shorts for Lego that have millions of views on youtube. I also had the privilege of co-directing multiple short documentaries for the Previsualization Society with Daniel Gregoire, who I met while working on John Carter, and is the founder of Halon Entertainment, an NEP Virtual Studios company.
After that, I worked for a year or so as the writer and cinematics director of a start-up gaming company called Harbinger Game Studios, which led to being invited to give a TEDx talk called World Building: Experiments in Immersive Storytelling in 2015. A friend saw my TEDx talk and suggested I should make a short film based on a story from my childhood that I told in the opening of the talk. This became Boy in the Dark, a short film that I wrote, directed and shot working with producer Rebecca Ahn. Boy in the Dark premiered at Dances With Films, at the TCL Theater in Los Angeles in 2017.
I then partnered with Marisa Garay, and her company Garbo Films, and we set our sights on making something more ambitious in scope. Together we made a proof of concept short called ZTV: Sympathy for the Devil which was delayed in its festival run by the COVID lockdown before premiering at Screamfest in 2021. The short then went on to screen at FilmQuest, Another Hole in the Head, the South African Horrorfest, and Horrible Imaginings where it racked up several award nominations and multiple wins.
On top of my writing and directing duties, I also make use of my illustration degree by doing custom illustrated posters for all of my films and on a freelance basis for those who wish to hire me. I also wrote and illustrated the first issue of the ZTV: Undead Empire comic book and did a first print run of 1000 copies. I brought stacks of the comics to the festivals with our proof of concept short and left piles of them on the postcard tables for free to help promote the IP. This actually lead to some interesting meetings where we got to pitch the ZTV episodic Series which we are hoping to make a reality in the not so distant future.
The COVID lockdown had some other interesting effects on my career during this time. For one, Halon Entertainment immediately transitioned to a fully remote workforce and I was hired as the Editorial Manager in march of 2020. Founded in 2003, Halon is one of the industry leaders in real-time Visualization (The Batman, The Suicide Squad, Free Guy), Finals Animation for Game Cinematics (Fortnite, Borderlands 3), and Virtual Art Department for Virtual Production (The Mandalorian). Halon's recent acquisition by the NEP Group has made it an integral partner in NEP Virtual Studios with sibling companies Lux Machina Consulting (Oblivion, Rogue One: A Star Wars Story, The Mandalorian) and Prysm Stages whom will be opening a brand new 18,000 ft Virtual Production Facility at Trilith Studios' headquarters in Atlanta, that is touted as one of the largest in the world. I love and continue to work at Halon to this day.
The other thing that was a game-changer for me during the COVID lockdown was joining the Clubhouse App in February of 2021. This is where I found my tribe in the budding horror community built by Jed Shepherd (writer: Host, Dashcam), Alex Noyer (writer, director: Sound of Violence) and Sebastien Bazile (writer, producer: By Dawn, Sinphony: A Clubhouse Horror Anthology) Clubhouse has proven to be an industry disruptor allowing people from all around the world connect with Hollywood professionals to learn, get work, and collaborate on projects.
It was in a Clubhouse room, at about 1 am pst in the morning that my life took an unexpected turn. The room was hosted by Sebastien Bazile, whom I had met previously in one of the many screenwriting rooms that dominated Clubhouse at the time. Seb asked the dozen or so writers in the room (who were actually located around the world) to send him 7-10 page scripts for a horror anthology he wanted to put together. The first script was sent to him within four hours by the incomparable Hank Pena, which made Seb take the project seriously. The rest of us had our scripts in over the next few days. A week or so later we had a seven-hour writers' room session over zoom with Seb and his producing partner, Michael Galvan, from their NYC-based production company Screen Anthology. We discussed the scripts and received notes. A couple of weeks later we had contracts signed and a modest sum of money sent to each of us to shoot our horror shorts. The first shorts were shot by Jason Wilkinson and Mark A. Pritchard a couple of weeks later. The rest of us had them shot over the next two months. Seven months later we had a finished film called Sinphony: A Clubhouse Horror Anthology.
After getting amazing coverage for Sinphony on Fangoria, Bloody Disgusting, and the Hollywood Reporter, we landed a panel at San Diego Comic-Con Special Edition 2021, where the lot of us, along with 30-100 other people from our extended horror family who had been talking remotely for the better part of the year, finally met for the first time in person at both Comic-Con and a special event that was held in Los Angeles that same weekend (the glory of which is well documented on my Instagram page). Honestly, it was one of the greatest weeks of my life, and even though it was our first time meeting in person, for a lot of us, it felt more like a family reunion. The exciting thing is that the best is yet to come, as we look forward to Sinphony's worldwide premiere next month at the Brooklyn Horror Film Festival which will happen from October 13-20th.
As we anxiously await unleashing Sinphony upon the world, I have been breaking stories for horror features with my writing partner, Robert Patrick Archer. We have two feature scripts written so far, in the first few months of our partnership, with a dozen more to go. This is on top of several horror features that I've written on my own ready for sale or development, and am currently looking for representation.
Alright, so let's dig a little deeper into the story – has it been an easy path overall and if not, what were the challenges you've had to overcome?
As a writer, director in this industry, there are a couple of things you need to "learn to breath water" on.
One is that there is an avalanche of REJECTION in front of all of us. You need to eat rejection for breakfast, lunch, and dinner. You need to embrace rejection to the point where in the truly lean times, it nourishes you until you get that one Yes, that ignites your career. And even after that, don't lose your appetite, because there will be a lot more rejection to come in between the yeses over the course of your career.
Two is the concept of "Hurry up and wait". This goes for writing: you race to turn in a draft at the request of the producers and wait weeks for a response/notes (because everyone is insanely busy). This goes for Production: Most of the time you are setting up or waiting for actors to come out of makeup and the actual shooting can be pretty quick. This goes for Post Production: If you're making an indie film and you have VFX in your film and you're not a VFX artist yourself or connected to one by the hip, I'd say cut as much of the VFX down as possible or post can take FOREVER. And this goes for Distribution: Distribution is a magical and complex beast that happens when it happens. The best thing to do in the meantime is get working on more projects so you have them ready to go by the time that your previous film is released.
Three is to understand that "You are a brand now". Self-promotion is an essential part of the business. It's actually a lot easier to make a film than to get the masses to watch it. Studios pay an insane amount of money to promote films, as an independent filmmaker we have to make cool stuff, present it consistently in an interesting way, and put an insane amount of hours into it. This can be intimidating. But, there are amazing benefits to be had in building a following of people who are into your work. The best case to look at currently is Chris Stuckmann's Shelby Oaks Kickstarter campaign. He broke records in all directions on this thing, raising $1.4 million from 14,720 backers in record time. What helped him do this was having a massive following of 1.99 million subscribers on Youtube that he's been building for 11 years. He put in blood, sweat, and tears for every dollar of that Kickstarter and the film, from what I've been hearing, is going to be amazing for it.
Thanks – so what else should our readers know about your work and what you're currently focused on?
When I'm building a new story I flow from an initial brain dump of the concept, to outline, to treatment. I then add scene headings to the treatments and copy and paste them into Final Draft. Then I tear through the initial assembly draft like a chainsaw. When the COVID lockdown first hit and I had nowhere to go, I did a little experiment to see how fast I could write a feature. I wrote it in three days, polished it for a week and a half and tossed into a couple of screenwriting competitions to test the waters.  It placed as a quarterfinalist in the Cinestory Feature Retreat & Fellowship and the Screencraft Horror Screenplay Competition.
Once I have a decent draft of the script, I move one to concept art and the pitchdeck. If there's a benefit on the particular project I may include a few pages of a mini-comic or an animated motion comic of a key scene. If there's money to shoot, I move on to storyboards followed by a video animatic with dialog, temp score, and scratch sound design.
Almost all of these things cost me nothing but time, which allows me to be up and ready to pitch without going into debt. This really helps selling potential cast and crew on the idea as well as raising funds to shoot and do the post on the project.
We'd be interested to hear your thoughts on luck and what role, if any, you feel it's played for you?
When it comes to the work, in my experience, luck is essential but can't be waited on.
My mantra is: Prepare. Do the work. Make cool stuff.
We have more of a chance of getting lucky the longer we're in the game and the more cool stuff we complete and get out into the world. If your work is unfinished and a secret, luck is going to have a very hard time finding you.
When luck found me, I happened into that Clubhouse room with Sebastien and the rest of our Sinphony family which was awesome. But we were on an insanely accelerated schedule where if we couldn't keep up, we'd be road kill. But what kept us in the game and allowed us to succeed, at all of the stages of the production (not only keep up, but to thrive) was all the work and processes that my producer, team, and I had created before. It also helped that we had samples of our previous work to show that we could deliver something of quality.
So, in the end – Work hard, be prepared, and make sure you can recognize the opportunities when they find you. Because every day people have luck tapping them on the back and they don't realize the opportunity they're getting until it's passed them by. Or, even worse, they get an amazing opportunity and are in no way prepared to do the job.
Contact Info: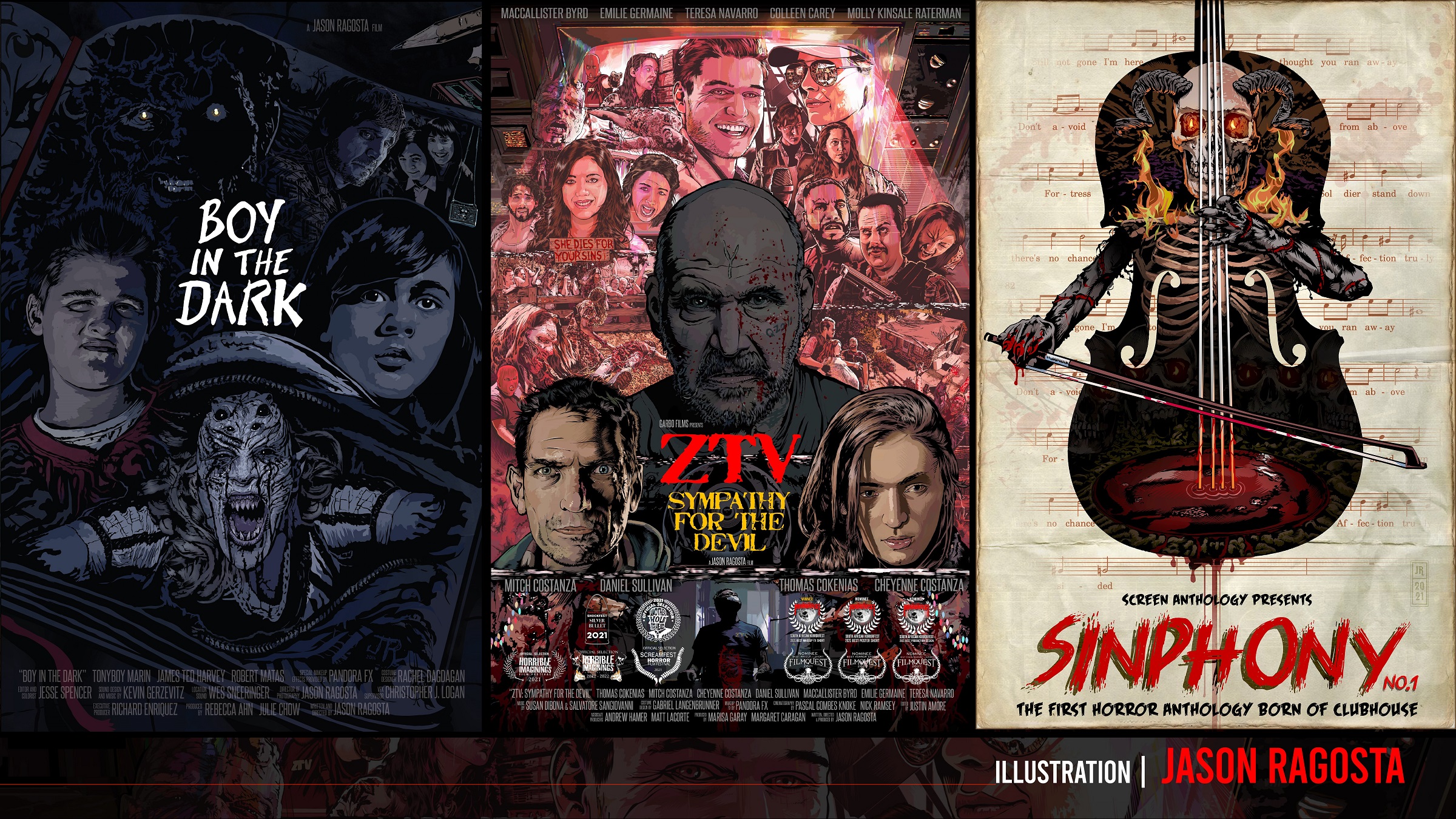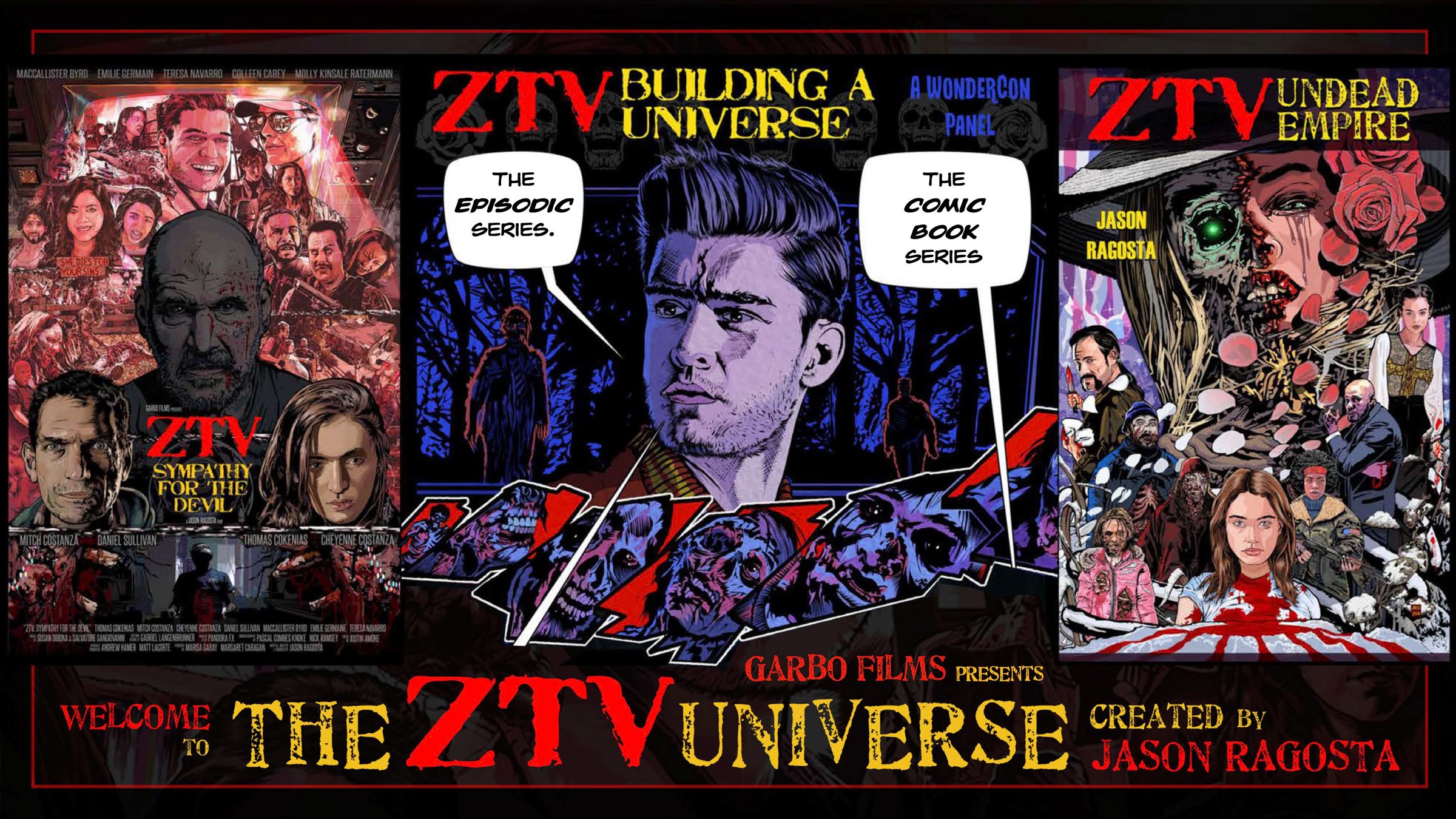 Image Credits:
ZTV pics: Pavel Fedorov Sinphony Comic-Con: Curt Wiser Sinphony Set shot: Lydia Daniller Illustration Images: Jason Ragosta
Suggest a Story:
 VoyageLA is built on recommendations from the community; it's how we uncover hidden gems, so if you or someone you know deserves recognition please let us know 
here.