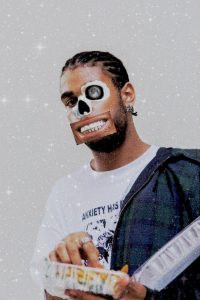 Today we'd like to introduce you to Francis Thomas.
Hi Francis, we'd love for you to start by introducing yourself.
Growing up in Houston, Texas, I have always been considered as an outcast of my family, an oddball at school or an innovative creator by other people. I grew up in the house filled with separation and monetary value. It was rarely ever qualitative since everyone was working all the time up until a special event or a weekend came. Even though my parents were together, it felt like I'd choose sides on who'd I connect with, and it taught me to develop on my own mental and spiritual stability.
But, I could never figure out who I was when there were also outside family members that were guiding me into various directions in life that I don't either remember or I have always had a hard time in. But since I have started, music has always been a loyal gateway for me and has ventured me into doing many other things. I grew up listening to Alternative, Disney Radio & Jazz for a while. I grew up listening to almost everything, but what detaches me from society is that I never was a fan of Rap at first. My dad was a co-owner of the known record label in the city, Wreckshop Records with D-Wreck, a couple of S.U.C. Members etc. I remember when I was two he sometimes took me to the studio with him, but I don't remember that much of how everything fell off. My music career started in 2012 when I was about 15 years old, rapping with one of my long-time friends for fun on Facebook––though we never took it seriously at that time, everyone knew I had a certain type of gift to bring to the world. Throughout that time span, I also managed to maintain a sports balance in school and going into college at Prairie View A&M University for a bachelor's degree in architecture. At 17, I released an experimental project that gave me a sort of buzz in Houston––NIRVANIC.
At that time, I had a different stage name, but the sound and curations I've made with other producers were on point. As if I were Phillip Johnson, Frank Lloyd Wright or Norman Foster––an architect for music; how it's structured, what can be added, and the process of making a track into a FULL Song. Throughout the four and a half years, I utilized architecture and my second major, business in marketing, into what I was going for in my music. I also have a pleather of brands: CHIPPY, The trademark of the overall foundation and also an upcoming clothing brand, FRANK'S MOON BUTTER, A Black Male owned property/soap essential, and EIGHTY MOONS my record label I created back in 2017. I have also ventured out into making my own artwork, modeling, fashion designing, photography, videography, video directing, and audio engineering. I honestly didn't finish school because of paperwork clearance, so early in 2020 last year, before and during COVID, I took the time I was supposed to be in school and came out with the album TO THE MOON & BACK––which is getting good reception; but, if I had the proper team and a consistent stride, the reception would be even better.
Alright, so let's dig a little deeper into the story – has it been an easy path overall and if not, what were the challenges you've had to overcome?
Every artist is going to have a struggle story––that's what makes an artist an artist. I have sacrificed space and sanctum, emotional support and sleepless nights trying to get towards my destination… but like everyone says you cannot do it ALONE. That's been one challenging thing for me. When there are certain energy in my circle, I tend not to utilize them. I do not look for financial stability and quick money when it comes to my craft. Everything I do, I want it to be longevity, have a meaning behind it, and a message to influence others. I'm passionate about what I do. I guess my issue with everyone is that they want to look for an easy come up but not put in the actual work for it, and it depends because some energy is not always the best in the industry.
Everyone says they support you and do anything they can but when asked for help, everyone disappears. Houston has always been known as a 'Crabs in a Bucket' city; they see your quality but do not ever want to express it until you are well known. Everyone is in competition with each other instead of working. Friends turning to enemies or even strangers after one special connection with a businessman. I understand the dedication; but, working in unison has always been my challenge, but it continues to become an infinite vision of mine. It's just connecting with the right people and your frequency.
Thanks – so what else should our readers know about your work and what you're currently focused on?
My love is in music, but there are other things I have expanded towards. What being a creative in general has taught me is that there really is no such thing as an overnight success; thus, take the time out for yourself to figure out yourself, and once your potential is maintained, that is when you tap into your creativity and can come up with many ideas all at once. I never would have thought I would take the time to teach myself audio engineering; but by simply watching 6-minute videos almost everyday, I utilized what I was self-taught and can define colors and textures through audio. I'm positive I'm willing to learn more based on textures of audio, and possibly later I'll get into making my own beats.
My inspirations growing up musically are split into genre's:
– Alternative: Tame Impala, Pharrell, Tyler the Creator, Adam Levine, Frank Ocean & MGMT
– R&B: Aaliyah, Chris Brown & Omarion
– Rap: Kid Cudi, A$AP Mob & GOOD Music
– Hip-Hop (Conscious): Kendrick Lamar, Eminem, Jay-Z & Lauryn Hill.
– Pop: Michael Jackson, Beyoncé, XXXTENTACION & Drake
– Rock: Green Day, KISS, Nirvana, & Toto
– Metal: Slipknot, Slayer & Dethklok (from Metalocalypse)
Currently, I'm in transition to curating my own R&B sound after this mixtape; IT IS WHAT IT IS: A 'Dedication' Mixtape. A rap mixtape. My goal with music is to bring back lyricism, but make it fun into the now generation of music. My favorite time were when Lil Wayne tapes used to be for download, songs had context, and catchy flows and hooks where people can receive and recite lyrics—not just the hook. With this mixtape, I want to bring back the era of instrumental tapes, which was cool to rap on other people's beats, and correlate it with my original sounds that I have from other producers. People think making remixes are lame now; but, I use instrumentals for warm ups as well whenever I feel like I have writers block. I get a lot of inspiration from music from the early 90's up to 2008. That's when a lot of essential albums were authentically proven to be great & classic albums, and I tend to make classic timeless music.
Do you any memories from childhood that you can share with us?
I remember all the time when I was little and still till this day, I used to want to collect Lego's and just build something extravagant. It was that, or I've always had a knack for playing video games. I've always wanted to help people and sacrifice my needs for others, and building an open world that can be accessible to anyone. Growing up, my mom was in a field for counseling the mentally ill and getting them hired for work paid jobs and my dad was a barber. They have always had something they provided for the community; but, this is where the Lego's and gaming came in. My love of engineering combined with both influences and observing my parents giving back to the community. With that memory, my dream was to always build a creative, innovative and artistic community center in the city of Houston, Texas for the mentally ill and incapacitated.
Everyone deserves to have their art or vision expressed the way how they want it, no matter who you are as a person. I believe that making creative people can ail whatever mental disease they possibly have, instead of excessively depending on medical prescriptions, their mind is accessible to the energy that's around and what they put out. My livelihood idols growing up were Bruce Lee, Michael Jackson, Kurt Cobain, Tupac & John Lennon. Their philosophy has always taught me to stay grounded throughout any situation and made me realize every visionary that is a superstar will go through the most hardships. People are going to control you and alternate your goals, but it's your path to make and everyone comes and goes. Their liberation is also something I find intriguing because even though the community didn't serve them well, they still tend to give back. To me, that's strength and value more than money; Leaving a legacy.
Contact Info:
Image Credits
CROOKED STRIAGHT MEDIA, The Godfath3r Photography & The ROB Co.
Suggest a Story:
 VoyageLA is built on recommendations from the community; it's how we uncover hidden gems, so if you or someone you know deserves recognition please let us know 
here.