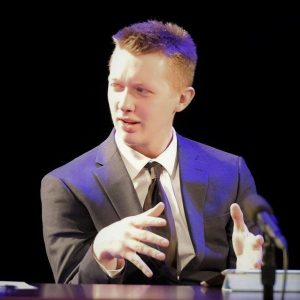 Today we'd like to introduce you to Ethan Hallstrom.
Hi Ethan, so excited to have you on the platform. So before we get into questions about your work-life, maybe you can bring our readers up to speed on your story and how you got to where you are today?
My first real, validating experiences with creative work in general came when I joined my high school's Speech team. I didn't have much of a reason to gravitate in that direction at first; I was a new kid, a recent transplant from out-of-state who didn't quite have the social skills to make friends without the structure of some sort of shared activity. I picked Speech, at first, because my only other options were the wrestling team or band, and considering the fact that I had no sense of rhythm and the physique of a Party City plastic skeleton, neither of those were real options. I almost immediately found my niche in Speech, though. I competed in "Creative Expression," which involved writing an eight-minute long narrative piece and performing it for a panel of judges, who would critique it and rank it against the work of other entrants. I wasn't, like, the LeBron of competitive make-believe, but I did well enough to place consistently highly and win at a few big tournaments. My pieces did especially well in front of larger audiences, and there's a really specific, potentially addictive form of validation that comes saddled with the experience of making an audience laugh. One that I don't know if teenagers are emotionally equipped to handle, one that can potentially influence them to make suspect life choices in the name of chasing that same fleeting feeling as an adult, at the expense of developing real-world skills or giving back to society. Anyway, on a totally unrelated note, a few months after graduating college I poured all the savings I made from on-and-off custodial work into financing a move to LA to become a writer.
Would you say it's been a smooth road, and if not what are some of the biggest challenges you've faced along the way?
I mean, relative to my life up until this point, probably not. In 2018 I moved from Minneapolis, the place where my family and friends lived, where I'd enjoyed a really comfortable, sheltered upbringing, to a dingy apartment in North Hollywood. For the next year or so, I hemorrhaged money and worked multiple jobs. I didn't know anybody but my roommate (a really gifted actor friend with whom I'd actually competed in Speech back in high school) and didn't have the time, the cash, or the drive to meet new people, so I was very isolated. I wrote plenty, I pumped out a screenplay and finished a novel that year, and a few of the short stories I'd put on the internet attracted a decent-sized audience. I sold my first piece of fiction to the NoSleep Podcast in August, and I loved their adaptation of the story.
But for the most part it felt like I was just dumping material out into the void. I knew how to write and what to write, but I had absolutely no clue what to DO with it. It was a time that was very much defined by being stressed and broke and permanently disoriented. But, again, that's rough relative to my life up until that point, which, barring one major family tragedy that would probably be tonally inappropriate to go into, was very stable and comfortable. And I knew what I was getting into. I understood before coming out here that it was a gamble in the first place and that thousands of people just like me pour into LA every year with dreams and just never figure it out, through little or no fault of their own. So while it was stressful, it wasn't unexpected. And things got better by the end of 2019 when I got hired as a video editor for the Prostate Cancer Research Institute. The team there treats me with a startling amount of kindness, and after some time there I got the financial security and schedule stability I needed to ditch my three hour commute and move into a less roach-infested apartment in West Hollywood.
Thanks – so what else should our readers know about your work and what you're currently focused on?
So, right now, I'm sort of semi-well-known on the internet for two different things. The first being a few short horror stories that have found decent success on sites like Reddit and YouTube. I went into horror because it's the only flavor of short fiction, other than romance, that seems to grab a big audience online. Horror fans are very enthusiastic, and, as a genre, it's perfectly suited for a quick, 3,000 word narrative with enough punch to snag and hold someone's attention for a few minutes. While it's not super profitable without a big Patreon campaign or devoted following, this kind of work does give access to a potentially huge readership. There's this whole cottage industry of YouTuber voiceover artists and sound mixers that take stories (with permission) from writers like me and adapt them for a surprisingly devoted, sizable audience. Combined, productions of my stories have amassed about a half-million views, and it's given me access to the kind of mass feedback and positive reinforcement that's crucial to getting better at any art form. The second and more recent niche I've found online is in animation. I've always been interested in animation and VFX (there's a deeply embarrassing YouTube account out there full of video proof of just how much twelve-year-old me was into it).
My job at the PCRI, and then the lockdown, gave me the resources and time I needed to buckle down and really learn some of the basics of 3d animation. I clocked a few hundred hours of practice in Blender (a free and kind of miraculous bit of software that deserves whatever donations it can get) over the course of the last two years. It sort of paid off, too. A joke video I made, an animated parody of the lamp from the Pixar logo, went decently viral around June this year. I followed it up with a few more joke videos and a more serious attempt at a horror short, and right now my YouTube channel's sitting at around 13,500 subscribers and over five million total views. Animation's a complicated and notoriously painstaking medium, and it's pretty clear from my work that I don't have much of a background in, you know, actual art. I'm still learning so much as I go along, and there are aspects of design, modeling, texturing, rigging, and especially character animation that I'm far from a pro at.
But I'm also proud of what I've accomplished at this point. The internet's a very saturated place right now, but I think it's kind of telling that the specific niche of "comedic 3d animations" isn't super crowded yet. It takes a lot of legwork, a lot of memorization and technique and constant trial and error to do, and I can say that I've done it, at least to a degree. I'm improving markedly with every video I make, and I think if I continue at this pace, within a few years I'll be proficient enough that I could make a decent living with CG work. It's not what I initially came to LA to do, and writing is still my top priority, but I've sort of stumbled into a medium that I'm both decent at and is in high demand, so I figure I might as well lean into it. Plus, it's, like, a lot of fun.
The crisis has affected us all in different ways. How has it affected you and any important lessons or epiphanies you can share with us?
So, I'm very fortunate in that I have a job that was largely unaffected by the lockdown. If the virus had emerged last year, I definitely would've run out of money and had to move back to the Midwest, so it's largely due to luck that I'm still out here. Things could have absolutely gone worse, as they have for so many people who were more prepared and capable than I am. Still, I had a few promising things in the works early in 2020 that all kind of got squashed. I was getting regular standup comedy gigs, and I'd finally settled on a routine that got decent laughs in most of the rooms I tried it in. I'd written a one-act play that had just started rehearsals in February. I'd been contacted to write a script for a couple of filmmakers, who were in the process of making a short film based on a story I'd posted to Reddit in 2019, and they'd already begun filming and crowdfunding the full project. And COVID kind of pumped the brakes on all of those things, as comedy clubs closed and people were forced to move away and filmmaking (rightfully so) stopped being a priority for a lot of people. So, I've just been cooped up in my apartment, writing and animating. I'm antsy, as many people are. Anxious for things to reopen. The lockdown's helped me redouble my motivation, given me a ton of time to practice and develop, but it's also set me back to square one in a lot of ways. The big lesson I've learned is to just keep pumping things out. If other people aren't around to make things with me, my only option is to make things on my own or to give up, and I'm not ready for the latter yet.
Contact Info:

Image Credits:
Final headshot image taken by Peter Scholz. Standup comedy shot provided by Flappers Comedy Club in Burbank.
Suggest a Story:
 VoyageLA is built on recommendations from the community; it's how we uncover hidden gems, so if you or someone you know deserves recognition please let us know 
here.
What to check out next:
Aleasha Bahr is a sales & marketing strategist known for showing introverts and ambiverts the Secret Art of Subtle Selling.  She personally sold millions in revenue while discovering introverts are usually top sales people – as soon as they stop trying to act like extroverts.  We've partnered with her to produce Introverted Entrepreneur Success Stories. Check out episode 1 below: