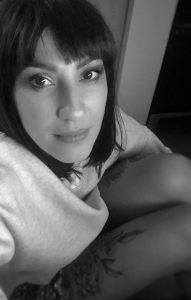 Today we'd like to introduce you to Eleonora Balducchi.
Hi Eleonora, thanks for sharing your story with us. To start, maybe you can tell our readers some of your backstory.
I'm Italian and based in LA. I'll be taking you through my journey in the art of tattooing; from a passion grown into a dream to the moment it became a real opportunity leading me to change my career and become a professional tattoo artist.
Movement and change have been constants throughout my life, initially as a consequence of someone else's choices and then of my own. Looking back, I feel like this pattern of periodically reassessing my position and adjusting to a new environment has planted the seeds for the decisions I made later in life, giving me the confidence I needed to embark in new adventures and experience unchartered territory.
Inspired from an early age by my grandfather, art has always been my truest passion and for a long time, the idea of being a professional artist was just a crazy dream.
Having always been quite a bright student, it was natural for me to chose a professional career path in architecture and in 2005, I graduated from Università di Bologna, Italy. During university, I had the opportunity of spending a year studying in Valencia, Spain, and sharing this valuable experience with students from all over Europe opened my mind to consider a wider range of future opportunities.
After a couple of years working in Bologna my life felt quite settled, probably a little too much at that stage, and together with my boyfriend at the time, we decided to move to London, UK, a place that always fascinated both of us. In London, I was catapulted into a completely new and diverse reality where everything was equally exciting and challenging. Nevertheless, I was determined to succeed in achieving my personal and professional goals: I wanted to grow, learn and explore, I wanted to work on significant architectural projects and, of course, have a great time.
Furthermore, being exposed to such a prolific cultural and artistic scene also nurtured different interests of mine, like the passion for tattooing. I am not entirely sure where my interest comes from as I had no familiarity with the world of tattooing, but somehow this -still questionable at the time – form of art always fascinated me deeply. By the age of 16, I had my first – and for a long time my only – very small tattoo and now I was living in Camden Town just above a tattoo shop… A sign maybe?
I lived in London for almost eight years, during which I worked as an architect for two major firms designing some truly amazing schools. For as much as I may have liked -or disliked- my job, I always felt something was missing and that wasn't the way. I was craving art and creativity, something that I wasn't able to merge with my profession and it was back then, ten years ago, that I started toying with the idea of becoming a tattoo artist.
Having had a well-established career in Europe, I was keen to take on another challenge and in 2014, I moved to the US together with my partner. While in New York, I worked at a brilliant architectural firm focusing once again in the design of schools and in my free time, I kept nurturing my passion for art. This 4-year period was beautifully intense and marked by some major milestones like my marriage and the birth of our son, Leonardo.
I love New York, the city, the people, the soul and the unmatchable energy that makes you feel like anything is possible, and that is exactly what I took with me when I finally moved to the west coast.
This last move and change of environment was the final trigger to steer my life in the direction I had been looking out for, for so long.
While caring for our son, I took the opportunity to invest more time in practicing art, focusing on painting and drawing; I managed to draw on a daily basis, exhibit some work in a few galleries, and ultimately build an up to date body of work that allowed me to secure an apprenticeship as a tattoo artist.
I sent my first inquiry for an apprenticeship in London and finally walked through the door of a tattoo shop as an apprentice ten years later, on the other side of the world. It's been quite a journey, but for as challenging as it may have been, I wouldn't change a thing, and I'm sure what lies ahead will be as exciting. And today, I'm proud of being an architect as much as I am of being a tattoo artist.
I'm sure you wouldn't say it's been obstacle free, but so far would you say the journey have been a fairly smooth road?
I probably wouldn't call it smooth, but there is no doubt that one of the biggest struggles was within myself.
After studying for years to become an architect and pouring all myself into my career -furthermore in a foreign country – for a long time, I wasn't prepared to start from scratch for several reasons.
I liked my job and the professional environment surrounding me, I liked the comfort of a secure and decent salary and I enjoyed my lifestyle.
The economical challenge of an apprenticeship was an obvious concern and to be completely honest, I wasn't sure how I would fit in a tattoo shop.
Years ago, the atmosphere of a traditional tattoo shop was quite intimidating for someone like me.
In the last two decades, the tattooing industry has undergone some major changes in a number of aspects, and alongside traditional tattoo shops, we have seen the birth of a new kind of studio that attracts different artists and welcomes a new type of clientele. The negative stereotype of the tattooed, as well as the tattooer himself doesn't hold the same relevance today.
More women are pursuing this career and very often, this is a professional path chosen by individuals with a formal artistic background.
This change, together with the technological progress that this industry -like every other- is witnessing, also reflects in the outstanding quality of the work that is being produced by tattoo artists.
Tattooing is now considered a legitimate form of art by most, and this shift has probably played a role in my own perceptions of a potential career in this field.
Finally, the last obstacle I had to overcome was finding a way 'in' and being a complete outsider, I really didn't know where to start. If you want to become an architect, a doctor, a businessman of sort, you know exactly which steps to take and the path always starts with education. There is nothing like that that leads to a career into tattooing, or at least there wasn't. I knew that to become a tattoo artist, I would have had to secure an apprenticeship so I approached shops via email sending them my bio, a portfolio and hoping for a reply. I sent quite a few emails throughout the years, often received with skepticism and suspicion as artists would find difficult to take me seriously. Sometimes I was lucky enough to actually be invited to attend an in-person meeting, but more often than not I never heard back. Some artists even tried to talk me out of it completely, drawing an apocalyptical picture of a potential apprenticeship and even more dreadful one of the tattooer life and environment. Obviously, they didn't succeed!
I was also recommended to consider tattooing schools and I certainly looked into it, but I wasn't convinced by any of them, so I decided that if this was going to happen, it would be through an apprenticeship and persisted until the opportunity came along.
I will always be immensely grateful to my mentor Zoey Taylor, for believing in me and for offering me a chance. All I can say is that waiting for her was totally worth it. I couldn't imagine anyone better than Zoey to lead me into this world.
Alright, so let's switch gears a bit and talk business. What should we know about your work?
I started my apprenticeship in September 2019 under the mentorship of an incredibly talented artist and -if possible- even better teacher.
Unfortunately, my apprenticeship was cut short by the pandemic and in 2020, I found myself seriously questioning my professional position. However, in this shared bad luck I was given another opportunity to move forward with my new career and I was welcomed to work at Royal Heritage Tattoo and Piercing located in Venice. I'm very lucky to be surrounded once again by a team of incredible artists and human beings, the atmosphere at the studio is always extremely pleasant.
Here I specialize on fineline tattoos and realism. As my skillset improves, I am able to accept more challenging projects.
As an artist on paper, I've always loved figure drawings, particularly portraits… I love working with charcoal, as well as using oil and watercolour. As a tattoo artist, my goal is to be able to replicate or better the same level of artistry on skin.
The thing I'm most proud of at this stage is having had the courage to take a leap of faith and commit to this change of career. I'm proud of the fact that I believed in myself, I didn't give up and I realized a dream of mine… actually two.
Finally, I'm proud of the way this entire journey has shaped my personality; as a mother, I want to teach my son to follow his heart and never give up on his dreams and there is no better way to do so than leading by example.
It's too soon to say what sets me apart from others in terms of the actual quality of my work, but I'm certainly determined to achieve levels of excellence. This drive and determination may just be the ingredients that will set me apart.
Is there something surprising that you feel even people who know you might not know about?
I guess the most surprising thing is probably the core of this interview itself and the fact that for almost 20 years of my adult life, I focused on a different career. At least so it seems judging by the astonishment I read on people's faces when the subject comes up in conversation. It's actually really funny as I can clearly understand the listener's view on this matter based on the reaction to my confession: there is the enthusiast who approves and admires my journey with a 'wow, that's amazing!'; and, on the other hand, the type of person who doesn't support the decision and gives me a dry 'oh, that's an interesting change…' to which I can't hide a smile.
Besides this, I'm quite an open and transparent person so if most people don't know something is probably because it's not for sharing!
Contact Info:
Email: balducchitattoo@gmail.com
Instagram: @balducchitattoo
Other: Second Instagram: @balducchiarte
Suggest a Story:
 VoyageLA is built on recommendations from the community; it's how we uncover hidden gems, so if you or someone you know deserves recognition please let us know 
here.