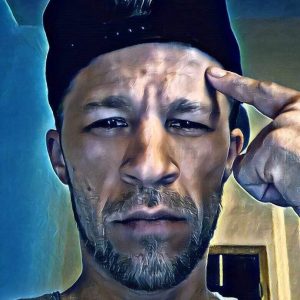 Today we'd like to introduce you to Daniel Baumgartner.
Hi Daniel, please kick things off for us with an introduction to yourself and your story.
I think I would have to say that I found my connection to music in the summer after 6th grade (1996) lol. During that school year, the school I attended and several others were involved in a state-wide poetry contest, and I had placed 2nd. With that, during that summer I really started listening to hip-hop & rap music. In which my first two discs (cassette tapes) LOL, I purchased were Bone-Thugs & Harmony – est.1999 eternal, and Outkast – Atliens. After finding out that labels were distributing instrumental versions of albums, I explored implanting my poem to them and feel in love with it since. Never took it too serious until recently, but there were a few summers in between where there were flares ups with me and friends of mine where we were creating projects and getting more involved. After several years of paying people for Beats, Mixing, and studio time I finally got tired of it, lol and took on the tasks of learning them myself. I'm a producer and songwriter, but I really took interest in the mixing and mastering aspect. I really enjoy the creating and finalization process of a song. In 2017, I almost quit music period, it was just a lot of build up of several situations that were consuming so much of my time and see nothing shake. So, before I made that decision, I finally decided to put together a project and released it in 2018, just to see what kind of reaction I would get. The reaction I got started a fire under me. Ever since I've engulfed myself completely in creating "my own" style and sound in music.
Would you say it's been a smooth road, and if not what are some of the biggest challenges you've faced along the way?
I would love to say everything went smooth, but If I did then I probably learned nothing 🤣. But there were always ups & downs. Some of the struggles that occurred had a lot to do with me being on my own since 16. A lot came with that, finances and having to hustle, at 16 it's not like they were able or wanted to pay a 16 years old a lot of money at a job. Plus, I rarely by law could work a full 40 hours a week. So the hustling aspect and the things that come with it like types of friends, associates, certain situations that would occur, legal issues had a huge impact on me. That repeating circle went on until around 2009 when I found out the girl I was and still dating became pregnant. From there on, I broke loose of the circle and made many changes… A little word of advice to the youngsters "Show me your friends, and I will show you your future"… Not everyone does well for ya. So focus on you what you need to do to succeed so you don't have to resort to the mess that is viewed as "that is how you have to do things". There are so many revenues out here to create, and the streets doesn't have to be "not one."
Thanks – so what else should our readers know about your work and what you're currently focused on?
Besides my normal 3rd shift 9 to 5 or should I say "10-6" where I manufacturer cream cheese. I specialize in mixing and mastering. But, also I am a producer and songwriter. What I am known for? This one is funny, people always say "I SPAZZ out on tracks..🤣 Had a few people after hearing my verse or verses on a few songs not want to jump on the song, not that they didn't like the track, but more so saying "fuck that, Dude ain't gonna make me seem like I'm wack" lol.. but it was all love. I am most proud of myself with sticking to my craft and not giving up on it. I've made a lot of new good friendships through music. Another thing about music and the whole process I love, that it keeps my brain sharp. The brain is like a muscle the more you use it the more efficient it becomes. Creating music is a great exercise for your mind. What sets me apart from others, especially in the music environment now, is almost everything. I respect all crafts but the new wave of music, "with no hate intended at ALL" it's hard to tell who's who. I have the personality of not falling in suit, I don't follow a trail but more so create my own paths. Another thing that sets me apart is my storytelling through my songs, and I speak a lot about things that the majority of us go through in life versus the things most will never experience, the good-the bad-and the ugly. How hip-hop in my eyes started.
Who else deserves credit in your story?
I think everyone and every situation or person I've been around good or bad, can take credit for shaping and molding me. I strongly believe that no matter who or what has something to do with programming, you mentally and physically. A lot of this has to do with how the person receives the events at hand, Some people take negative situations and react negative, and some learn from them. Vice-versa. Some people take good situations and become conceited and snobby, then there's some that are humbled. But one person recently I can say helped ignite my love for music again was my homie Rif-Raf The Great, a producer/Mixing engineer out of Cali. He has been a great help when it comes to the more in depth mixing questions, idea creativity, finding artists to collab with and most importantly the business /behind the scene tasks that need to be done and never talked about. It's a great thing to keep yourself around "like minded" people. It helps through the journey.
Pricing:
Simple mixes "no stems" start at 75$ going to 125$
Mastering-75$
Collabs – 100$
Hooks-starting at 75$
Contact Info:

Image Credits:
Lil Dude Davinci.
Suggest a Story:
 VoyageLA is built on recommendations from the community; it's how we uncover hidden gems, so if you or someone you know deserves recognition please let us know 
here.