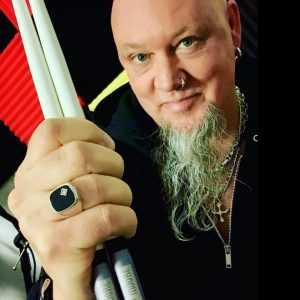 Today we'd like to introduce you to Chris Moore.
Hi Chris, it's an honor to have you on the platform. Thanks for taking the time to share your story with us – to start maybe you can share some of your backstory with our readers?
I grew up in Arcadia, CA. My parents bought a paper drum set for my 4th birthday. After I destroyed it, they bought another one for my 5th birthday. After the same result, they bought a proper snare drum for my next birthday.
The following month, they gave me a cymbal on a stand for Christmas. Right after fourth grade, my neighbor Kenny Blair was moving with his family and needed a place to store his drum set for the summer. The agreement was I could play the kit but would have to give it back when summer was over. He showed me how to play a basic beat and I was completely in awe; it was beyond cool to be standing next to someone creating this amazing sound by combining their limbs in a singular groove. I sat down and figured out how to play that same beat and it was the most excited I'd ever been about anything. I set up the kit in what used to be the playroom and began jamming along with The Carpenters, which was the heaviest record my parents had at the time. I played every day. Needless to say, my parents bought Kenny's drum set for me at the end of that summer.
Soon after, my brother introduced me to KISS Alive and that became my entire world. In 1978, Van Halen's debut album was released and that was it; life and music really began to make sense at that point. I knew what I wanted to do. I played along with that record nonstop. The following summer, I got a call from Dennis Sobolewski to jam with his band after their drummer had left. Dennis' brother is Michael Anthony of Van Halen, so I was fortunate enough to attend Van Halen rehearsals and shows with Dennis and his family. Of course, this only strengthened my resolve to become a professional musician. The band we formed was called Rampage and we played some of the local Pasadena venues, like The Ice House and Pookies. We eventually played The Whisky, The Troubadour and Gazzarri's. When we played The Whisky for the first time, I was only 15, so my drum tech Doug Goddard had to drive me to there haha!! When I was a senior in high school, I joined the band VVSI. We began to build a pretty solid following and experience some success. It looked like I had a shot at going somewhere with it and really wanted to pursue it. More than anything. My parents asked where I was planning on attending college and I simply responded, "I'm going to be a rockstar." They laughed. We agreed that I could take a year before going to college and chase my dream. If I didn't make it, I'd go to college. Meanwhile, the attendance at VVSI shows was growing and the crowds were becoming very enthusiastic. We sold out The Troubadour and the roar of the crowd after my drum solo actually startled me.
We continued on, selling out The Roxy and earning the title "Pick Of The Players" in Music Connection Magazine, where local artists vote for their favorite band ~ two of the artists I remember voting for us were Bret Michaels and Lars Ulrich. We were approached by Paul Rothchild, who had been The Doors producer. Paul wanted to work with us and put a deal together with his friend David Geffen, who'd recently started Geffen Records. The guys in VVSI were hesitant about selling out, as we'd all heard horror stories about bands being controlled by producers. They stonewalled Paul and rejected his ideas for our songs, so he walked. Despite our success, things were beginning to unravel for the band, which I won't go into here. I decided to go to college. Incidentally, the band David Geffen signed was Guns N Roses. I attended San Diego State University and graduated with a degree in Finance. I became a specialist for Merrill Lynch and lived the corporate life, but something was missing. When 9/11 happened, I was in Philadelphia for a meeting and was booked on a United Airlines flight to LAX that morning. Realizing if they had chosen my flight, I would have left this place without achieving my dream. So I began pursuing music once again. Playing every day, rebuilding my chops and focusing on new ways to express myself on the drums. What's ironic is I ended up playing a lot of the same venues…The Whisky, The Troubadour, etc. In 2016, I jammed with George Lynch (Dokken) at an event in Northern California.
The following week, he called to see if I wanted to start a band. I had released a song with Angelo Moore (Fishbone) and George asked if Angelo wanted to sing for our new project. The name of the band was Project NFidelikaH and we released an album on Rat Pak Records in 2017. Angelo went back with Fishbone for a reunion tour, so George and I began writing and recording with Corey Glover (Living Colour). The name of the band was Ultraphonix and we released an album on earMusic in 2018. Around that time, I was offered an opportunity to play drums on the Rock Of Ages 10th Anniversary Tour. It was too good to pass up and I got the gig without having to audition. We played 200 shows in 100 cities in less than a year. It was grueling, fulfilling, challenging and rewarding. It's crazy to think that walking onstage in front of 2,000 people every night feels like going to work, but that's what it was. Only super fun. Since COVID happened, I've been working hard in my studio. Working on collaboration videos and focusing on new ways to express myself on the drums. And chasing my dream.
Can you talk to us a bit about the challenges and lessons you've learned along the way. Looking back would you say it's been easy or smooth in retrospect?
It's been a bumpy road at times. There have been obstacles ~ egos, substance abuse issues, creative differences. Record deals have fallen apart, tours have been canceled, bands have disintegrated. There are artists I'd do almost anything to play with and there are artists I'll never play with again. But that's part of the process. Writing songs, recording them and playing them together with people you respect and admire is a truly magic experience. The point is to keep moving forward. And learn. And get better.
Anything else we should know about your career so far?
As a professional drummer and songwriter, these are some of my credits: Author: Speed Mechanics for Drums (Hal Leonard Publishing).
Drummer: Rock Of Ages 10th Anniversary Tour.
Ultraphonix "Original Human Music" on earMusic.
Project NFidelikaH on Rat Pak Records.
I also do a lot of studio work and record drums for various artists, soundtracks, commercials, etc.
If we knew you growing up, how would we have described you?
I was a pretty typical Southern California kid. My family went to the beach every weekend during the summer and I loved going to Disneyland. I was enthralled with and terrified by the show Dark Shadows. As music became more of a focus, I walked the line between rocker and nerd. I always loved writing, especially lyrics. When I went to college, I was really into bike racing and was on the San Diego State University Cycling Team.
Contact Info:

Image Credits
Kevin Baldes
Suggest a Story:
 VoyageLA is built on recommendations from the community; it's how we uncover hidden gems, so if you or someone you know deserves recognition please let us know 
here.