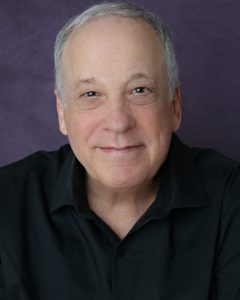 Today we'd like to introduce you to Bruce Kimmel.
Alright, so thank you so much for sharing your story and insight with our readers. To kick things off, can you tell us a bit about how you got started?
I began my professional life as an actor for stage, television, and film, back in December of 1970, with a guest shot on an ABC show called The Young Lawyers. I'd been performing in school and some theater around Los Angeles prior to that and had lived in New York for a year without much success. But I was seen in a play in September of 1970, and an actress named Shelley Morrison saw the play and loved me in it, asked if I had an agent (I didn't), and told me she'd like me to meet hers. I gave her my number and figured I'd never hear from her. Two days later, she called and asked if I could come right then and meet her agent. I couldn't believe it really. So, I jumped in the car and drove over to Sunset Blvd. near Doheny and met her in front of her agent's office. She took me in and I met the agent, Alex Brewis, who simply looked at me and said, "I don't have anyone like you" so let's do it. If Shelley says you're good, you're good." And that began my career. A week later, I was testing for the lead in an ABC pilot – it came down to me and another guy – he got it, but what a way to start out, to get that close to a starring role in a series. A week after that, I read for The Young Lawyers and got it, filmed it, and right after the start of the New Year, I read for another pilot, this one for CBS, and got that.
I got my first Partridge Family episode soon after and the producers liked me so much that they surprisingly kept bringing me back – I did five episodes ultimately, usually as different characters – don't think that could or would happen today. I did a wonderful play at the Mark Taper Forum that got filmed for PBS a year later, and I did a lot of other TV stuff and a lot of commercials. And then, in 1975, I wrote, co-directed, and starred in a movie musical called The First Nudie Musical. It was very low-budget but starred my friend Cindy Williams and other terrific actors. That had a bunch of previews, here and in New York, as we tried to find a distributor – when it previewed in Westwood, Paramount was there, and it was an amazing audience and Paramount bought the film. I won't go into the whole megilla, but Cindy got Laverne and Shirley and Paramount suddenly realized that they had a family hour star in an R-rated movie. Contractually, they had to release it, but they did everything they could to make sure no one saw it. But after two lousy reviews in the trades here, the film began getting some real rave reviews all over the country and Cindy, heaven bless her, took a stand and said she wouldn't do any publicity for Laverne and Shirley unless they gave our movie a proper opening in Los Angeles, which they finally did. But there was so much drama and Paramount had it pulled after two really successful weeks. I went public because I found out they'd done it – that hurt my career horribly, going public, but Paramount gave us the movie back, we got a new distributor, who opened it with much fanfare in New York, where it was an instant hit, played for three months in one theater, and then had a wide release on the East Coast. The week it went wide, we were the fourth highest-grossing film in the country – not bad.
After that, I still worked – did several pilots, some episodic guest shots, a movie, but I was on some kind of gray list at ABC and that was painful. Then in 1981, I made my second film, The Creature Wasn't Nice, starring Cindy, Leslie Nielsen, Patrick Macnee, Gerrit Graham, and me. That one didn't turn out so well because the producers completely recut it and made a complete mess of it. And yet, still it became a bit of a cult film – they changed the title to Spaceship and then Naked Space. Fast forward to two years ago and I finally released the original cut of the film, which I'd transferred to tape, and it was kind of a revelation to people, so that was fun.
I had a very difficult time in the 1980s and was in a very dark place, but I came out of it and swore no more negativity. I replaced a director on a low-budget thriller and then began an almost three-year stint on a Fox show called Totally Hidden Video. I'd also started a small record label called Bay Cities (years before, I'd helped a fledgling label called Varese Sarabande and got them into soundtracks – their first soundtrack release was Nudie Musical) "release was Nudie Musical). They became a huge label and hugely successful. One day, the owner of Varese called and asked me to shut down Bay Cities – we were getting stuff they wanted – and to come start my own division at Varese – a Broadway division. I'd just quit Totally Hidden Video and I was ready for a life change, so I grabbed the offer. Within six months, I'd found the huge success that had always eluded me. Two of my albums were nominated for Grammy awards my first year there. I was doing nineteen albums a year, which no one had ever done before, and I did that for seven years.
Long story long, Varese didn't want to do any more Broadway, so I left at the end of 1999, started a new label in 2000, very successful first year, but business partners I should never have gotten involved with, so that ended in 2001. That was the year I finished my first novel, Benjamin Kritzer, and I have since written a book a year – book number twenty-one came out earlier this year. All fiction save for three memoirs. In 2005, I started another label, Kritzerland, and we're still around doing a few releases every month – we've done over 300 by now, maybe close to 400.
I've also been producing a cabaret series that I have to believe is the longest-running monthly cabaret series in history – eleven years we've been doing our shows. I've written a bunch for the stage, mostly musicals, and have gone back to directing theater quite a bit here in LA. And during the pandemic, we took our cabaret shows online and showed everyone how to do online shows without any technical issues. I also wrote two original things for streaming during the pandemic – an original musical and a thriller, and those were really fun to do and almost no one could figure out exactly how we did them. That pretty much brings us to now, in a broad sort of way. I hope I haven't covered so much that the other questions will be redundant – but we'll see.
Would you say it's been a smooth road, and if not what are some of the biggest challenges you've faced along the way?
I'm not sure any road is smooth all the time and of course, I've had a lot of challenges and obstacles. But my mantra since I was in my dark place in the 1980s is that there are always two roads you can travel – the positive and the negative and the negative is the road to nowheresville. If you remain positive, things tend to happen – not necessarily the way you thought they might happen, but that's what makes life interesting. It's not good to put blinders on yourself – you never know what's just out of sight or around the corner. Sure, there are still annoyances and frustrations, you still get depressed, but I refuse to let it overtake me and I have a routine that works for me: I get in the shower and wash any negativity or annoyance down the drain – I literally watch it go down the drain.
Thanks – so what else should our readers know about your work and what you're currently focused on?
I've been blessed, and I do mean blessed, to be able to have done almost everything I've ever wanted to do. I never gave any of my talents short-shrift, which probably hurt my career, but I think it's a sin to not nurture talents you've been blessed to have. I was a decent actor, certainly, I'm a good director, I'm a good writer, I write music and lyrics well, I've written novels and memoirs (twenty-one books, thus far), and I'm a good record producer. I've gotten to work with many of my childhood heroes, many legends and had many fun adventures.
As to what I'm most proud of, I'm pretty proud of everything I've done – it's the doing, the completing. I suppose writing my books has been incredibly satisfying because you're totally on your own, no one tells you what you can and can't do, no committees, just you and your brain and your imagination. I have a strong work ethic and will never retire. I'll just work until the end because that keeps me alive and energized. I'm not sure that sets me apart from others, but it keeps me going, like the Energizer bunny.
What do you like and dislike about the city?
Well, now you're talkin'. I'm an LA native – aside from my one year in New York back in 1969, I've lived here all my life. It was a very different LA when I grew up as a child in the 1950s and becoming a teen in 1960. The city was so unique and so charming and flat, with movie theaters everywhere you looked, and big, glorious department stores, and legit theaters. It was a dream city, at least for me. Going to Hollywood was always a treat and I began going on my own when I was around twelve. Hollywood Boulevard was clean and fun and had amazing shops and bookstores like Pickwick and record shops like Phil Harris and Discount Record Center and especially Wallichs Music City down on Sunset. The most magical place for me was C.C. Brown's. It's been a horror show in the last two decades, watching them tear down unique stuff and replace it with hideous buildings – they've taken what was so unique and have just turned it into a bit of an eyesore. Many of my favorite restaurants are long gone, although thankfully a few have held on – Musso and Frank, the Smokehouse, Langer's Deli, Genghis Cohen, and a few others. The loss of hundreds of wonderful movie theaters is tragic.
A couple of years ago, I created a new musical revue called L.A. Now and Then, about the city that was and the city that is. It was very well-liked and I'm thrilled to say we'll be doing it again at the Group Rep Theatre in North Hollywood, April of 2022. That will tell you everything you need to know about what I like and dislike.
Contact Info:

Image Credits
Photo of Bruce Kimmel by Karen Belasco Staitman
Suggest a Story:
 VoyageLA is built on recommendations from the community; it's how we uncover hidden gems, so if you or someone you know deserves recognition please let us know 
here.