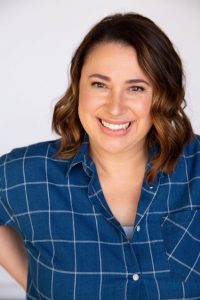 Today we'd like to introduce you to Betsy Stover.
Betsy, we appreciate you taking the time to share your story with us today. Where does your story begin?
I'm an actor and have been doing improv comedy since I was a teenager. I grew up in Minneapolis, MN. I moved to NYC where I met my husband Ari Voukydis, and where I joined up with the Upright Citizens Brigade Theatre in its very early days. I was lucky enough to have Amy Poehler take me under her wing. I performed at UCB until the pandemic hit (although I do still perform over Zoom), and I have been teaching improv comedy at UCB for 20 years.

My husband and I moved, along with our three sons, Rex, Ajax, and Odysseus, to Los Angeles to pursue careers in entertainment. Recently my husband and I, along with two of our friends, founded Illuminati Improv, an online improv school and theater. Our focus is on inclusivity, exploring the joy of improv, and using improv as a tool for self-improvement. I have a podcast called "Why Mommy Drinks," which is a weekly comedy show where parents come on and share stories of a time that parenthood broke them and maybe even drove them to drink. Doing the show for the past five years has been very life-affirming. Becoming a mother was a shockingly isolating experience, and you're constantly being bombarded with messages about how you're doing everything wrong. I wanted to build a show and an online community for people to laugh about what a mess it all is, feel less alone, and be reminded that they are doing a great job.
We love UCB and it's so great to hear that even despite the pandemic you've been able to continue to teach and mentor.  So looking back over the course of your career, I'm sure you wouldn't say it's been obstacle free, but so far would you say the journey has been a fairly smooth road?
It's definitely always been a push pull in terms of working to make enough money to stay afloat but allowing for enough time, space, and energy for joyful creativity. Often the lull of financial stability has supplanted my yearning for artistic expression. It's difficult because if you pursue supplemental work not related to your art, life can feel very meaningless, but if you pursue moneymaking endeavors related to your art, it can also rob you of the joy that it originally provided you. Also, I've found that as I strive to make myself a more mentally healthy and whole person, it quiets the things that pushed me into an artistic life in the first place. The reasons I crave audience laughter or have the ability and urge to be in control of a large crowd are also not the healthiest parts of me. So sometimes, I struggle a bit with which master to serve. The part of me that goes over an improv show I did over and over, picking apart every little move I made and beating myself up over mistakes helps me be the best performer I can be, but it doesn't help me function as a human being.
Being a mother has been challenging too, in terms of my career. To say that it's a distraction that saps me of my drive and hustle is an enormous understatement. It's hard to have the mental bandwidth to create when you're worried about money all the time, and your kids won't allow you to have a full thought from start to finish without interrupting you. Being a creative person means you never set it aside. It's not a spreadsheet that you can walk away from and pick back up tomorrow. You're always thinking of stuff and working on ideas and you could always be working more and working harder. Chris Rock said something like, "When you have a career, there's not enough time in the day. When you have a job, there's too much time."
Great quote. So, maybe next you can tell us a bit more about your work?
Ultimately my goal has always been to get paid for being funny, and that's what I've been able to achieve. I've done a few movies where I voiced animal characters, like a geriatric poodle from New Jersey or a melodramatic monkey. I got to do countless silly bits and sketches on TV shows. And I get emails from podcast listeners who say that they laughed so hard at my show that they had to pull their car over because they were afraid they might crash their car. So killing so hard that I almost literally killed is certainly a point of pride for me.
I guess though if I were to die tomorrow, I might be most memorialized as a teacher who taught thousands of improv students, who fostered generations of UCB improvisers. I'm like Charlotte at the end of Charlotte's web and her babies are flying all over the place. I am so proud of my students, and I do truly feel like there's a little part of me that's with them when they are on stage, or in a movie, or on SNL, or performing at Carnegie Hall. I like knowing that my ducklings are all out there, making good art maybe in part because I taught them how to. When I see my artistic aesthetic and ideals reflected in them, it makes me feel like I did something good for the world. My dad is a Lutheran minister, so maybe that's part of why that feels important to me. I think Bill Hicks was a pastor's kid too, right? I think that even though comedy is our calling, we still want to do a good job leading our flock. So many animal metaphors!
We love surprises, fun facts and unexpected stories. Is there something you can share that might surprise us?
Ha ha ha. I talk about pretty intimate parts of my life every week on a podcast to thousands of people, so at this point I would probably be surprised if there was anything people DIDN'T know about me. It's probably not surprising, but I am obsessed with creating order out of chaos. It is truly what leads and defines my art, work, life, and surroundings. It's why I love improv, it's why I love UCB improv in particular, it's why I like systems and tidiness. I mean, some things that people have been surprised about in the past: I love camping, I love opera, I've never been in a Costco, I spent my junior and senior years of high school in college, even living on campus.
Contact Info:
Email: whymommydrinkspodcast@gmail.com
Website: https://www.imdb.com/name/nm1632899/
Instagram: @betsy.stover and @whymommydrinkspodcast
Facebook: @BetsyStoverWMD and @whymommydrinkspodcast
Twitter: @BetsyStover and @mommydrinksshow

Image Credits
– First photo of me in blue shirt taken by Robyn Von Swank – Photo of me and baby Odysseus by Ari Scott – B&W posed photo is of UCB team Cowbot (Paul Scheer, me, Aaron Bergeron, Rob Riggle, Katty Biscone, Danielle Schneider, Terry Jinn, Dannah Phirman) – B&W on stage photo is of UCB team Ice-Nine (Gideon Evans, Doug Moe, Brett Gelman, me, Julie Brister, Joe O'Brien) – color photo with kids is of my husband Ari Voukydis, Ajax, Rex, and me – group photo with green background is at UCB Sunset with Teacher's Lounge (lifted from @teachersloungeucb on Instagram) with Cory Willis, Josh Simpson, Jonny Svarzbein, Jessica Elaina Eason, Monika Smith, Betsy Stover, Ari Voukydis
Suggest a Story:
 VoyageLA is built on recommendations from the community; it's how we uncover hidden gems, so if you or someone you know deserves recognition please let us know 
here.