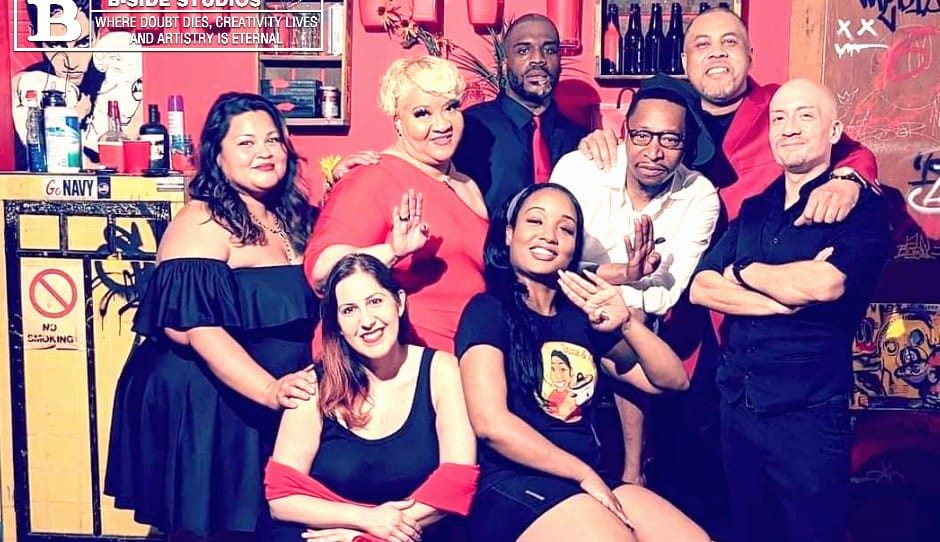 Today we'd like to introduce you to B-Side Studios. Them and their team share their story with us below:
B-Side Studios LLC was founded by Maurice D. Proffit on January 9th, 2019. Although the brand itself has been building for close to 10 years while Maurice has been piecing together all of the parts to create the company that he has today. B-Side was founded on the principles of "Everyone's voice deserves to be heard". After many years of facing a multitude of rejections and denials from opportunities that he pursued in the Chicagoland area, he came to a point where he was tired of asking permission from others "to be great". It was a combination of those closed doors and the strength behind his self-belief that drove him to create a platform that not only allowed him to create his craft but also to give other lesser-known and nontraditional artists to build up their craft. B-Side doesn't discriminate when it comes to age, experience, cultural background, socioeconomic status, social status, etc. If you have a desire to create, then B-Side is your home. Reason being, Maurice didn't want to put other artist thru the blockage that he had to endure while trying to pursue opportunity in this industry. So far, B-Side has worked with actors that range from children having their first time experiencing live theatre to seasoned veterans that know their way around the camera to people whom have retired and always wanted to give television, theatre and/or film a try but never knew how to do so. When we say that you have a home here, YOU HAVE A HOME HERE with B-Side Studios.
I'm sure you wouldn't say it's been obstacle free, but so far would you say the journey have been a fairly smooth road?
There aren't any "smooth roads" in anything that you're building from scratch. But it has been an eventful one and continues to be that way. Every project you work on, no matter what will have hill climb. You should embrace those hills since those factors play a role in your development. And what's better is that everyone's situation and struggle is so unique to them that it just highlights even more of the unpredictability that lies before all of us when embarking on our own individual journey. One of the struggles that I had to face was putting together a team of people that all shared the same vision that I shared when it comes to creating. Sadly I had a string of individuals in the past that failed to see the fruits and benefits of putting in the work to build this platform. I think they thought that this would "put them on fast", but when that wasn't necessarily the case they would just abandon ship. So my trust factor was almost non-existent at one point because I didn't want to get burned again. However, it was when I met Crissy Johnston that restored my belief that this can work with a team. She showed an extraordinary amount of energy when it came to her belief in the brand and the potential of it. When she restored my trust in being able to work with others, I felt like the sky was the limit for us to really bring some magic to the industry. Forever grateful for her.
Thanks – so what else should our readers know about your work and what you're currently focused on?
I am the founder and creative director of B-Side Studios (based in Chicago, IL). I oversee all moving operations within the company in terms of creative direction, finances and marketing. What I'm most proud of is my team within the brand and what we have to offer to the world. This is what sets us apart that together we are unstoppable but even separated, were an irresistible force. Each of our B-Side Family all plays a significant role within the brand.
Crissy Johnston and T-Bizzle ("The Buzzin Cuzzins Podcast")
"The Buzzin Cuzzins" podcast was the first program that we rolled out in January 2021 that did not consist of the CEO. This is a podcast that features the Director of Brand Operations, Crissy Johnston along with legendary Chicago Comedian and longtime B-Side family member, T-Bizzle. The two ladies bring a fun and entertaining show that touches on issues that are more relatable to women, mental health awareness and relationships.
Krissi Dior ("Delish & Dior")
This show is very much outside the box of the traditional "norm" that we've seen within B-Side content (which was a big reason why Maurice wanted to build this show with Krissi). This is the first-ever cooking show from the company that specializes in just meals prepared in a slow cooker. Krissi brings a very cool style of transforming known dishes but adding her spin to them. In addition, she shares her dishes with friends of the show in each episode. Krissi is also an actor that you can see on the NBC series, "Chicago MED". One of the most gifted actors in the city of Chicago.
Jessica Del Leola ("Sippin N Trippin")
The world is getting know Jessica more and more as she is the lead voice and face of the popular live podcast "Sippin N Trippin". Jessica is the founder and owner of Studio 54 Salon outside of Chicago. She broadcasts the show from a new location in each episode, bringing a ton of variety of the atmosphere and vibe of her show and always with a special guest. She has had guests on the show that have been financial experts, jazz musicians, yoga instructors, etc. Her mindset is on making sure that there is a balance between fun and favor in each episode which is a reflection of how life should be.
John Robinson and Leo Aerias ("Watch Yo Mouth")
This show will be debuting in 2022 and it's going to have a "barber shop talk" energy to it. Leaving no topic off the table and no opinion too small nor too great, this will be another show that showcases a great amount of variety and perspective. In addition, the show will highlight a new artistic guest (musicians, actors, etc.) where they will be able to not only promote their project but also engage in the conversations that will take place on the show. Great way to get to know these artists outside of their work.
B-Side's partnership with Urban Estetics.
This is going to be a great opportunity for both B-Side and UE. Urban Estetics is a Black-owned anime studio that specializes in graphic novels and anime stories. Be on the lookout for what the two have in store together. Maurice has been developing a working relationship with the owner of UE Miss Tamyka Brown.
CJ Jones and Shannon Guyton (marketing team)
Maurice is working close with these two amazing minds on building the product. CJ Jones is one of the most widely known names in Chicago's nightlife industry and Shannon is a young and brilliant soul that has a great deal of outlook of what the future holds.
Is there a quality that you most attribute to your success?
The will to learn and acknowledging the strength there is within you to grow. There is a saying that goes "Fear of Success", which is more than just a cliche to me, but really is a heavy philosophy that we should respect more. Many of us are very timid to put ourselves out there because people tend to fear the unknown. I feel that once that factor is put to the side then you really do regain the confidence within you to achieve whatever it is that you want to. Embrace that fear because the moment you do, then that fear is no longer a factor and those barriers that are stopping you are now gone. This positive mindset is so pivotal in reaching and even going beyond your own success.
Contact Info:
Image Credits
Photos taken by the great Paulina Fradowska (IG: @paulinafadrowska)
Suggest a Story:
 VoyageLA is built on recommendations from the community; it's how we uncover hidden gems, so if you or someone you know deserves recognition please let us know 
here.