Today we'd like to introduce you to Andrea "Cookie" Smith.
Hi Andrea, please kick things off for us with an introduction to yourself and your story.
For as long as I can remember, the kitchen has always been the center of my life. It was the gathering spot in my house growing up. It was the salon as well, lol. My grandmother Ernestine, who was a beautician by trade raised me in Petersburg, VA. The kitchens stove is where she would heat up her hot comb & hot curlers. It also housed the dryer seat for her clients including myself. I can still smell the blue bergamot grease as we speak, lol.
Nana (Ernestine) was quite the cook herself. She worked on the army base in her younger years as a cook in the dining facility. She also cooked three course meals for our family EVERY night.
I'm a self-taught Chef. However, I learned a lot from paying attention to her not even knowing that I was retaining this information. You know she never said add this or put the oven on 350. I was always watching. No communication except hand me the butter or something like that.
They say pay attention to the things you take interest in when you are younger because it gives you glimpses of your life's purpose. I have always had a love for cooking. I have to give it to my other Grandma Gwen as well. She fed that interest.
I was about nine years old and I would visit with her monthly. She would gather my cousins and we would spend the weekend with her. Gwen, would allow me to "play" in the kitchen. When I say play, I mean PLAY, lol! I got to make whatever I wanted to on my own. I would make biscuits, breakfast, whatever she would request and Grandma Gwen would actually eat it (tear). She would say, "I want my eggs scrambled soft, bacon, pancakes and orange juice".
The pancakes were sometimes too thick or too thin because I hadn't quite got it right yet.
She never complained. She said her grace and she ate whatever I prepared for her and told me how "good" it was. My confidence in the kitchen skyrocketed. Every time I went to her home, I would cook. Gwen, had a love for cooking also. She would cook for her family & friends as well.
I'm such a natural in the kitchen. It's literally second nature to me. My father Andrè (Gwens Son) went to culinary school when I was firstborn. We connect often on our love for cooking. So it's safe to say it's just in me.
I'm naturally a nurturer. So I'm going to feed you if you're around me. It's one of the ways I show my love for you. Nourishing People Mind Body & Soul is my motto and "you have got to feed the eyes."
I pride myself on my dishes being aesthetically pleasing. It's key for me. Nobody wants an ugly plate of food.
When I think about it, I was always the one cooking for family gatherings, birthday party's, bridal showers, & even weddings! People would ask can you cook for my (insert special event?)
The more I cooked, the more I sharpened my skills. I have a touch a flair as well so I wouldn't just cook. I would give you a nice set up, flowers, candles, etc. It was just the way I was raised. You can't have one without the other in my eyes. The table was "set" growing up in Nanas house, and when I say set I'm talking runners, candles, flowers, you name it. So it just comes with the territory. I knew I had the juice one year I cooked Thanksgiving dinner for the family. I cooked everything. We always went to my grandma's house. This particular year I opted to cook and have everyone come to my place. Nana said that everything was perfect. You know her compliments are hard to come by, lol. I felt accomplished because she's not an easy win.
That's when my company Compliments of Cookie was born. I started taking myself more seriously as a business. I started focusing more on branding, marketing & promotions.
I started accepting more catering jobs in area, brunches, NAACP functions, corporate meetings, special events, etc.
I would also do pop up's & create menus weekly so that my consumers could purchase individual meals from me. Everyone didn't necessarily need catering but they wanted to try my food. This gave them a way to do so.
It was definitely a success.
Over time, I have developed my own signature style of cooking. I would describe it as multi-ethnic cuisine. I believe every ethnicity has their own "soul food". In my definition, it's what feels good to you in your culture, in your family, in your household.
I like to draw inspiration from those cultures that resonate with me. You're definitely going to taste my southern roots in my food. After visiting New Orleans, you're going to taste a little creole flavor because I fell in love with the culture. I went to Jamaica and brought spices back because I was impressed by the labor of love and the richness of their flavors. I have also created my own spice blend. It's an all-purpose seasoning that embodies what I'm speaking about when it comes to my signature taste.
I've always had my mind & heart set on Hollywood, California. I remember being a child and speaking with my cousins and siblings about one day making that move. I can't quite explain it but I've ALWAYS known without a doubt I would eventually end up here. I didn't necessarily know it would be for my chef work because I kinda had my hands in a little bit of everything, lol.
However, I knew that Hollywood was where I belonged. Culinary Art is what did that for me.
When I officially made the move to the city I hit the ground running. I got my first big break catering for a Good Morning America shoot. The producers, artists & crew was impressed with my food & the experience. I was told that I had the best set of food they've ever had. I get that a lot out here, lol. The producer on this project has referred me to other producers in the industry. It has snowballed into me providing set food for multiple movie sets throughout the city of Los Angeles.
I can definitely say that word is traveling fast throughout LA about Compliments of Cookie.
I now provide my services for various artists and producers in the industry. I'm now on UberEats, I do special events, vend at festivals the list goes on and on. I'm just scratching the service. This is only the beginning of much more to come.
Would you say it's been a smooth road, and if not what are some of the biggest challenges you've faced along the way?
I come from a city where there's a lot of adversity. In Petersburg, VA you have to focus on your strengths to overcome it or you can easily become a statistic. There's no middle ground. You can easily get "caught up".
My life consisted of many challenges on this road to success. There have been roadblocks that looked like MOUNTAINS trying to distract me from remaining focused & getting here. Trust me, it wasn't an easy road, but God crumble's mountains. "Greater is coming" said the Lord & I believed Him.
Sometimes, all I had was my faith and sometimes that is all you need. He hasn't failed me yet.
I also loss someone very important to me in my process. My Aunt Michelle. She was more than just an aunt & so dear to me. Just like a mother. We were kindred spirits. She loved to host & entertain. Her light is indescribable. Her one of a kind, deep, raspy voice & laughter made your soul smile. Suffering her loss was tremendous.
I felt like I gained her strength when she gained her wings. One way we connected was through food & music.
She would have party's and make me sing her favorite songs & make her favorite dip.
She would hide half of it in the oven & put the rest out for the family. We would laugh at how she was going to eat it for the rest of the week. God I miss her. I can still hear Etta James "I'd rather go blind "in the background.
Her loss is one of the most trying obstacles I've faced today. However her protection and guidance is unchanging. I feel her and I think of the things we used to do daily. She believed in me. I'll always honor her.
Appreciate you sharing that. What else should we know about what you do?

I provide set food, date night, food for special events, and various artist. You name it.
Some of my work includes
• Good Morning America (set food)
• Situations shoot – DaniLiegh
• Tough Love series (wrap party)
• Camcorders (movie set)
• How to fall out of love with country music (movie set)
• The Family Meeting (set food)
Contact Info: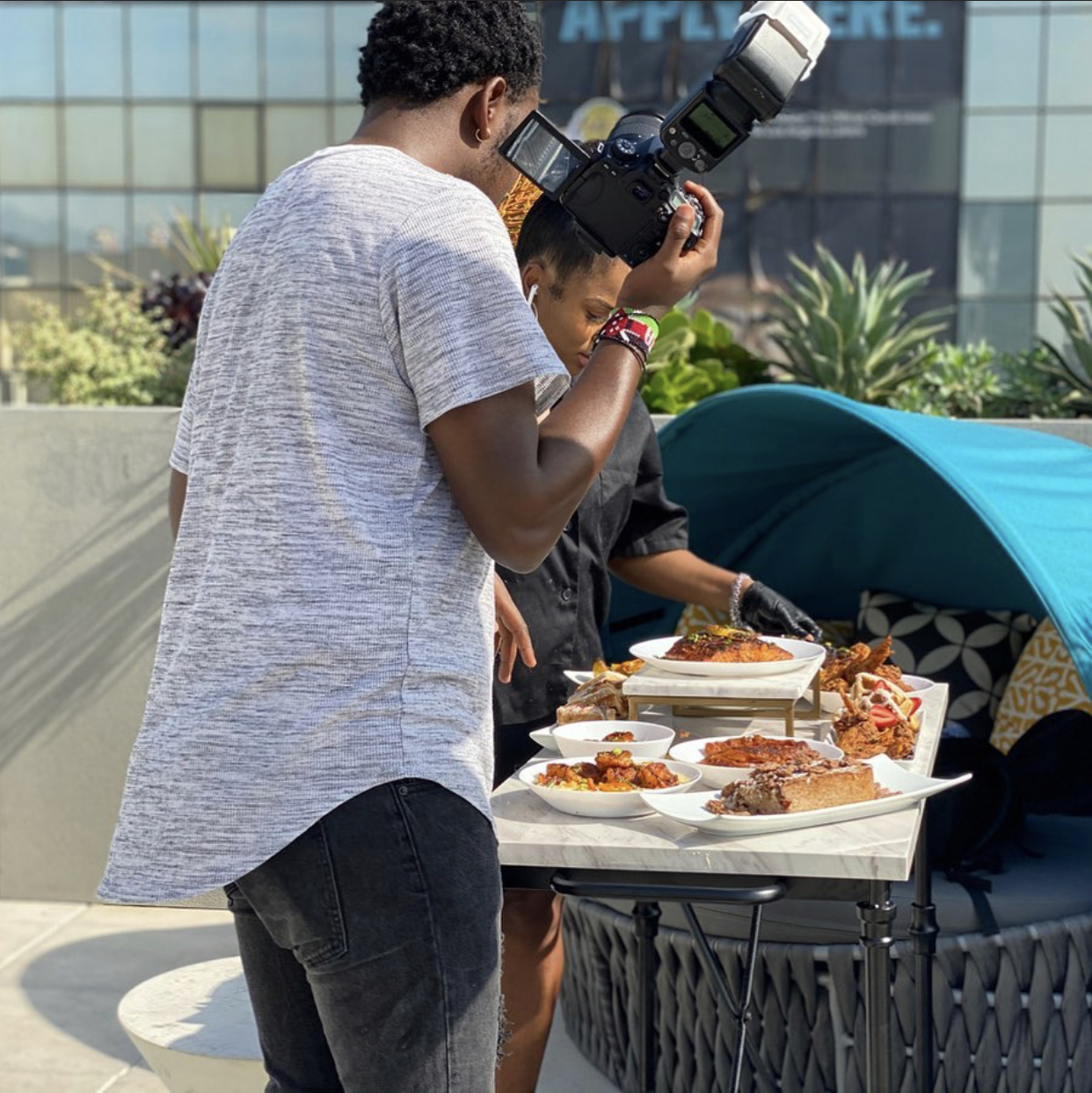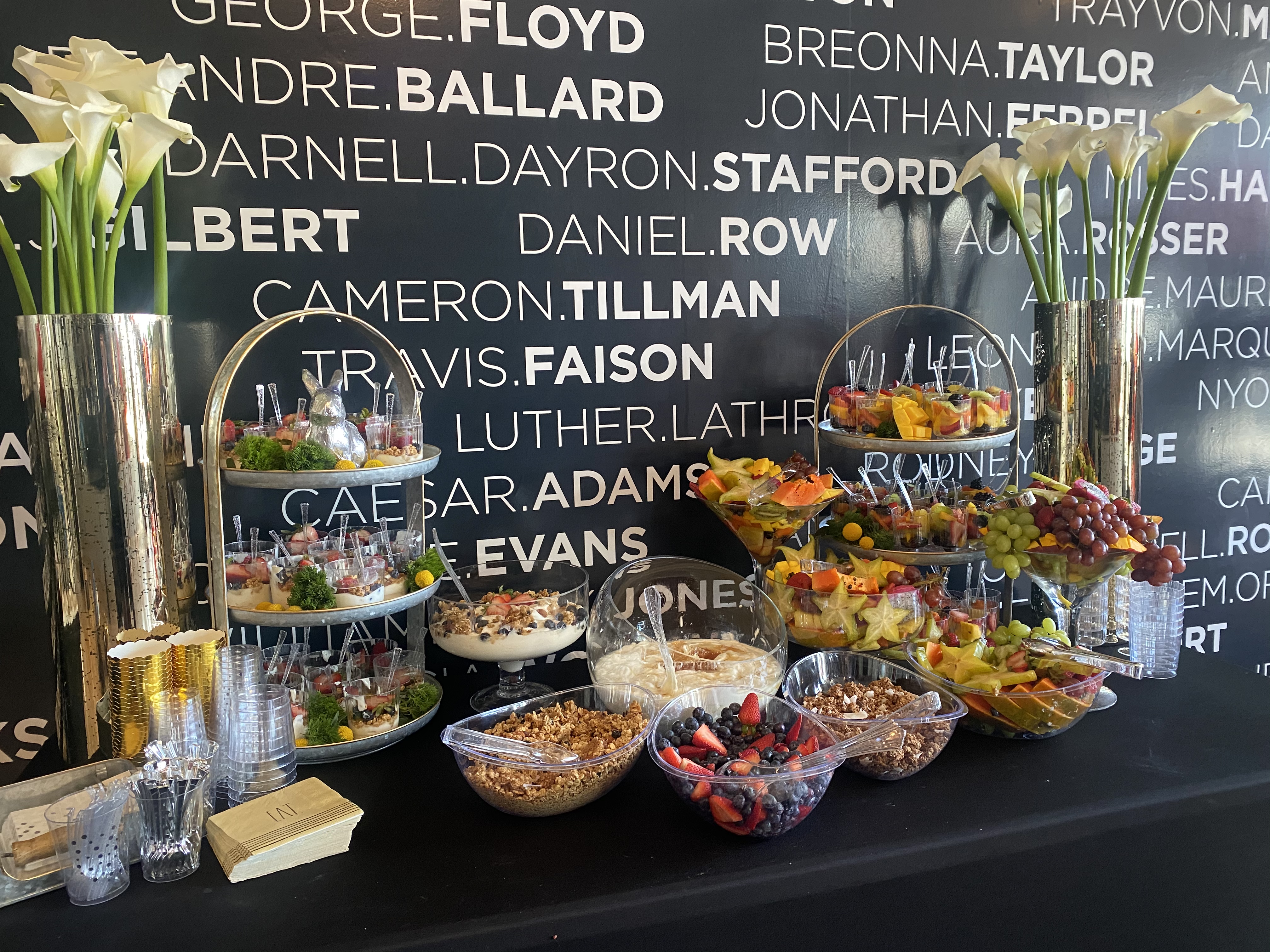 Image Credits
Monseé
Suggest a Story:
 VoyageLA is built on recommendations from the community; it's how we uncover hidden gems, so if you or someone you know deserves recognition please let us know 
here.