The long-awaited culinary collaboration by restaurant owners and brothers, Jonathan and Jason Baran, has finally opened its doors as Baran's 2239 in Hermosa Beach.
No stranger to the kitchen or South Bay, the Baran brothers have a long history with hospitality and food. (The Baran brothers' family opened The Brothertons Farmhouse in 1937 located on 2239 E. Colorado Blvd in Pasadena, the Farmhouse remained open for 50 plus years serving hometown favorites with great service). Both current residents of Redondo Beach, the Baran Brothers were looking to create a California-casual restaurant for culinary talent to thrive.
Helming the kitchen is culinarian-in-chief, Executive Chef Tyler Gugliotta, who is elevating the dining scene in the South Bay one innovative plate-at-a-time. Culinary talent also runs in Gugliotta's family history. A son of a chef, Gugliotta has always remained passionate about his family's Italian heritage and his long-standing connection to Southern California. Gugliotta first gained his chops at Fleming's Steakhouse while attending college, but Gugliotta quickly moved on to running prominent kitchens in the South Bay after only a short time in the industry. One of the restaurants, Brix@1601, was voted one of the Top 10 New Restaurants by Los Angeles magazine in 2009. More recently, he helped open Bistro Bagatelle in West Hollywood with one of Thomas Keller's protégés in February 2012. Chef Gugliotta then spent the next couple of years at The Tasting Kitchen in Venice Beach, CA under the culinary tutelage of Chef Casey Lane . As one of the rising chefs at The Tasting Kitchen Gugliotta helped continue their tradition of excellence and they remained one of the premier restaurants in Los Angeles.
Paying homage to his European culinary roots Gugliotta says, "Most of the food we do is not French food but French-technique based". In true European fashion, Gugliotta prides himself on making menu items from scratch in-house.
"All of our sausages are made in house. Our focaccia is made in house. All pasta is made in house," boasts Gugliotta.
With seasonal and locally sourced food provided by Gugliotta's family farm, Weiser Farms, Gugliotta's dishes are also inspired by his many global travels and the omnipresent Mexican and Asian influences of Los Angeles. Chef Gugliotta is plating up California dishes such as his housemade "Chorizo Verde", a unique green chorizo is a satisfying blend of pork belly, and pork shoulder with poblano, serrano, cilantro, coriander, cumin, garlic . Sliced and served atop crispy fried arepa squares with pepita queso fresco, black bean, and avocado, it's dishes like these that give culinary nods to the streets of Los Angeles.
Located just walking blocks from the ocean, Chef Gugliotta is also keeping his eyes out to sea and bringing in pristine seafood for dishes like his Peruvian-inspired "Hamachi crudo with aji amarillo, passion fruit, and purple yam." Each creative dish is painstakingly prepared to respect each ingredient used. The menu is bountiful with fresh produce including Gugliotta's playful "White asparagus" resembling a smooth mostaccioli served with golden chanterelles, hazelnuts and black truffles.
With Executive Sous Chef, Corey Cryer by Chef Gugliotta's side, this kitchen duo have a strong relationship both in and out of the kitchen. Best friends for over 15 years, Gugliotta and Cryer, not only enjoy coming up with new culinary creations together but have also designed a unique cross-back apron. Providing important ergonomic support while cooking, Chef Cryer helped to manufacture the aprons using one-of-a-kind materials including U.S. Army fabric.
With an equally inspiring beverage program, Chef Gugliotta and the Baran Brothers have curated a craft beer list representing over 40 beers by the bottle and draft. The wine list reflects old world and new world wines from over 10 countries featuring varietals from Italian Trebbiano to Washington Syrah.
This California-driven restaurant has created an open and inviting atmosphere where diners can linger longer. Warm wood and soft ocean colored hues reflect the Pacific sunsets seen from the main dining room. The restaurant's intimate design features one large communal farmhouse high-top with comfy booth seating along the brightly painted walls. Exposed wooden ceiling and soft-glowing bell jar lights illuminate the warm dining space that seats 50.
"We really wanted to create an atmosphere to fill a missing niche. There was no place like this in Hermosa, especially on PCH (Pacific Coast Highway), we wanted to bring great food in a casual atmosphere with an eclectic wine and deep craft beer list. We wanted to create a place where people can enjoy each others company." says Jonathan Baran.
With plans to start in-house pickling and preserving, Gugliotta looks forward to making savory relishes and housemade seasonal preserves. Gugliotta is excited about introducing his style of cuisine to the South Bay.
"We are looking forward to people that are open-minded. A little bit adventurous, and trusting. We aren't bound by borders and our food reflects that," says Chef Gugliotta.
Most Popular Items
Baby Rainbow Carrots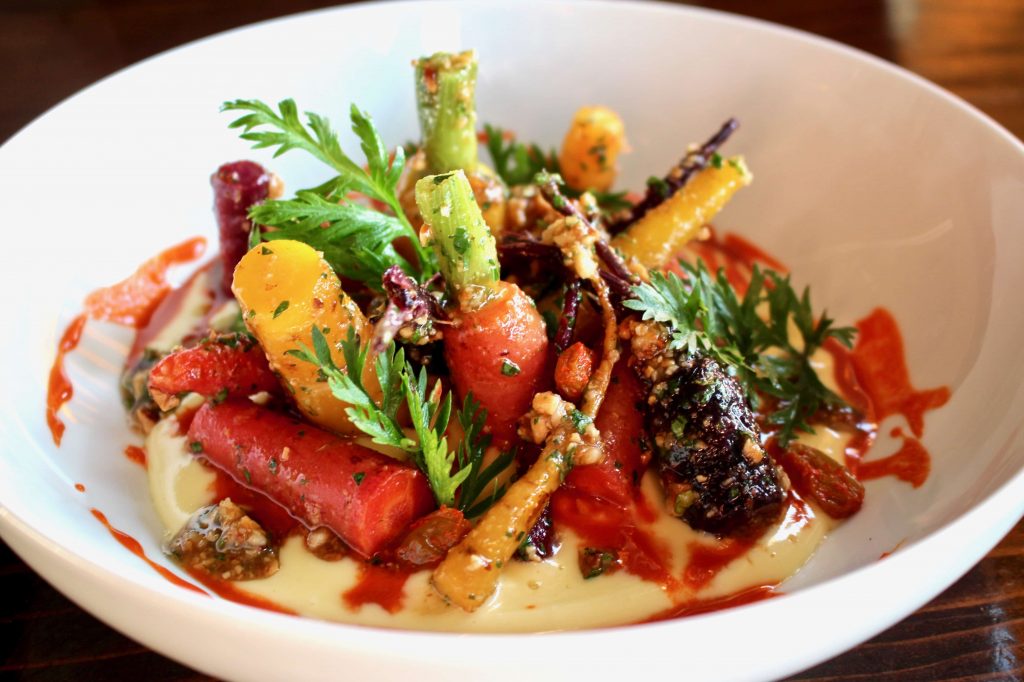 Baby Rainbow Carrots
Hazelnuts/truffle/hollandaise
Dietary: Vegetarian
Albacore Crudo

Pan Seared Albacore Tuna
Yellow pepper relish/aji verde/fingerlings
Indian Egg

Indian Egg
Lamb sausage/curry jus/cucumber salad
Address: 502 Pacific Coast Hwy, Hermosa Beach, CA 90254
Hours:
Sun: 5:00 pm – 10:00 pm
Mon: Closed
Tues-Thu: 5:00 pm – 10:00 pm
Fri-Sat: 5:00 pm – 11:00 pm
Phone: (424) 247-8468
Website: www.barans2239.com
Social Media links
Image credits:
Lori Hirsch Stokoe