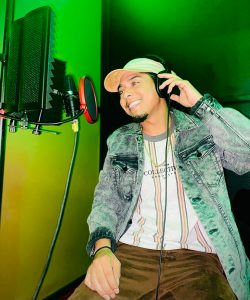 Today we'd like to introduce you to Zion Anthony.
Hi Zion, please kick things off for us with an introduction to yourself and your story.
I was born and raised in the streets of Long Beach here in SoCal. I am a kin-ship adoptee which means I was adopted within my own family. I was raised by my father's parents (my grandparents). I am multi-racial with multiple ethnic backgrounds of mixes. Both sides of my family all originate from Long Beach as well, so I am a true SoCal beach bum. I hold real deep interest in the Beaches here on the California coast because growing up in Long Beach, the beach always gave me the serenity I needed in the life I was experiencing. Growing up, my childhood was filled with a plethora of hardships and adversities. My father was in and out of prison and my mother was an addict. At an early age, overcoming was all I ever knew and my natural creative abilities are what absolutely helped me to manage and to look at life in a hopeful aspect to be able to see it through. I was never trained in any of the talents that I hold, but I've always held onto the interest of music that both sides of my family incurred. This interest that surrounded me is what planted the passion that sits in me now for the arts, especially music. Being that I come from very diverse families, I was opened to all genres and sorts of types of music and I've never experienced anything as powerful as being enlightened to this wonder since.
I applied myself in the arts as much as I could, naturally I am an introverted person, but these days I would tell anyone that I'm the most introverted extrovert you'll ever meet. This is only because of the passion that I held to express myself artistically. Although I was always shy in trying to express my talents, I would push myself to create in any sense that I could. I've always been a singer but in my early days as a creator, I thought that I would become an author because I've always loved to write. I remember I would write short stories and excerpts from my life in fictional and non-fictional perspectives. Navigating in my abilities and experimenting in my practices as a writer, when I was a teenager I started to solely write poetry. I always tell people that I am a poet before anything else because poetry is the main structural way that I can deeply say what I want to say and get out what my heart truly feels. As much as I created, it was something that I did for myself and I would never share with anyone! No one even knew the talents that I held and at that time, I was ok with that because creating and expressing myself was more of a coping mechanism more than anything.
My first taste of sharing my talents and abilities as a creator was when I was in High School and started attending an organization that was centered around expressing oneself through the means of art, AIM 4 The Heart. Aim 4 The Heart is actually founded by Liela Steinberg (Tupac's first mentor and manager) and Tupac himself. Throwing myself in this atmosphere and being a member changed my life in a very drastic way. Here is where I learned so much about myself, my creative abilities, also performing and sharing my work with an audience. The outlets that Leila and Aim 4 The Heart as a whole provided for me, my family and friends were life moving and I was more than glad that this opportunity became a family affair and I was able to grow artistically with my friends and family. From being a participant of Aim 4 The Heart, I was able to assert myself in the movement to become a working member of the organization as a session facilitator and a working member on the board. I spent many years representing Aim 4 The Heart and using the outlet to build my creativeness and skills. I was able to strengthen my knowledge of the poetry and music worlds through all the amazing artists that I witnessed in sessions at Aim 4 The Heart. Every week I was eager to perform my poetry just to be able to get things off of my chest as a poet but it wasn't until later that I finally introduced an audience to my singing voice.
Now, considering myself as a performing singer, I was focused and determined to tailoring my skills to becoming a songwriter to be able to tie both loves and passions as a singer and writer together. Around these times are my college days, I was a full-time student-athlete and was set on my studies and athletics so my artistry was something I did on the side once again as an outlet sense. Nonetheless, this era was my journey of understanding myself as a singer, songwriter and learning the techniques it would take to set me aside artistry-wise. It wasn't until I suffered a major injury and had to walk away from being a collegiate athlete that I was drawn back into my passion and putting it first. I was now free to pursue a dream that I had put on a back burner for so long. In this time, I recorded my first track in a professional setting, found management, and was moving as an artist in the music industry in the aspect of doing things professionally. My interest of pursuing this dream began to dwindle though, because of having bad experiences and not fully understanding the music industry in the way that one should to create a movement as an artist. So, once again, I stepped away from my artistry, but this time walked away from all of my creative abilities altogether in order to lead (as they would say) a regular 9-5 life.
This most definitely lasted for a while, I wasn't creating for at least four years solid. Naturally, the passion I hold as a creative burned inside of me and I couldn't take it anymore, so I had to sit and make a huge decision for myself and my life. 2016 my Christmas gift to myself was to quit my job and to get back into the entertainment industry and focus on my dreams, to try it all again and do it right this time over! I had my past experiences to contrast to how I was going to move in and understand the industry this time around. I am very grateful for the way things worked out in that situation because I wouldn't have it any other way being that it awakened me and gave me a bigger perspective of what it takes to have a chance at success doing what I love to do. Having the knowledge of the industry that I now have, I knew it would take levels and certain work abilities to create revenue for myself as an aspiring performing artist. Moreover, this is how I fell into the fashion industry (I most definitely didn't expect to fall into this line of work), but me being me as a hustler I had no other choice but to use some of my other creative talents that I possess to create a check for myself!
For the last four years, I have been working as an (assistant and personal) stylist under celebrity stylists and freelancing my work as a wardrobe stylist. Realizing that both industries (music and fashion) coincide with one another, I've realized that I can mesh both worlds together and express myself creatively through both of these means. Aside from gigging as a stylist, I still dedicate my time to singing and songwriting but in the most recent days, I've been using most of my energy-releasing music officially through all digital platforms in order to grow a listening audience. My music is very important to me and I know that strategically I am making a way for myself to be seen as an actual respected artist and I can say that with where I'm at now, this is only the beginning! I am currently writing regularly, collaborating, and building to the path that I want to take and hope to have as an artist. I am very excited to say that this is only the start of where I plan to go and that I am in high hopes that my music can reach the people that it needs to. As I mentioned before, I take pride in myself as a writer and my lyricism is deeply the motivation I need to get by and the motivation I long to implant into all the listeners that I have now and will reach in the near future. There's so much more to come from me; but in the meanwhile my music could be heard through all digital platforms by searching my name, "Zion Anthony." 
Would you say it's been a smooth road, and if not what are some of the biggest challenges you've faced along the way?
In my journey in this movement of an aspiring artist and creator, I've learned that it isn't easy because there's so much to setting yourself aside from others while understanding and knowing yourself artistically. Finding who you are as an artist and creator is one of the hardest things to do in this journey, but at the same time it's the most blissful experience because there's so much breakthrough and enlightenment that comes out of it for the self that there's nothing like that phenomenon.
Thanks for sharing that. So, maybe next you can tell us a bit more about your work?
I think what sets me aside from others as a creator is how apparent my passion and work ethic shines through my work. Whether it's from my voice, my lyricism, or my styling ability; one thing that is for sure is that the audience could tell that my heart, passion and soul was given in all aspects of my work.
What does success mean to you?
Success is to say that I can wake up and be happy within myself daily! To say I do what I love, and what I love to do is how I spend my life in my days of living. Nothing else matters than to be able to say that my life is lead by my heart and the passions it possesses.
Contact Info:
Email: ZionTalentZ@gmail.com
Instagram: _ZionAnthony_
Suggest a Story:
 VoyageLA is built on recommendations from the community; it's how we uncover hidden gems, so if you or someone you know deserves recognition please let us know 
here.