Today we'd like to introduce you to Za'Kerria Childs.
Hi Za'Kerria, thanks for joining us today. We'd love for you to start by introducing yourself.
My "how I got started" gets pretty lengthy, being that I have multiple different streams of income and I started my business at the young age of 17. So I'll begin with what got me into being an entrepreneur in the first place and the startup of my first business, Girrrl Get a Grip.
I first thought of doing nails during my 10th-grade year but never put the money aside to fully invest in myself. However, after I graduated high school in 2018, I knew that I needed a steady source of income while being in college; especially because I didn't want to be a part of the "broke college student" stigma. So once I graduated, I used about $250 of my graduation money to buy all the nail supplies, nail technician textbooks, etc. that I'd need. During that summer, I cut back on going out and having fun with my friends so that I could dedicate a lot of my time to practicing nails & perfecting my craft. My mindset was that even if my work wasn't perfect, at least have it good enough to get bookings. So by the time, August came around and it was time to go to college (I attended Prairie View A&M University in Prairie View, TX), I was comfortable enough to take appointments. Once I started doing nails on campus, I began building a name for myself throughout the school. My nail page on Instagram was steadily growing as well. So after deciding to leave school, go back to Atlanta and focus on doing nails full time, the rest was history.
Would you say it's been a smooth road, and if not what are some of the biggest challenges you've faced along the way?
It definitely hasn't been a smooth road but as a business owner, everything is trial & error. "Reset, restart & refocus" is a key mindset to have as an entrepreneur because there are countless struggles you'll endure. Also, being consistent because consistency is vital in both business and life in general.
As a self-taught nail tech, creating sets that have longevity and not break easily was my biggest struggle. I've always been both artistic and a fast learner, so learning how to do nails wasn't the hard part for me; it was making them last. However, with consistent practice and focus, I eventually got to the point where all of my sets lasted 3-6 weeks, sometimes longer (depending on the client.)
Running my online store has its up and downs as well. Some products sell out very quickly and some don't do so well. Do I beat myself up over the items that don't sell well? Not at all. Instead, I focus on making sure the items that are selling well stay stocked and that the items that don't sell well get marked down so that I can get it sold and then try again with another product. Again; reset, restart & refocus.
I can't leave out bartending either. I began my own bartending business last year (as well as being employed as a bartender at different clubs, lounges, etc.), and bartending is definitely a lot of trial and error. It's not as easy as just "pouring drinks" as many people assume. However, with much practice & consistency, I went from stressing myself out trying to remember what comes in commonly ordered drinks (which caused me to have slower service) to becoming a very knowledgeable & fast bartender. In addition to that, my networking skills granted me the opportunity to bartend at major events in LA including the Oscars, Super Bowl & many other major events. Again, consistency is key.
Can you tell our readers more about what you do and what you think sets you apart from others?
A lot of people refer to me as being "a jack of all trades" because I literally do some of everything, and there are so many more things I'm adding to my business. My biggest priority has of course always been Girrrl Get a Grip; in which I offer nail services, nail training (both beginner & intermediate), nail products (including nail kits, nail art, etc.) & custom press-on nails. I actually moved from Atlanta to LA to do group training at a few different salons that reached out to me.
Doing that was great, however, the more involved I got with bartending I began shifting more of my focus to that. I genuinely love teaching as I've helped hundreds of women improve their craft and work towards a successful business. I'm most proud of my students because I've witnessed their journey as a beginner nail techs to where they are now. I have students who've opened salons, gained magazine features, became celebrity nail techs and the list goes on. However, after doing group class tours consecutively (where I'd go to different major cities and teach for weeks at a time) and teaching 1on1s every day back in Atlanta, I was beginning to have a burnout feeling, despite all the money I make from it. So I've taken a break from teaching in order to fully focus on bartending; I plan on resuming my classes soon though. However, being a bartender is such a fun & profitable source of income, so I've been enjoying the journey.
I'd say what sets me apart from others is my personality and genuineness. Even though I make great money, I gain much more satisfaction from helping other women elevate and motivating them to accomplish their goals. It's truly a great feeling. I have so many other things on the way as well, so I'm excited to pop out with those business ventures too.
Do you have any advice for those just starting out?
Stay consistent. I know it's the cliche thing to say, but if you ask for advice from any successful person they're likely going to always include being consistent. It's such a major thing to keep in mind though because the thing about consistency is that you're eventually going to accomplish whatever your goal is. Whether it takes days, weeks, months, or even years; you'll eventually accomplish your goal.
That brings me to another thing which is moving at your own pace. I feel like a common mistake that a lot of people make when they're starting up is comparing their pace and journey to the next person. Hell, I did the same thing when I first began doing nails. As a beginner nail tech, like literally only a few weeks into doing nails, I would compare my work to nail techs who've been doing nails for years. Please don't do that. It's fine to be inspired by others, but constantly comparing yourself is only going to delay you mentally and eventually physically. However, when I stopped comparing and finally was just like "girl you'll get there just keep practicing" the progress naturally came.
Lastly, is to make sure you always pray. Whether things are going good or bad, make sure you pray. I wasn't raised very religious or anything like that but my mom has always enforced the mindset that "a praying woman is a powerful woman" and it truly shows. Being a business owner comes with so much but it's like when I pray, it feels like a weight lifted off my shoulders; because mentally, I know that once I've prayed, whatever I'm going through is in God's hands; and I always keep in mind that what's meant for me will happen the way it needs to. So in the meantime, keep hustling.
I just turned 22 last month and though I haven't reached all my goals yet, I'm doing pretty good for myself. I've accomplished so much at a young age and with my work ethic & faith, I'll continue to do so.
Pricing:
Beginner nail class: $475 (6+ hours & nail kit included)
Intermediate nail class: $550 (7+ hours & nail kit included)
Full beginner nail kit: $285 (+ shipping cost if you'd need it shipped)
Contact Info: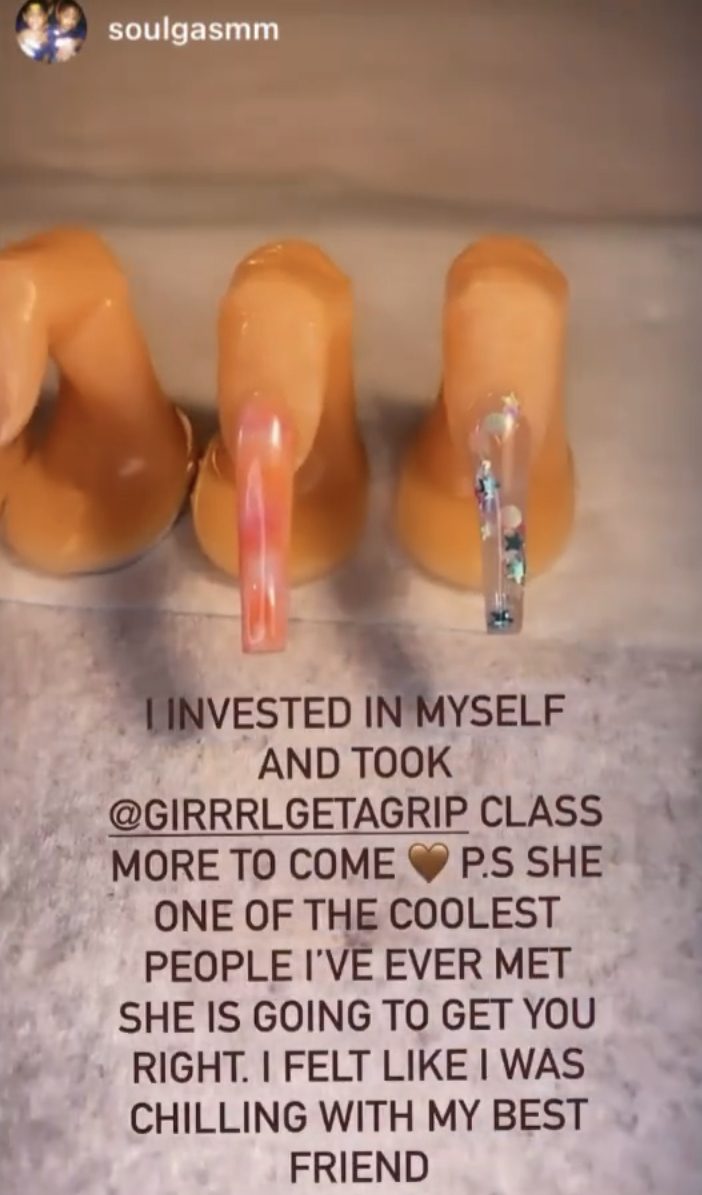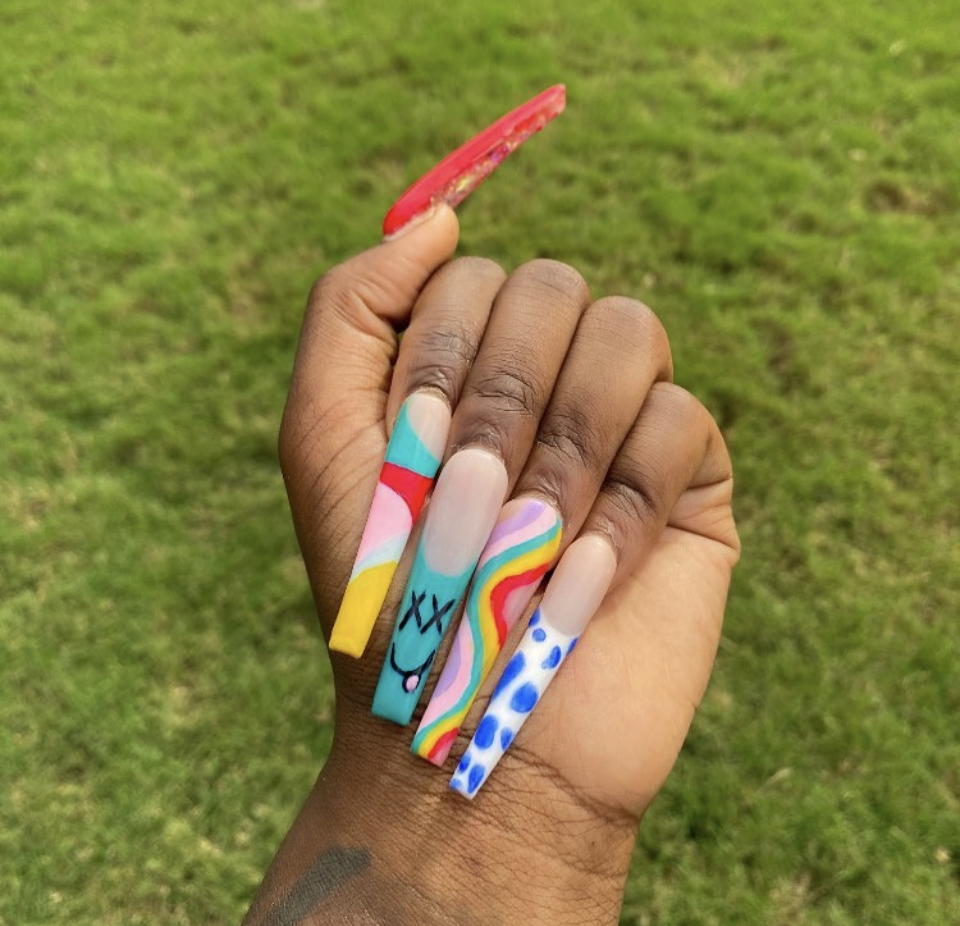 Suggest a Story:
 VoyageLA is built on recommendations from the community; it's how we uncover hidden gems, so if you or someone you know deserves recognition please let us know 
here.