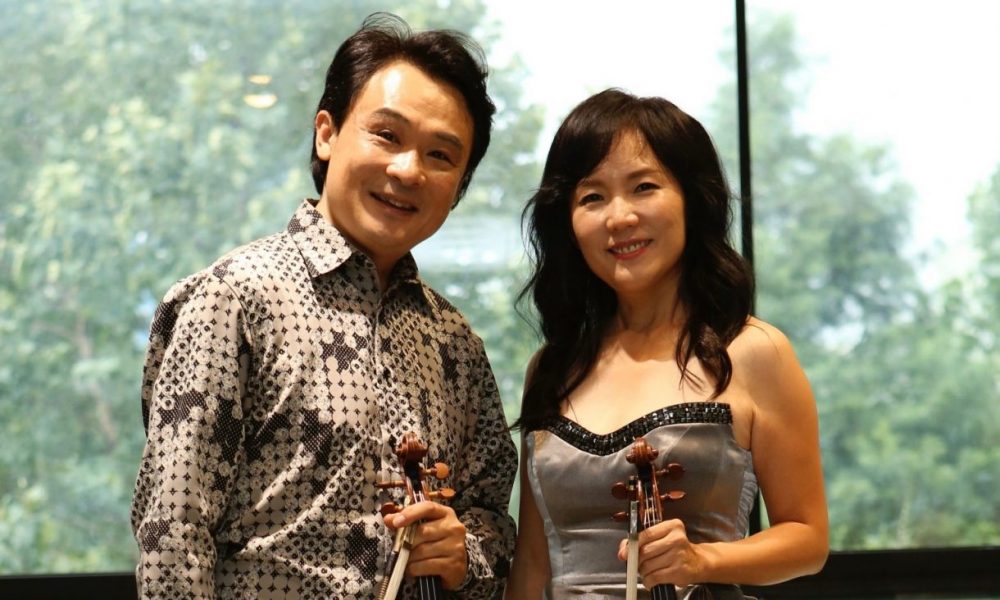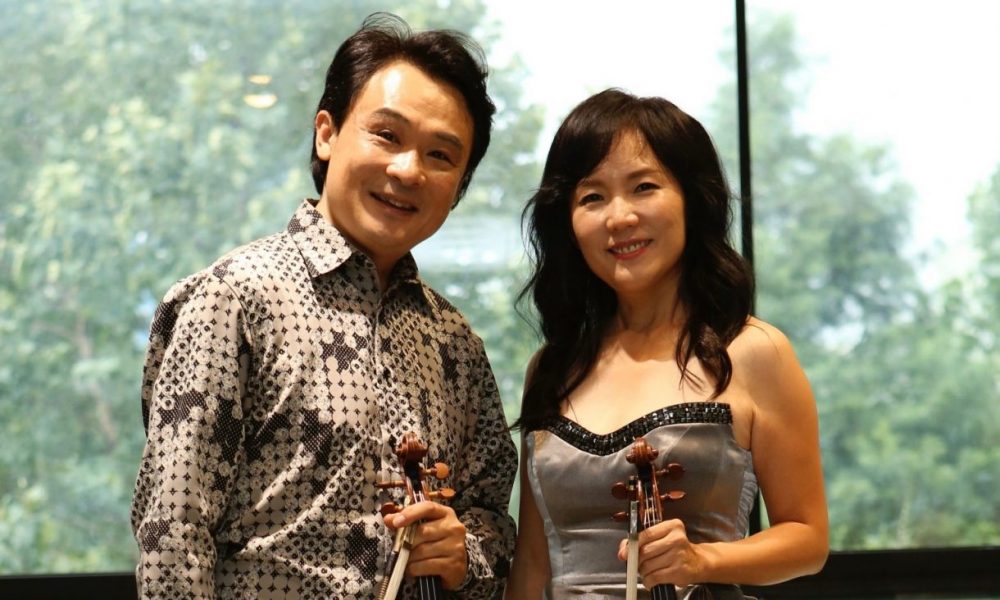 Today we'd like to introduce you to Yuki Mori and Min Jung Park.
Hi Yuki and Min, please kick things off for us with an introduction to yourself and your story.
Yuki: My wife, Min Jung Park, grew up in Seoul Korea and I grew up in Japan, Singapore and Australia. My wife started playing violin at the age of five and went through her education in Korea, winning several major competitions and eventually attending the prestigious Seoul National University. I started my musical education on the piano at the age of four and started on the violin at age eight and eventually just concentrated on being a violinist. While in Australia, I won the ASTRA Competition in Melbourne and I also played for the violinists of the Tokyo Quartet, Koichiro Harada and Kikuei Ikeda who were on a concert tour there.
After hearing me, Mr. Ikeda suggested that I audition to study with one of the greatest violinists in history, Jascha Heifetz who lived in Los Angeles. It was an unbelievable suggestion since when I was five years old, I used to listen to Heifetz's recording of "Zigeunerweisen" (Gypsy Airs) every night when I was going to bed. I was told as a boy that he was someone legendary. Mr. Heifetz's assistant, Ms. Sherry Kloss happened to be taking a sabbatical in Australia in another state. So I started taking lessons with her by flying to her city every weekend.
When I was 16, I finally left home and headed to Los Angeles for my new chapter of life and for preparations for my audition.
The class of Mr. Heifetz was where I actually met my wife. Whereas I had the utmost reverence for who Mr. Heifetz was, and at times in fear of him like other students were, her thoughts were quite different!
MIN: At first, I didn't really have a true appreciation for who he really was, I was not really afraid of him and I didn't want to make myself small. When he suggested for me to use my pinky to play a certain note, with my not so fluent English at the time, said "This finger, very weak. I like this" (pointing to my 3rd finger) Mr. Heifetz was speechless… But when I was leaving the class to go off to study at the Juilliard School in New York, he called me and was very complimentary of my playing and very encouraging.
YUKI: Yes, and he normally wouldn't call people like that often and when he did, it was like the Queen of England calling or something where the secretary would call first letting you know that Mr. Heifetz will be calling you so please stand by the phone!
MIN: Of course, I have an enormous amount of appreciation and respect for him now.
YUKI: Although it was not an easy thing to study with him (he was quite demanding) to hear him demonstrate 3 feet in front of you was just something you cannot describe in words. Just simply goosebumps! Our jaws would be dropping the whole time.
YUKI: We then both went on to study at the Juilliard School in New York where we studied with one of the greatest pedagogues in violin history, Dorothy DeLay.
Her method of teaching was just so scientific and systematic compared to what I had experienced that it took a bit of getting used to at first. But it was quite eye-opening! Actually, she really influenced me to become more serious about teaching. She was just so committed to teaching, teaching seven days a week. She would drive me home after my lessons when it finished past 12am!
Her studio at that time included some of the brightest young stars including Midori and Gil Shaham and it was a very good study for us to see her in action with her students. Being in New York, having access to so many great concerts by the world's top artists was wonderful. One time, I waited in line at Carnegie Hall for 7 hours from 5am to buy tickets for a recital by the legendary pianist Vladimir Horowitz. (Min helped me in the middle to give me a bathroom break!) It was so worth it.
MIN: There was a time our Theory Class classmate, who was ushering at Lincoln Center, let us sneak into a concert with the great Luciano Pavarotti!
While in New York, I was also fortunate enough to win the Artist International Special Presentation Award which lead to my debut at Carnegie Hall's Weill Recital Hall. My husband and I also had the opportunity to perform for the Prince & Princess (later Emperor & Empress) of Japan.
YUKI: Having married, we decided to move back to Los Angeles. We started teaching at the California State University of Los Angeles and we also established our private violin studio. We decided that we are going to fully commit ourselves to teach along with our concerts.
We also lived in Seoul, Korea for a number of years in between where the musical environment for a music student was quite intense and stressful. We basically helped students get accepted into Seoul National University, Yonsei University, Ewha University and others. I was also teaching at The University of Suwon and Min was also teaching at Sunhwa Arts High School.
The transition from being a music major at school to becoming a professional musician and teacher was a major step. At school, you can just concentrate on practicing violin and learn more chamber music & orchestra repertoire, but you don't necessarily learn about how to deal with people, how to communicate with them and to understand them. We also realized how important it was to uplift their spirits (not just in concerts) and to be responsible and be ethical.
These are things we learned outside of school and we gained more and more knowledge as we went.
This leads us to our motto which is: To train people to be HAPPY & ABLE violinists.
MIN: Yes, we teach the students to have very high expectations of themselves and to have high integrity. But above all, we all need to be happy doing what we're doing.
We have seen too many excellent violinists and musicians in general who are not truly happy. The purpose that they once had when they first started learning music seems now buried and they have gone astray from it.
I am very good at putting discipline in on students but this is done with giving lots of love first. We try to have fun along with the discipline. We play games, and we also do some silly things.
But it's all to bring the students out of their daily grind and stress and to bring out their true lively selves! And of course, without the discipline being present in the students it is not possible for them to truly benefit from what they are learning.
YUKI: One of the things that we emphasize the most is awareness. Being fully aware of what they are doing and of their environment. We often tell them to "Be in PT! (Present Time!)" Reminding them to be fully aware of what they are doing.
Their eyes do become more shiny and alert!
Actually, we are proud that we have quite a few students who went on to become professional musicians. One of them just recently won the audition for the Boston Symphony which is one of the top orchestras in the world.
Others have been accepted at schools such as the Juilliard School, New England Conservatory, Yale University, Eastman School, Manhattan School, Mannes College, Colburn Conservatory, Royal College of Music, Peabody Institute and others.
We also have students who were non-music majors but were very committed to their music who were accepted at Harvard, Stanford, Yale, Dartmouth and others.
We also keep them busy with performing through their recitals and competitions. It really helps one to have a goal to work toward constantly!
We recently had one of our students win an audition and was featured on NPR's national radio show "From the Top" where they showcase some of the top young musicians from around the country.
Our students have also won:
Osaka International Competition, Cecilia International Competition, Kumho Prodigy Concert audition, Korea Times Competition (in Korea & LA), American String Teachers Competition, California Philharmonic Concerto Competition, Bellflower Symphony Concerto Competition, Southwestern Youth Music Festival Competition (SYMF), Satori Competition, Los Angeles International Competition, American Protégé Competition in New York, Eum Mak Chun Chu Competition, Korea Herald Music Competition and others.
We recently even had a student who won an audition for a part on a Nickelodeon TV show, playing her violin and acting!
I'm sure you wouldn't say it's been obstacle free, but so far would you say the journey have been a fairly smooth road?
YUKI: For me, one of the challenges I ran into was when I was 12 years old. I had just moved to Melbourne, Australia due to my father's work and at that time there were very few Asians living there. (You can't imagine that now!) I attended an elementary school there where I was the only Asian student in the entire school. I also attended a middle school there as well. There were some students who were very kind and tried to help me out at the elementary school since I hardly spoke any English. But there were also a few students who were unfortunately not so kind. I would go out shopping or something and I experienced similar situations. These experiences taught me to be strong and not to be affected by any negativity that were directed toward me. I just tried to be myself and mingle with others, (my parents really encouraged me to spend time with non-Asian people) playing cricket, Australian Football and of course, music! And it worked out well. I have a lot to be thankful for from my days in Australia.
MIN: For me, the biggest barrier was the language barrier since I came to the US after studying for two years in a University in Korea. It was very frustrating since it made a study of anything slower. People would be laughing listening to someone's joke and I wouldn't have a clue what they were talking about. But I had to laugh just to be able to mingle. When I teach now, we have students who are Chinese as well as Koreans, Japanese and Americans. So I use some of their languages and I would teach some Chinese words to the non-Chinese  speaking students! They have fun with it!
YUKI: I wouldn't say it's a difficulty but we always try to improve ourselves as people, musicians and teachers. We are constantly looking to do things better and make ourselves better and we spend quite a bit of time on it.
It's really a commitment and we definitely see it rub off on our students and the people who we collaborate with as well. When we come in contact with people, even if it's for a brief moment, we want to have a positive impact on them. There are plenty of negative things in society but I think we need to focus more on the positive.
As you know, we're big fans of you and your work. For our readers who might not be as familiar what can you tell them about what you do?
MIN: We are proud that we are still in touch with our students whom we taught 30 years ago.
We have a group chat with those students and I still try to encourage them to do well. We are still teaching some of these students as well to prepare them for their concerts and auditions.
When we teach students, they really become like family. They are our babies! That's why for the longest time, we never had children.
But one day we decided that it was time to have our own and we are very fortunate to have our precious daughter who is so creative, so caring for humanity and so supportive of us!
YUKI: Min and I are pretty full-time teachers. Even after the day's over, which is frequently 11pm, we are listening to recordings that our students send us of their practicing and commenting on them.
But we are also concertizing as well and that definitely is very fulfilling and energizing.
We perform as soloists and chamber musicians.
I also conduct as well and there is an orchestra in Korea that I have been conducting for Christmas concerts each year.
We do anything from Vivaldi to "Queen" and Jazz.
I also compose and I have had some music commissioned from ensembles in Japan and in Korea.
My arrangement of Piazzolla's Libertango for 6 violins was performed by world-renowned violinists Ray Chen, Veronika Eberle, Sergey Khachatryan, Arabella Steinbacher, Akiko Suwanai, Svetlin Roussev and pianist Akira Eguchi.
MIN: We also had a radio show on Korean FM radio here in Los Angeles that ran for five years.
Every week, Yuki would write a script (which meant some acting involved as well with the host of the show) he would go purchase some CDs and I had to spend a couple of days translating since the script was written in English. It was a lot of work but a lot of fun as well. We tried to make it a lot of fun for people who normally didn't listen to classical music. We were also invited by the Korean celebrity talk show host, Johnny Yun to do a full show with us performing and with our students participating as well.
YUKI: I think the point is to make music fun and entertaining for people. Since the early 90s, we were actually talking to our audience members during concerts, explaining about the music or simply communicating with them, making jokes, etc. Not many people were doing that at the time. We truly feel that there should be more audience involvement. They shouldn't just come into the hall to hear a concert and just sit there and start texting people! That's one of the reasons why I composed a piece called "Straight to the Soul" which is a piece for violin, piano AND audience participation. They actually get to sing, harmonizing with different sections of the audience and clap certain rhythms at certain parts of the piece. They have to be pretty alert!
Actually, I got the idea from our friend and Multiple Grammy-winning Jazz pianist Chick Corea. He was always doing things like this and the audience were so enthusiastic! I thought, "why can't classical music audience be like that?" He was also very generous about having people to do arrangements of his music and I made an arrangement of his famous "Spain" for a piano quintet. It's always a crowd pleaser and the musicians are very enthusiastic about it too. His music has so much life.
We just finished rehearsing for a private performance with Stanley Clarke, the legendary Jazz bassist.
He is also very easygoing with the other musicians and he shows so much support for them!
This sort of interplay is something that classical music can have more of as well. His music is also very captivating and fun as well!
MIN: Our motto in performing is to "uplift our audience!"
Any big plans?
Due to Covid, concerts were put on hold for the past couple of years.
So we are looking forward to more performances coming up here in US and Korea. (We have one coming up as part of the "Sundays at 2" concert series at the Nixon Library in Orange County on September 18th and our annual Christmas concerts with Planetary Ensemble in Seoul, Korea. )
As a result of winning concerto competitions, our students have performances coming up as soloists with Bellflower Symphony and Orange County Orchestra Collective.
We also have students performing in NYO2 (National Youth Orchestra which is one of the top orchestras in the country) and All National Honor Ensemble as well.
We are also looking at having a music festival for our students.
Contact Info: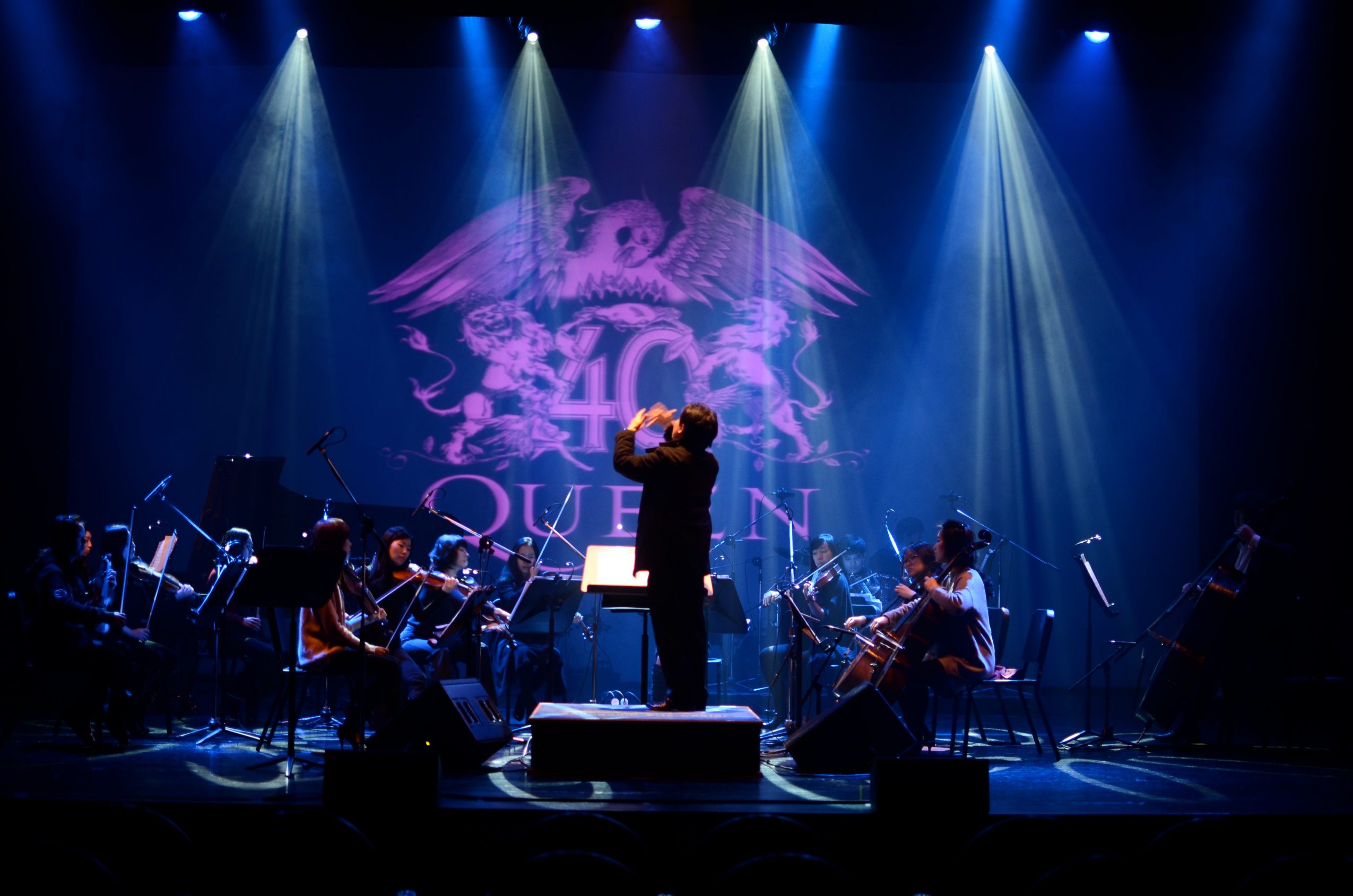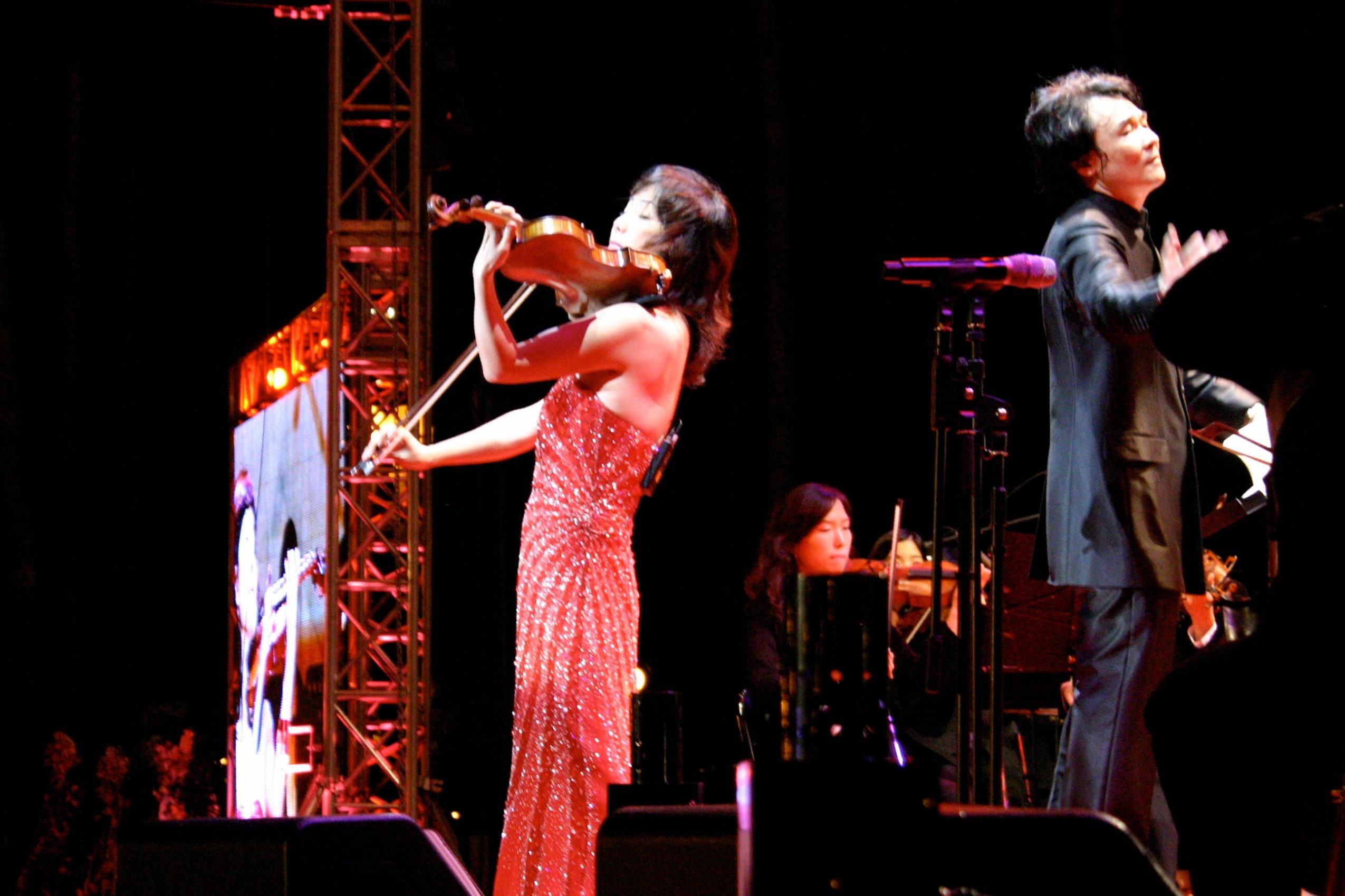 Suggest a Story:
 VoyageLA is built on recommendations from the community; it's how we uncover hidden gems, so if you or someone you know deserves recognition please let us know 
here.