Today we'd like to introduce you to Rene Camarillo.
Can you briefly walk us through your story – how you started and how you got to where you are today. You can include as little or as much detail as you'd like.
My name is Rene Camarillo. I am an East Los Angeles born and raised creator who is beginning to produce textile art, but primarily focuses on hand crafted apparel with themes of immigration, labor, cholo silhouettes, and other personal East Los Angeles mementos. In an industry where commerce overtakes creativity, I continue to cross examine and critique social engagement of fashion industry practices, juxtapose privileged lives, and disassemble immigrant powered complexes through the development of abstract garments, art structures, and cultural wearable art. My artwork and craft aims to investigate the prescribed narrative of the Latinx existence, while implementing motifs of my "unnoticed" culture into my art and designs, strategically.
At this moment I have just recently returned from a scholarship study at Penland School of Craft in North Carolina, made possible by an amazing non profit organization known as Crafting the Future (CTF). One of the co-founders, Corey Pemberton saw my work and selected me for a South Central studio residency scholarship, and a scholarship to study a summer session at Penland School of Craft. It really was life changing. Since my study and return to Los Angeles, I feel more refined and much more valid in my discipline and work. However despite my early days being a blunder, they will forever be significant.
Back then, I was an overly sensitive, nearly mute, disgruntled and a somewhat complicated teenager who first picked up a Vogue magazine during my sophomore year of highschool, and spent hours examining the semiotics on every page. I was amazed while being immersed in the fantasy world that magazines projected. It might sound like an exaggeration, but since that moment going forward, I honestly had every Vogue issue that was published for nearly two and a half years, and I would revisit the past issues and study the imagery and garments routinely. All the photographs had complex meanings to me, and I would analyze the models, the clothes, colors, the lighting, basically everything. I didn't consider it at the time, but I was studying art and design strategically through these art and fashion magazines, and consuming new ideas of design. However, coming from a middle class working family of five, I quickly noticed the juxtapositions from what I read about and examined from the many magazines I acquired, and the contrasts from my community, my family, my home, my neighbors, my ethnicity, my entire existence. It didn't sit well with me.
I wanted to be part of the fantasy world I found in between the flipping of the pages. I equally admired and critiqued all the apparel I came across, I read about the featured designers, learned industry terminology, and acquired an understanding of aesthetics. I feel like I have an aptitude for aesthetics, and creative direction. One of my oldest memories of aesthetic appeal was being hospitalized at the age of four and admiring the hospital food because of the beautiful green parsley placed by all the proteins. The drab hospital food came prepared on overused, scratched up plastic plates, but I distinctly remember loving the emotion of the food because of the herb garnish and always immediately grabbing them and putting them off to the side of the bed to save and telling my mother that when I leave this hospital, I was going to decorate our food at home properly and place the parsley next to all our meals, because it makes the food look beautiful, as it should be. This was my first small glimpse and practice of conceptual aesthetics and beauty, maybe.
Moving forward, while I was still in high school, I constructed a collection of my own and also founded a sewing club at a local neighborhood recreation center known as Barrio Action Youth and Family Center. I had constructed five vests, and two dresses along with a few other "tops". I casted local peers as models, a stage was ordered, I asked random large companies for donations so I could order food and drinks to offer to models and guests, and it was then when I organized my first ever runway show. A silly beginning to what I am now. I also remember purchasing all of my fabrics from my local fabric shop called El Sereno Fabrics. They had a gigantic table of loose dusty fabrics for only $1.00 a yard. I would go there almost every friday to buy new fabric, and place the neatly folded yardage at the foot of my bed, and wake up over the weekend and use the fabric to make new clothes that I would wear to school. Back then, I was constantly inspired and fearless, wearing vests with chains, and other overly deconstruction styled pieces to school and in public. That pure creative freedom is what I long for again. I still have it, but society has definitely watered it down because of how clothing and gender challenge people in society. I also remember wearing a hand made draped skirt on a crowded Metro bus one time, while I was standing up, a woman with the bluest eyes I had ever seen, walked up to me, called me disgusting and spit on my shoe as she exited the bus. I remember suddenly being frozen. Equal parts embarrassed, and ashamed, but a moment came where I blinked again, then I smiled because I realized that this was another evidential moment I experienced where my clothing challenged others in public. Society is both my playground and petri dish, and sometimes I like to force fester.
After barely graduating high school (I was a really great student, but constantly distracted), I enrolled at a community college located in Downtown Los Angeles called Los Angeles Trade Technical College (LATTC), where I studied apparel construction and received my Associates Degree and Design Certification. During the graduate fashion show, where seniors of the program design and showcase the garments they worked on during the semester; I designed and sewed bomber jackets and an elaborate panneled kilt and trouser for the menswear category, as well as also constructed metal face masks embellished with razor blades, to which the fashion department dean met with me minutes before the show and refused to allow me to have my models wear them due to safety precautions. I remember less than five minutes after our meeting and listening to her decision to remove my masks, I found myself sneaking backstage with my metal masks in hand and informing my models to "wear the mask, they've been approved to wear". Later that night during the graduate show, my women's sportswear won me a golden thimble award, and I also received a scholarship for my Menswear later on in the night. I swear the metal masks were totally safe.
I finally transferred to Cal State University of Los Angeles where I received my Bachelors Degree of Art, with an emphasis in Fashion Fiber and Material. I also graduated Magna Cum Laude, and feel this chapter is where I really was introduced to my art ability and art student foundations that helped me get to where I am today. My favorite university classes were Social Engagement of Fashion, Classic Gothic Literature, Semiotics, and Special Topics of Art: Gender and Sexuality. After graduation I continued working the same job. I started out as a sewer and later worked my way up to the role of Senior Designer where I patterned and sewed all apparel samples that were then mass produced by a small sewing department overseen by me. It was a challenging experience. I found myself constantly unhappy with how immigrants and garment workers are provided with subhuman respect. When one of the co owners screamed at one of the garment sewers for making a cup of an instant coffee and washing her hands while on clock, I began to reconsider the morals of the company. Keep in mind, this was during the pandemic era, where hand sanitation protocols are a norm. That same co-owner later told me it was "contradictory" and "shows I was not dedicated to his company" because I decided to enroll in a single Japanese class at a local community college instead of continuing to work full time. I explained how it was temporary and that I would return to full time after my semester was over. After two years of being overlooked, unrespected and sabotaged by coworkers and supervisors, I decided to leave when I realized once again I was being taken advantage of. After leaving, I reflected on this situation and quickly moved on. But, what I came to believe was that because I was young, good at what I did, and worked with people twice my age, this really challenged and threatened my coworkers. I am not as polite or patient anymore when it comes to my career and trust fund babies standing in my way. What that co-owner really meant when he told me that my going back to school showed signs of "undedication", was really, him saying "Who the fuck do you think you are, deciding to go back to school to study Japanese in hopes to someday move to japan, instead of working for me full time like all the other garment workers". Like many fashion and manufacturing companies, It was a company of privilege, nepotism, favoritism, undeserving loans and illegal activity.
Back then when I was in high school and college studying design, I didn't know the future and what the apparel industry was really like. I didn't know the apparel industry was going to be somewhat problematic. These days, I actually really hate the fashion industry, and even the actual word fashion almost never bounces off my teeth and leaves my mouth. It's a misleading name. In my mind, the fashion industry as we know it, is purely an industry built around a privilege complex, as it is built on the backs of people of color. The industry profits from immigrants (especially in Los Angeles), and is an industry that requires poverty in order to sustain itself. But despite all that, I must admit that the work I produce in many ways flows in a stream that connects to the grand body of water that is the fashion industry. I do want to produce abstract clothing that an audience finds interesting. I want to mass produce wearable art, and garments that are deemed significant and groundbreaking. I hope others see the validity in my work. I just want the world to see my work, critique my work, and know that both integrity and meticulous practice and theory went into every piece of clothing or art I make. Oh and by the way, I just wanted to quickly say that nearly all of those Vogue magazines from my younger years that I mentioned earlier were stolen. So. That's how this all started I suppose.
Has it been a smooth road? If not, what were some of the struggles along the way?
It has never been easy, but my family and East Los Angeles have continued to teach me how to hustle and thrive to the best of my ability. I often feel like I am attempting to survive in three different worlds.
The first, being the fashion industry, which happened to be the industry where I earn a wage. A highly exploitative world where we are forced to only pay attention to Eurocentric brands and designers found in media, magazines, and everything in between. The fashion industry is an abusive reality where slavery still thrives. What I want to know, and what I think we should all be asking ourselves as consumers is – Who is making our clothes? What do those people look like? Why are fast fashion garments so inexpensive? Who makes the largest profit, and who gets paid subhuman payment? Why doesn't America make most of our clothes here in America? I really believe slavery still exists and it can be found in garment manufacturing factories, or any mass produced foundations such as the agricultural industry. Also, I like to believe that I am still really young and my experience working with a handful of companies and designers has been challenging and eye opening. Some "designers" I have worked with in the past didn't even understand garment construction. I am glad and proud of myself for being able to navigate product development at every stage as a creator. From concept, to pattern, to sample, to final product, to marketing and selling the product. I am not the best, but I am not half bad. I feel like I can do it all. I have learned that I am not a machine, and my handmade products are not as perfect as a full fledged company who has access to every type of machine out there, but I believe I do great work. I use a single industrial sewing machine, and have a modern home overlock machine. That's all.
The next world I struggle to survive in, is a habitat I deemed as the "Art world". An industry built on wealthy exclusivity, networking, fake smiles, lots of handshaking, the ability to purchase expensive materials for artwork and projects, residencies, selective choice making, and lots of money behind every "success". Not to mention lots of friend groups, tight circles and inside decision making. For me, I have constantly had to work full time and be a full time student while working on my runway shows and art projects. It has always been a struggle. In 2018, I showcased my Spring Summer collection titled, "Travieso" right before transferring and enrolling back into another 19 unit semester at Cal State University of Los Angeles. In 2017 I juggled working full time for another terrible company while I also worked on my runway collection, "Sinner Man". Most recently with the senior designer position I just walked away from, I'd sometimes work 120 hours per pay period, and still found time to sew my latest collection in development titled, "Dolores" when I got home. It has been such a struggle, but I am waiting for the moment where I can focus only on my brand, and projects while not constantly worrying about finances. Please don't get me wrong, the Art world has always fascinated me. I want to also be part of this world too, but I guess I'm tired of being the outcast. All these other local designers can have all the social media likes and annoying fire emojis in their comment sections; what I really want is to be part of a strong dedicated team and produce interesting garments.
Finally, the last world I try to survive in, is my reality. My family and community. Before the pandemic, I donated three months for four years to different youth groups around Los Angeles, providing the youth with art and sewing classes. I also find myself supporting local neighborhood councils, working with nonprofits, working on the foundations for my own non profit, and aiming to use my design label and art to spotlight my community as well. When it comes to my family, I think my family is supportive. I often cannot tell. Sometimes I don't even know if they care about what I do. I know my family never understood the last ten years of my life playing with textiles, sewing machines, and my interest in art. It has always been difficult to open up to my family about what makes me happy and I know how estranged I am. I still feel like my family doesn't even know me, and if they don't know me now at this point in my life, they never will. It's complicated. Yes, this lonely journey has been difficult, but I hope it all pays off.
We'd love to learn more about your work. What do you do, what do you specialize in, what are you known for, etc. What are you most proud of? What sets you apart from others?
About my work? Well, my Mexican American upbringing in East Los Angeles aided in my drive for innovation and lust for "honest art" which to me, is realistic, relatable commentary on our underprivileged lives. I'd like to showcase the people you never see featured in popular magazines, or media. Our narratives are valuable too, and this is the significance and integrity I wish to provide through my design label, destacarse. and through my art. My art label, destacarse. is a cultural brand which investigates East Los Angeles Chicano culture, focusing on immigration, street lifestyle, and labor, in an attempt to export honest identity of importance and theoretical motifs into its apparel and craft with every stitch. With immense care for the cultural evidence in my work, I hand pattern, construct, and produce each abstract garment and artwork with both integrity and curiosity. I look to my community for inspiration, and always find it. My apparel collections and my work are always personal. I need to draw inspiration from both the truth in my life and community and draw from the theory in my mind before I start experimenting with my textiles and materials. The clothing I produce always has to be interesting and innovative. I want my customers to fully understand that they are part of this East Los Angeles subculture phenomenon that is, destacarse. When consumers wear my garments, I know society and people witnessing the clothes will be equally confused and fascinated. I implement concepts that my community pushes down my throat. Ideas that have been there as a child, and new ideas that I discover as a young adult.
At the moment, I am playing with this design concept for two different products. A woven tank top and hybrid Parka coat with a "shopping bag" feature being constructed into a portion of the back. It'll be called the "Mercado Tank" and "Mercado Hybrid Parka", where the person wearing the garment can store items in the "Bag" (back portion of the piece) which functions as this exaggerated pocket. I also really want to produce a beautiful knit tank top with two small curved facings that will leave a clean circular opening resembling a bullet hole right at the chest (center heart) area of the garment. I want to then use かきしぶ (Kakishibu), which is a japanese juice dye made by fermenting unripe persimmons for two to five years, and use this to apply hand painted strokes over the hole in the garment to mimic the appearance of dry blood from a gunshot. All of this fascinates me because all of this reflects on my upbringing. From busy mercados with mothers and their children carrying groceries home, to gun shots being mistaken for firecrackers and adding warmth to our atmosphere. I like to think my designs and creative direction is evidence of strategic calculation and culture.
My past collections with my destacarse. label began In 2015 with my collection, "The Boy Who Dreamt Of Losing Teeth". It was inspired by my discharge from a mental hospital after staying for the duration of two weeks for suicidal ideology. Most of the garments in this collection were bright colored plaids. I produced many heavy weight wool bomber jackets which featured dead moths sewin into the garments behind clear plastic. The moths symbolize being attracted and moving towards light after a dark moment in time. Then in 2017 my collection, "Sinner Man" was inspired by an insight into sexuality and binary oppositions, specifically in gender. The collection was described as menswear, but showcased very feminine details, such as hand pleated ruffles, lace patchwork, and tight fitting dresses. I had the male models have their arms dipped in black ink up to their elbows because I wanted to physically show "gayness" as an illness just as society sees it. I wanted it to have a sort of visible symptomatic feature. Finally we have my 2018 collection, "Travieso" which was inspired by the prescribed narrative of Latinx immigrants as well as the diaspora of immigrants I dissected here in America. I researched and studied the Bracero program and the zoot suit riots for inspiration. There was a lot to ingest for this collection. My father, mother and I built this chain link fence which divided up the runway show audience in two, forcing them to stare at each other uncomfortably through the fence. The models walked around the fence as they entered and exited the runway path. This was my way of contributing commentary to the border crisis, as well as the children trapped in cages during that time. My first look which opened up the show was a piece made of chain link fence which was draped and bent onto my model. Immigrants will always have this weight of the border on their shoulders. Chain Link fences, barbed wire, and borders are unfortunate realities and obstacles of immigrant life, just as the reality of navigating trauma and violence. The weight of these borders will always be on their shoulders and I wanted to explore this fact. The collection was political and one of my strongest collections yet.
Currently, I am slowly working on my news collection titled, "Dolores". This collection is inspired by a religious insight of life and death, as well as anatomy of both humans and clothing. Details include lots of deconstruction and "decay" of clothing, burnt bible pages, wood details, and exposed "guts" (the linings) of garments. At the moment the collection is about halfway complete and I am searching for a space or venue to host the runway show.
Besides my apparel, I also wish to produce more Textile art. After taking a course called "Skins, Skeletons, Nets and Knots" at Penland School of Craft with instructor Mo Kelman who has been such an inspiration, I have been eager to create larger scale textile sculptures to showcase, and smaller intimate scales of textile art to sell. During the session, in class I made an intimate hand held object with a skeletal frame made from reed and filled the structure with dead insects before wrapping the structure in hog intestines. It resembled the stomach of a venus fly trap, made of actual intestine and of course, lined with dead insects. Mo Kelman is a genius and an amazing artist.
What sets me apart from other brands and apparel creators is what I am most proud of. My creativity and integrity to my culture through thorough investigation. I have an inquisitive mind and I hope artwork shows that well. I want to continue to produce interesting clothing and art; and I want to do this until my last days alive.
In the future, I would hope to expand my theoretical art and garments through social spaces such as galleries, studios, and eventually migrate to the streets by consumers around the world. I want to open my own showroom in East Los Angeles one day. A creative habitat that changes with the seasons and a place that allows guests to shop new collections of both apparel and art. Currently, I am applying to graduate programs to earn my Masters degree, as well as slowly studying Japanese independently so I can perhaps one day work in the Japanese art or apparel industry and learn new techniques in Japan. I have always known since I was little that my life was never going to be an adventure, so moving to a new country and starting a contrast in my present life would be the closest thing to a true adventure. I just want to get lost.
What role has luck (good luck or bad luck) played in your life and business?
I don't know if luck is involved, but if so, I am extremely fortunate for others to discover me or my work and support me in many different ways. I have always had a microscopic circle of friends. It really is incredibly difficult for others to really understand me because I won't ever let people past the barricade of my seriousness and carefulness. I am a complex person, but I promise I mean well, and I am only interested in creating. I am thankful for anyone who supports me, purchases a handmade product, witnesses my runway shows, wears a garment that I made, offers me a job, or even collaborates with me. I know others are equally impressed with the work I have been able to produce all on my own with a single sewing machine. I know I have a lot more to offer East Los Angeles and perhaps maybe even the world.
I am lucky and thankful for the paths I crossed on this journey. While in high school, a local creative named Rosa Limon mentored me and helped organize my second public show at the Barrio Action Youth and Recreation Center. One time, an event organizer discovered my work on social media and asked that I participate in a private fashion event during Los Angeles Fashion Week. I got to showcase my newest collection there at the space with five other designers. It was there where I met the amazing Pete Galindo, owner of the Civic Center Studios who would then, one year later, allow me to showcase my own private runway show event at his studio. I also have an East Los Angeles creative who I work with closely named, Casey Orozco who captures my completed work through his camera lens. And recently I met with TJ Walker, one of the founders of the cultural brand, Cross Colours LA. He was also a former instructor of mine who has witnessed a handful of my early work and runways shows. I am also grateful for Corey Pemberton and Crafting the Future (CTF).
A while back, before I had my Bachelors Degree, I once took a job working in a hidden garment manufacturing company in Lincoln Heights, where I was paid by piece, not hour. I remember being paid 3 cents for every label I sewed into the garments, and 5 cents for every spaghetti strap I attached. Fast forward to now, I feel much stronger. A part of my old self constantly dies. For example, since these past years, I have thrown away all my Vogue Magazines and continue to evolve. I don't read Vogue anymore because of its Eurocentric obsession and disservice to discovering talented designers of color, who are revolutionizing new cutting edge work. I read other magazines. Yesterday I spent half of my day inside a book shop reading and skimming through issue 19 of a magazine called "System", which featured an interview with designer Rick Ownes. These days, my favorite magazine still has to be "Dust" magazine which I stumbled upon in 2014 after skipping class and exploring the fashion district downtown. Annoyingly, it is also a European magazine but it focuses on philosophical and theoretical viewpoints of youth. Check it out.
The reality is, I consider myself more as a creator, than an artist. However, I cannot go as far as I want to without working myself to the bone for some other company and using that tainted wage to invest back into my own personal art projects after paying rent and other finances. But, I am proud of my survival and dedication to the life and worlds I chose to fight for my survival in. As the years continue to flash by me like red fire alarms signaled in a therapy session, I still have the energy to keep making art. I still consume art magazines for breakfast. I still have the drive to produce new garments and still hope that one day I can make my family proud and maybe open my showroom. I still plan on showing more upcoming seasonal collections in Downtown Los Angeles. I want so much more, and I am sorry but I will not stop. I cannot stop. My veins are still warm, because I will forever have that "young blood" which fuels my curiosity. And It's the same blood that forces me to ask myself every so often while witnessing the mundane, "what's next, kid?"
Pricing:
Garments range from $30 – $200
Cultural Shirts: $30
"Flaco" Neckties: $38
Deconstructed Bucket Hats: $48
Contact Info: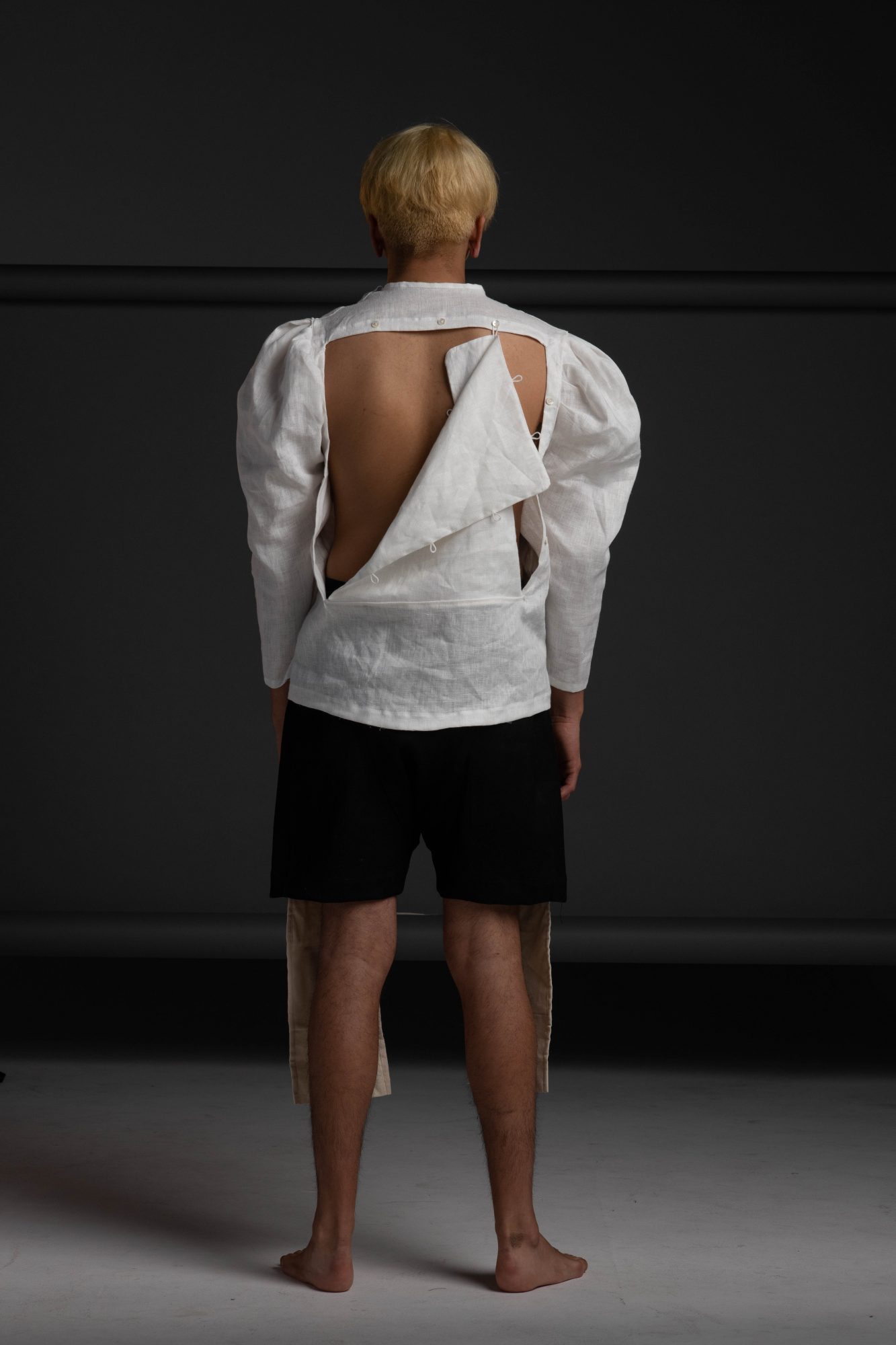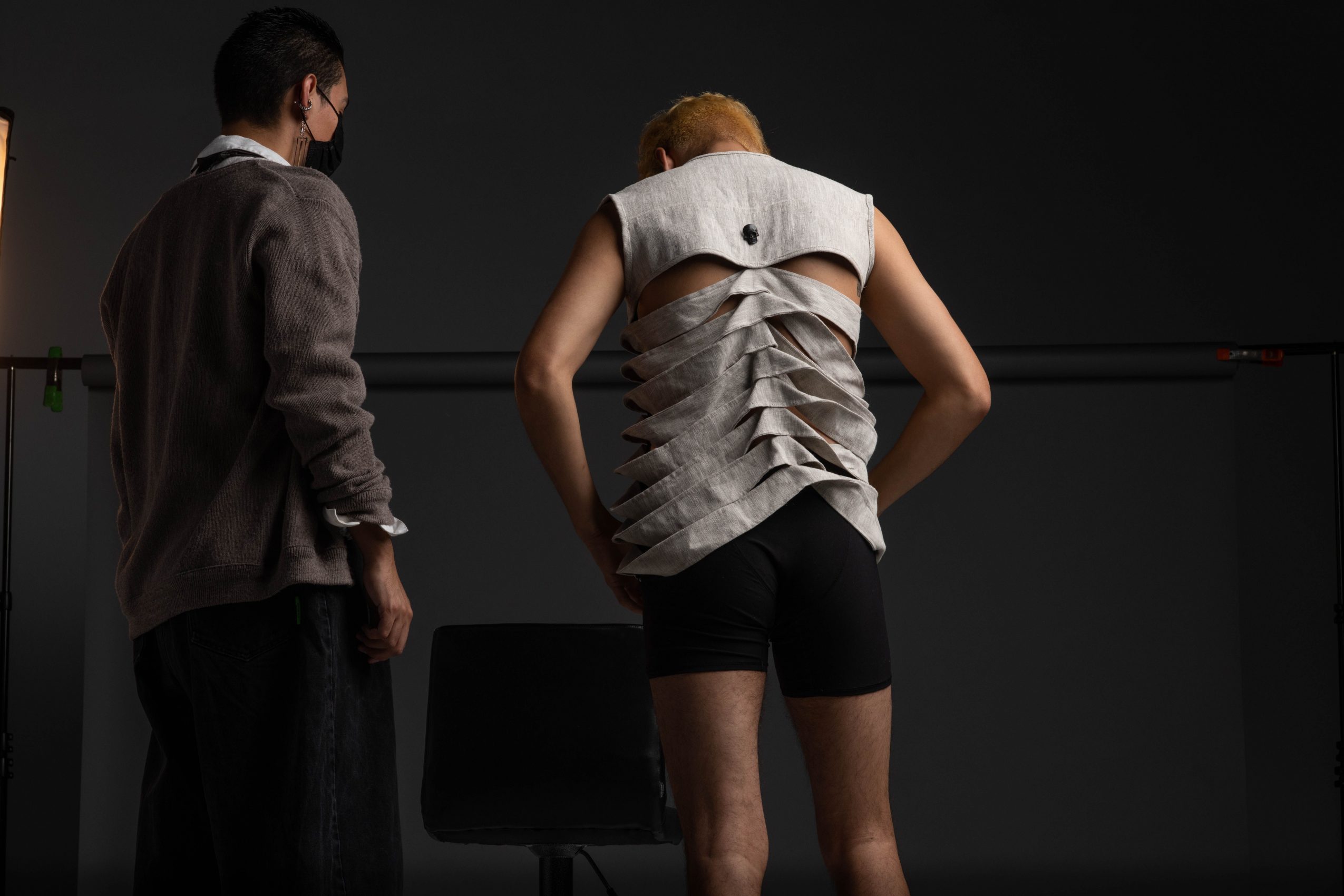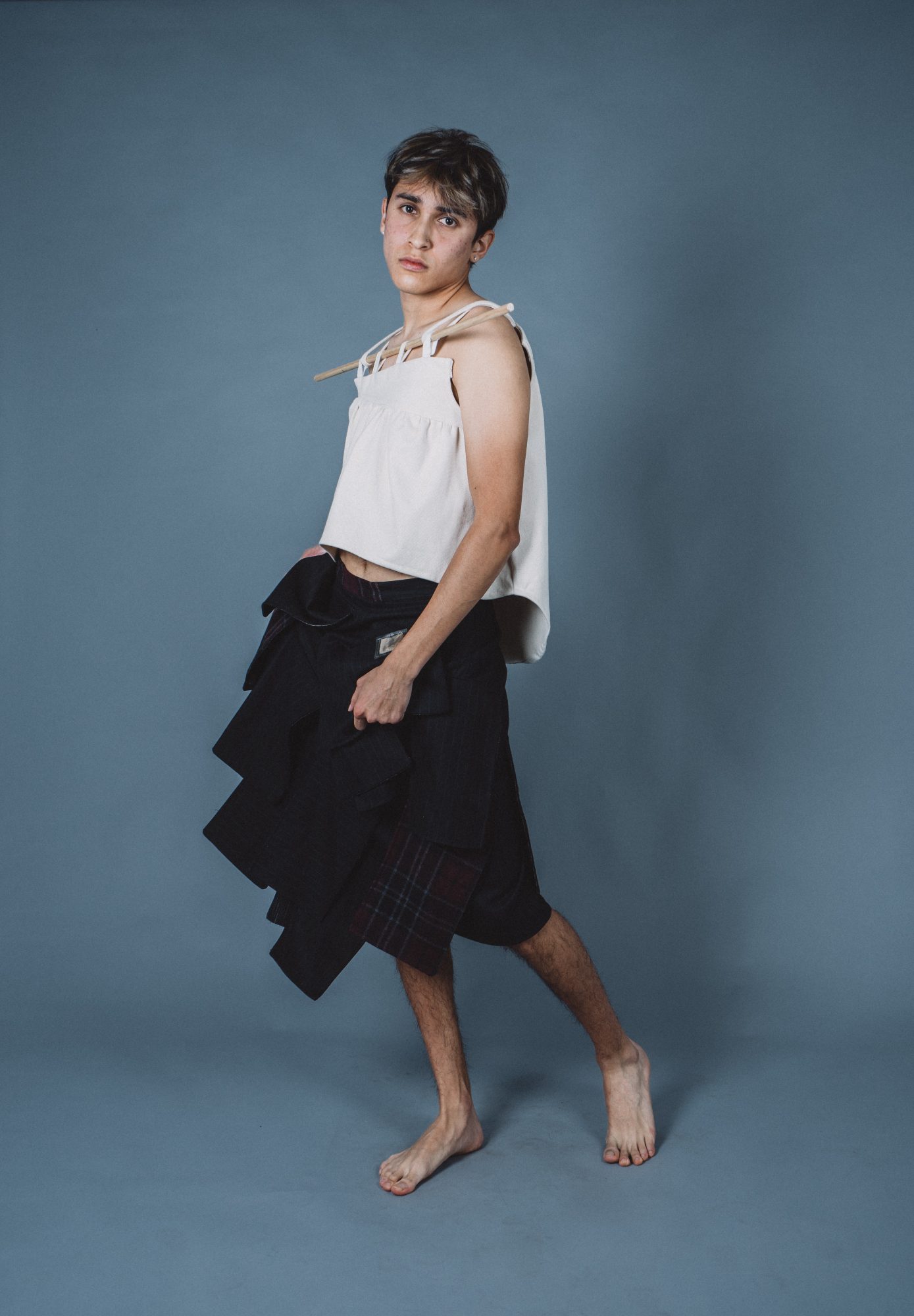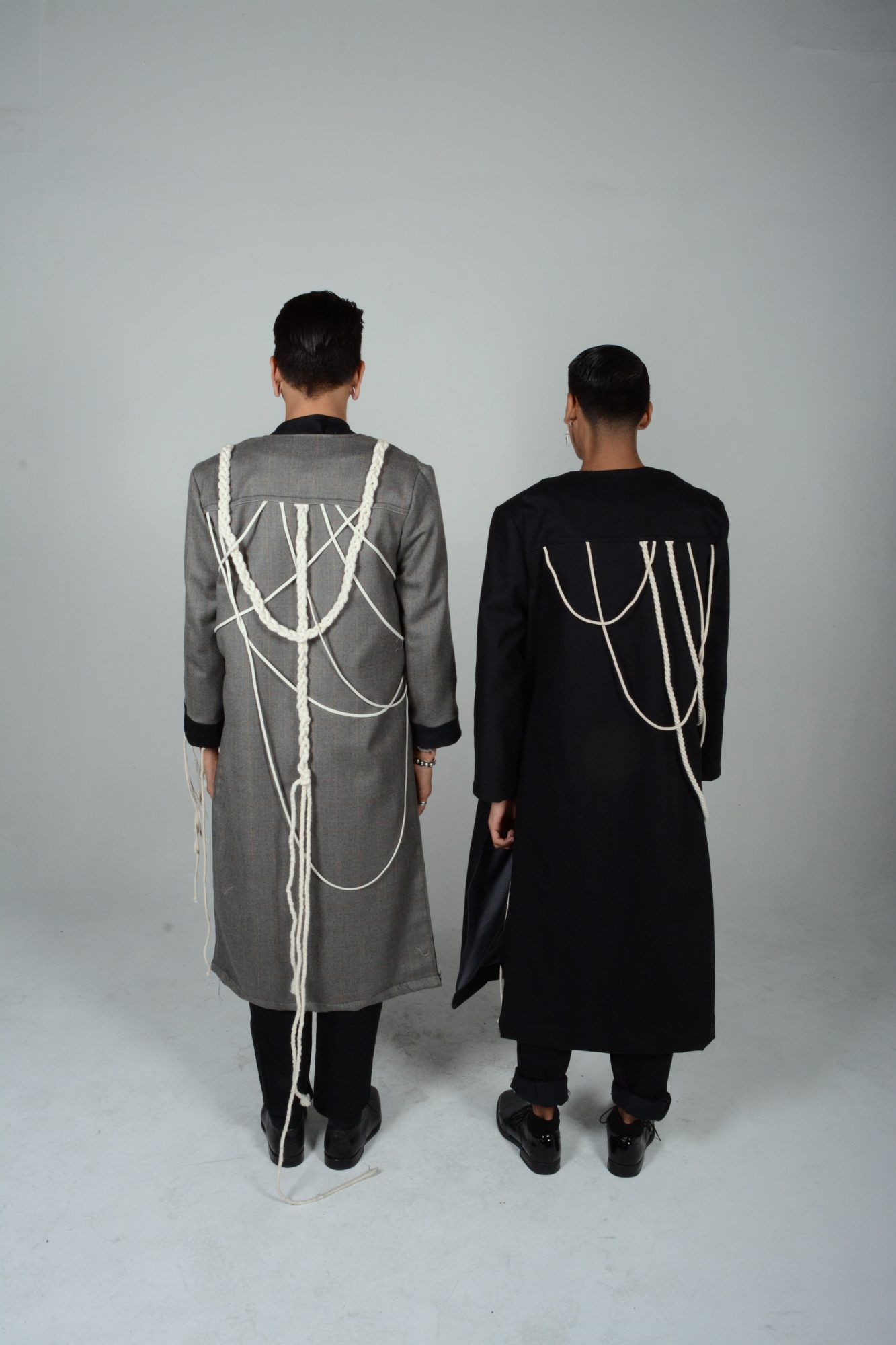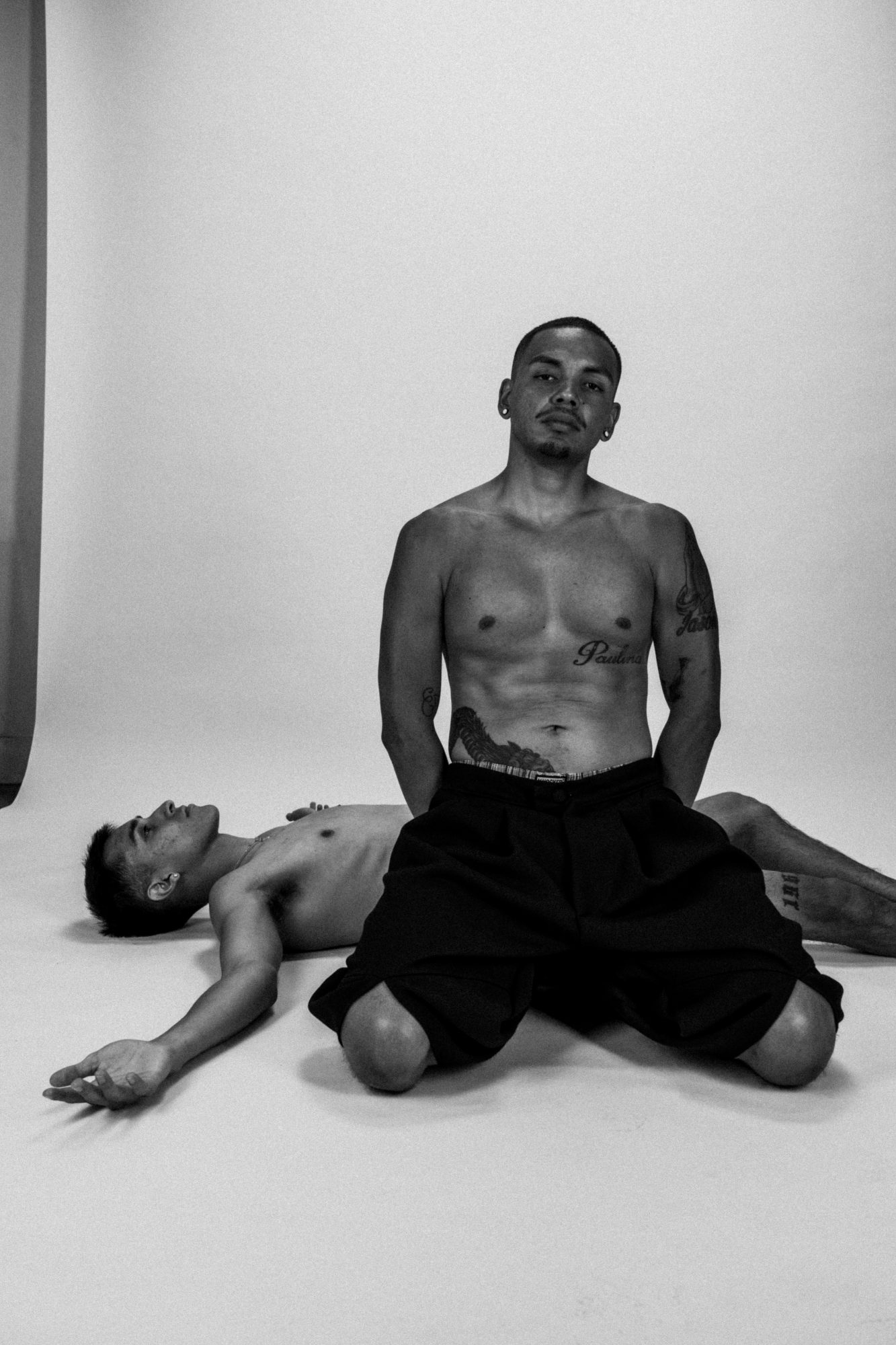 Image Credits
Photographers: Casey Orozco, Zeynep Yeldan, Jen Martin, Steve Lucero
Suggest a Story:
 VoyageLA is built on recommendations from the community; it's how we uncover hidden gems, so if you or someone you know deserves recognition please let us know 
here.