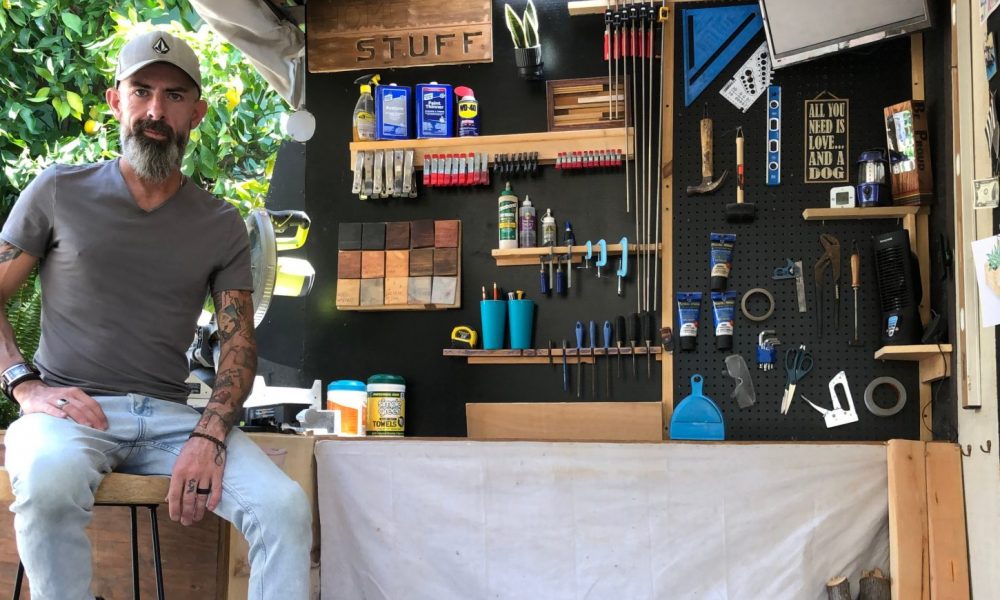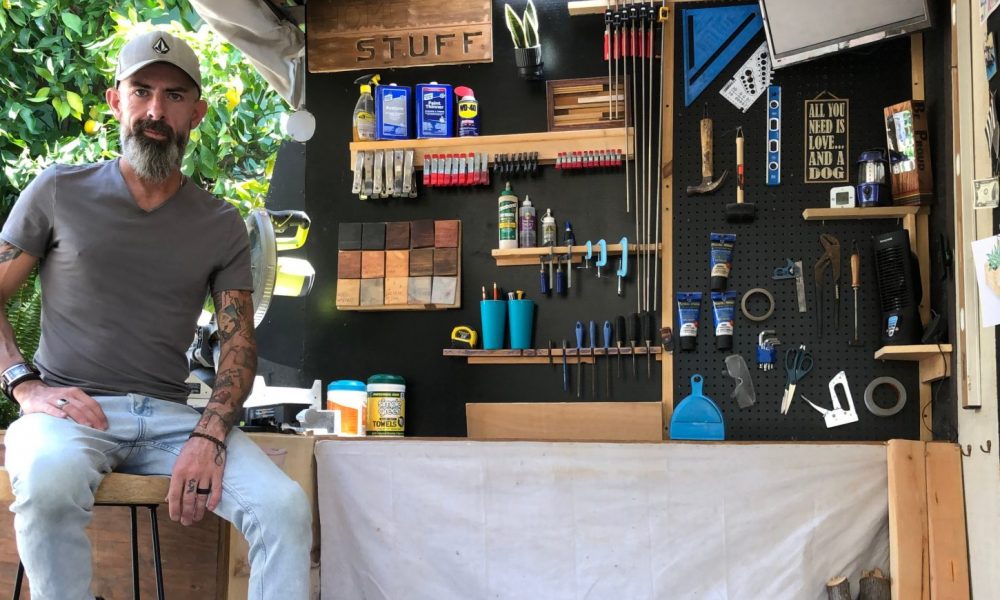 Today we'd like to introduce you to Paul Neri.
Hi Paul, please kick things off for us with an introduction to yourself and your story.
I'm originally from a very small town in the French Alps, and eight years 1/2 ago I took the challenge to leave my hometown, my family and friends to start a new life and moved to LA. In 2013, I had a successful business as an interior designer/contractor, I owned my apartment, everything to be happy but I wasn't truly. I came on vacations many times in the US over the years and so in September, I decided to start fresh and move to LA. In a few months, I closed my business, sold my apartment and most of my belongings, and on NYE for my last night in France, I had a big party with all my friends, they rented a van and dropped me at the airport at 4am to start this challenge…
I arrived here on January 1st with 1 bag and my savings, I only knew 1 person in the city but after a few months I managed to find a great little guesthouse to rent and a job in a clothing store on Melrose ave. A year 1/2 later I wanted to get back to my original business of design and furniture so I applied for a job at West Elm and got hired as a stylist/salesperson. After a few months I got promoted as the official visual installer for the LA area allowing me to perform hundreds of installations in customers home and also work with the visual team of the stores to build amazing displays every season.
During my five years working for the company I received the titles of "Employee of the month", "MVP 2016" and I was in the top 3 installer nationwide, regularly reaching #1 thanks to my numbers and customer feedback. While I was working there I had most of my afternoons free so I decided to start woodworking at home by building small home accessories. After two years of practicing, learning new techniques and having a good collection of items, I decided to show pics to designers I was working with and was told I had a very original style and should start making custom art for customers. In September 2018, I sold my 1st custom art piece which was such a huge accomplishment for me, I was very proud of it. A few months later, I got hired by one of my designer friends to create a piece for one of her job and that piece actually got published on the West Elm blog.
After many art pieces and furniture made, I decided in March 2020 to quit my job and open my own business of installations and custom woodwork!! I was so happy and excited about this new chapter unfortunately a week later Covid happened and I stayed home for a year considering the situation. In February last year I got my vaccine and therefor was ready for business, finally! I had lots of projects happening and then in June I got into a motorcycle accident ending in a fractured wrist and torn meniscus…
I was told I would need three surgeries without any guarantee of when I could work again. Not being able to work or do anything manual, being literally stuck home and going through a painful breakup, I had a tough time. I've been through a lot of challenges in my life but last year has been really hard… After ten months at home prioritizing my health and doing PT, I thankfully avoided the surgeries and I am now officially back in business and since April have been working non stop. I have now a truck I love and had the chance to create awesome projects. So after 8 1/2 years, I can honestly say that I have the life I've always dreamed of having without ever thinking it could ever become a reality.
Alright, so let's dig a little deeper into the story – has it been an easy path overall and if not, what were the challenges you've had to overcome?
I would say the biggest challenge in this adaptation has been the social aspect of moving from a 15.000 people city in France to such a huge city as Los Angeles. I had the same group of friends for my last 10 years back home and moving alone here, as exciting as it was has been a hard transition. I met here so many interesting and cool people from all origin, background, lifestyles and I can honestly say I've had the chance to be part of a lot of social events and life experiences I would have never done back in France. But making deep connections and meaningful friendships has been difficult for many years for me. Now I have small group of friends that I'm very grateful for, and actually had a big Western party for my birthday this year, event that reminded me of the parties I had back home.
As you know, we're big fans of you and your work. For our readers who might not be as familiar what can you tell them about what you do?
I've always been a creative guy and I've worked in the furniture/design field for most of my professional life. My first job was as a kitchen/bathroom salesman in a furniture store when I just turned 18. I remember when I was a teenager being fascinated by a character in a show who played a woodworker and the way he was talking about his pieces was so inspiring, it somehow always stuck. And since then I always thought that it's such a beautiful profession and craft. Life took me in more of a design/construction direction renovating homes in France, but then when I started working with the visual team of West Elm, I learned how to work wood in a more creative way.
So I bought a few power tools and organized a tiny workspace in the back of my guesthouse to practice this craft, learn techniques and more importantly find my own style! My goal was to build pieces using as much as possible used materials and repurpose them, give them a 2nd life. Why buy when there are so many cool materials to work with everywhere in the city. I also wanted to use a percentage of any art piece sale to go buy food/toys and donate them to animal shelters in LA, the animal cause has always very important to me and since I use a lot of free/recycled materials, it was important for me to give back. I use mostly wood from all origins but also love incorporating lighting effects, metal, fabric, plastic… Anything that inspires me.
When it comes to my woodwork, I can either build custom art pieces, small furniture, home accessories, outdoor items such as side tables, shoe cabinets, dresser, wall art, planters, dog house, coffee tables…It can be a lot of different things depending on my mood or my customer's wishes. For my art pieces, I usually go with two different styles, either using many different wood scraps to get a lot of wood tones/grain and ending up in a beautiful natural look or going in a much more colorful and modern way. In that case I'll use a wide range of color tones and modern shapes who combined all together make an awesome, modern, original piece.
I follow a lot of woodworkers and creative people but I can say I've only seen 1 other guy who makes things similar to mine. This artist is soooo talented and has been doing this for over 25 years, his pieces are gorgeous! I've never taken a woodwork class or did any training for it, but for only a few years of practice at home I'm incredibly proud of each piece I've made! I hand pick/sand/stain/paint and assemble every single piece of wood in my creations. I couldn't pick a favorite one, but I do have a few. Of course my first art piece sale, my pink wall art piece who got published on West Elm blog was crazy to me! Also my 1st mural in Venice! I think it looks sooo awesome and having my own mural was another goal I dreamed of doing never thinking it would happen.
What do you like and dislike about the city?
I've had at times kind of a love/hate feeling about this city but ultimately it ended up being the perfect place to start my new life. Obviously, the diversity that LA offers in so many aspects: in the neighborhoods, people, food, events… The weather is just perfect, seriously. Being a gay man, that social aspect is widely different and much easier in a huge megalopolis as opposed to a tiny town in France. I love LA for all f the professional/social/and personal situations that can happen here. And overall its such a pleasant, exciting and beautiful city to live in!
But on the negative side, traffic just sucks haha Also as I mentioned making meaningful connections and fitting in can be a bit complicated. I randomly watched the rock band 30 seconds to Mars music video "City of angels" a month before moving here and it describes it so perfectly. It's tough living here, especially when you move on your own, this city can make you or break you. I thought of moving many times but somehow always stuck here because it is an amazing place and worth fighting for.
Contact Info:
I am so excited for this year and all the future projects for HomeStuffLA. I am working hard so that in a few years I'll be able to buy a small ranch or an old property somewhere in California that I could renovate, make my own and enjoy life with many rescues dogs running around.
Suggest a Story:
 VoyageLA is built on recommendations from the community; it's how we uncover hidden gems, so if you or someone you know deserves recognition please let us know 
here.